Best Picks
Last updated on October 19, 2023
by
Jairene Cruz
18 min read
You are currently in the "Landing Pages" - Learning paths
Let's Find Ads Online
It's no secret that successful affiliate marketing requires a lot of hard work and dedication.
But even the most determined marketer can fall short if they're not keeping an eye on their competition.
That's where ad spy tools come in—they give you an inside look at your rivals' marketing campaigns, so you can see what's working for them and learn from their successes.
In this article, we'll take a look at some of the best ad spy tools for internet marketers.
Keep reading to find out more!
Read more about Ad Spy Tools:
List of the Best Ad Spy Tools
AdPlexity is the leading ad spy tool and has always been considered a crowd favorite among affiliates.
It is one of the most comprehensive spy tools available today, with its diverse list of ad formats and category-specific spy tools to choose from.
The spying platforms based on ad formats are as follows:
AdPlexity Desktop – This spy tool allows you to see all of your competitor's pop traffic that is focused on desktop devices. You can see ads from over 75 countries, 100 affiliate networks, and various pop ad networks and ad exchanges. It is priced at $199 per month.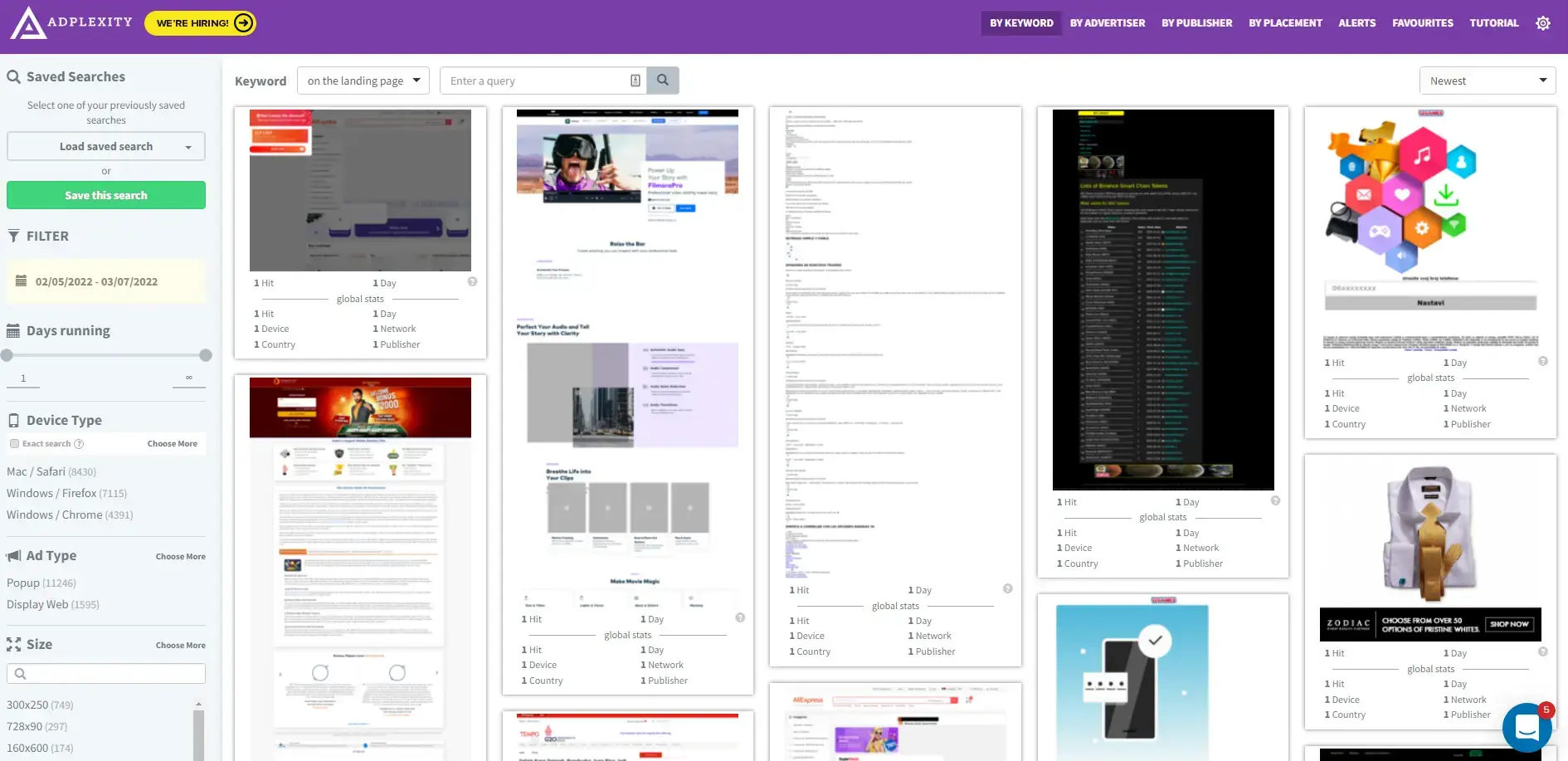 AdPlexity Mobile – This spy tool is similar to the Desktop spy tool but for mobile devices. It monitors In-App, Pop, Redirects, and Display ad formats. It is priced at $199 per month.
You can see ads from over 75 countries, 100 affiliate networks, and various mobile ad networks and ad exchanges. You can unlock hidden campaigns being shown to users of over 120 carriers worldwide.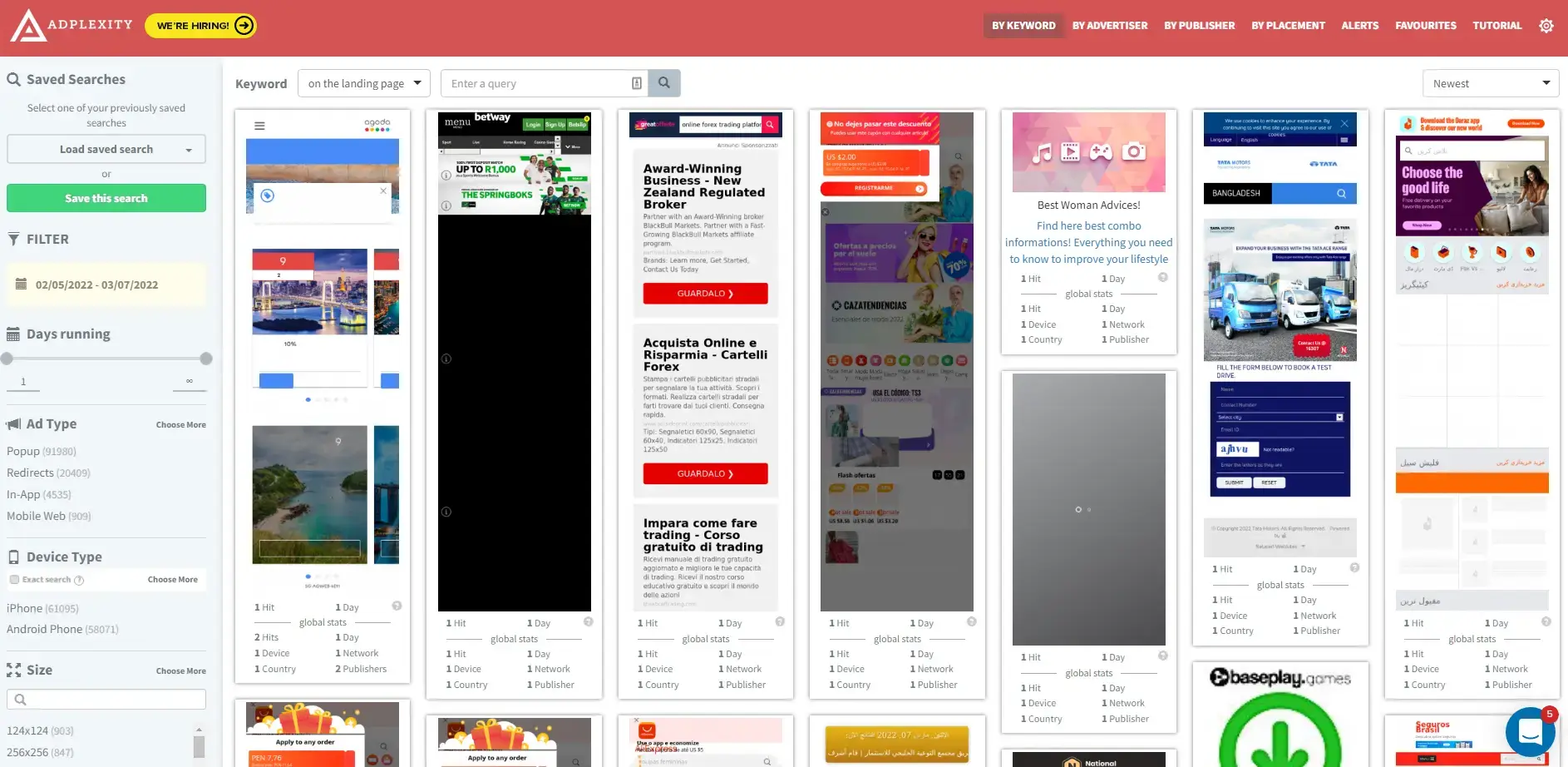 AdPlexity Native – This spy tool gives you visibility into all of your competitor's native ads. It includes data from 7 native ad traffic sources with ads showing in 32 countries and promoting offers from over a hundred affiliate networks. Pricing starts at $249 per month.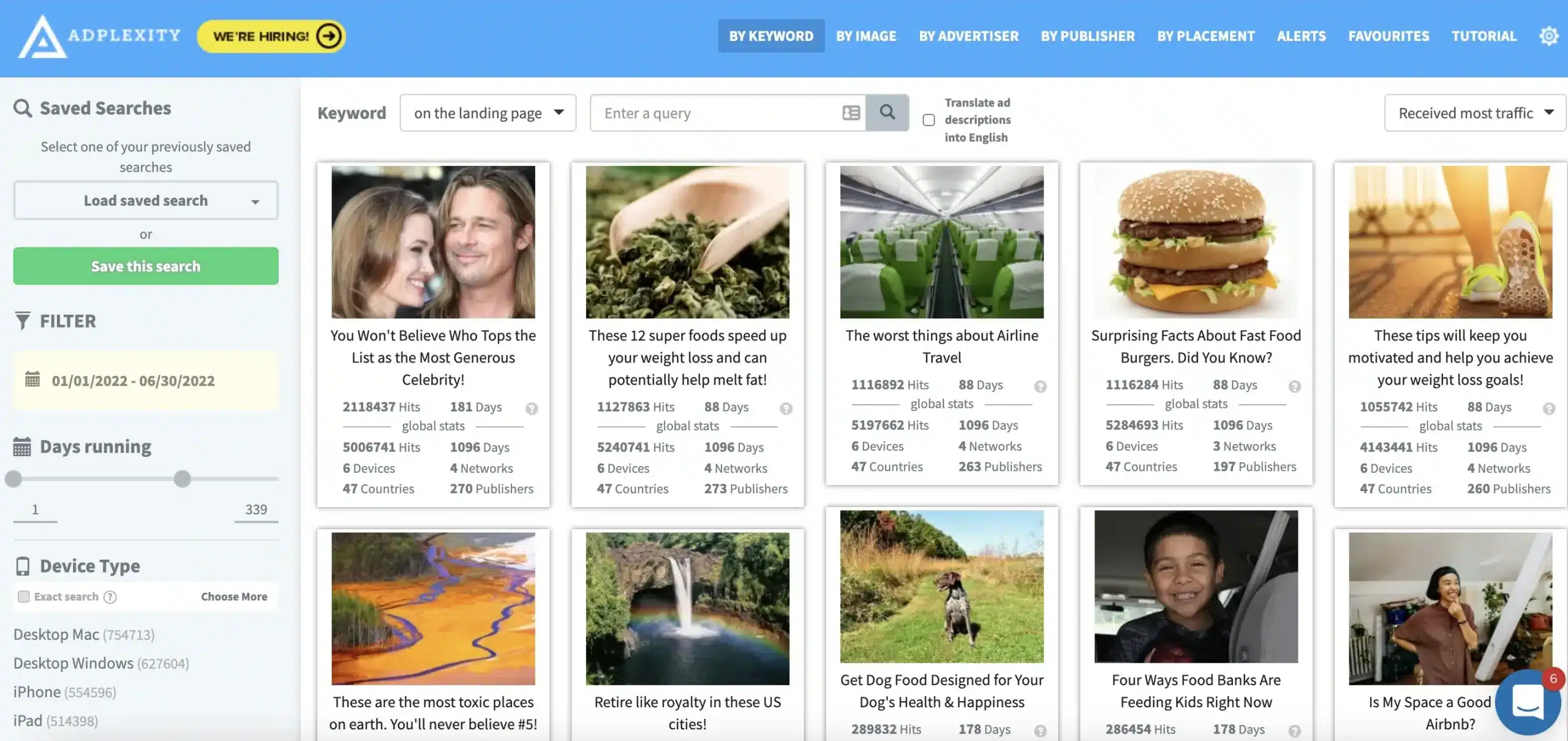 AdPlexity Push – This one is for push notification ads. You can see ads from over 80 countries, 100 affiliate networks, and more than ten push ad networks. It also allows you to find campaigns running solely on mobile carrier traffic. Pricing starts at $149 per month.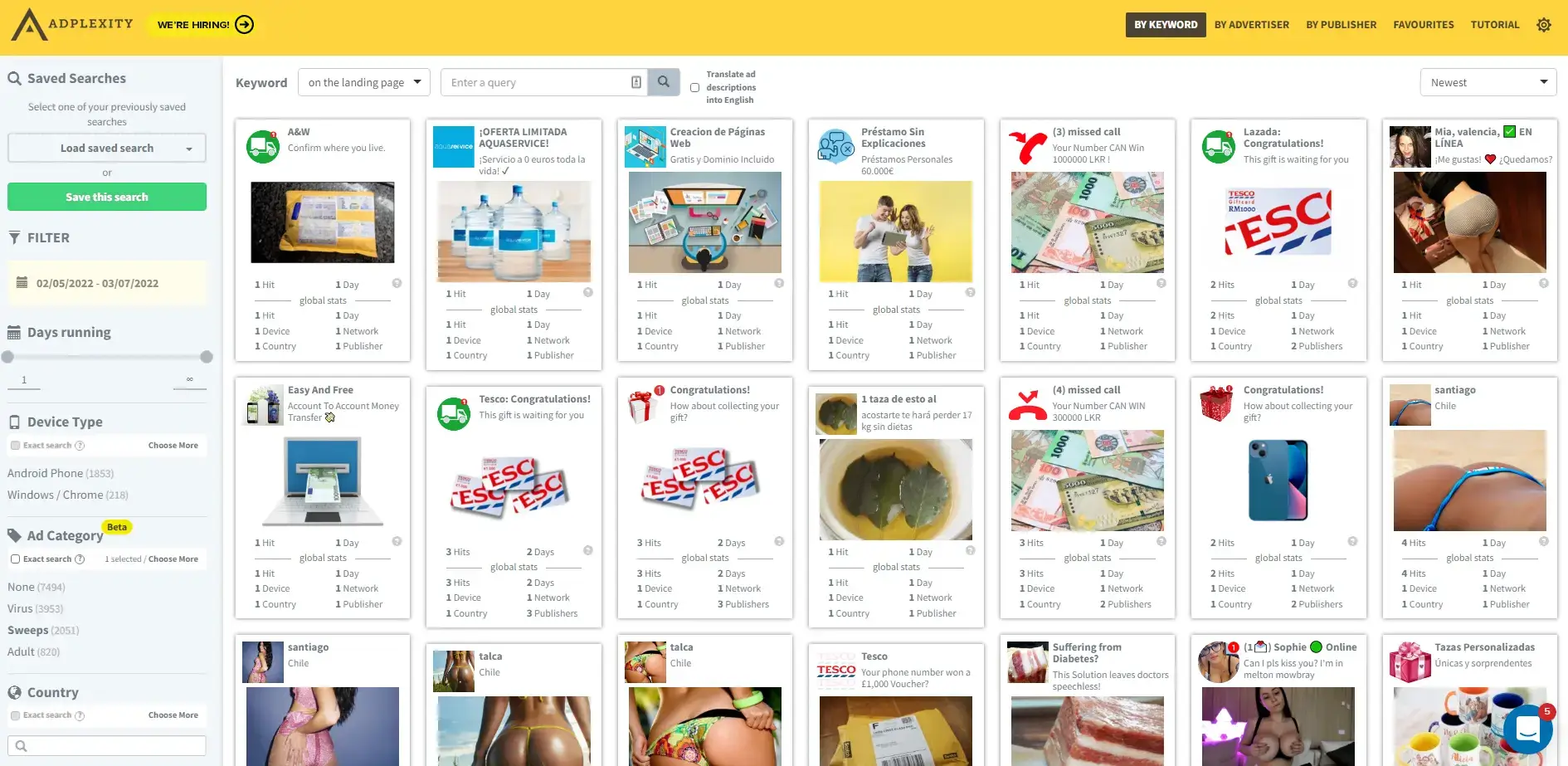 The category-specific spy tools are those that show collected ads based on select properties. These are:
AdPlexity Carriers – This is not actually a spy tool, but it is still useful for ad intelligence. It allows you to see the full conversion flow of the offer you want to promote, see the choice carrier of SmartLink offers, and even find the actual landing page. It is priced at $149 per month.
AdPlexity Adult – If you promote adult offers, this spy tool is for you. It gives you access to ads from all the major adult networks, with ads being shown in over 75 countries. Pricing starts at $199 per month.
All these spy tool versions allow the user to filter by keyword, advertiser, publisher, affiliate networks, traffic sources, devices, browsers, tracking tools, and more. You can also rip and download landing pages.
While no free trials are available, you can test the platform for 24 hours and get a full refund if you are unsatisfied. If you opt to pay on a yearly basis, you will get a 17% discount on any of the tools above.
If you want an even bigger discount, check out our exclusive AdPlexity coupon. You can get up to a 30% discount on all of AdPlexity's tools for life.
For more information on how to use it, visit our AdPlexity review.
Semrush (14-day free trial) is a popular ad intelligence tool that offers internet marketers a wide range of spying options, including competitors' ads, organic keywords, and backlinks. Its main focus is search engine traffic, which includes organic and paid traffic.
One of this tool's most popular features is its ability to spy on your competitors' PPC (pay-per-click) campaigns.
You can see what keywords they are bidding on, what ad copy they are using, and what placements they are targeting.
You can also spy on their organic search traffic to see the keywords that are driving traffic to their site.
It can help you determine which keywords to target for your SEO efforts.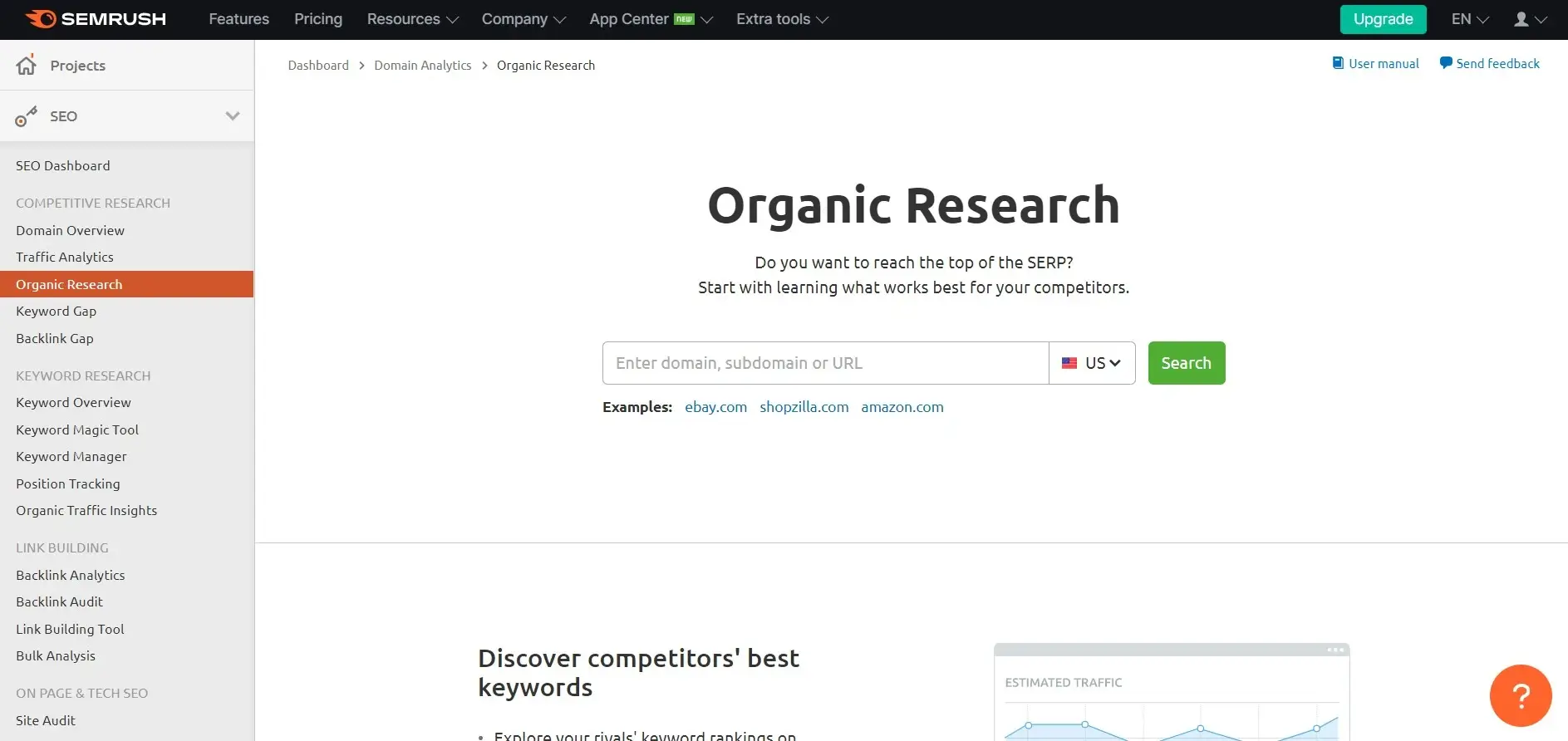 Additionally, Semrush offers a backlink checker that lets you see all the sites linking to your competitors.
This can give you some valuable information about where your competition is getting links from and where you might need to start building your own links.
One of Semrush's latest features is the social media advertising spy tool.
You can unveil your competition's winning strategies, such as type of ads, content styles, time of posting, and more; you can apply them to your own social media campaigns for better results.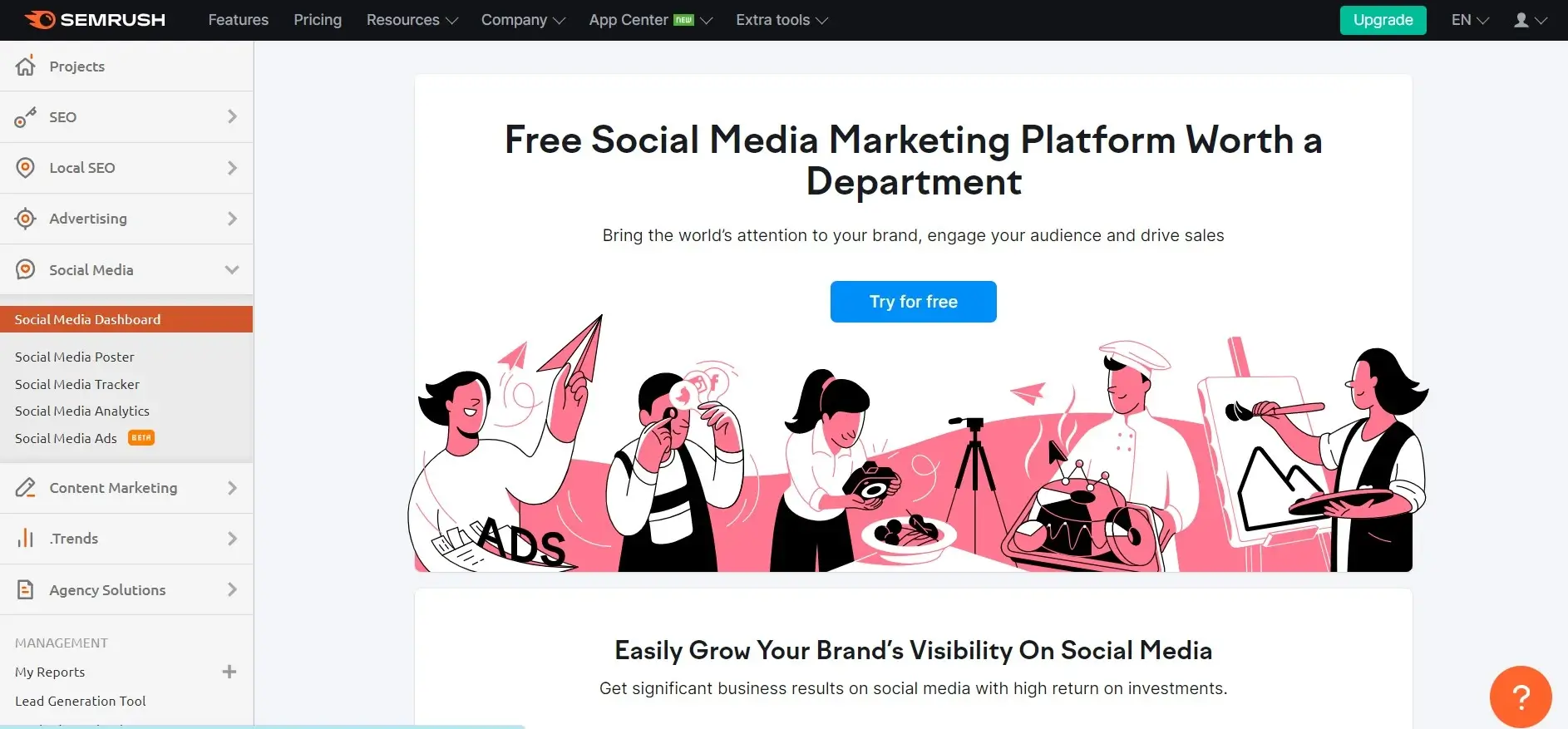 Semrush is priced at $119.95 per month, but you can get a 17% discount if you pay for an annual subscription.
Are you still not sure if Semrush is the best choice for you?
Then, get this exclusive Semrush 14-day free trial.
For a deeper understanding of this tool, have a look at our Semrush review.
Whether you're just starting out in the world of dropshipping or you've been at it for a while, it's always beneficial to keep an eye on your competition. Dropispy is a great tool for doing just that.
This competitive intelligence tool has three main functions, and these are:
Facebook Ad Search
The ad search tool is the most prominent feature of Dropispy, which lets you search for ads based on the creative, target audience, redirect links, and the number of reactions. This information can be invaluable in developing your own dropshipping strategy.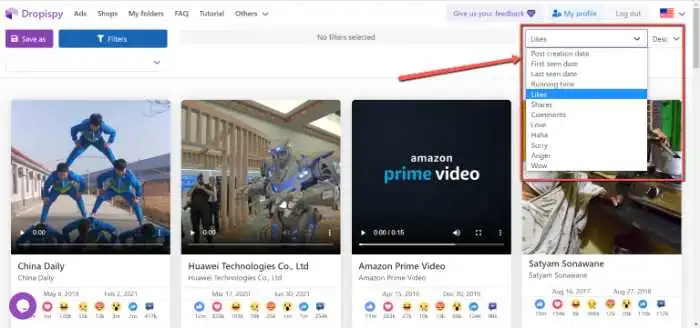 For example, if you see that your competitor is targeting a particular demographic with their ads, you can adjust your own targeting accordingly.
Or, if you notice that they are using a particular e-commerce platform for their redirects, you can research that platform to see if it would be a good fit for your own business.
In-Depth Ad Information
The Ad Information feature on Dropispy is designed to give users a more complete picture of an advertiser's performance. By displaying additional details about an ad, users can learn more about how the ad is performing and whether or not it is still active.
Additionally, users can also download the media used for the ad, or even copy the exact ad text. This feature is incredibly useful for those who want to get a more complete understanding of an ad's performance.
Shop Search
The Shop Search feature on Dropispy is a great way to find popular dropshipping shops and see what products they're promoting.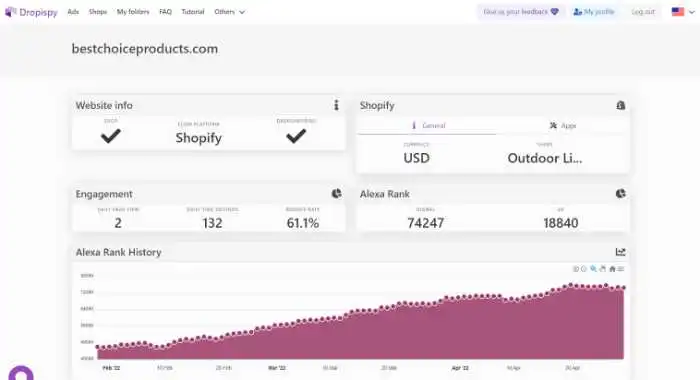 You can then click on any of the shops to view more information about them, including their average order value, number of orders, and top-selling products.
This is an invaluable tool for anyone looking to get started in the world of dropshipping, as it can help you quickly identify successful shops to emulate.
Dropispy offers three different pricing plans to meet your needs.
Its free plan is perfect for those who want to try out the service with no commitment. It offers an unlimited number of searches, but most features are restricted.
For those who want full access to all of our features, Dropispy offers a premium plan for €29.90 per month, which comes with 50,000 search credits.
And for businesses, there's a plan that gives you 1.8 million search credits for €249.90 per month.
Anstrex may be younger in terms of the number of years since it has been developed, but it is comparable to the best spy tools out there.
It offers a diverse range of ad formats that you can spy on and is continuously working on diversifying even more.
Available spy tools under Anstrex are as follows:
Anstrex Native – Anstrex's coverage of native ads is impressive, covering over 10 million ads from 27 ad networks and across 80 countries. Their database is said to contain ads from more than 150 thousand advertisers. It is priced at $69.99 per month.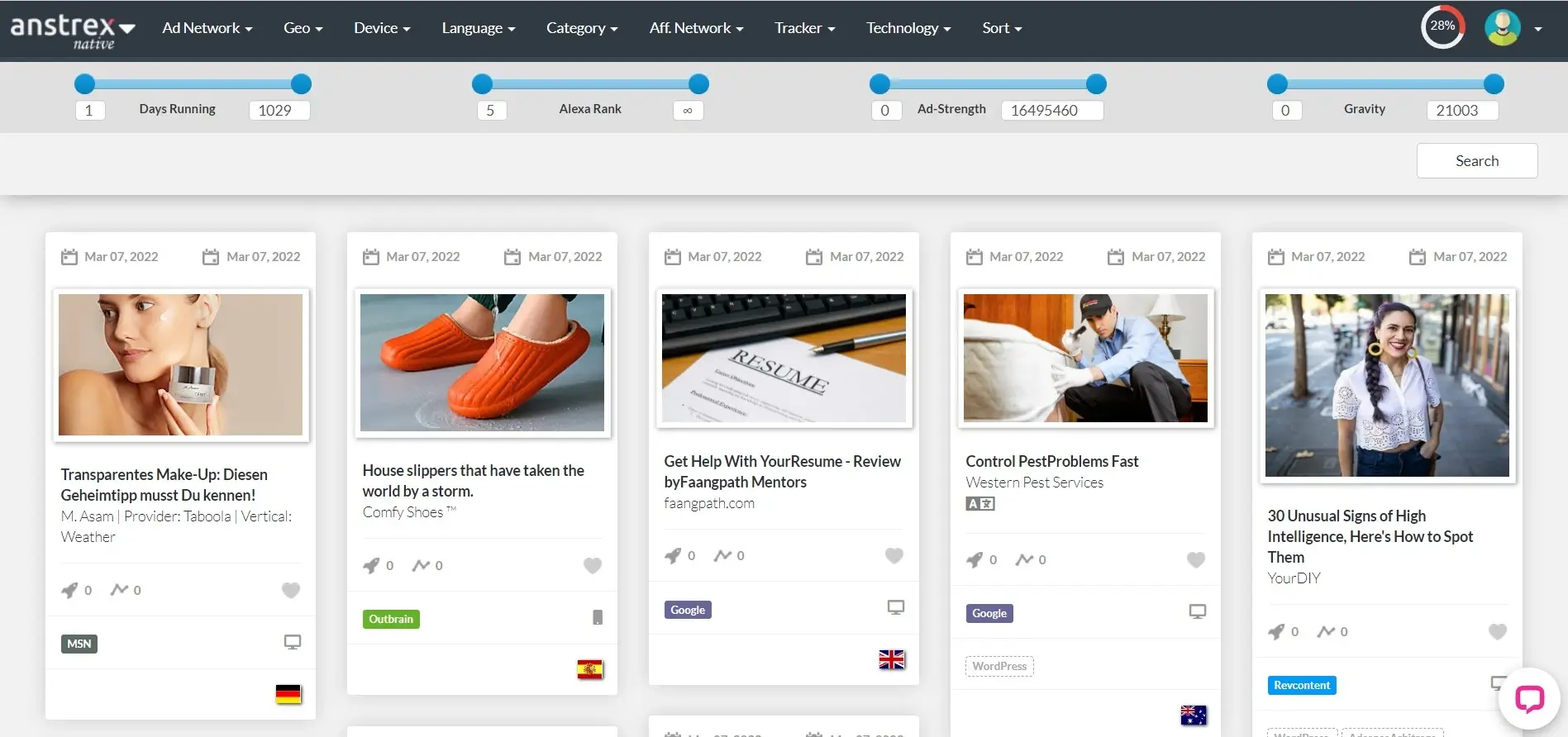 Anstrex Push – With this spy tool, you can research ads across 38 ad networks and 92 countries. There are more than three million push notification ads from 32 thousand advertisers in Anstrex's database. This is priced at $89.99 per month.
Anstrex Pops – This is the newest ad spy tool available in Anstrex. It offers ad coverage from 32 ad networks and across 92 countries. There are more than 1.2 million pop-under ads, and at least 850 carriers are being monitored. The best part about the Anstrex Pop spy tool is that it is currently free!
Anstrex Dropshipping – The dropshipping tool is very much like AdPlexity's eCommerce tool. It shows you popular products to promote and include in your dropshipping store's list. You can also see how your competition promotes specific products via social media.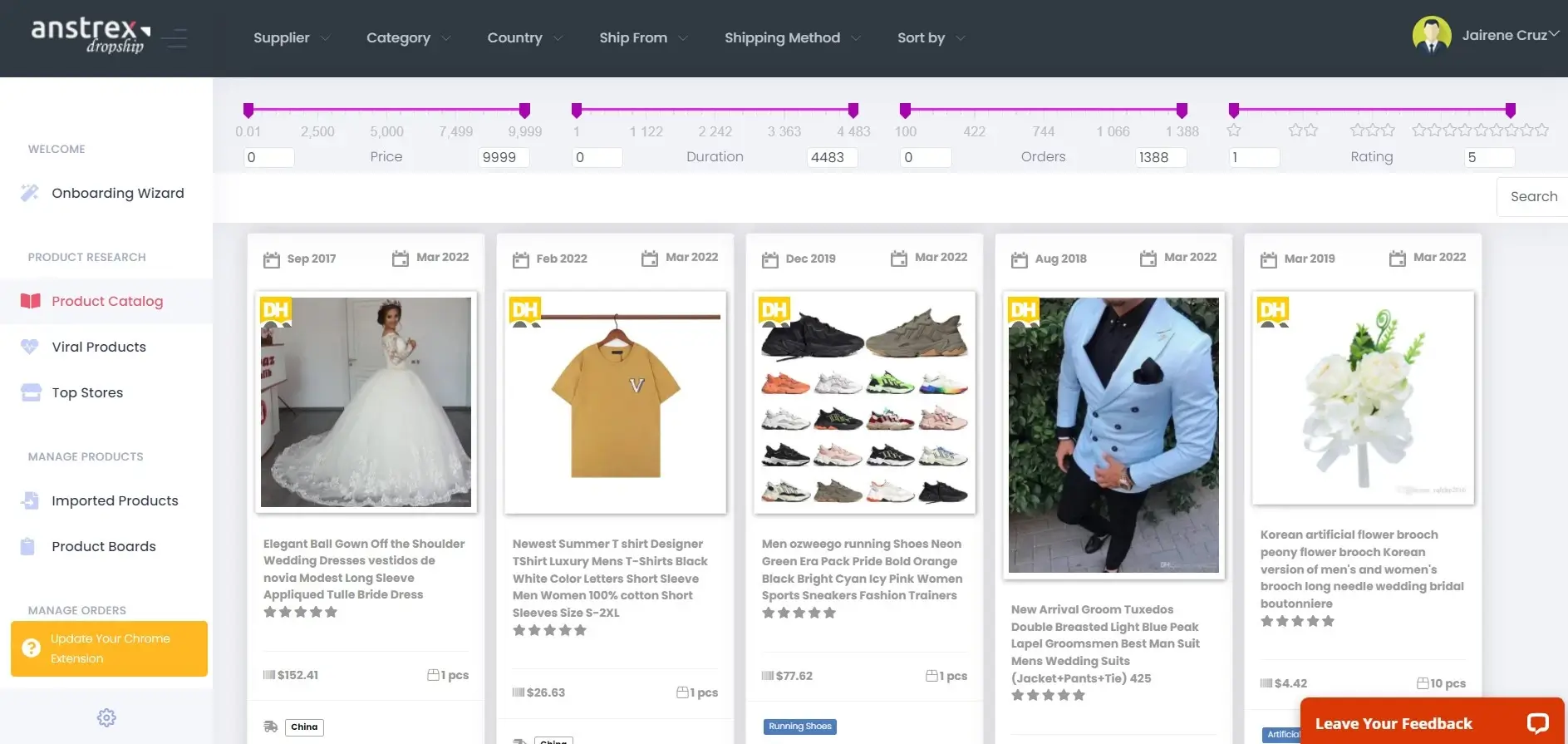 More than that, you can even link your Anstrex Dropshipping tool account to your Shopify store so you can easily manage your online business.
With the 6 million ads collected by this platform, you won't need anything else.
And just like Anstrex Pops, the dropshipping ad intelligence tool is free to use while still in Beta.
You can get a big discount when you get the bundle plan (Anstrex Native and Anstrex Push) for a single price of $139.99 per month per user. Of course, the other two are already included since they are both free for now.
Anstrex Features
The spy tools based on ad formats have extensive features that allow you to gain deeper insight into your competitors' ads.
These features include the following:
Multiple Filters – Anstrex allows you to filter ads in a multitude of ways so that you can find exactly what you are looking for. You can narrow down your ads based on advertising networks, affiliate networks, tracking tools, language, country, and more.
Boolean Search Function – Besides the filters, you can further deepen your search using keywords. You can screen ads by the And-Or Boolean function available under Advanced Search.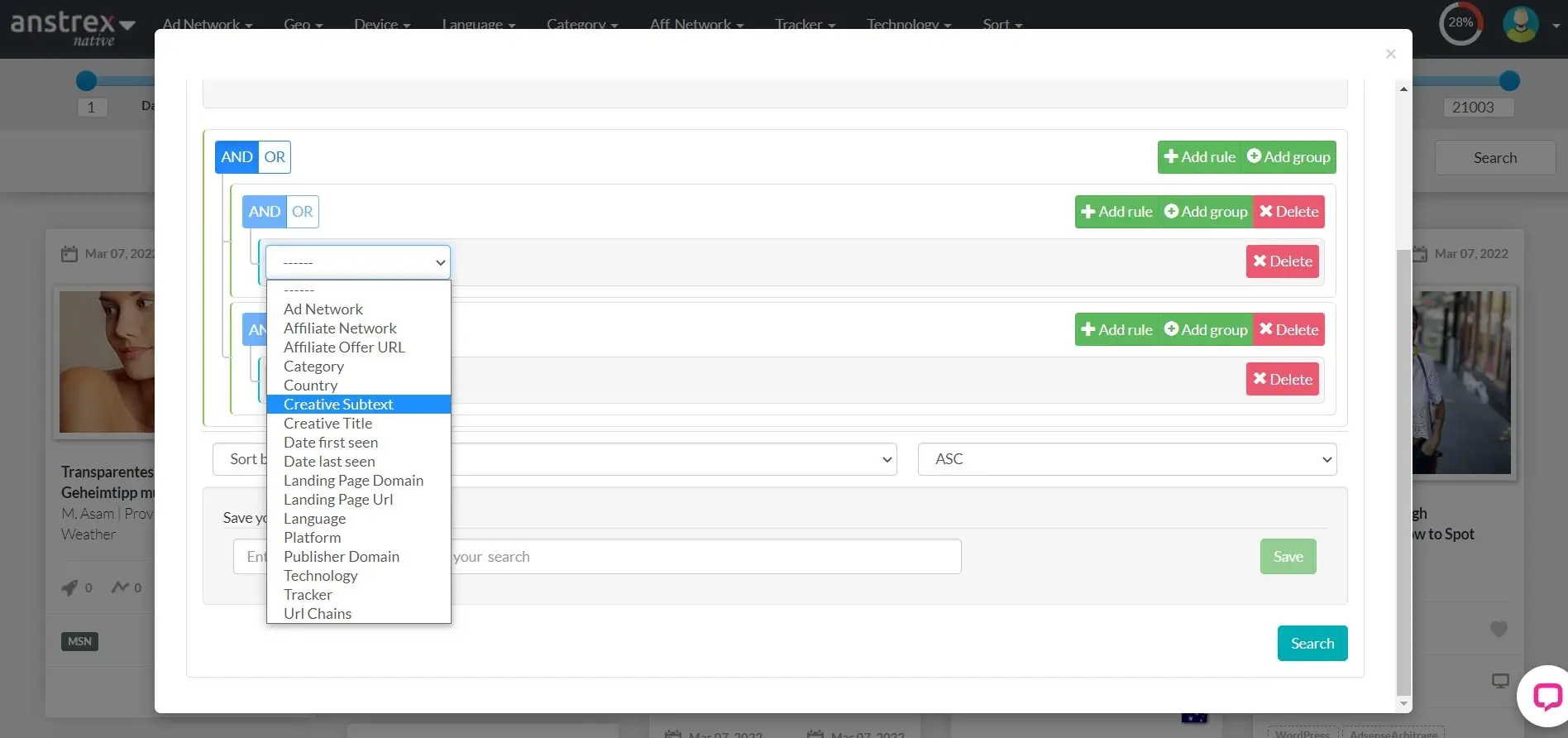 Landing Page Ripper and Editor – You can rip and download any landing page from any ad. And once your landing page is available for download, you can use Anstrex's Advanced Editor to make changes to the lander so it will match your ad. You can also deploy the landing page directly to your server once you've made the final touches to the LP.
Comprehensive Campaign Analytics – The spy tool offers in-depth campaign analysis. You will see not just the ads but also ad performance trends such as ad gravity and strength. Some ads will even show CPC bids and the advertiser's rank.
Anstrex is a great spy tool for internet marketers. It is constantly expanding its database of ads and offers great features for researchers.
The best part about Anstrex is that it provides spy tools for free! So if you are just starting out in internet marketing, Anstrex is a great tool to begin your affiliate marketing journey with.
Here's an in-depth Anstrex review to help you get started.
PowerAdSpy is a competitor research tool for internet marketers who want to dive deeper into ads running on social media and native ads platforms.
Just like the other spy tools, PowerAdSpy offers comprehensive campaign analytics. Its database has millions of ads encompassing more than 15 countries.
Social Media Ads Spy Tool
Let's focus first on its spying capabilities on social media advertising:
Filter by Placement or Ad Positions – This allows you to segment ad results based on social media ad placements—whether they be on the news feed, side location, video feed, Marketplace, or more.
Live Ad View – Not only will you be able to see ads stored in the database, but you will also even have the option to view the live ad. You'll be able to see how the ad appears to the user, as well as the number of comments, shares, and reactions it has.
Advanced Filters – Refine your search based on keywords within the domain name, ad text, image text, and more. Once you find the exact advertiser that promotes products, services and offers that fall under what you are looking for, you can easily check all the other ads this specific advertiser is running.
Engagement Details – Each ad contains engagement information—not just comments, reactions, and click count, but also details and demographics of people who engaged with the ad.

It collects ads from those within the Meta platform, including Facebook and Instagram ads.
Other Spy Tools Inside
While PowerAdSpy initially focused on social media ads, it has expanded to cover other ad formats and platforms, which are the following:
Google PPC Ads
Native Ads
YouTube Ads
GDN, Reddit, and Quora Ads
PowerAdSpy allows you to uncover all the secrets of your top-performing competitors, including:
Advanced Search Filters – Check out paid and organic search results based on keywords, affiliate networks, consumer interest, and even leads.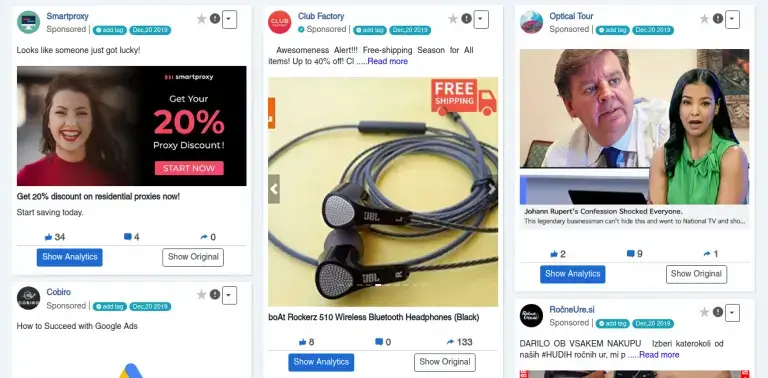 Comprehensive Analytics – You'll be able to see not just the ad's click demographics but also the keywords used and which among them delivered the best results.
Leadpages and Funnels – Get to see how your competitors move customers from the click to the purchase with the actual landing and lead pages.
Local Business Ads – See how businesses with local stores or offices attract new customers. You can search businesses by keywords, niche, or fan page names.
All of this data is incredibly valuable for affiliate marketers who want to model and outrank their competition on PPC ads.
Power Ad Spy has a unique pricing system, wherein you can access more features the higher the subscription plan you choose.
The cheapest plan (Basic) is priced at $49 per month and includes only Facebook Ads. The most expensive plan (Palladium) is priced at $349 per month and consists of all ad formats and features.
To see how it works, you can utilize its free plan that is limited to 1000 searches in total or 100 ads for ten days.
Before signing up for a paid plan, use our PowerAdSpy coupon for a 10% discount.
We've tried this one ourselves. Here's an in-depth review of PowerAdSpy.
SpyCombo is a competitive research tool that initially focused on push notification ads but has expanded to other ad types since its launch. It houses more than two million ads across multiple ad formats.
Available spy tools under SpyPush are:
SpyPush – Scans eight push ad networks: AdMaven, Adsterra, ClickStar, DaoPush, Evadav, PropellerAds, RichPush, and Trending Bid.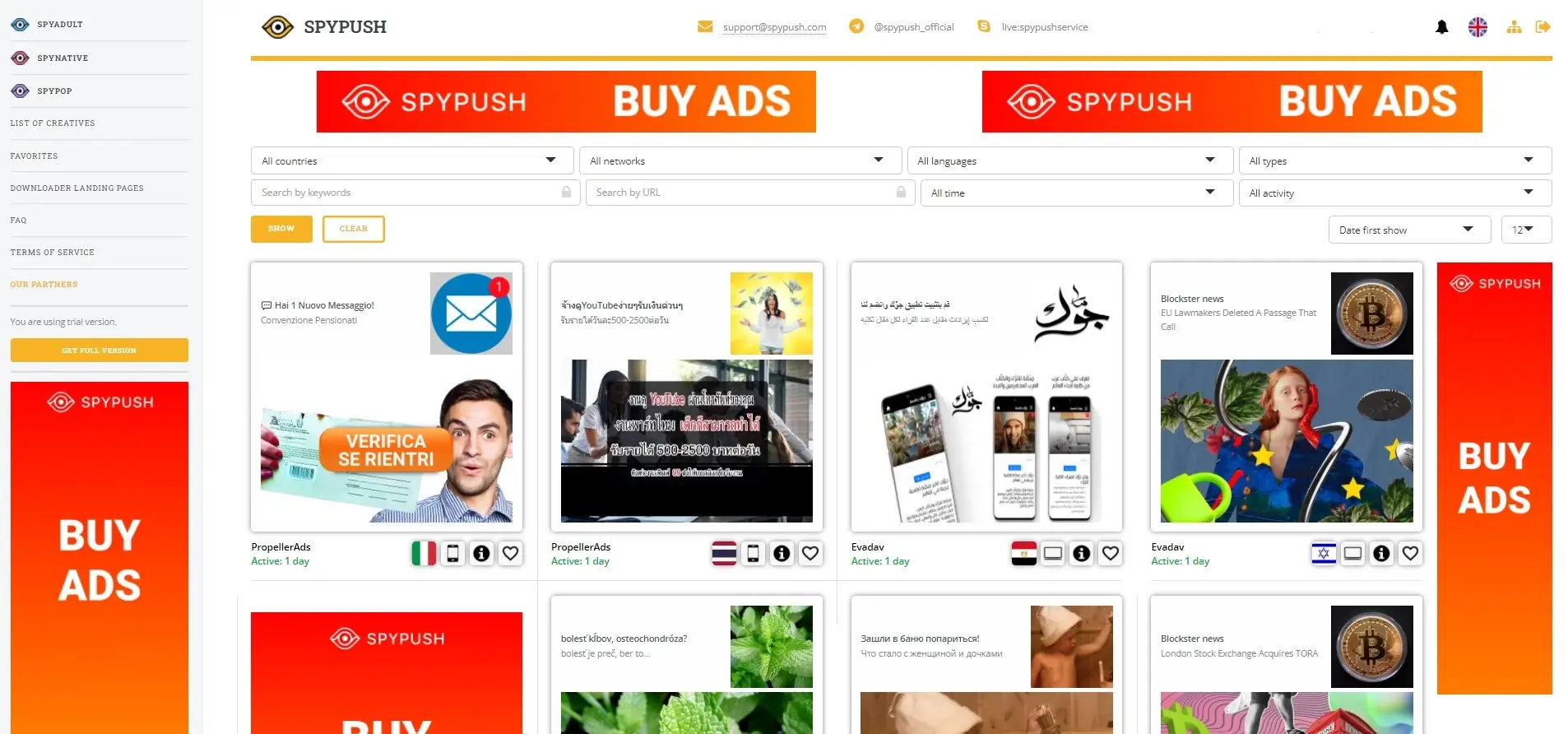 SpyNative – This tool has a database of more than half a million ads from seven native ad networks: Adblade, AdNow, AdsKeeper, MGID, Outbrain, RevContent, and Taboola.
SpyPop – This tool scans pop-under ads from over 95 countries. Available networks include AdMaven, Adsterra, EroAdvertising, ExoClick, PopAds, PopCash, PropellerAds, and Traffic Junky.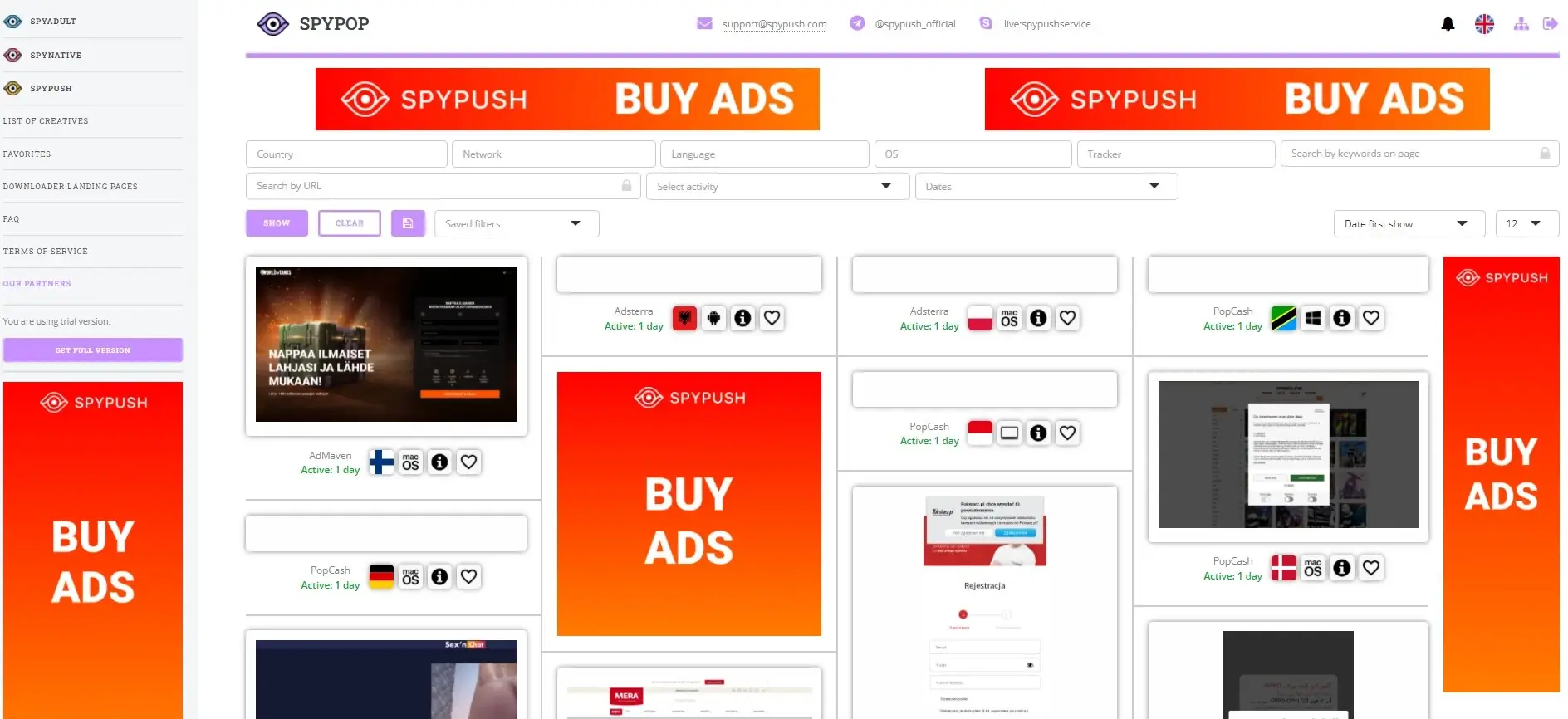 All of these platforms come at $49 a month fee individually. The full version plan covering all tools, called the SpyCombo, is priced at $99 per month.
SpyCombo Features
Just like the other spy tools, SpyPush offers comprehensive ad research capabilities, including:
Multiple Filters – This includes filtering ads based on keyword, advertiser, language, country, operating system, ad networks, and third-party trackers.
Campaign Details – Understand each ad exhaustively by learning about its Ad Service Life (how long the campaign lasted), target devices, and ad creatives similar to it.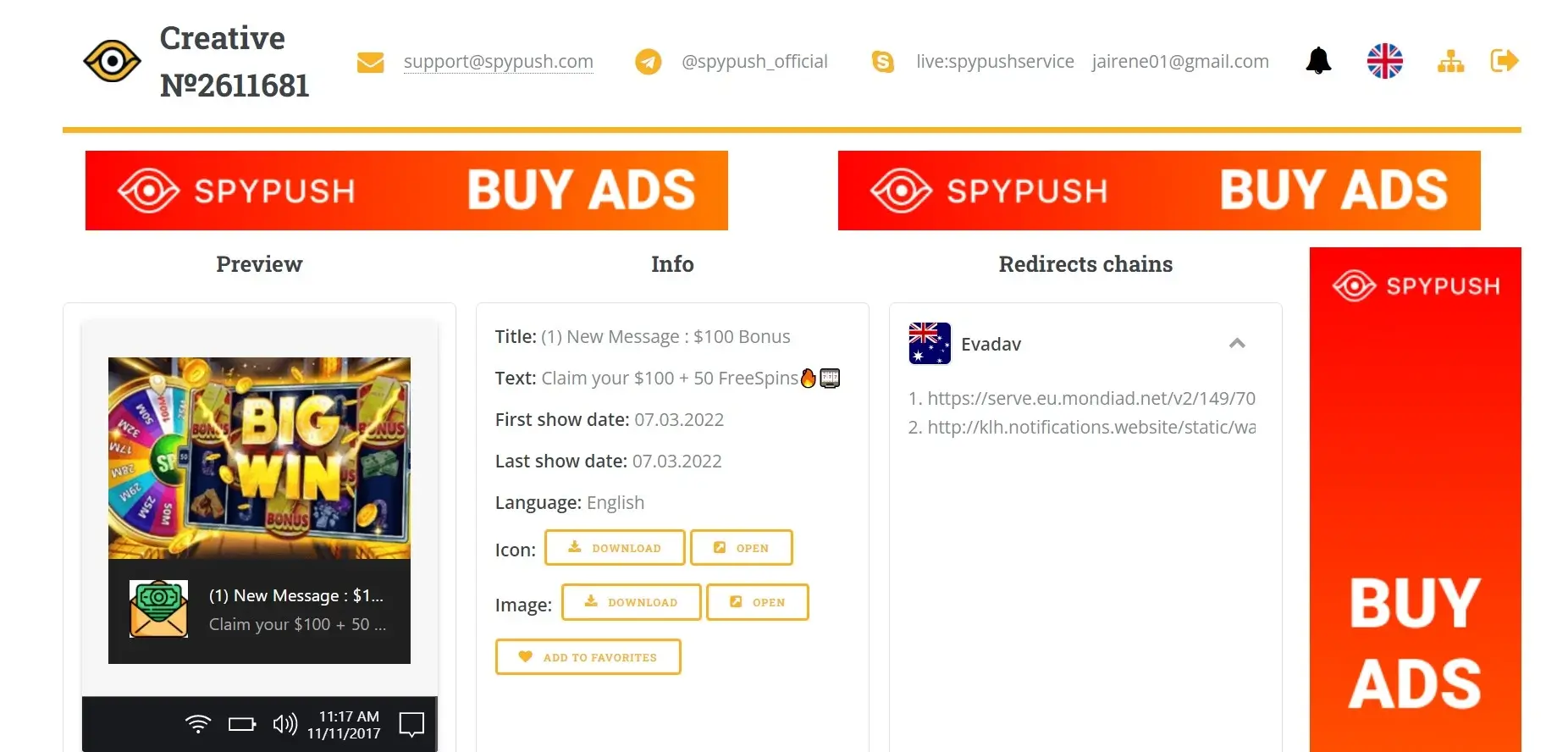 One-Click Landing Page Download – Once you find an ad and landing page that has a big chance at working well for your own offer, you can download the LP with a single click of a button.
Sign up for a free version to see if SpyCombo is the right tool for you.
This free version allows you to view all available ads in their database, though you will not be able to narrow them down to specific ones you need.
Also, the landing page downloader is locked.
If you want to have more details on what this platform is capable of, go and check our SpyCombo review.
AdFlex is one of the most comprehensive ad spy tools available on the market today. It features two main tools: a Facebook Ads spy tool and a Native Ads spy tool. With AdFlex, you can research your competition, find new ad ideas, and optimize your own campaigns for maximum results.
Huge Volume of Monitored Ads
With AdFlex, you'll have access to an extensive database of ads that you can search through to find the ones that are most relevant to your business.
It currently has more than 10 million ads in its database, with a hundred thousand more being added every day. You can find ads targeting more than 80 countries and being run on at least seven platforms (Facebook, RevContent, Outbrain, and more).
Facebook Ads Spy Tool
Looking to step up your Facebook ad game? AdFlex has you covered. With their Meta ad spy tool, you can access proven ideas from millions of top-performing ad campaigns from competing advertisers. Plus, it gives you the insights you need to make your campaigns even more successful.
These ads can help you decide on which CTAs to use, find the ad format that gets the most engagement, target the right user demographic and interest, and get insight into the proper placement for your ads.
Native Ads Spy Tool
With the Native Ads tool, you can research popular native ad campaigns, discover profitable products and services, and figure out who your competitor's target audience is — all in one convenient place.
AdFlex gives you the power to check for trending offers from various affiliate networks and look deeper into successful ads from multiple native ad platforms (Outbrain, Yahoo, Revcontent, and more). You can even learn about which CMS tool and funnel builder your competition is utilizing.
Laser-Precision Search Filter
This competitive intelligence tool gives you an unfair advantage over your competitors by allowing you to quickly and easily find the right ads to duplicate for your own campaigns. By using its powerful filtering options, researching relevant ads is easy as a pie.
You can filter by platform, ad placement, location, demographic, business category, user interest, number of active days, level of viewer engagement and so much more. This gives you the ability to find the ads that are most likely to be successful with your target audience and offer them a better experience than your competition.
Preview and Download Landing Pages
This is the perfect way to get an inside look at your competitor's landing pages. With just a few clicks, you can preview their landing page and download it for your own use. This feature is especially useful for those who are looking to create their own landing pages or improve their existing ones.
AdFlex is an essential tool for any serious advertiser, and with new features being added all the time, it's only getting better. Its Pro Plan is priced at $99 for one tool, and $180 for two tools (both up to three devices). You can try it for up to 3 days for just $1!
If you're looking for an edge over your competition, give AdFlex a try. You won't be disappointed.
SpyOver is an ad analysis tool for native and push notification ads that have been around since 2017.
It has collected almost 10 million ads from 14 top native ad platforms.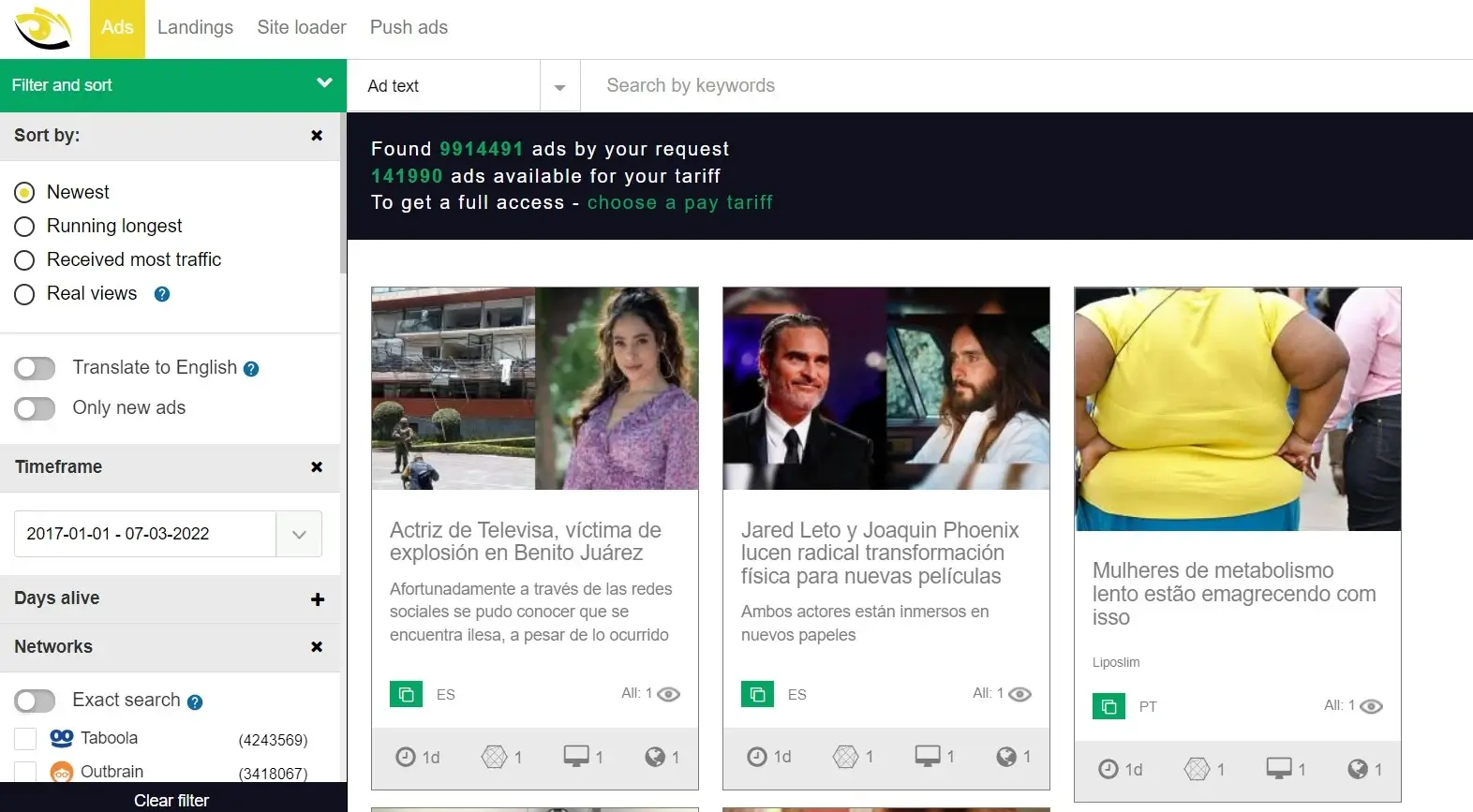 It's important to note that SpyOver is not just for affiliates.
It can be used by any business owner who wants to gain a competitive edge.
Whether you are a CPA network, an advertising agency, or a typical media buyer—SpyOver can give you the advantage you need over your competitors.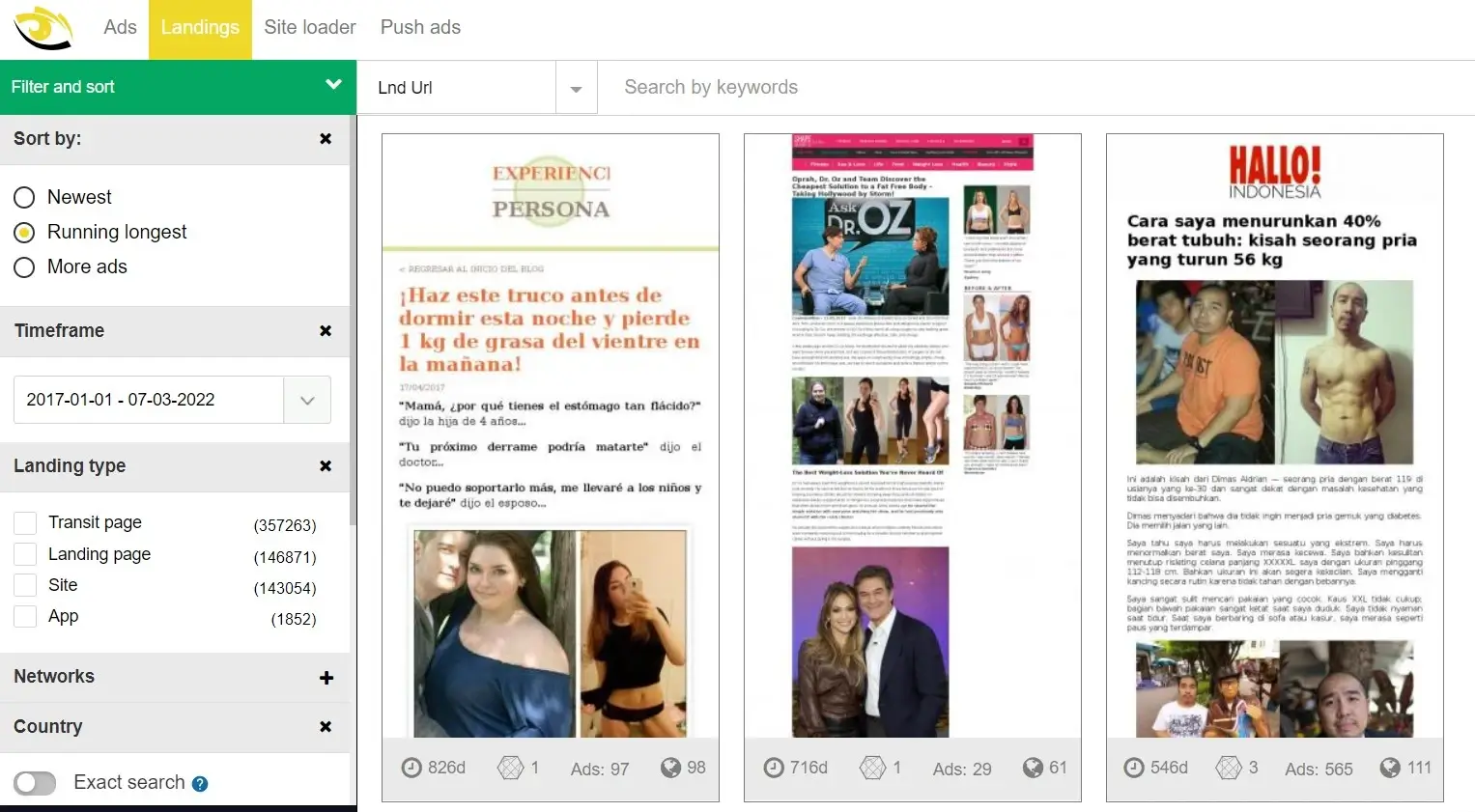 This convenient spy tool has the following ad research features:
150 countries monitored
14 native ad networks and four push ad networks
70 affiliate networks
Can refine search results based on country, device type, network, tracking tool, and browser;
Real ad trends are shown in graphs or diagrams;
Mass downloads of ad creatives and landing pages;
Translation of ad text from any language to English.
SpyOver has two pricing plans: the Professional ($149 per month) and the Corporate ($299 per month).
The only difference between the two is the number of simultaneous sessions, with the former allowing two concurrent users and the latter enabling six concurrent users.
If you want to see if this is the perfect tool for your needs, you can sign up for the free demo, which allows for limited platform use.
You will not be able to see all ads and the filters are not all functional with the demo.
Read our SpyOver review and learn more about this spy tool.
If you're sure this will work for you, take advantage of our exclusive SpyOver coupon to get a 30% discount.
AdMobiSpy is an ad research tool that has been around since 2014.
It's a comprehensive spy tool that allows you to spy on your competitors' mobile-based ads, as well as see their ad placements, creatives, and landing pages.
AdMobiSpy Tools
It has four main ad intelligence tools, separated based on ad format or platform. These are:
Google Ads Tool – AdMobiSpy's Google Ads tool monitors more than 2000 new ads every day from 52 countries worldwide so you can stay ahead of the curve.
Whether you're interested in learning about the latest ad formats or keeping track of affiliate network activity and tracker being used, it can provide you with all the information you need. This is priced at $299 per month.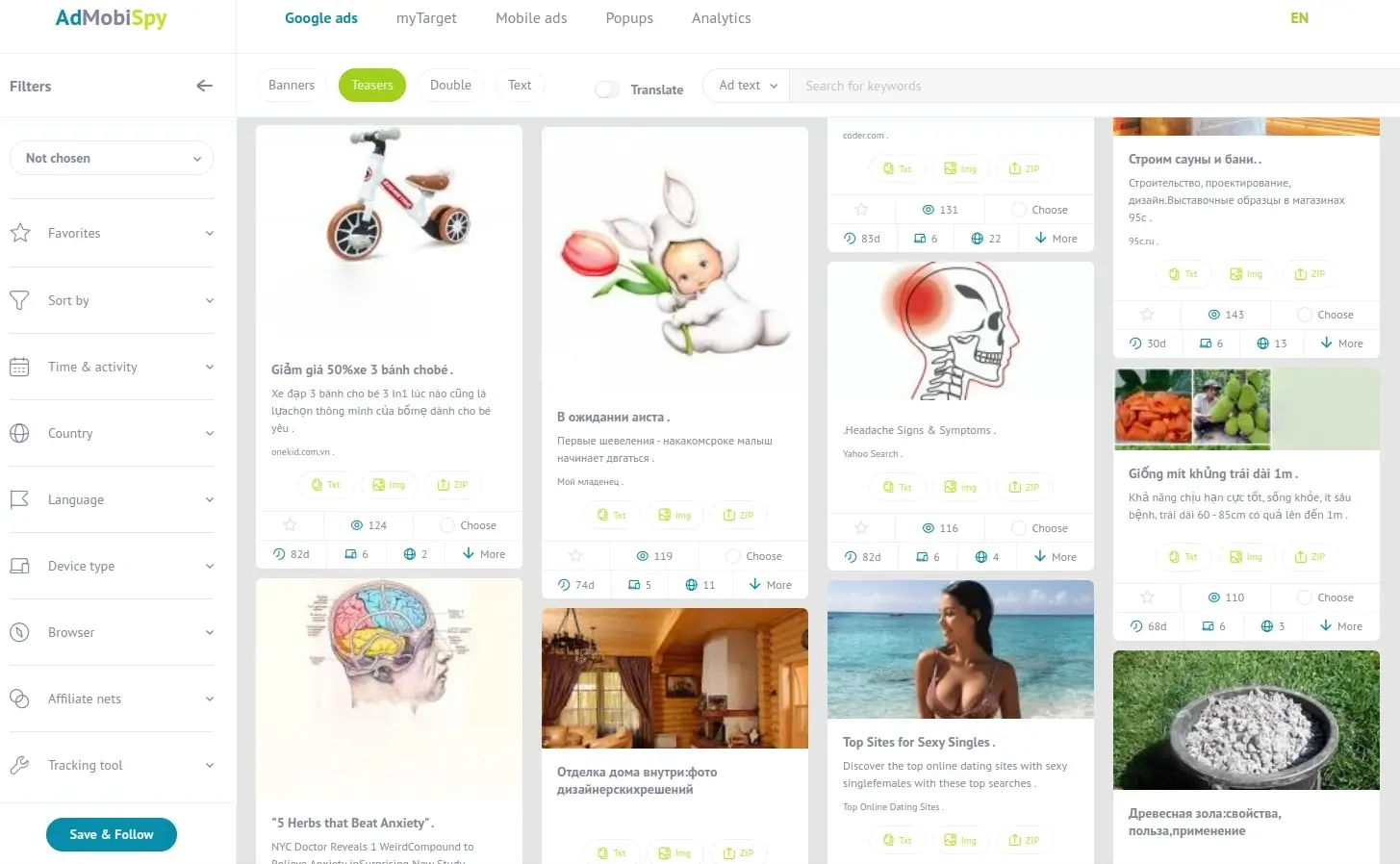 myTarget Ads Tool – This tool offers ad intelligence and placement services for 11 countries across three social media placements. This service monitors 1500 new ads and more per day, so you can make the most impact with your myTarget advertising.
The monitored placements are Native and Double Advertising, Banner Advertising, and Video Advertising. The monthly subscription fee for this service is $49.
Popup Ads Tool – Popups can be annoying, but they are still an effective way to get people's attention. This spy tool monitors over 700 fresh landing pages every day and provides data on affiliate networks and third-party tracker usage.
It also includes information on the top five pop-up networks. This can help you find the most profitable offers and new ways to promote them. All this for the price of $149 per month.
Mobile Ads Tool – Everyone uses mobile phones nowadays, so why not make some money off it? AdMobiSpy's service monitors at least 1200 new ads a day from 70 countries in five different ad formats. That means you get access to the best mobile advertising campaigns out there.
This service also keeps track of ads based on offers from select affiliate networks and trackers.
The monthly subscription fee for this tool is $199 per month.
If you are interested in using all of AdMobiSpy's tools mentioned above, you can opt for the Full Access plan, which is priced at $599 a month.
Sign-up for this tool using our AdMobiSpy coupon and get a 15% to 20% discount based on the duration of your subscription.

Another well-known competitive analysis tool for ads, Adbeat provides remarkable insights into what your competitors are doing and how they're doing it.
With Adbeat, you can see not just the ads and message being used, but also where the traffic is coming from—including which publishers are being targeted.
Adbeat's features are pretty extensive, with the following qualities:
Exhaustive Data – Adbeat crawls three million web pages, gathering eight million ads on a daily basis. These ads are estimated to come from 1.1 million advertisers and from over 90 ad networks.
Thorough Insights – Adbeat is a spy tool that lets you learn your competitor's media buying strategy, and it also provides insights on how to write higher converting ad creatives. You can also see all the campaigns by product so you can modify your strategy accordingly.
Finally, Adbeat provides data on which publishers your competitors buy the most traffic from. Use this information to spend smarter by testing out publishers that have already been proven to work for the competition.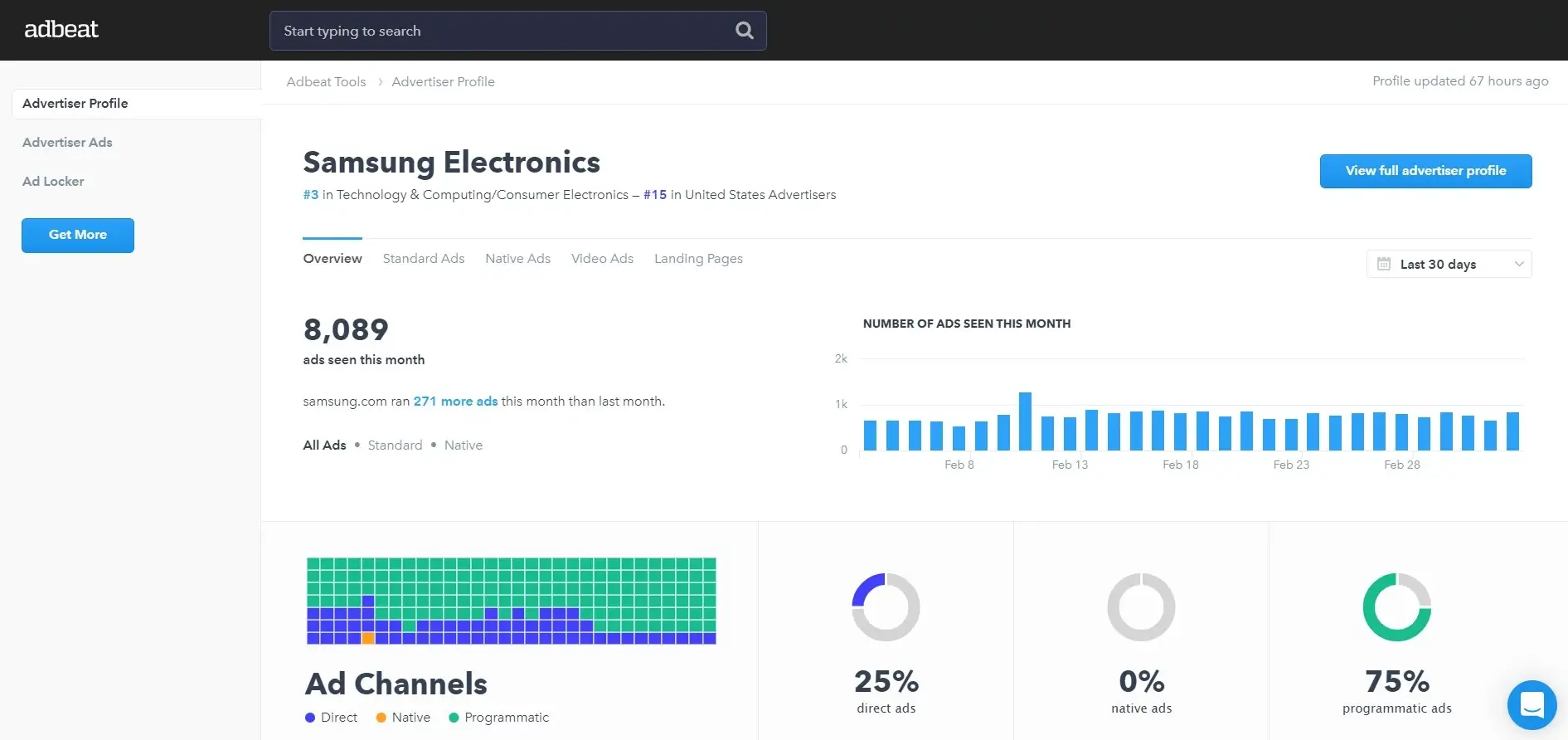 Valuable Reports – The data you need to make informed decisions is just a few clicks away. Reports and alerts let you take your insights with you wherever you go, so you're always in the know.
The data are available in numerous formats, including CSV, PDF, and PowerPoint-ready presentations.
You have the option to share the wealth of data and intelligence that an Adbeat report gives you with your clients or team.
They'll appreciate the level of detail and quality of information.
You can also set automated notifications to be instantly informed when something important happens (like when an advertiser you monitor runs a new campaign).
The downside to using Adbeat is that you need to know who your competitors are. If you want to know how your competitors are promoting a specific offer, you must first know the offer advertiser's website to see all ads being used to send traffic to it.
However, this spy tool's interface is one of the best we've seen across all ad intelligence tools we've tested. It is very clean, organized, and looks professionally made in every sense of the word.
You can also expect a high price with this level of tools and information.
Adbeat has two read-made plans available: Standard Plan and Advanced Plan.
The Standard Plan is priced at $249 per month, which is limited to a thousand results per search and 90 days' worth of data.
The Advanced Plan is priced at $399 per month, which allows you unlimited results per search and a year's worth of data.
It also includes alerts and advertising comparisons.
As I've mentioned above, there are many quality spying services available on the market.
I wanted to help make this choice easier for you!
Give Us a Try
We at Mobidea have a spy tool of our own. Our aim is to help affiliates find the best ads for specific offers, and we do this by providing them with an overview of the ad creatives used by advertisers on a global scale.
Mobidea's spy tool is constantly updated with the latest ad creatives used in the market, so you can always be sure that you're getting the most recent data.
We have two spy tools available: Push Ads and Native Ads spy tools. These can both be accessed within your Mobidea affiliate dashboard.
Mobidea's spy tool makes it easy for you to spy on push ads from the best in the business.
You can uncover winning ads and traffic sources, spy on the best media buyers, and find detailed targeting information.
With this advantage, you can defeat your competition and generate the same results or better.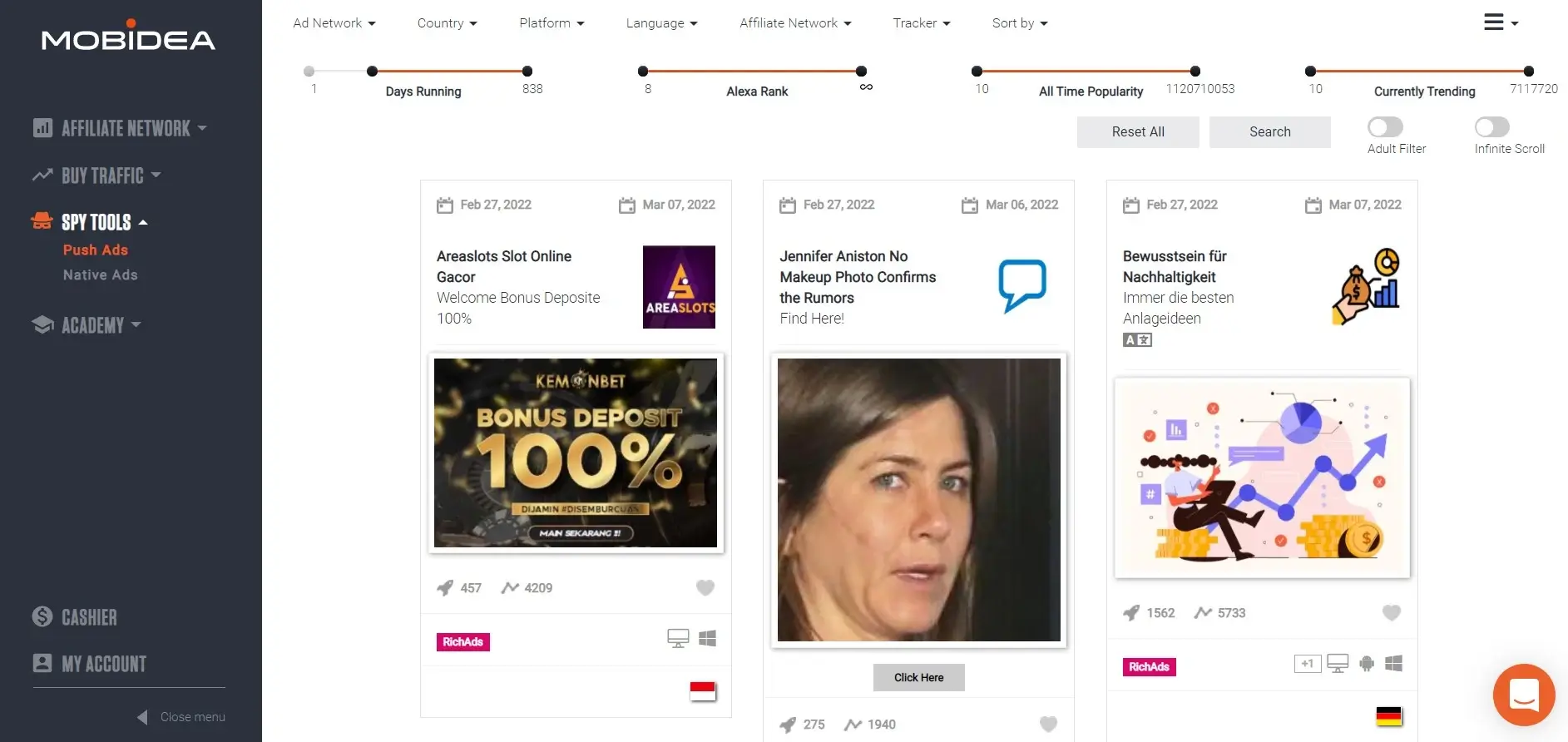 We collect ads from 40 ad networks, over 200 affiliate networks, 90 countries, and 30 thousand advertisers.
There are more than three million push notification ads in our database. The monthly subscription fee for this tool is $89.99.
The Mobidea spy tool for native ads is the perfect way to spy on your competition and learn from their successes.
You can uncover winning creatives, publishing websites, traffic networks, and more.
Plus, you can get detailed targeting information to replicate their success.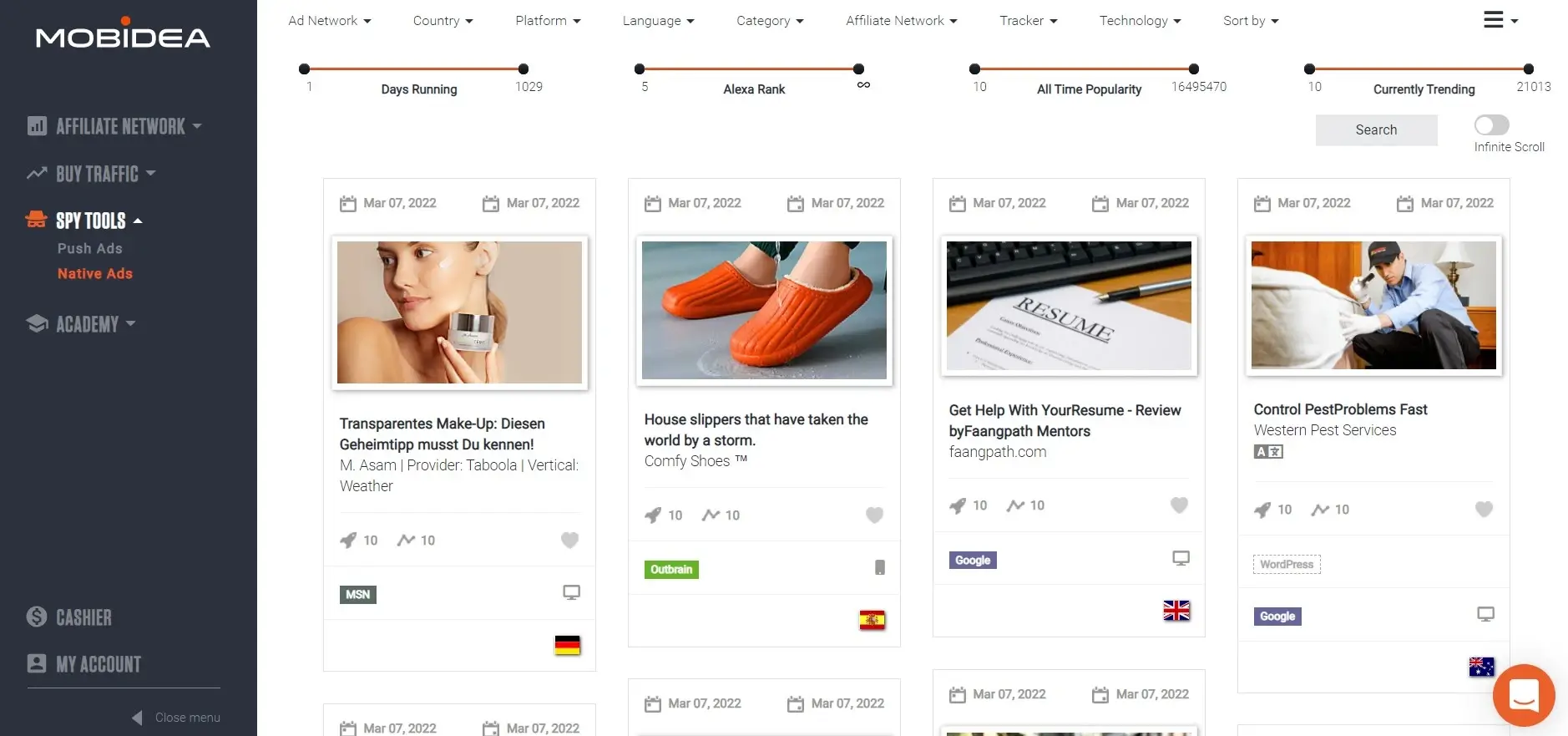 We collect ads from 27 ad networks, at least 200 affiliate networks, more than 60 countries, and 155 thousand advertisers.
This gives you access to more than ten million native ads in our database.
This one is priced at $69.99 per month.
You can have both the Push and Native Ads spy tools for a combo price of $139.99 monthly.
Additional Features
Enhanced Search Options – Our ad spy tool makes it easy for you to find the best campaigns for your keywords or vertical, and you can sort them by ad strength and active ad duration.
Landing Page Ripper and Editor – As you may have noticed, being able to download landing pages is not enough—being able to customize the pre-lander to your needs and niche is necessary. On top of this, you can link your server account to Mobidea's Spy Tool and deploy the pre-lander directly.
New Campaign Alerts – This tool lets you see every new campaign your competition launches so that you can replicate their successes (and avoid their mistakes). Plus, with Campaign Alerts, you'll be the first to know about new push and native ad campaigns for a specific niche—before the market gets saturated.
Affiliate Offer Wall – Our Offer Wall is packed with offers from top affiliate networks so that you can find the perfect offer for your campaign quickly and easily. Plus, you can obtain a detailed report of every offer, from ads to pre-landers, to ensure your campaigns are optimized for success.
You can also rest assured that someone will be around to assist when you need it. The support team is available seven days a week.
Lest we forget, we also have a 20% discount for Mobidea Academy readers!
Just use the promo code ACADEMY20 when subscribing.
Other Tools
I truly recommend using an ad spy tool, but I've also gotta mention that you may not even need a tool to monitor your media buying enemies.
For instance, let's say you're wondering what and how other affiliates promote on a particular website for the mobile Wi-Fi traffic of some country.
You can use a VPN service such as NordVPN, along with the User-Agent Switcher extension for your browser!
Just connect through a VPN to the country you're interested in.
Then make it seem like you're using a mobile device on the User-Agent Switcher extension, and check the website.
If you don't know the website you want to check, just launch the campaign on the ad network, spend 50 miserable cents, and get the long list of websites on your stats.
Additionally, never hesitate to ask your account manager for suggestions on promoting a particular offer in a particular segment!
Trust me: it's probable that they know a bit more than you.
Final Thoughts on Using Ad Intelligence and Spying Tools
Ad intelligence tools are a necessary part of any affiliate's marketing arsenal.
These tools allow you to spy on your competition, learn from their successes, and replicate their campaigns for your own benefit.
However, it's important to remember that these platforms should only be used to supplement your own intelligence and intuition based on your experience and past data.
Don't simply rely on the information provided by spy tools—use it to formulate your own ad strategies and determine what's best for your business.
With that in mind, spy tools can be a hugely valuable instrument for any affiliate marketer.
By using them correctly, you can gain a significant advantage over your competition and increase your chances of success.
Try at least one of the ad intelligence tools we've listed above and see how helpful they can be not just for affiliate marketing but for online advertising as a whole.
Keep spying like crazy and become the example of success in affiliate marketing!