Guides & Tutorials
Last updated on May 21, 2018
by
Dmytro Butuzov
6 min read
Advertisement

Introduction
As you've already been able to understand, we're gonna go into Sweepstakes offers.
Even so, this isn't your typical article.
Indeed, it's an interview with one of the industry's most influential affiliate marketers:
And since I had the amazing opportunity to ask such a true affiliate marketing pro for some dope advice, you better believe me when I guarantee I didn't let Charles go until he was able to give me all the Sweepstakes juice!
First of all, let's go into Sweepstakes offers.
In general, the appeal of a sweepstakes offer is the chance to win a mobile phone, cash, a gift card or other goods loved by a wide audience.
Sweepstakes Offers Universe
Most of the Sweepstake offers have a sign-up flow.
Meaning what, exactly?
That users just need to insert their email and maybe some more personal info to complete the conversion.
Therefore, the user doesn't pay for anything while you're getting paid by the advertiser!
However, in some GEOs, Sweepstake offers might have the mobile subscription flow.
Why does this happen?
Because – in Tier 1 countries – the user's personal info (email, name, etc) has value, which means advertisers are ready to pay for it.
On the other hand, in Tier-3 countries, the user's info isn't as important – the only way to make money is through a user's subscription.
Now that you know this, I'm sure your head is filled with questions!
I bet you still have doubts about how to play with Sweepstakes offers, where to run them, and what are the dopest methods.
What to do?
Time to listen to a super cool expert and get the answers you'll need to succeed!
Charles Ngo is a master and he's here to let you know how to make it rain with Sweepstakes Offers!
Charles Ngo – Affiliate Marketing Extraordinaire
Hey, what's up!
If we haven't met before, I'm Charles Ngo.
I've been running CPA campaigns for almost 10 years, and I run one of the biggest affiliate marketing blogs around!
You can check it at charlesngo.com.
The Mobidea Crew have hit me with a few questions about the sweepstakes niche, so here are my answers.
Thanks to Mobidea for reaching out!
1. What do you think of Sweepstakes and Facebook?
To me, it's not worth the risk. Facebook doesn't like anything remotely aggressive.
They'd rather affiliates do Ecommerce or Teespring campaigns.
There are other places that are much easier to run sweepstakes on, and worrying about getting your account banned is something you don't need (especially for newbies).
If you really wanna run on Facebook I'd recommend verticals like gaming and lead gen.
2. What are the best traffic sources and ad formats for Sweepstakes?
Most Sweepstake offers are run on Popunder traffic sources.
Some of the big mobile traffic sources include PropellerAds, ZeroPark, AdCash, Self Advertiser, etc.
All of those traffic sources have different placements, so start testing!
Make sure you use a landing page.
Sweepstakes will not convert well if you're direct linking.
3. Which offer flow do you recommend?
The general rule of thumb is that the more details the advertiser asks for, the higher the payout will be.
So if the end users have to enter their credit card details, you'll get a higher payout than if they just have to insert their first name and email address.
If you're new to affiliate marketing and you're on a limited budget, stick with the email submit offers (some networks call them SOI – Single Opt In offers).
Mobile subscriptions and the credit card submit will take a bit more budget, but those are the offers you should be running when you're out of the newbie phase and you've got some profitable campaigns.
If you want to know more about the types of mobile offers, here's a post I wrote on mobile.
4. What do you think about pre-landers a la quiz or roulette?
I see affiliates running the "3 questions" landing page all the time.
That style of landing page still makes money, otherwise nobody would use it.
I'll give you a few tips on how to use these pages:
Let's say they are running an iPhone Sweepstake.
They will use angles on their landing page like "Win an iPhone 7 – Special Giveaway".
Their 3 questions might be:
What's your age?
What's your gender?
How often do you use Facebook?
Those questions suck and they don't make sense.
Why would a company give away a free iPhone or prize because they got that information from someone?
It doesn't sound believable.
You need to think about believable angles.
Some tried and true angles include:
Beta testing for future iPhone versions.
The person's cell phone company is doing a survey
Playing a game and winning.
Come up with a good reason why a company would give away a prize, and have your questions support it.
5. Can you tell us your idea of a perfect Sweepstakes promotion?
If you can piece together all of my tips from this interview, you'll have something that's close to what I do when I run these offers.
I've got two more major tips that'll give you insight into how I run these campaigns:
First – Decrease your page load time
The internet is pretty slow in a lot of countries.
Even here in the US there are some places where download speeds are really bad.
Mobile users aren't gonna wait 5 seconds for your popup to load.
My rule of thumb with mobile landing pages is that they HAVE to be under 1 second.
But faster is always better and you can get pages loading way faster if you try.
Here are some action steps you can take to reduce your page load speed.
Use GTMetrix or PageSpeed from Google to test your page speed before you optimize it
Put all of your code for the landing page into one file
Minify your code
Compress all images with Photoshop or Kraken.io
Don't use shared hosting – use a VPS or a CDN
There's a ton of info on the web on reducing page load speed.
Next –  Redirect Traffic To Different Offers
Voluum gives you the ability to redirect traffic based on rules you set.
Some of the good offers will only accept traffic from certain carriers, but some traffic sources don't allow you to target by carrier.
Another pro tip: even though you can segment by carrier on a traffic source, it doesn't mean that it's 100% accurate, so you need to account for that.
Let's say you wanna test 3 sweepstakes offers, here's what their terms might look like:
Offer 1 only accepts AT&T
Offer 2 accepts Verizon and T-Mobile
Offer 3 accepts all traffic
You would set up rules on Voluum to split the traffic to the different carriers. Having offer 3 in there means that none of your traffic is wasted as there's a backup offer.
6. What's the ideal Sweepstakes Offer launch?
For me it's going to be a lot different than for a newbie.
Ad format: 95% of the time I'd run it on mobile pop, so no ads, just a landing page.
Traffic source: any of the big ones like Propeller, Popads, Zeropark, etc. They all have good placements hidden among the bad ones.
GEO: I'd split test at least 5 different GEOs. I'd get the pages translated by OneHourTranslation.com, then launch in those 5 countries. The one I go with will be the one I make the most money from during a test.
Flow: PIN Submits will pay out a lot more, but they are harder to convert (because they ask for more details). Single Opt In (SOI) or Double Opt In (DOI) will have a lower payout, but they're easier to convert.
This means you can get more data for a smaller budget. If you're a newbie launching your first few campaigns, go with the email submits (SOI or DOI). If you have a larger budget or you're more advanced, PIN Submits can do really well.
7. How important are Sweepstakes in today's mobile affiliate market?
If you're new to mobile marketing, Sweepstakes is a great place to start.
They've been around for a long time, and I don't see them going away anytime soon.
I know a lot of affiliates who've hit their first big campaigns doing Sweepstakes on mobile.
The good thing is that – when you run these campaigns – your skills will transfer over to other verticals.
The "3 questions" lander is used in a lot of niches…
Now it's time to run some offers!
There's a lot of money to be made in 2017 with sweepstakes. Mobidea have a ton of these Sweepstakes offers, so hit up your affiliate manager and see what you can do!
Thanks again to the Mobidea Crew for putting these questions together and reaching out! Appreciate it guys!
– Charles
P.S: Here are 4 free affiliate marketing PDFs that'll help you make more $$ as an affiliate! Download here!
Thank you for these awesome and super detailed answers, Charles!
Now I feel much more confident about Sweepstakes!
I'm gonna launch one right away!
Conclusion
Just to summarize, Sweepstakes is a good vertical to start your media buying journey and learn from it.
All you've gotta do is ask your affiliate network for the top converting Sweepstakes, create several pre-landers, and launch a mobile pop campaign in one of the ad networks mentioned by Charles.
Plus:
You must ALWAYS use a tracker! Otherwise, you won't have relevant data to optimize your pre-landers and the whole campaign.
Wish everyone tons of conversions and those super high ratios you know you love!
Cheers!
Advertisement

Dmytro Butuzov
Online Analyst
More articles from Dmytro Butuzov
Dmytro was lucky enough to come to Lisbon for his studies. That's how he ended up having not one but two Master degrees: one is in Marketing and the other one in Finance. With such a phenomenal background, it was only a matter of time until the Mobidea Crew convinced him to join in and become a true pro! He now works as an Online Analyst on Mobidea, and he is simply an amazing professional who also loves writing super helpful affiliate marketing articles. When he isn't working, Dima loves exploring Lisbon's cultural life and having fun!
Guides & Tutorials
The most thorough affiliate marketing verticals guide! Check the best verticals and actionable golden tips (yes, absolutely!)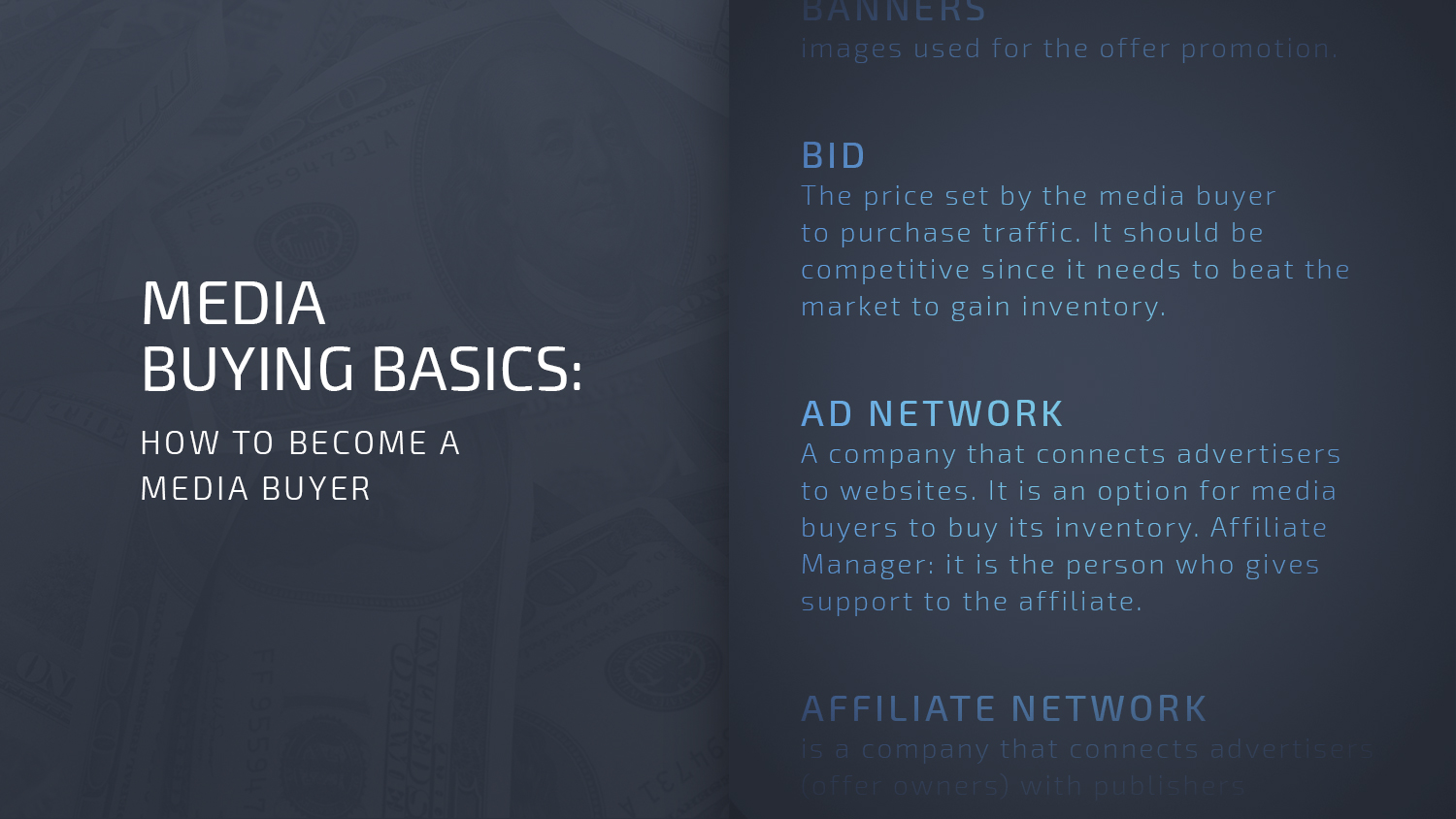 Guides & Tutorials
Check the essential basic skills you'll need to become a super successful media buyer in the competitive world of affiliate marketing!
Mobidea
AdvertisementChecked all the Mobidea's tutorials but you're still feeling lost on our platform? No worries! Daliya is our dope Community…