Guides & Tutorials
Last updated on August 13, 2018
by
Galina Grigoreva
11 min read
Advertisement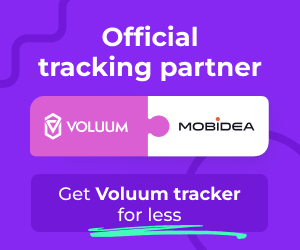 Introduction
I think all you guys will agree with me when I say:
Popunder ads are an awesome way to increase your profits!
Even so, people just don't seem to get the (amazing) potential and fail to use Popunders the way they were meant to be used!
No worries, though!
Today, ALL that's gonna change…
I guarantee I'm gonna be able to explain to you what Popunders are all about, how to effectively advertise with pops, how to launch a successful campaign, deal with targeting, blacklists and whitelists…
It's gonna be a Popunder walkthrough never before seen in the online realm!
By the end of this article, you'll become a master, getting all the right tips you need to succeed in the Popunder advertising world!
Ready?
Let's go!
What is a Popunder Ad?
Popunders (on-click) or pops are ad formats which have become rather popular over the last years. There are numerous ad networks working with this type of online advertising, and more and more advertisers and webmasters are choosing popups and popunders to boost their profits.
Let's define the difference between popunders and tabunders, which may at first seem rather similar. A tab opens in the same window. It can open over the active tab (tab-up) or behind it (tab-under).
Popups are new browser windows which open over the main or active window.
They are thought to be more aggressive than pops which are viewed only after the active browser window is closed. All of these types use a Javascript code in order to be displayed.
Popunder Ads Examples
Pops may be different. Below are just a couple of examples. You've most likely seen lots of them already.
Example 1

Example 2

Example 3

How to Advertise with Pops?
Pops are used to generate leads. There are two popular ways to do that: via redirect, leading to the advertiser's page with an offer, or via a pre-lander, a sort of a landing page with no form to fill in but with a Call-to-Action (CTA) button.
Pre-landers are used for the purpose of playing with a user, warming them up before making a direct offer.
Sometimes there can be more than one pre-lander to gain a conversion.
Related Content: The 5 Most Common Mobile Pre-landers
Let's take a look at how it works:
The user visits a website and clicks, or scrolls, or clicks a button.
They're then thrown onto a pre-landing popup, convincing them to try their luck. They may even try it once again, if they fail to win at their first try.
The next try brings luck and, wow, the user wins something!
Congrats!
They press a button to get their prize and…lands on a pre-lander claiming that, for instance, the prize is reserved, and the user is going to be sent to the official distributor's website where they should prove they're a real person, enter their email and shipping address.
This kind of a pre-lander may describe an offer and set a deadline to subscribe to it.
The user presses a get-it-right-now button and goes to the advertiser's landing page with an offer and a form to submit.
After having spent some time on this game, it is more likely that the user will send their details to the advertiser.
Bingo!
Why you should use Popunders
When you come up with the decision to advertise online, you may think of different ad formats and even try some.
Despite the idea that pops disturb users, they actually convert much better in comparison to many other ad formats, sometimes reaching up to 300%+ boost in ROI.
Pops also win when we consider the problem of "blindness" or, in other words, the users' neglect that banners and display ads suffer from. Users have to interact with popunder ads more consciously.
Keeping in mind that pops target the right audience, they have a better chance of being viewed.
All these types use Javascript code in order to be displayed. Pops are run on and adapted to different platforms: desktop, laptop, tablet and mobile. Such flexibility makes them rather popular with advertisers willing to reach their audience wherever it is possible online.
Banners have problems with view-ability on the mobile screen, videos may not run because of different settings and are almost useless with the sound switched off, but pops show up and work in any case, every single time!
How to Launch a Campaign
Almost all ad networks – such as Clickadu – offer popunders as ad types. In order to actually pick an ad network, you should obviously try several different platforms, and then analyze both their services and efficiency.
When you have chosen the ad network, you normally have a choice of being managed or self-served with the help of a handy platform making available to launch and optimize multiple any-target campaigns.
As a rule, it takes a couple of minutes to sign up and approve your account. After that, you make a draft of your first campaign, which is normally approved within hours.
There's an array of different pricing models available with popunders:
CPA – Cost-per-Acquisition
CPI – Cost-per-Install
CPL – Cost-per-Lead
CPS – Cost-per-Sale
CPM – Cost-per-Mile (per 1000 impressions)
Even so, the two most popular pricing models are CPA and CPM.
Learn More: CPA and CPI – What's the Deal?
You can choose the frequency and capping of your ads. Frequency shows how many times the ad will be displayed, while capping defines the period of impressions.
We do not recommend setting too many impressions per 24 hours. Users will most likely get annoyed. It generally makes no sense, and you will just waste your money.
The last thing to do is to make a deposit by any convenient method. The most common payment methods are: wire, ePayments, PayPal, Paxum, Webmoney, etc. Make sure to specify the daily and total campaign budget.
This sum may differ depending on the offer itself, the campaign settings and targeting.
Well, What About Targeting?
Targeting opportunities are usually rather wide: geographical location, operating system, operating system version, device types, connection type, mobile carrier, browser, browser language, individual ad zones.
Advertisers dealing with wap-clicks and looking for carrier traffic may be interested in IP targeting which may help target definite IP zones. You just have to send a list of IPs to your ad network manager in order to launch the campaign.
You can also choose websites you wish to advertise on so that the right customers could see your ads.
What else is important while launching the campaign?
A time schedule! Some advertisers may be worried about the specific weekdays in which their ads are gonna be displayed. For advanced targeting, you may set not only days but also hours.
Let's presume that the audience interested in your product spends time on the Internet on weekday evenings and also during the whole weekend. You can set up the hours for each day and track the results.
Alarm! No Traffic! Now What?
First things first – what is popunder traffic?
Popunder traffic is all web traffic generated by displaying popunders. As simple as that.
Imagine that – all of a sudden – you see no traffic. First of all, you should go ahead and check your account balance. If you have funds, check your campaign status and budget settings.
When your campaign's daily budget is reached, your ad will no longer appear for that day and will later reappear the next day until you pause the ad or the total campaign limit is reached.
Related Content: How To Create a Killer Media Buying Budget Strategy
When your campaign's total budget is reached, your ad will stop being active, unless you increase the limit and restart the campaign.
With the help of a traffic estimator, you can see how many estimated impressions of your ad are available according to your campaign's bid and targeting settings.
Campaigns targeting high-quality countries and popular ad placements (zones) must have very competitive bids to be able to receive traffic. Moreover, the prices change frequently, since they're being operated in real-time.
Black and Whitelists
When targeting, you may also make lists of "good" and 'bad" zones (websites). However, this can be done after you launch the campaign and track the first results.
If some of the zones chosen do not meet your performance targets, you may block them, thus making a blacklist.
The same campaign will show you high-performing zones giving a positive ROI. They could become a part of your whitelist. The lists can be enormous indeed, sometimes reaching up to 1000 zones per campaign.
Save the lists to use them in the future with the same targeting. Be careful with a blacklist, though! Zones which are performing poorly for one campaign can be good for another!
Tips for Better Converting
As mentioned above, time matters. To gain more and spend less, make sure you set a reasonable ads schedule. You can use the following tips describing conversion dynamics on some popular GEOs.
As you may see, these are only general trends without any reference to offers.
Driving US traffic to your campaigns will bring more conversions in the period from 7PM to midnight and less from 3 to 7AM.
Thai traffic converts worse from 2 to 7PM. The night time from 1 to 7AM is also rather bad for conversions. However, you may get more results from 8PM to midnight.
If you are interested in Indian traffic, your campaign can be more effective for a couple of hours from 8:30 to 10:30 PM and it might show fewer conversions from midnight to 7AM.
Japanese traffic converts better from 7PM to 11PM and worse from 1AM to 9AM.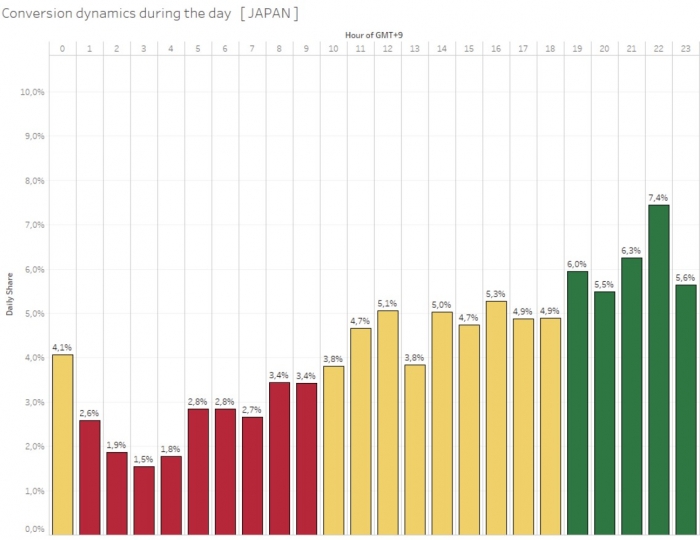 The dynamics of British traffic look completely different. Most conversions occur from 3PM to 5PM. In the evening, the results are rather average.
And then a boom again, just for an hour, right before midnight. You can understand that bedtime starts pretty early for the British.
The night time is low-performing, just like in other countries.
The conversion rate for Brazil is as simple as the Indian CR.
The period from 1AM to 11AM is a dead zone for conversions. But you'd better launch your Brazil-targeted campaign before it starts converting, from 8PM to midnight.
These tips are not like rules, as I'm sure you know. They're only statistics we have, and you may try to use these tips to make the most of your campaign.
Security is Everything
Some ad networks pay a lot of attention to security. The protection of personal data, transactions and products must be a priority.
Max Baldwin, Head of IT Department at Clickadu, says that our guys regularly analyze behavioral factors. Bots are easily detected by our own IT tools which react to non-standard unknown requests.
We also check if clients' devices comply with known models. Automated analytical reports for different profiles help them reveal any threats.
What about payments?
They are accepted individually via banking details. All transactions are totally protected. None but a client can administer funds which should also be approved by the financial department.
Popunder advertising is actually pretty easy in use and may be really profitable if targeted correctly. You may use the tips above in order to launch a successful self-served campaign.
If you would like to be managed it will be easier for you to communicate with any ad network manager.
To speak about certain budgets and ROI is always complicated for it depends on a lot of things.
However, as regards popunder ads, webmasters gain on average a 30% rise in profit, while the boost for advertisers may reach even up to 300% or more. Well, again, it depends.
Conclusion
The army of popunder advertisers is increasing from year to year, mainly because of a lot of newbie affiliates willing to try the simplest schemes.
Still there are experienced ones switching from other ad formats to pops as different products work better with specific ads.
Popunders are rather popular with such verticals as gambling, adult, dating, coupons, beauty, health, sweepstakes, pin submits.
More and more advertisers are tapping into popunders in order to generate leads and enhance brand awareness.
"We have seen a 230% growth of popunder traffic over the last year — from 1.5B impressions per month in April 2016 to 5B today. And we are expecting to keep the same pace". Galina Grigoreva – Clickadu
So, demand is growing together with the market, and you'd better not miss any opportunity to get the most of it.
Advertisement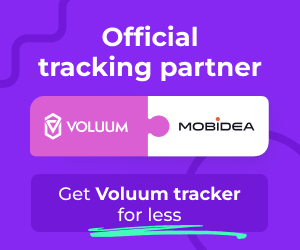 Galina Grigoreva
CMO at Adsterra
More articles from Galina Grigoreva
Gala, a former marketing head for IT brands, excelled in mobile apps, crypto projects, and ad tech. She built winning teams, launched billion-dollar products, and now mentors marketers. Leading Cyprus' WomenTech Network and Forbes Communication Council's CMOs' group, Gala is driving the industry.
Guides & Tutorials
Always felt like you wanted to know what is an ad network? Learn how to use it to instantly boost your revenue in affiliate marketing!
Guides & Tutorials
An affiliate marketing guide created to explain basic concepts and key terms to newbies? Read it and become an expert affiliate (yes, definitely) right now!
Guides & Tutorials
Feel like you could learn more about the big differences between advertisers and publishers? This post will make it all very clear for you!