Trackers
Last updated on November 22, 2022
by
Jairene Cruz
25 min read
Advertisement

If you're in the affiliate marketing business, then you know that keeping track of your sales and clicks is a full-time job. Luckily, there are tracking tools out there to help make this process so much easier, such as BeMob. In this BeMob tracker review, we'll discuss all there is to know about this tracking platform and determine whether it is really as good as they say.
But first, let's quickly talk about why you need a tracking tool.
A tracking tool makes the process of monitoring, evaluating, and optimizing your media buying campaigns easier. With it, you can do away with manually downloading reports into spreadsheets and creating formulas for calculating metrics on your own.
Ad trackers can help you see where your traffic is coming from, how many sales you're making, and which ads are working best for you.
With all the data that a tracking tool can provide, you'll be able to make informed decisions about where to allocate your time and money. This will help take your affiliate marketing business to the next level.
What is BeMob?
BeMob is an affiliate tracking platform that provides marketers with the tools they need to track their ad campaigns and optimize their marketing efforts. The platform offers a variety of features, including advanced traffic source tracking, conversion monitoring, campaign management, and fraud detection.
Additionally, BeMob provides marketers with access to a wide range of data, including click-through rates, conversion rates, and affiliate commissions. With this valuable data, marketers can pinpoint which campaigns are performing well and which ones need improvement.
The platform was launched in 2015 and operates out of the United States. From a novice performance marketing software, it blossomed into one of the most well-regarded trackers in the industry.
Ultimately, BeMob helps affiliates save time and money by providing them with the tools they need to run successful affiliate marketing campaigns.
To see why affiliate marketers who use BeMob end up liking it, let's learn more about its best features.
Best BeMob Features
BeMob affiliate tracker is one of the most popular affiliate tracking software on the market. Its features are top-notch, allowing you to track your performance, optimize your ad campaigns, and increase your earnings. And it's not just for big affiliates; smaller publishers can also benefit from using BeMob.
Here are some of BeMob's key features that make it a likable affiliate tracker:
Multiple Tracking Options
BeMob offers affiliates a couple of tracking options to choose from, which allows you to use the best tracking option based on the traffic platform you are buying ads from.
Tracking with Redirect
This is the standard type of tracking method—BeMob will give you a unique tracking link that you will use to promote the merchant's offer. When a customer clicks on your link, they will be redirected to the merchant's offer page, and the sale or conversion will be tracked with the help of the data gathered by the URL redirect.
Pixel Tracking
BeMob's pixel tracking (also known as cookieless tracking or tracking without redirect) is the latest and greatest in affiliate performance tracking. By using a combination of advanced tracking methods, BeMob can provide accurate and up-to-date statistics on your affiliate performance without the use of cookies.
Unlike other tracking methods that rely on cookies, pixel tracking uses a tiny image file that is embedded in your webpage. When a visitor clicks on one of your affiliate links, the pixel tracker will record their IP address, date and time of the click, the referring URL, and other information about their visit.
This ensures that you get credit for every sale or conversion, even if the customer deletes their cookies to make a purchase. This also means that you can track your affiliates' performances across multiple devices and browsers without having to worry about potential privacy issues.
In case of using the non-redirect mode, the campaign link is no longer required as the pixel is installed inside your landing page hosted on your side.
These choices in tracking enable you to run ads even on Facebook (Meta), Google Ads, Bing, and other ad networks that don't allow links that redirect.
Adjustable Cost Models for Accurate Spending Monitoring
Cost and profit are two of the key metrics that media buyers should track. With BeMob, it is possible to set the required cost model on campaign level settings and choose the convenient payout method (manual or auto) in order to see the most detailed data on how much you are spending.
The types of cost models you can track are CPV, CPA, CPM, and Revenue Share.
Besides, you can also select the Auto model in case your traffic source is able to pass the cost data via the campaign URL. The auto model is also relevant if you're running a campaign with one of the ad platforms which are integrated with BeMob via API.
Both your spending and earnings can be monitored automatically through a dynamic cost/payout token, though you also have the option to upload the data manually or adjust the cost data in case of click discrepancy.
Advanced Traffic Distribution
If you're looking for a way to fine-tune your affiliate campaigns, BeMob's Advanced Rules & Targeting feature is just what you need.
With this feature, you can create rules within Flow that automatically distribute your traffic according to your specifications. This not only saves you time and energy but also helps improve the performance of your campaigns.
There are two basic steps to creating rules.
First, you must create a rule-based flow with conditions. Rules follow logical operators AND/OR.
Next, you must create a path for where the traffic you have filtered must go to. It could be a landing page or a direct link. You can add more than one and simply specify the weight.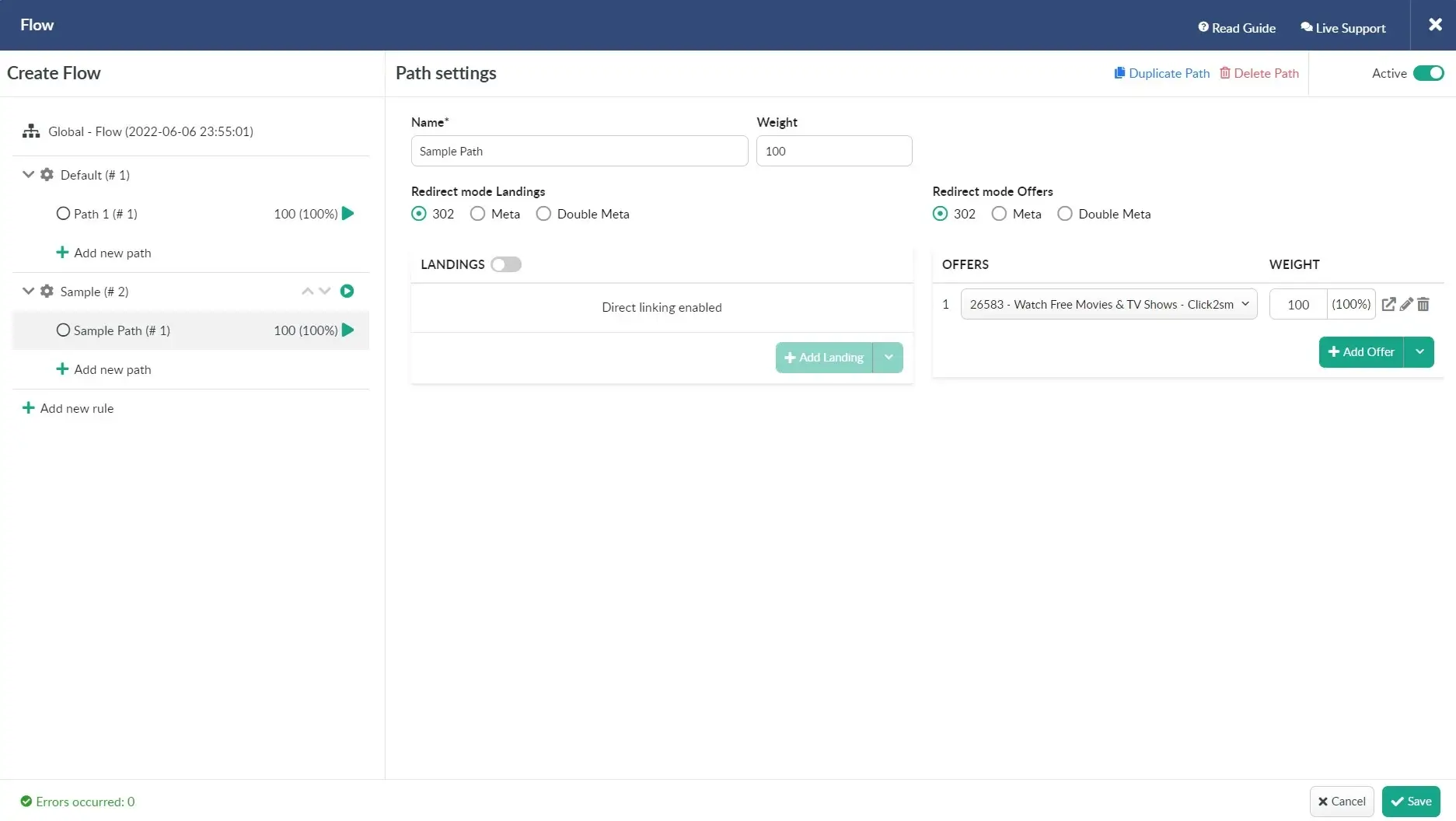 And that's it. Make sure you create paths for when the traffic doesn't pass any of your previous conditions to avoid wasting traffic (a.k.a the default path).
BeMob offers a wide range of traffic distribution options: from basic distribution based on geo to Proxy, Crawler, WebView, and Referrer Domain conditions which allow you to separate the bot or non-relevant traffic from the actual human traffic.
Recently the BeMob team added additional conditions for traffic distribution called Visits Cap. This allows you to set up the hour, daily or monthly cap of clicks on your ad and redirect a visitor to another offer when the limit is reached.
Furthermore, the targeting in your campaigns can be increased to an advanced level when using Smart Rotations and Fix-on.
By default, when you have more than one offer or landing page in your campaign with no specific conditions, the traffic is distributed randomly. In other words, when you have two different offers configured in your campaign, they may not be displayed one by one to the same visitor of your ad. One offer will be shown more often than the other.
If you wish for each repeated click on your ad from the same client to redirect to a different offer, you can activate the Smart Rotation between paths, offers, and landing pages.
If you want to stick the visitor to a specific offer or landing page, you can select the Fix-on option. In this case, each repeated click will lead your potential customer to the same page they've previously seen but have closed without completing the purchase.
The Smart Rotations and Fix-on options will help boost sales and optimize the campaign funnels.
Anti-Fraud System
BeMob has an Anti-Fraud feature that will keep your traffic sources clean. By detecting non-human traffic, you can further optimize your traffic source to ensure that only quality leads are funneled through your system. Additionally, you can create blacklists and whitelists to target specific bot behavior.
The best way to protect your landing pages is to simply forward bots and invalid traffic to the trash. You can also close the connection whenever an attempt by a known bot is made.
Currently, the bot filtering should be configured manually. In other words, you will need to gather the list of bots based on your own criteria. However, the preconfigured base of popular bots will be available in BeMob settings soon which makes using the bot filters easier.
You can create bot traffic filters and detection rules under Settings in your Bemob dashboard.
This will allow you to focus on genuine leads rather than waste time and resources chasing down fake clicks. You can breathe easy knowing that BeMob's got your back when it comes to fraudulent traffic.
Detailed Reporting System
BeMob's reporting system is not only convenient but provides a detailed view of your traffic data. The drill-down reports allow you to see exactly where your traffic is coming from and how it is performing.
You can drill down reports based on various elements: campaigns, offers, flows, affiliate networks, traffic sources, and landing pages. You can do the same on any filter: countries, ISP, devices, or even on custom params data (zone IDs, websites, etc) that you received from your traffic source and so much more.
Use 3 groupings options to combine the reports and get the complete picture of your traffic.
Exclude option allows you to create reports without including some data not required at a specific time. For instance, if you wish to see the report on all campaigns expecting two of them, you can simply mark these two campaigns and click the Exclude button. The report will be based on all other campaigns without these two.
Mass reports based on more than one element are also available in the dashboard. You can extract the reports based on several countries, ISP, and devices via API.
The reports are presented in a table, tree, or chart, so you can easily see the results of your campaigns.
Secure Cloud-Hosted Tracking System
BeMob's ad tracking software is hosted on a secure cloud server. This ensures that your data is protected at all times. The tracking system is also backed up daily, so you can be confident that your data will never be lost.
Additionally, the tracking system is accessible from anywhere in the world, so you can track campaigns even when you're on the go.
To register an account, you will only need to specify your email, password, and phone number. No need to pay for servers or additional hosting.
The cloud-based infrastructure of BeMob is capable of handling large traffic volumes. When running a significant amount of traffic, additional servers are involved, and no traffic is lost due to the server's inability.
Convenient and Intuitive UI
BeMob is very simple to use. Each step of the campaign creation process is clear. If you get stuck in the process, you can always check the corresponding guide from the Help Desk.

The tooltips located next to each option contain a short description of their purpose. Hover over the question mark icon to see the details.
BeMob has the option of bulk import of the elements. You can add up to 100 landing pages and offers with just a single click.
Need to change the domain for several campaigns quickly? BeMob has you covered. Use the mass editing option to do the required adjustments for landing pages, offers, and campaigns.
The most frequently requested reports can be saved in bookmarks. To add a report in the bookmarks section, simply select the elements or data and timeframe, and then click on the star icon. This way, you won't have to request the same report type every time — you can access it immediately.
If you wish to make your stats more visual, you can use marks to highlight converted data lines, profitable campaigns, converting offers, and landing pages with the highest CTR.
You can also perform a quick search to see the previously marked data lines.
Another option that helps you save time and lets you organize all the created elements is called tags. Tags are available for all the BeMob sections: campaigns, traffic sources, affiliate networks, offers, flows, and landing pages.
Just specify the required keyword for the elements you wish to label and group together. You can use the tag to perform a quick search in the future.
Multi-language UI and Multi-Currency Tracking
You can set BeMob to a different language setting. Available languages are English, Spanish, Chinese, and Russian. This makes it easy to use for affiliate marketers all over the world.
Additionally, Bemob can track in multiple currencies. This is helpful if you are running ad campaigns or offers from different traffic and affiliate networks that have varying currencies. Currency selection is available per element.
Multi User Access
When you grow from a solo affiliate into a team, BeMob will help to manage the workload via multi-user access to the account.
Each team member will have their own account. You can configure flexible access for each member by assigning the roles of Users or Admins.
Also, if you'll be using BeMob with a team, having separate workspaces for different team members will be useful. This feature is also useful for agencies that manage media buying campaigns for different clients.
Shared reports are likewise available. If you wish to create a report without granting third parties access to your dashboard, you can share a report through a unique link which will be accessed on a separate page. You can even set up the timeframe for which the report should be available.
How to Get Started with Bemob
All the features above must have already gotten you excited about using BeMob, so let's get right down to how to use the platform.
Create an Account
The first step is creating an account with BeMob. Use our exclusive BeMob coupon to get 25% off for the first three months.
Enter your name and email address, create a password, add our promo code, and then click on the "Create account" button. You will then be asked to verify your email and choose a plan to proceed with the registration.
Get Acquainted with the Dashboard
The first thing that you'll see upon logging in is your main dashboard which provides a summary of the state of your campaigns. It has widget-type summaries displaying the top ad campaigns, traffic sources, countries, and offers.
If you scroll down, you will see a chart that displays the performance trend of your campaign.
How to Add an Affiliate Network and Traffic Network
The process of adding affiliate networks and traffic networks are both pretty much the same.
First, go to the Home page and click on any of the items in the top row. Next, click on the New button. You can either add a network manually or choose from the templates.
BeMob has a long list of ad networks and affiliate networks in its templates, and they are continuously adding new ones. The most popular ones are shown at the top of the page, while the rest are listed in alphabetical order. You can always use the search function to easily find the network you want to add.
For ad networks, once you've chosen one, you will be redirected to the next page, where you need to place the Postback URL. The parameters and tokens will be filled out already, depending on the network. Don't change anything here if you want to make sure these metrics are tracked properly.
For affiliate networks, there's nothing much you need to do. You only need to copy the Postback URL, which you can add to your affiliate network for more accurate tracking.
You can find BeMob video tutorials describing the step-by-step process on their YouTube channel.
How to Create Your First Campaign
Here's a step-by-step guide on how to create your first campaign with BeMob.
First, go to the Home page and click on Campaigns in the top row. Then, click on the New button.
Enter your campaign's name and choose the workspace and traffic network that you want to use from the dropdown menu. You have the option to select a specific country and to add tags to make the campaign easily searchable.
You must then choose a tracking domain. You can choose any of BeMob's default tracking domains, but it would be best to add a custom domain (which can be done on the settings page).
It's up to you if you want to limit the conversions that you want to send back to your traffic source. If you know the percentage of traffic loss you get from the ad network, you can also specify that on this page to make your campaign monitoring more accurate.
Next, select the currency and cost model. As previously mentioned, you can choose between CPV, CPM, CPA, and Revenue Share. You can also choose Auto and Do Not Track.
On the right side of the window is where you place the destination of the traffic.
If you have already added a Flow, you can choose from one on your list:
If you haven't done so, you can create a Built-In Flow within the page. However, a Built-In Flow can only be used within this one campaign and not with others. If you plan on using the same flow elsewhere, it would be best to add it as an independent flow.
You can use the URL option if you want to send your traffic directly to your affiliate link or website. Just make sure the tokens are added properly so you can track the traffic and conversions accurately.
Once completed, BeMob will show you a list of links that you can use for this campaign. You can also find the Postback links and pixel here.
And that's it!
How to View Reports in BeMob
Once traffic and conversions come in, you're going to have to analyze the campaigns and optimize them. With BeMob, one look, and you'll know which ones are working well based on the color of the campaign rows.
If the campaign is showing in green, then you're getting a positive ROI for that campaign. If it's on red, it's on the negative. If it's grey, it means no traffic has been received.
To view individual campaign reports, go to the Home page and double-click on any of the campaigns. A new tab within the dashboard will open up. You can also select the campaign and then click on the Report button.
On the next page, you will see all of the ways you can filter and evaluate results. You can select up to three parameters to drill-down reports.
You can open each layer by clicking on the arrow next to the parameter, like this below:
Changing Reports Columns
Now, if the default columns in the reports are not working for you, you can always change them. Click on the View button (the one that looks like an eye) to edit the columns.
You can choose to show or hide 37 types of columns. From basic metrics such as impressions, clicks, and conversions to calculated metrics ROI, EPV, CTR, and CV, BeMob has it.
It's also possible to reorder these columns as you see fit.
Just click on the Apply button, and you're done. You can apply the same settings to all sections.
By default, the selected order, width, and amount of columns are applied to all the reporting sections. However, if you wish to set up the unique report view for each section, you can select the Independent Columns Settings.
This option allows you to customize the reports by including different metrics in each section.
Using BeMob is actually pretty easy since almost everything you need is readily available on the home page. You can view the items you want in a few clicks. Plus, the learning curve is not that steep. Once you get the hang of it, creating campaigns and viewing reports will be easy as a pie.
BeMob Pricing Plans
The BeMob affiliate tracking system is a powerful tool that is also quite affordable, with a pricing plan that is designed to fit the needs of any budget.
The platform offers four different subscription levels with access to different features. However, if you wish to use a feature that is not included in the plan, you can purchase it as an add-on. With this option, you won't need to upgrade to the higher plan. With BeMob, you can only pay for what you actually use.
The pricing on add-ons is quite affordable. An additional 100 elements cost only $2.00 per month. Also, the first two domains cost $7.00, with additional ones costing $5.00 each.
Any advanced rule for traffic distribution (proxy, crawler, WebView, referrer domains) starts at $3.00. The complete addon list is located in the Subscription settings of your account.
The add-ons are managed on the client-side, so they become available immediately after payment. If you wish to use the specific add-on for a short time, you can switch it off anytime, and the remnant amount will be returned to your account balance. The amount can be used for future payments.
Free Plan
As its name implies, this plan is absolutely free of charge. This is not a trial and is not limited by time. Each month you are provided with 100,000 free events and basic tracking options. You can stay on the Free plan as long as you wish until free events cover your traffic demands.
This plan is perfect for beginner affiliate marketers who are just learning the ropes when it comes to media buying. It is also a great option to help you evaluate whether this ad tracking software is the one for you or not.
As the access to several options are limited on the Free plan, you can still purchase the addons on this plan in the required amount. In this case the main cost of the plan will be $0, but you will only pay for the features you purchase.
Professional Plan
For performance marketers that receive up to a million events per month, the Professional plan is the best option.
It is priced at $49 per month, with an overage charge of $0.05 per thousand events. The options are limited, but you can still purchase the additional features based on your demand.
This plan offers you to start using the multi-user access option with 1 Admin role included.
Business Plan
The Business subscription level is designed for individuals that require more data storage than the Professional plan offers.
Priced at $249 per month, this plan accepts up to 10 million events per month, with a charge of $0.025 per thousand events in excess. You can add up to 3 tracking domains and 3 cloaking domains to this plan. All the advanced conditions for traffic distribution are available.
You'll have access to bot filtering, landing page protection, bulk edit of campaigns, bulk reports, tags and marks for campaigns, and custom params in this plan.
As with any other plan, if you're missing the required option, it can be purchased as an add-on with the monthly based payment.
Enterprise Plan
The Enterprise level subscription is ideal for businesses or organizations that need the most comprehensive tracking and reporting capabilities. This plan includes mostly all the BeMob's features and offers an increased number of elements, domains, team members, and shared reports.
Overages are charged at $0.02 per thousand events, and data can be stored for up to a year. All for $499 per month.
This is also great for agencies looking to handle media buying campaigns for clients and limit client access based on user permissions or separate workspaces. The same can be done for individual team members handling separate ad networks or affiliate programs.
The plans comparison is available in the BeMob dedicated section of the plan's description.
You can compare the features included in each plan and choose the one that meets your requirements.
BeMob Pros and Cons
There are numerous affiliate tracking tools on the market, each with its own set of pros and cons. The same goes for this tool.
BeMob is a widely used affiliate tracking tool that offers a robust set of features at a reasonable price. However, it may not be the right fit for everyone. Let's outline some of its pros and cons, then discuss them even further.
Pros
User-friendly interface
Responsive support team
Free plan to start
Comprehensive tracking and reporting features
Option of purchasing additional features without changing the pricing plan
Cons
Moderately fast but not real-time data
Average level of click loss
Lack of API integration with Facebook, Google Ads, Bing, etc
Insufficient amount of video tutorials
BeMob Advantages
User-Friendly Interface
If you're a beginner, you will, without a doubt, feel overwhelmed by BeMob or any other tracker for that matter. However, by reading through the guides and tinkering about the dashboard, you will soon be able to understand the functions of the tracker.
If this isn't your first rodeo, then I'm sure you will see BeMob's dashboard as user-friendly, with all the necessary features right where you can easily see them.
Responsive Support Team
BeMob has a knowledge base with articles and video tutorials on how to use the platform, as well as how to set up and track your campaigns. If these are not enough, you can hop on the live chat and ask for assistance on how to get started on the platform.
The support team on live chat usually responds within a few minutes on a business day but may take several hours outside of business hours. Nevertheless, they still respond even if you are on a free plan.
Free Plan
If you're just getting started with affiliate marketing, this plan will give you a chance to test out BeMob and see if it's the right tool for you.
Plus, if you're on a tight budget, the free plan will be more than enough to get started and grow your business.
Comprehensive Tracking and Reporting Features
It offers detailed tracking and reporting features that allow you to track your campaigns and analyze your results within a few clicks. With BeMob, you can see which programs are performing well and which ones are not.
You'll even be able to see comprehensive user data such as location, ISP, IP, type of connection, device, browser, and so much more. This information is essential for making informed decisions about where to allocate your resources.
And because BeMob integrates with all major ad and affiliate networks, you can be sure that you're getting an accurate picture of your campaigns in one place.
Addons System
No matter what plan you're in, the required feature can be purchased additionally that allows you to plan the ad budget wisely. Pay only for what you actually use. The previous logic of BeMob pricing was based on the idea that you have to upgrade to purchase more domains or data retention. Now the maximum 12 months of data retention can be received even if you're on a free plan.
BeMob Disadvantages
Moderately Fast but Not Real-Time Data
With the BeMob affiliate tracking tool, you'll get a moderately fast system—though it's worth noting that sometimes the data doesn't update in real-time. We've experienced a 15-minute delay on average. Nevertheless, the system is still able to provide reliable data that can be used to make decisions about marketing campaigns.
Average Level of Click Loss
The amount of click loss is actually on a moderate level. It averages between 10% to 15%, especially for pops, banner ads, and similar traffic types. Again, this is not that bad, but there are affiliate trackers out there that can provide less click loss for the same traffic source.
I recommend watching out for click loss when using BeMob. If you see it going over 20%, then it would be best to contact the support team.
Lack of Essential Integrations
With some other tracking systems, there are more advanced integrations available for Facebook (Meta), Google Ads, Bing, etc.
BeMob currently doesn't offer complete integrations with these ad platforms, so you will not be able to pass the conversions data to the side of these sources and some essential parts of optimization for such campaigns will not be done properly. Hopefully, BeMob will add this in the future.
Insufficient Amount of Video Tutorials
At the moment, the step-by-step video tutorials are available for basic settings. We recommend adding more video guides to assure the best experience and easy start for the clients.
BeMob Frequently Asked Questions
Is BeMob a Good Tracking Tool?
Yes, there is no doubt that BeMob is a good affiliate tracking tool. It is feature-rich and user-friendly, and its pricing is very competitive. It's simple to use and provides all the features you need to track your affiliate earnings.
Is BeMob tracker free?
Yes. BeMob affiliate tracking tool has paid pricing plans, but most importantly, it has a free plan. This free plan has no time limits; it's not a trial but a complete plan with basic tracking features.
The Bottom Line
All in all, BeMob is a great affiliate tracker that's packed with features to help you track your campaigns and optimize them for better results. While it does have its quirks (like any software), it's overall a solid choice for anyone looking for an affiliate tracking solution.
If you want to try it out, be sure to use our exclusive discount code below.
But before you go, let us know—what do you think of BeMob? Is there anything we missed in this detailed BeMob review?
Let us know in the comments!
Advertisement

Trackers
Do you want to create a successful affiliate program? Check our Affise review and get to know the fastest growing affiliate software in the industry.
Trackers
Read our in-depth RedTrack review and get to know one of the most powerful ad trackers we've seen so far.
Trackers
Read our Tapfiliate review and understand the pros and cons before creating your own affiliate program.