Trackers
Last updated on April 10, 2023
by
Jairene Cruz
13 min read
Advertisement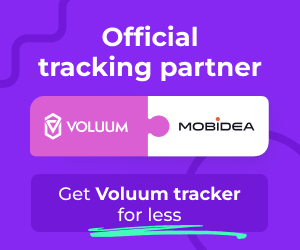 Affiliate marketers who also run websites understand the importance of tracking conversions and attributing them accurately to the proper sources.
However, this task can prove to be quite challenging when it comes to tracking which pages converted, which session the conversion belongs to, and which traffic source was the key driver. Frustration begins to set in, and the need for a solution becomes apparent.
Fortunately, there is good news on the horizon.
Thanks to advancements in tracking software, affiliate marketers and website publishers can now merge their needs and find a solution.
One such solution is WeCanTrack.
Key Takeaways:
WeCanTrack is an effective solution for website publishing affiliates, but it is not as useful for media-buying affiliates.
It allows you to look closely into website sessions and properly attribute conversions based on traffic source, landing page, funnel, and more.
There is no option to create media buying campaigns for tracking, although you can use it to track direct clicks from ad networks to your affiliate link with no redirect.
The price of the plans is a bit steep based on the limits set for clicks, transactions, and sessions.
For those playing in the affiliate marketing and website publishing fields, tracking can make or break your success.
This is where WeCanTrack comes in — a powerful tool that promises to make tracking a breeze, even for those with little experience.
In this WeCanTrack review, we'll discuss the ins and outs of this tool and explore every feature to see if it lives up to its name.
Of course, there are some downsides to Wecantrack as well, but we'll get to those later. For now, let's explore all the benefits this tool has to offer and see if it's really worth the hype.
What is WeCanTrack?
If you are tired of trying to track your website's conversion data across multiple platforms, then look no further than Wecantrack. This all-encompassing analytics platform offers everything you need for consolidating data, attributing conversions, and integrating with affiliate networks.
And with currently over 5,000 connected websites, it's clear that Wecantrack is quickly becoming the go-to choice for website publishers as it powers successful marketing partnerships and provides a simplified approach to monitoring clicks and conversions.
With Wecantrack, users can easily monitor various types of money-making affiliate websites, including comparison, coupon, content, blogs, and cashback sites. But that's not all — this nifty tool can also track apps that use affiliate links, direct-linked campaigns run using Google Shopping, or email marketing.
While still pretty much in its infancy, WeCanTrack is an ambitious tracking tool that offers a lot of promise. Let's take a closer look at each feature, so you can decide for yourself if it's worth the investment.
WeCanTrack Features
WeCanTrack provides plenty of features to make sure data processing and tracking conversions are as easy and hassle-free as possible. From the dashboard to the integration capabilities, this tool is designed for efficiency and accuracy.
Conversion Data Tracking
The system is developed to make collecting conversion data a breeze by using APIs and Postbacks, though it also accepts imported Google Sheet files and CSV uploads.
With just a few clicks, you can connect your affiliate programs, networks, and direct partnerships and start receiving a full overview of all your conversions in WeCanTrack's dashboard. These data are presented in a clean and clutter-free manner, thereby avoiding confusion.
Once your websites are integrated, WeCanTrack automatically adds click IDs to your affiliate links so that your conversion data can be attributed to your traffic quickly and accurately.
Multiple Tracking Options
To accurately monitor your website or app traffic, you can choose from any of the available tracking options:
WordPress Plugin
By tracking sessions and clicks on your website and matching them with your commission data from affiliate programs, WeCanTrack can give you the insight you need to optimize your performance using this plugin. Plus, you won't have to worry about manually adding parameters to your affiliate URLs or using subIDs, as the plugin will do that for you.

Javascript tag
This is the simplest tracking option and is done by getting the JS tag provided when setting up websites in WeCanTrack. This JS tag must be placed at your website's header.
Any changes you make to the website's information and settings with the tracking platform will reflect on this JS tag, so make sure you remove the old JS tag and replace it with the new one when updating.
Clickout API
Designed to uncloak URLs on the server-side, this powerful tool takes affiliate links and user data and registers them in a comprehensive database.
Once click information has been recorded, the Clickout endpoint returns a modified link with a unique clickID embedded in the subID parameter. Using this modified URL ensures that all conversions are properly attributed to the original click.
Public Clickout API
This is similar to Clickout API, except the uncloaking process happens on the client side.
To help you decide what tracking option to choose, WeCanTrack provides this handy guide:
Analytics and Connection Tools Integrations
With the ability to seamlessly integrate platforms such as Google Analytics, Data Studio, BigQuery, and Zapier into your account, you'll have all the information you need in one convenient location. This integration offers a holistic view of data from all the platforms, allowing businesses to streamline their connections, data collection, and analysis.
Ad Network Integrations
WeCanTrack allows you to connect with 14 different ad networks, including Google ads, Microsoft ads, and Facebook ads. But that's not all. With WeCanTrack, you can also monitor direct visits and organic traffic. This means you can see exactly how people are engaging with your website, whether they're coming in through an ad or finding you on their own.
The other ad networks that can be connected are:
Tiktok ads
Snapchat/Snap ads
Taboola
Outbrain
Adsterra
Propeller Ads
MGID
RevContent
TrafficStars
Evadav
PopAds
See also: Ad Networks Reviews
Affiliate Network Integrations
WeCanTrack's Affiliate Network Integrations feature is a savvy marketer's dream come true: boasting of over 300 affiliate programs and networks to choose from. The possibilities are virtually endless with this impressive range of options.
And if that wasn't enough, WeCanTrack also offers the ability to manually upload conversions or link up to Google Sheets for data coming from direct partnerships. No more lost or unaccounted-for transactions!
Custom Data Attribution
If you are tired of having fragmented affiliate data that makes it difficult to understand the full picture of your customer's journey or why they're leaving your website, then the Custom Data Attribution feature is here to solve that problem.
By making use of metadata and custom parameters, this tool helps you link internal data with traffic data, providing a comprehensive overview of your customer's behavior. Gain full transparency with your data and make smarter, data-driven decisions to optimize your business strategies.
Automatic Affiliate Link Cloaking
Have you ever hovered over a hyperlink only to see a long, confusing affiliate link staring back at you? It's enough to make you want to click the back button and retreat to the safety of Google. But fear not; WeCanTrack's Automatic Affiliate Link Cloaking feature has arrived to save the day for website publishers.
With the use of their WordPress Plugin, you'll be able to mask your URL with ease, resulting in a more seamless browsing experience for your audience.
WeCanTrack Pricing
Whether you're just starting out or you're an experienced affiliate marketer, WeCanTrack has the plans and pricing to help you optimize your efforts and achieve success.
There are three different options to choose from, so there's something for every type of affiliate.
The first is the Small Affiliate plan, starting at just €59 ($61). This plan offers 20 network accounts, and 500 transactions, along with 25,000 clicks and 100,000 sessions. These metrics, combined with 18 months of data retention and real-time reporting, make it a great starter option.
But if you're expecting more clicks or sessions, the Medium Affiliate plan can be a good option. It allows connecting an unlimited number of network accounts, with 5,000 transactions, 125,000 clicks, and half a million sessions. It even allows Data Studio integration, API reports on sales, as well as custom email reports. All of this for a monthly fee of €129 ($133).
Finally, there's the Advanced Affiliate plan priced at €279 ($287), but with unlimited network accounts and significantly higher limits. It accepts up to 50 thousand transactions, 750 thousand clicks, and three million sessions. This plan includes all features in Medium Affiliate Plan, plus Google BigQuery Integration and Advanced Support.
Keep in mind that you can get two months off when you pay annually.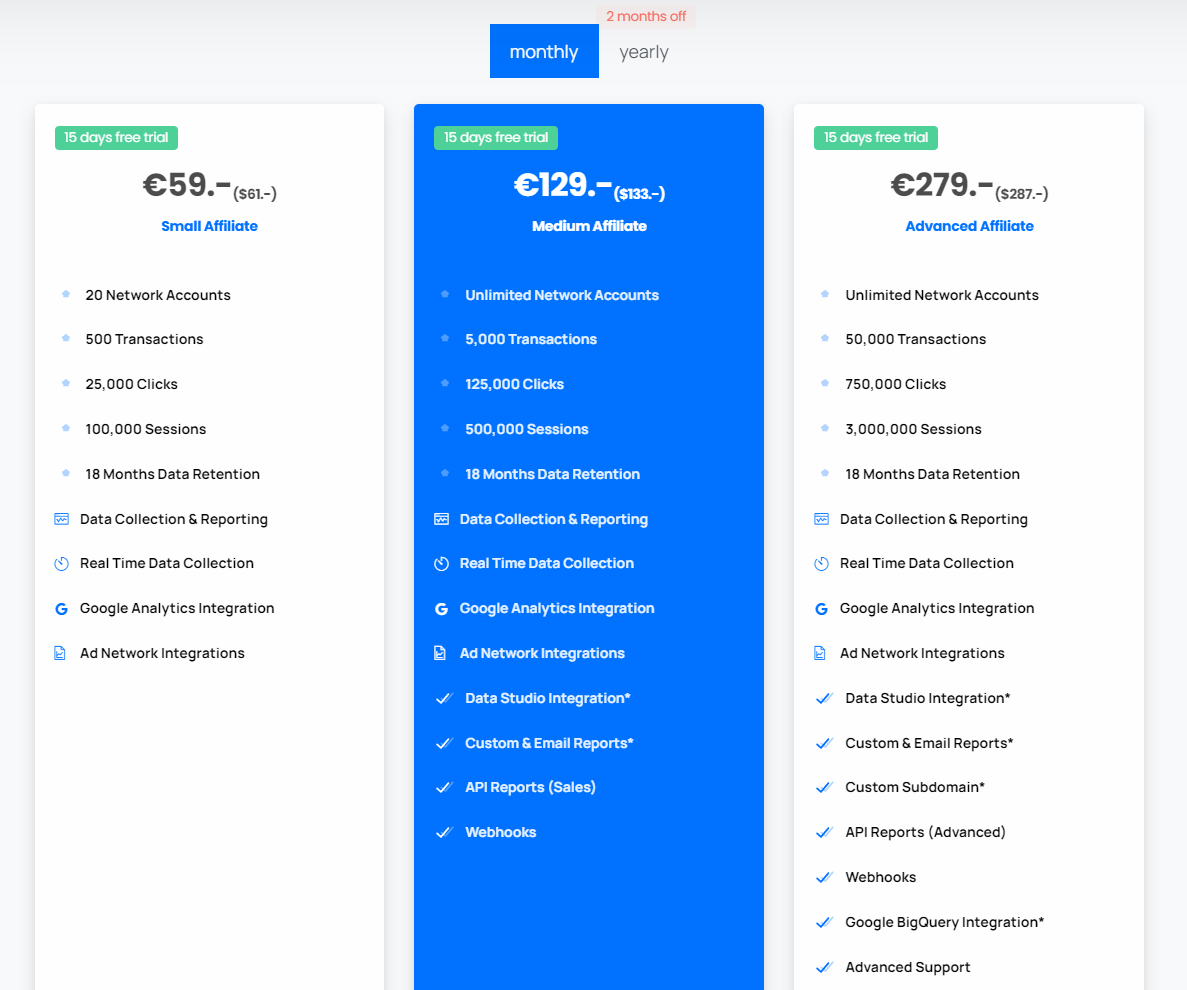 If the most expensive regular plan is not enough, you can always contact support and gain access to a Custom Priced Plan whose limits and features depend on your needs.
However, if by any chance you exceed your plan's limits, there are no overages payments. Instead, there are two options available to you:
turn on autoscaling and allow the platform to automatically upgrade you to the next higher plan; or
don't turn on autoscaling and just allow the platform to stop tracking your traffic.
How to Use WeCanTrack
WeCanTrack offers a 15-day free trial for anyone who wants to see how their platform works. I suggest you give it a try to see for yourself. To help you along, here's a quick guide to how the platform works.
But first, you must create your account.
Now that's done, let's get started.
Dashboard
Initially, you'll be faced with a dashboard that instructs you to connect your affiliate networks, websites, and traffic sources.
Eventually, though, this dashboard will change to give you a comprehensive look at the campaigns you are currently running.
Here's what it will look like eventually:
At the top, you'll see widget boxes, which give you an overview of your website's performance over a selected period. You'll have a quick view of the following:
sales
commissions
sale amount
clicks
sessions
CTR (Click Through Rate)
ECPC (Earned Commission per Click)
You'll also see colorful graphs that provide a visual overview of the most important metrics: sessions, clicks, sales, and commissions.
Note: If you want to see how the platform shows reports without having to connect your online properties to it, then head over to the Demo Dashboard, which can give you a quick look at how the dashboard and reports work when live.
Viewing Reports
WeCanTrack's Report section is an essential tool for anyone looking to dive deeper into their collective data. There are four focused reports that you can view.
Transactions – This section offers a comprehensive look at your transactional activity — in short, your affiliate conversion data.
Advertisers – This one is for ad networks and traffic sources and their individual performances.
Network Accounts – This is where you see an overview of the performance of the affiliate programs or networks that you currently work with. If you have more than one account per network, this can be useful.
Affiliate Networks – Similar to the network accounts, except it puts together the data of all your accounts per network.

But that's not all. WeCanTrack also offers custom reports made exactly for your needs. You only need to reach out to the support team for assistance.
Enabling Integrations
You have the chance to turn specific integrations on or off for your WeCanTrack account. Just head over Features in the left pane, and Enable/Disable select features.
These integrations include analytics and ad networks.
The following platforms can be integrated:
Google Analytics UA Integration
Google Analytics 4 Integration (BETA)
Google Ads Integration (via Google Analytics) – enabled automatically and tracks sessions from Google Ads when Google Analytics has been integrated.
Google Ads Integration
Microsoft Ads Integration
Facebook Ads & Pixel Integration
Data Studio Integration, Custom & Email Reports
Google BigQuery Integration
Reporting API & Webhooks
TikTok Ads Integration
Snapchat Ads Integration
Taboola Integration
Outbrain Integration
Revcontent Integration
PropellerAds Integration
Adsterra Integration (BETA)
PopAds Integration
MGID Ads Integration (BETA)
EVADAV Integration (BETA)
TrafficStars Integration (BETA)
Zapier Integration (via webhook)
Specific integrations can either be available for you or not, depending on the plan you choose.
Adding Affiliate Networks
To start tracking affiliate conversion data, click on Data Source on the left pane and then choose Affiliate Networks on the drop-down. You'll be shown more than 300 affiliate programs on the list.
You can scroll through the whole list for the network or program you want to add, or you can simply type the company's name on the search bar.
Once you have found the right one, click on the card. Then click on the + Add New Account. If you chose an affiliate program that uses Tapfilliate, you'll see the following:
You'll be asked for the Network Account Name, tags, whether you want it enabled or not, and the advertiser name. Once done, click on Generate Postback URL and place this in your affiliate account.
With some affiliate programs or networks, you'll be informed that the only option to connect is via Postback URL. Hence, the process will be exactly as shown above.
Some networks can be added via API and Postback URL. When you choose a network that allows this, you'll first be asked to choose between the two.
If you choose API, you'll be asked for your login credentials.
There's also the option to add your Publisher ID, Personal Access Tokens, and Property ID for some networks.
In reality, the difference in the ways you can add an affiliate network depends upon the connection requirements of the network you work with, so you'll notice varying options.
Adding Websites
This is where you add your online properties.
Step 1: Start by clicking Data Source, then selecting Websites in the submenu. From there, type in the URL of your website and hit Add.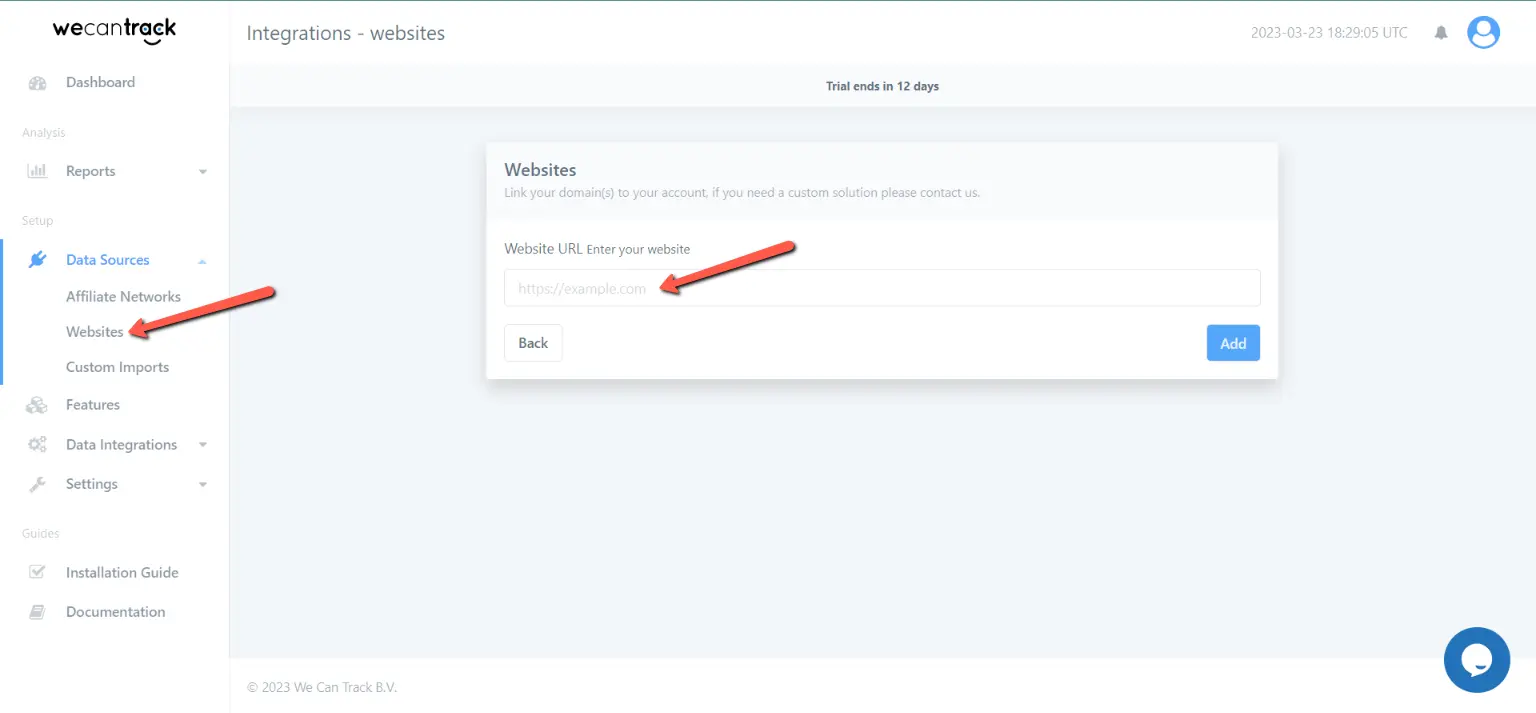 Step 2: On the next page, provide your website's essential information, such as your Google Analytics and Facebook Pixel IDs, Microsoft and Google Ads tag IDs, and access tokens, if applicable. It's up to you to decide which additional information you want to provide, given that all of them are optional.
If you provide complete details, the better the platform can track the traffic or sessions on your website.
Step 3: Next, click on Show more integrations to add tracking IDs needed for specific ad networks that you have enabled for your account (refer back to enabling integrations above). Do this only if you are sending traffic from those ad networks to this particular website.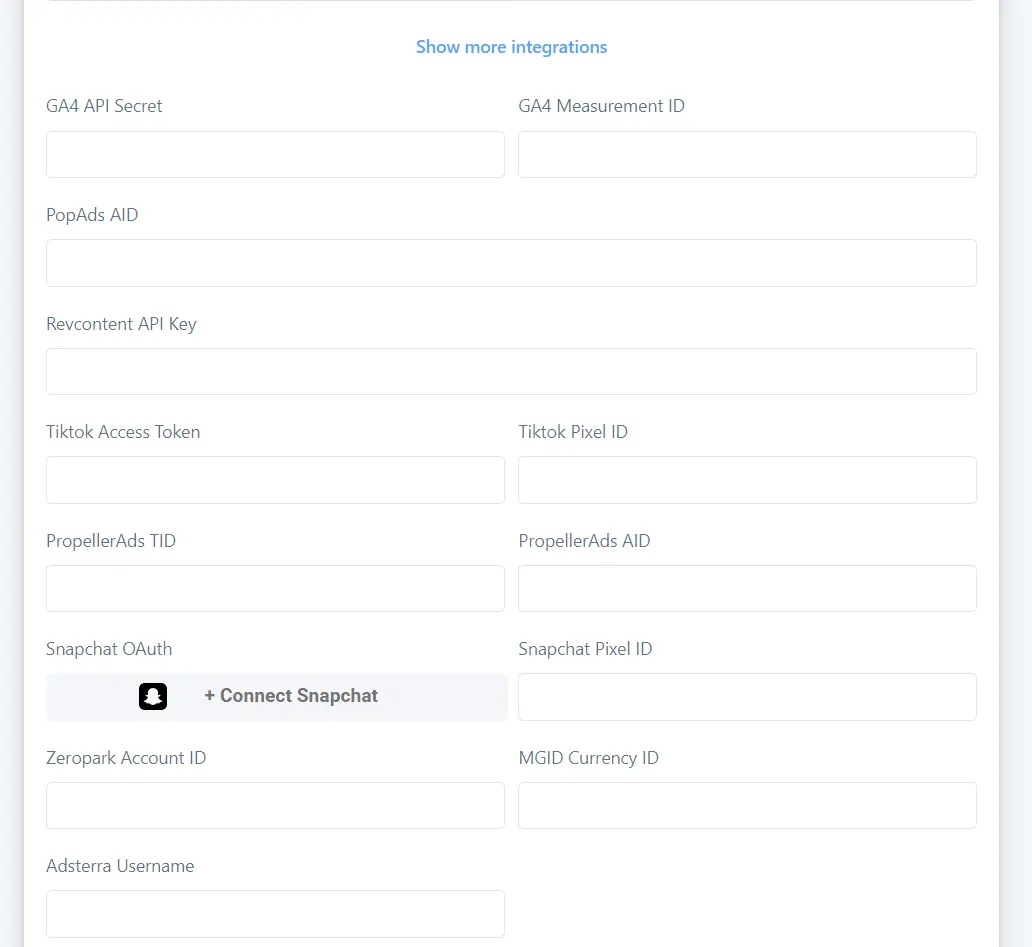 The fields shown here will be based on the integrations you have enabled. For instance, if you turn on PopAds in the platforms, you must add PopAds AID in the correct field to track all traffic coming from this ad network.
Step 4: Do you use WordPress? Make sure to let WeCanTrack know by selecting the right option. If you use WordPress, it is recommended that you install WeCanTrack's WordPress Plugin on your website. We'll discuss more on that later.
For now, let's assume you don't use WordPress, so choose "No."
Step 5: Next, click on "Show Advanced settings" to view additional options. These options include auto-tagging, IP anonymization, and other settings that might affect accurate tracking.
Once you're done, click Save & Integrate, and voila!
Step 6: WeCanTrack will provide you with the Javascript snippet that you must then add to your website's head tag.
Installing the WordPress Plugin
Installing WeCanTrack's WordPress plugin has never been easier. By using this plugin, you can easily monitor and analyze your website's traffic since it will automatically add the Javascript tag for you.
To install, first get the plugin here. You can download the file and upload it to your WordPress-based website, or you can search for WeCanTrack in the WordPress plugins list.
After installation, activate the plugin and go to the WeCanTrack plugin's settings.
Come back to your WeCanTrack dashboard and head over to Data Integrations and then API to get your API key.
Go back to your website and fill in the API key in the space provided.
Set your plugin status to "Enable" and click on "Update & Save".
Once the key is verified, the WordPress plugin will automatically place WeCanTrack's JS tag on your website, making it easier than ever to track the activity on all your pages.
Now let's move back to Step 4 of "Adding a Website" above.
This time around, instead of choosing "No," choose "Yes" to indicate that you are using a WordPress website.
Once you click on "Save and Integrate," instead of seeing the JS tag, you will be shown this page:
You're good to go since we have already added the WordPress plugin to the website.
Checking Integrations
Once you're done adding Javascript or the WP plugin to your website and inputting the necessary tokens, API keys, or other account identifiers for your integrations, you can ensure they're properly set up by clicking on Data Integrations on the menu, then selecting Platforms.
Click on any of the platforms you want to check.
Let's say I wanted to see if my PopAds is all set for the website I previously added.
As you can see, the property status "Pop Ads AID" is in green, which means
WeCanTrack is ready to monitor traffic on this website coming from PopAds. If it's in red, it means it's not ready, and you must edit your website settings by clicking on the "Edit Properties" button.
Now that's all you need to set things up in WeCanTrack. You can expect to see data come in once you send traffic to your website.
WeCanTrack Pros and Cons
From its ability to seamlessly integrate with multiple platforms to its efficient tracking system, there are several advantages to using this tool. However, it's important to also consider potential drawbacks, such as the cost and limitations of its features. For this WeCanTrack review, we deem it important to weigh both sides before making a decision.
Pros:
Lets you accurately monitor and attribute website conversions based on clicks, sessions, and traffic sources — effectively eliminating guesswork.
Has a WordPress plugin that automatically tracks all affiliate links on your website without the need to add or edit code.
Allows you to cloak affiliate links on your website automatically.
Offers CSV or Google Sheets integration for tracking conversions from direct partnerships.
Integrating ad networks, affiliate programs/networks, and analytics platforms (like Google Analytics) is easy.
Provides consolidated data and more focused reports as needed.
Cons:
Only a handful of ad networks can be integrated, and some integrations are not available on the lowest plan.
The number of clicks or sessions per plan is a bit low compared to other trackers in the industry. Even the transactions allowable per plan are limited. If you exceed the limits of your plan, you will automatically be charged the next plan (if autoscale billing is enabled), or tracking will stop (if autoscale billing is disabled). With other tracking platforms, you will simply be charged for overages.
Tracking direct-linked campaigns is possible, but they cannot be segregated based on campaigns.
Stats update hourly, so don't expect real-time data.
WeCanTrack Verdict
After thoroughly testing WeCanTrack, the verdict is in: this affiliate tracking platform is a top-of-the-line option for accurately monitoring website traffic and affiliate conversions. It is best used by affiliates who concentrate on website publishing.
However, we don't recommend it for media-buying affiliates as it lacks most of the functionalities necessary for media buyers to monitor their paid ads.
WeCanTrack FAQs
What is We Can Track?
We Can Track is an all-in-one tracking, analytics, and reporting solution for websites of any size. It allows you to get a detailed view of your customer's journey from start to finish, providing insights into how users interact with your digital properties.
How does We Can Track work?
We Can Track collects data from a variety of sources, such as web pages, mobile apps, ad networks, analytics platforms, and more in order to build a comprehensive picture of user behavior and associated conversions.
This data can then be used to create reports and insights that allow you to better improve your ad campaigns and your websites.
What are the benefits of using We Can Track?
We Can Track offers powerful analytics and reporting capabilities that can help improve customer acquisition, retention, sales conversion rates, and much more. It also provides flexible customization options so you can tailor it to fit your specific business needs.
Is We Can Track easy to set up?
It takes a bit of getting used to, but once you learn how to do it, the process becomes easier.
Advertisement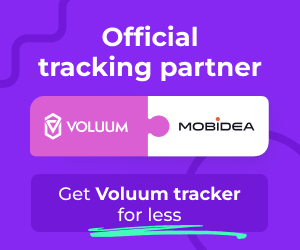 Best Picks
Affiliate tracking platforms allow you to keep track of your campaigns and optimize to increase affiliate marketing profits!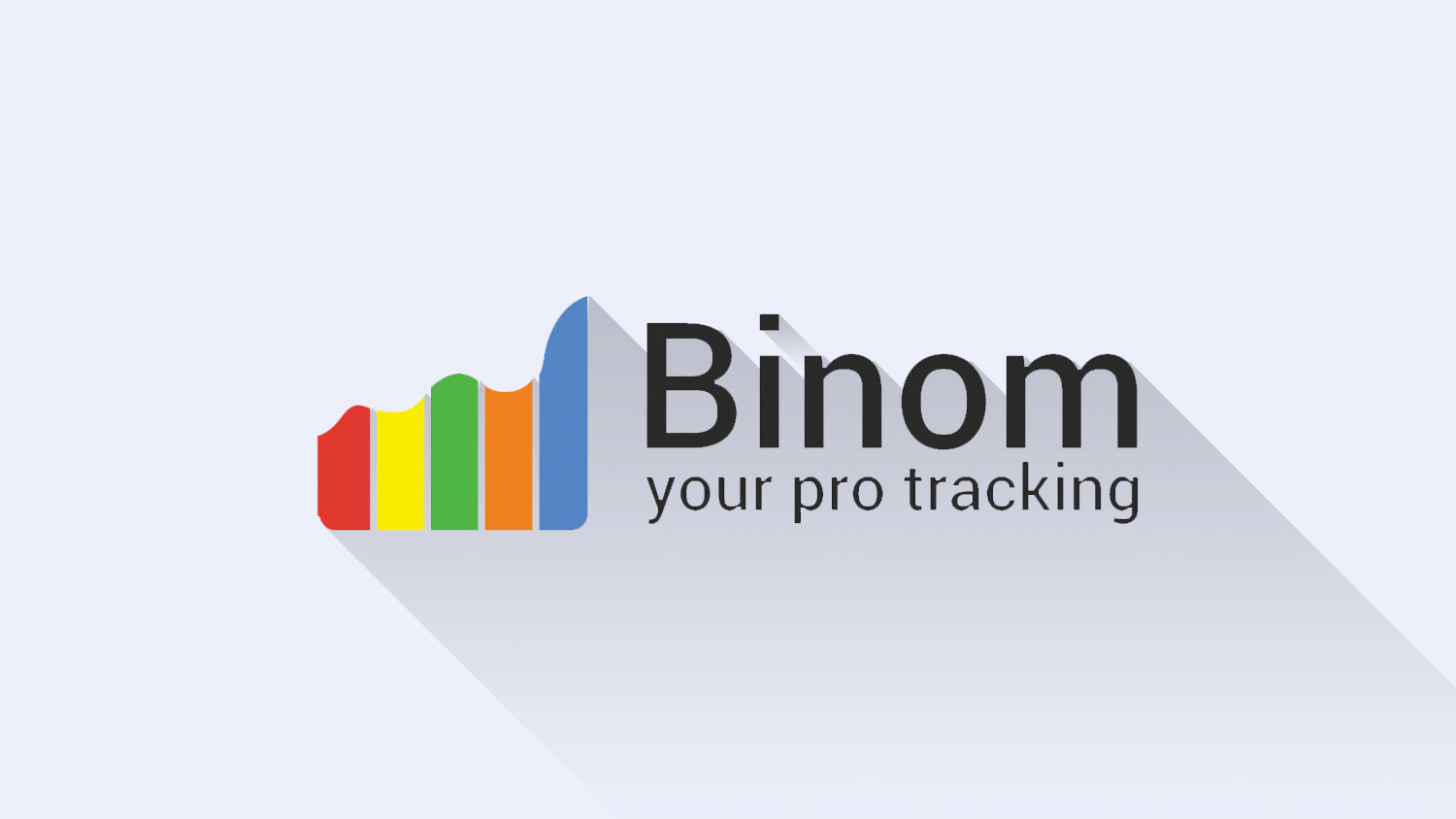 Trackers
Read this Binom review to know all the main features of this powerful ad tracker and use it to its max.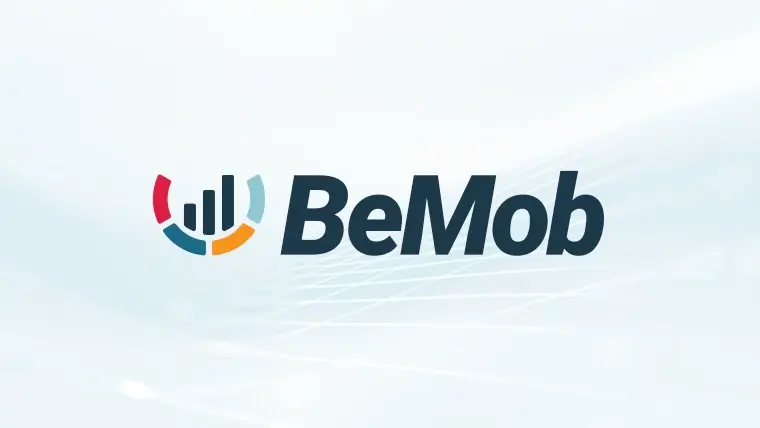 Trackers
This BeMob review drills down every single feature, setting, pros, and cons.