Introduction
Are you thinking about launching your own affiliate program?
Or maybe looking for a new SaaS affiliate platform in search of advanced features or simply because you are fed up with developing your in-house solution?
Either way, checking our Affise review will be a worthy thing to do, as it might have exactly what you are looking for.
Before we move to describe the technical side of Affise, it's worth mentioning that Affise was developed by the affiliate marketers for affiliate marketers.
With years of experience, Affise founders gained while working with networks they сome out with a platform that addresses all the needs of agencies, advertisers and networks.
Thus one can say that Affise is indeed created with every little detail in mind to launch and manage ad campaigns effectively and with ease.
Affise Key Features
All features at Affise fell into four main clusters:
Management
Analysis
Optimization
Customization
Let's have a separate look at each.
Manage
With Affise functionalities you can be fully in charge of the process control.
Every affiliate program has its own rules. Affise allows you to set your policies and manage advertising campaigns accordingly; this can be achieved through:
Flexible, customizable dashboards for more straightforward navigation and productive work.
Cap system to ensure that you keep your ad expenses under control and not overspend, but on the contrary, maximize campaigns' revenue with strategy compliance.
Multi-currencies and easily operated payouts for flexibility in offering various business terms to affiliates.
Analyze
Check your campaign performance in real-time and always be one step ahead.
Affise analytics collect data that say a lot about your campaign performance and allow you to optimize it along the way.
At Affise, you track the performance of your affiliate campaigns effectively with:
Far-reaching analytics with over 50 different views of data breakdowns to help affiliates to keep tabs on their progress.
Comparison reports to analyze your sales, traffic, conversion, and funnel metrics from a unified dashboard.
IP Intelligence and geolocation data by Digital Element for more in-depth analytics and more accurate geotargeting and traffic tracking.
Optimize
Power of Automation – save time on repetitive operational tasks.
Automation tools are no longer a luxury. Now they are at the forefront of many affiliate networks and are available for all.
Through enabling them, you can achieve more with full optimization of your business processes.
AI Smartlinks, a monetization tool which allows your affiliates to access all offers via only one link. Using the ML technology it automatically selects offers by several parameters and sends traffic to the offers that are the most likely to be converted.
CPAPI, the tool that automates the process of pulling offers from advertisers and synchronizing them into the recipient system.
Smart Targeting and CR Optimization to help affiliates to tap into specific markets and increase conversion rates.
Customize
Personalize your solution to provide the best service to your partners.
Affise is a highly customizable platform. You can customize every slice of it according to your needs with:
Tailored UI design to stand out among your competitors and boost your brand awareness.
Configurable widgets – to shape your interface with convenience for your clients and staff in mind.
3rd party integrations – Affise Marketplace can provide you with already set-to-go services to streamline operational processes; or seamlessly conduct new integrations via the feature-rich API.
Platform Overview
Dashboard
Once you log into the Affise platform, you are immediately directed to the dashboard page, that introduces core indicators collected from all panel tabs.
Once you are there, you'll see a default dashboard, from where you can create different types of dashboards based on your needs and preferences, customize them, make them public or private.
On the default dashboard, you can monitor the number of clicks, conversions, Affise's customer's earnings and earnings by currency.
In the middle of the panel, there is a diagram that shows you the traffic statistics for the last 30 days.
Affise's customer can easily log into the affiliate's panel by merely typing the id of the affiliate in the Affiliate ID field.
Below on the left, you can always check current top affiliates and offers, a list of affiliates and offers with the highest income.
In the field "Notifications" you can see the topic and a brief description of tickets from your affiliates. To instantly access it you can click on it, and you will be directed to the Tickets section.
From the Dashboard section, you can get to any other sections of the platforms:
Statistics
Offers
Advertisers
Smartlinks
Automation
Affiliates
Tickets
Billing
Users
News
Settings
Let's check each of the sections in detail!
Statistics
Right from the dashboard, you can go to the Statistics section to check the performance of your active partners and offers.
Here you can view detailed statistics in various types by using different filters.
You can group data according to date, conversions, advertisers, offers, affiliates and other types of statistics.
Offers
All information about the current state of offers, or advertisers products, can be checked in the dedicated Offers section.
Available offers, the number of affiliates connected to each offer, how many conversions were generated by each offer for a particular period and other useful information can be viewed here.
From the affiliate's point of view, affiliate networks serve as databases of multiple offers – products which affiliates promote. While at Affise by offers we also mean certain conditions under which products are advertised.
And here, in the Offers section, affiliate networks can set these conditions – add new offers, and further monitor and edit them.
Offers Settings
In the General Offers settings, you can specify a title, description, advertiser, GEO, traffic source, status, privacy level, rates (RS / CPA / CPI), release and stop date, add logos and many more.
The next section is Tracking. The most crucial component of any offer is tracking URL itself, without which the system won't be able to direct customers to the advertisers' products.
In the Tracking URL field, affiliate networks place a link that they get from the advertisers and add relevant macros to set the integration.
Here if needed, you can also enable impression tracking.
Next, in the Targeting section, you can specify restrictions on regions of the traffic origin, configure the device of mobile operators, the type of connection and other parameters.
Then comes the Postbacks section where Affise's clients take the postback URL or a piece of code to integrate with the advertiser.
The next section is the Payouts where you set the rates, сhoose the currency, set a goal and type of payment. You can configure everything individually for a specific device.
If you have several landing pages, you can easily add them by specifying a title, URL tracking, URL view and the type of landing or prelanding page.
Advertisers
To accurately sort statistics and track offers, you should first add an advertiser that's available in the Advertisers section.
Automation
In the Automation section, you can take advantage of the most demanded automation tool – CR optimization.
Affiliates
This is a directory of all partners of your network, where you can track affiliates' activities.
Through the Affiliates section, you can upload a list with affiliates, arrange them by groups, edit them, assign managers, view statistics and other data.
For the convenience of your partners, you can also customize their accounts.
There is an option to choose a design template, add your logo, profile picture for admins, add admins' contact information and working hours.
In the end, your affiliates get the same user-friendly platform, where they can access the offers database, communicate with managers, track statistics and payouts, follow networks news and so forth.
Tickets
All communication between clients and their affiliates is conducted via the ticketing system. You can find it in the corresponding Tickets section on the panel.
Billing
To create requests for advertisers invoicing and publisher crediting there is a separate Billing section. You can generate a payment for a particular partner for a specified period and in the preferred currency.
Users
Affise platform supports different roles and provides everyone with their own account according to their responsibilities in the affiliate network. On the User Management page, you can add and edit accounts for managers that work on the Admin panel.
News
Here you can inform affiliates about any changes and news, such as special offers, referral program, contests, etc. The visual editor with various settings enables you to attract more attention to your message.
Here is an example of how it could be displayed on the affiliate panel:
Settings
The last one in the panel is the Settings section.
This section includes options for configuring the interface, content and everything else that is necessary for the proper functioning of the affiliate program.
The Settings subsection includes a range of options for configuring the use of your admin panel (standard system configuration, adding tracking domains, setting email notifications, setting trafficback configurations, security and billing settings).
The affiliate dashboard design lets you change the items that control how the affiliate panel is displayed (general settings for webmasters, registration fields, affiliates dashboard design and support managers' information, privacy policy and terms, and conditions pages).
The Content section lets you control other necessary functionality, such as the following: Pages, Categories, Goals, Currencies, Payment Systems, Email templates, and Traffic sources.
Custom Dashboards with Real-Time Analytics
Everything starts with the dashboard – it's the first point of contact with Affise platform.
Being a young company, Affise managed to implement one of the best practices delivering the best user experience.
We all know that working in the affiliate industry means dealing with huge amounts of data, what is sometimes pretty hard to navigate in.
For this, it's crucial to develop an easy-to-use user interface. Usability is one of the most critical features that marketers pay attention to when choosing a software provider.
In the beginning of 2019, Affise released Custom Dashboards that make marketers workflow much more enjoyable.
Here are the main features of the Custom Dashboards:
Visualize all types of datasets;
Shape the reports into colorful line charts, bar charts, pie charts, hashtags, and tables;
Sort the statistics in ascending or descending order;
See the full picture of their achievements;
Turn insights into actions and speed up decision-making;
Share access to dashboards with the rest of the team;
Manage the layout;
Use an unlimited number of dashboards.
Classic and Custom Widgets
For your convenience, you can configure the dashboard through the easy-to-use widget constructor.
You can collect data from different default sections of the Affise panel, such as clicks, conversions, earnings in current currency, earnings by currency, affiliate sign in, affiliates info, top affiliates and offers, active affiliates, active offers, traffic statistics for the last 30 days, notifications, caps top.
With the custom widgets, you can group and illustrate the data under different analysis purposes, such as comparison, distribution, correlation and structure presentation.
Custom table report shows a list of correlations.
Custom line chart report displays the dynamics on one or more indicators, in other words, how data changes over time.
Custom bar chart report is ideal for comparing multiple data sets.
Custom pie chart report is used to show the structure of data.
Custom hashtag works as a counter, displaying the current number of items.
You can create your intuitive dashboard in almost no time:
Click on Create
Add Dashboard Name
Click on Widget and then choose the Widget you want to use, and set data and filters.
Once you are all set-up, all the requested data is immediately grouped and displayed for your convenience:
Detecting Affiliate Fraud Activity
There are several ways how to address fraud prevention at Affise.
1. In-house Click-Level Prevention Tool
Affise has an in-house click-level fraud prevention tool that reduces fraudulent traffic by filtering VPN, non-targeted traffic from proxies, bot traffic, etc.
The system detects fraudulent traffic in real-time, block it and doesn't allow it to reach the destination website.
The Click-Level Fraud Prevention Tool is made with Digital Element's IP intelligence, which is the best IP geolocation data-provider.
To leverage the Click-Level Fraud Prevention Tool, go to the Offer setting page and activate it:
2. Integration with fraud prevention services
Affiliates can also apply the industry-leading fraud detection plugins, such as Forensiq, FraudShield, Fraud Defence and FraudScore, that are already integrated into Affise platform.
If you don't use them yet, the first thing you need to complete is the registration. Once they approve you, you get access to the account.
After the registration is done, the only left thing is to connect it to your Affise account.
For this, you can choose either Postback or API type of integration, or you can do it through the link on the side of the fraud detection platform.
Once you have your account, you can use fraud detection services right from Affise platform. You activate it to each offer, and when a new conversions occur, you will be able to see a scoring report by Offers, Affiliates and by each Conversion.
Applying AI in Affiliate Marketing 
To give marketers more opportunities to boost their growth, Affise leveraged the power of AI through Smartlinks.
AI Smartlink is a robust monetization tool which allows your affiliates to keep all offers under one link only.
Using the technology of machine learning, it automatically selects offers by several preset parameters and decides which offer to show for each specific user.
The algorithm takes data about a user, analyzes all the information received to send visitors to an offer that is most likely to be converted. Offers in the Smartlink are divided into targeting groups by GEO, OS, Connection Type and Carrier.
You create it in a separate Smartlink section or by means of API methods. After this step, you can proceed with adding offers into the created Smartlink.
If you are using Affise data transfer tool CPAPI, you can easily add a high number of offers into the Smartlink while setting a specific CPAPI campaign.
For monetization of unwanted or non-valid traffic we recommend using this feature together with traffic back.
Affise and Business Intelligence
Among the range of services available at Affise Marketplace, there are also plugins to transfer the data to Amazon Simple Storage Service and Google Cloud Platform.
How can affiliates benefit from that? Stronger strategy.
The importance of building an advertising strategy on data is obvious. Though, sometimes it's not that easy to interpret all the data you have and this often results in building a strategy partially based on instincts rather than actual data.
Affise turns the interpretation of huge volumes of data into a smooth and comprehensive process, and for this purpose, introduced Business Intelligence integration service, Data Fusion.
Data Fusion is a real-time delivery service, which transfers all the data from Affise to your AWS and Google accounts, integrating data across multiple sources into a single view.
Once the integration is established, the data can be sent to leading-edge Business Intelligence tools, like Google Data Studio, Power BI, Oracle BI, Tableau, to name a few, and receive all-embracing reports for smart decision-making.
Owing to Business Intelligence tools and services, marketers can get a detailed picture of marketing performance, predict future advertising trends, find growth areas and forecast risks.
How to Set up Real-Time Data Streaming
At Affise Marketplace you need to activate a plugin that transfers your data to Amazon Simple Storage Service and Google Cloud Platform. After enabling the plugin you are ready to collect, store and analyze the information.
Once all your business data is assembled under one umbrella, Business Intelligence comes into play.
Business Intelligence tools like Google Data Studio, Power BI, Tableau analyze various datasets and deliver all-round reports with activities visualization, which, in turn, are used for predicting long-term performance and building a business strategy.
How to Build a Google Data Studio Dashboard
On Google Data Studio create a new Data source.
Fill in GCS Target Path with an appropriate file path and tap on 'Connect' button.
And voilà, you can visualize your data in understandable graphics.
For your convenience you can choose one of the built-in report templates from Google Data Studio Gallery.
Google Data Studio allows you to utilize and blend data from various sources within one report. With comprehensive reports, you will not only predict market trends  but also being two steps ahead of your competitors.
CPAPI
From the first-hand experience, Affise knows what it means to work with numerous advertisers and manage a huge amount of offers from them.
In the first place it is time-consuming, second, very monotonous. In other words, it's not something that employees like to do. Affise introduced the solution to this challenge as well.
CPAPI is a first on the market unique technology that allows you to work with plenty of advertisers and pull hundreds of offers into your tracking platform or in-house tracking software in almost no time.
The synchronization between systems and transferring process used to be one of the most time-consuming things before, which required the attention shift of the whole team or leverage of extra human resources.
Now, it's super easy with the help of CPAPI.
Basically, the two main functions of CPAPI are:
Transferring the data from the source – the system used by an advertiser. CPAPI connects to the advertiser's system with the help of API of the source. In order to get access to the offers in the advertiser's system our clients need to have special credentials.
Transferring the data to Affise – CPAPI sends the data to Affise via API. To make it possible our client needs to insert the API domain and the API key into CPAPI, and it'll give CPAPI access to Affise.
All Affise's clients can start using this tool by asking the Account Manager (or Support Specialist) for access.
Summary
In this review we uncovered many aspects of managing ad campaigns at Affise.
But nothing can be compared to a real experience!
If you are looking for a robust technology that will take care of the whole cycle of your CPA campaigns, give it a try to Affise.
Affise is a rapidly growing platform that is interesting to keep an eye on. Only for the last year, they have released a bunch of new features that significantly improve user experience and automate a huge part of everyday marketers' workflow.
Take advantage of their 30-day free trial and experience it yourself.
Guides & Tutorials
There are lots of different affiliate payment methods online that marketers can select! Check this Mobidea Academy analysis and take your pick!
Best Picks
Affiliate tracking platforms allow you to keep track of your campaigns and optimize to increase affiliate marketing profits!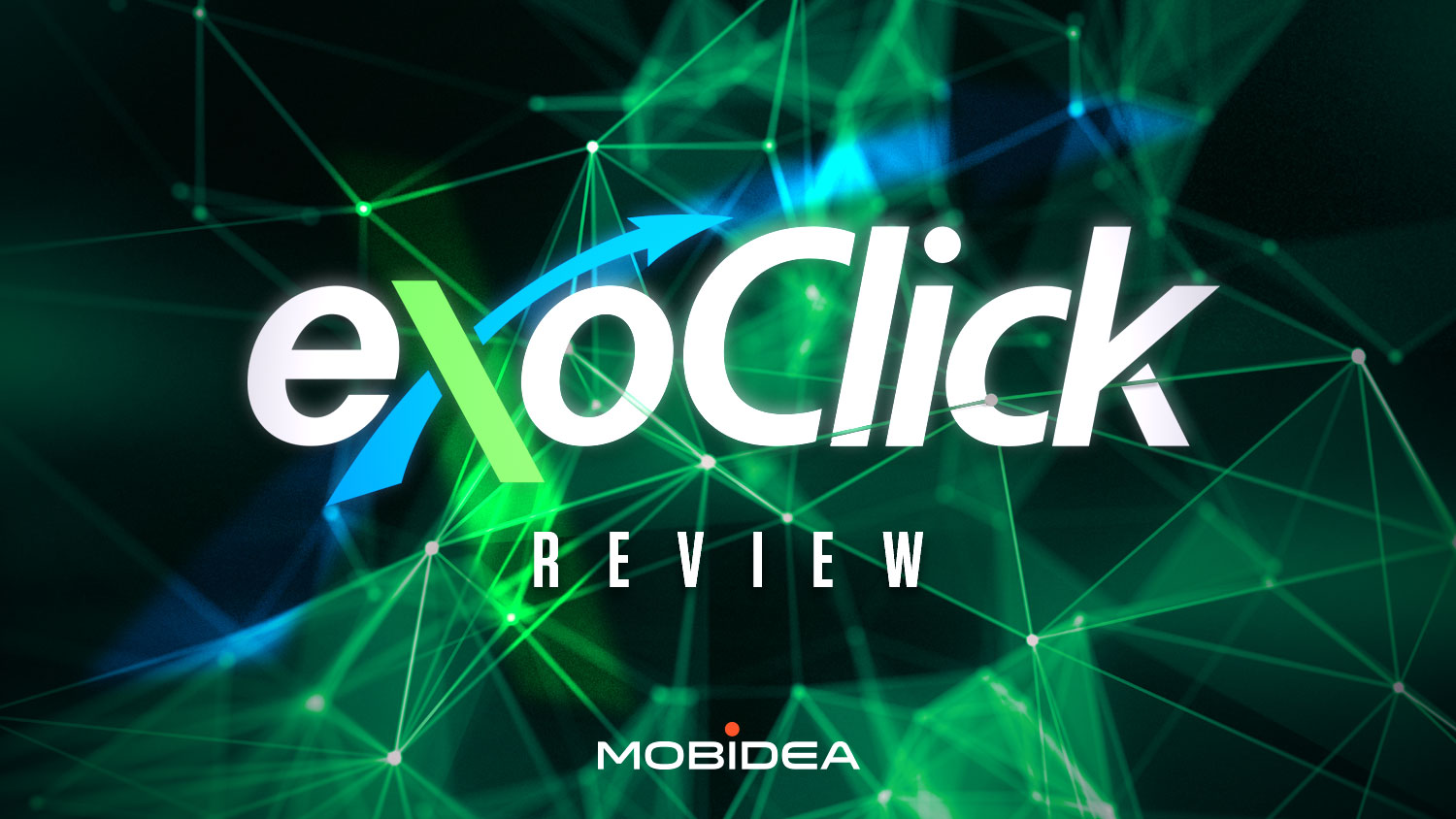 Ad Networks
ExoClick is one of the top adult ad networks where you can get awesome traffic! Read our ExoClick review and find out why!