Clickadu Advertising Formats to Choose From
For its 6+ years of performing in the digital market, Clickadu has grown from a popunder platform to a multi-format advertising network with high volumes of web traffic. For now, it provides 7 full-featured advertising formats that daily bring advertisers 3.3M+ conversions.
In this report, we've reviewed all formats available on Clickadu with verticals and pricing models suitable for them.
For your convenience, we've summarized them in the table below. Plus, we've also laid down a detailed description of all formats.
Let's check it out?
Verticals' performance with different advertising formats.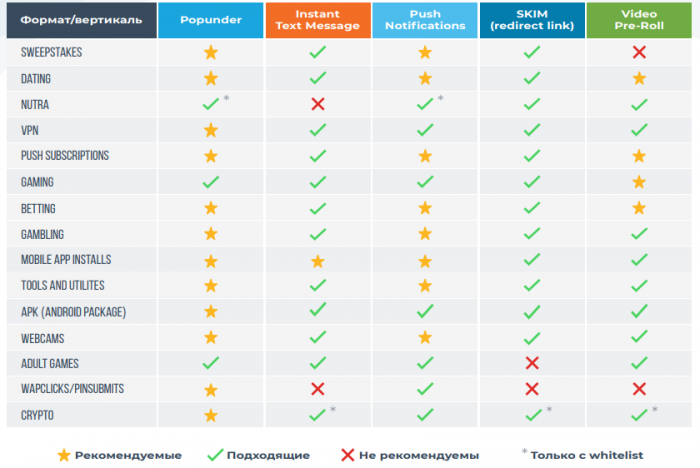 We've built this table based on Clickadu experts' experience. Just bear in mind that despite general statistics your results will always depend on the bid you choose, GEO and offer specificity.
Push Notifications
One of the reasons for Clickadu's fast growth is the constant development of new features. Just last month we've launched a new ad format – Push Notifications, which is already providing 2.6B+ daily impressions.
Push notifications is a native push format that lets you show ads to website visitors even when they're not browsing the web anymore.
Push notifications can be run with a classic CPM pricing model and three automatized models – CPC, SmartCPM, and SmartCPA. Smart models automatically choose the best traffic zones for your offer – read more about it on our blog.
For this ad format, a wide range of offers/verticals is allowed. Our experts especially advise to use it with dating and VPN offers.
In a nutshell, here are the main advantages of push notifications:
Permission-based, Google-friendly advertising format.
Subscriptions from Clickadu direct publishers.
Available on CPM, CPC, SmartCPM, SmartCPA pricing models.
Affordable price for quality traffic, the min CPC bid starts at $0.001.
Dynamic preview and crop of your pre-created message.
Available for mobile and desktop devices.
Highly compatible with other advertising formats.
Video Pre-Roll
Another creative format we'd like to tell you about is Video Pre-roll.
This format lets you use the most inspiring content – eye-catching videos lasting up to 30 sec.
However, the success of your offer and conversion rate are directly proportional to the quality of the creative.
With Video Pre-Roll you can get 34M daily impressions.
This format is compatible with CPM, CPC, and SmartCPA pricing models. Gaming and Dating are good examples of verticals that generate a good profit on video pre-roll.
Main advantages of video pre-roll:
Noticeable ads with the longest contact time.
eCPM starts from $0,3 and Tier 1 countries cost around $1.
Fully compliant with the latest IAB requirements for VAST 3.0 codes.
All popular web-video formats: MP4, WMV, AVI, MOV & FLV.
JS tag Pre-Roll is compatible with all known video players.
Compatibility with all mobile and desktop devices.
Available on SMART pricing models: CPC & SmartCPA
InPage Push
Earlier InPage Push was designed to enhance Push Notifications traffic volume and make it possible to run push advertising for platforms like iOS. However, the format has established itself as a stand-alone unit.
The InPage format is a native banner which design resembles Push Notifications, but unlike Push it works directly on the publisher's website and doesn't require any subscriptions.
The advantages of InPage push are quite remarkable:
You can create your InPage advertising with the same Push constructor as Push Notifications.
The advertising format is compatible with iOS devices.
Works in set with Push or can be launched as a stand-alone advertising format.
Can be launched on the same set of pricing models as Push Notifications: CPM, CPC, SmartCPA, SmartCPM.
Google-friendly native format.
Instant Text Message
Instant Text Message is a Google-friendly advertising format.
And it's Clickadu's know-how which is becoming more popular every year.
For your reference, today you can get 9M daily impressions with this ad format. It's high-efficient with almost all verticals and brings great conversions to Sweepstakes, Nutra, Mobile App installs offers.
Instant Text Message has a native look through emulating the operating system shell.
So, it provides the opportunity to monetize mobile traffic and offers good conversion numbers. This ad format is compatible with CPM, CPC, and SmartCPA pricing models.
Main advantages of Instant Text Message:
High converting thanks to a native look of a dialog ad.
Compatibility with all mobile devices.
Google-friendly advertising format.
Available on SMART pricing models: CPC & SmartCPA.
High delivery and conversions rate.
Possibility to increase conversions with a creative text of the ad.
Popunder (OnClick)
Popunder is a proven and widely used advertising format.
Learn more: What is a Popunder Ad?
It involves a new tab appearing behind the browser window of a website that a user was browsing. The new tab goes unnoticed until the main browser window is closed, so it solves the problem of an "ad blindness".
We're monetizing 122M daily impressions with popunder.
Popunder is available with CPM, SmartCPM, and SmartCPA pricing models.
By the experience of our experts, this ad format works great with Sweepstakes, Dating, VPN, Push Subscriptions, Gambling, APK, Webcams but also with many other verticals.
Main advantages of Popunder ads:
High efficiency – up to 1000% boost in ROI.
Reasonable traffic cost – tier 3 starts at $0.2.
Solve the problem of "ad blindness".
It doesn't require any text or image.
Pops can run to any kind of site, even the small ones.
The main source of income if you do not qualify for Google Adsense.
Anti-malware protection with auto-detection of harmful campaigns.
Available on SMART pricing models: SmartCPM & SmartCPA.
SKIM (Redirect Link)
SKIM is a link that a publisher inserts on the specific website element (text, image/icon, link or video), and after clicking on it a user transfers to advertising landing. SKIM is compatible with CPM and SmartCPM pricing models.
You can get 1.7M daily impressions with SKIM.
Main advantages of SKIM:
Higher CR to advertisers and CPM rates to publishers.
100% control of your sold traffic amount.
Traffic and advertisement niche selection.
Available on SmartCPM.
Google-friendly advertising format.
Banner Ads
And the cherry on the top of 360 degrees coverage and monetization is the banner ads. Clickadu is at the outset of display advertising, so the banner ads expertise is yet to come.
What to expect from Clickadu banner ads?
Banners support popular 300×250, 300×100 banners sizes.
You can run video banners.
Banners is powered with misclick and banner viewability options to save your advertising budget.
More cool things are yet to come.
As you can see, the possibilities currently provided by Clickadu almost wholly meet the needs of advertisers.
This multi-format ad network provides high-quality traffic and helps to generate as many conversions as possible.
Plus, Clickadu is constantly growing and announces new formats every year.
So, be prepared because banner and native ads are coming really soon!
Advertisement

Tags: Getting Started