SEO
Last updated on May 16, 2023
by
João Aguiar
6 min read
The SEO industry is worth almost $80 billion. The industry's growth has been on the back of business leaders seeing how essential good SEO is for them in recent years.
One question, though, is where to invest your SEO budget. Should you hire an agency to help, or would you be better off investing in SEO tools?
If you decide to put your budget into getting the right tools, then you're faced with another challenge. Which tool should you invest in?
There are many out there, but it often comes down to Ahrefs vs SEMrush vs Moz. These three contenders have been duking it out to be crowned the best tool for some time now. Each has their own loyal fans.
When push comes to shove, though, which one really comes out on top? This guide takes an in-depth look at how these three top tools compare across a wide range of features.
Why Ahrefs vs SEMrush vs Moz?
Out of all the tools out there, why these three? It has to do with their versatility.
There are plenty of SEO tools out there that perform one specialized function. That's great, but it could mean you need to invest in seven or eight separate tools. If you're looking for a tool that will perform several tasks instead, you should consider one of these platforms.
Ahrefs, SEMrush, and Moz all have different strengths and weaknesses.
So, which one will give you the best return on your investment?
This guide looks at each of the platforms in turn, comparing their features. It also looks at pricing structures, as well as the strengths and weaknesses. Using this assessment, it's easier to see a clear overall winner.
SEMrush Review
Let's start with SEMrush, which is our favorite tool at Mobidea Academy.
SEMrush started all the way back in 2008, when SEO was first hitting its stride. Today, it's one of the most popular platforms for SEO tools. You can think of it as a sort of "Swiss army knife," covering almost every aspect of your SEO needs.
Features in SEMrush allow you to check out what your competitors are doing. You can perform keyword research and keep track of your own site performance. SEMrush scores points for ease-of-use, as well as the sheer number of functions it has.
Read our in-depth SEMrush review here.
Keyword Database
SEMrush provides users with the Keyword Magic Tool. This tool gives you access to an enormous database of Google keywords. The database has billions of keywords in it, making it one of the most expansive on the market.
The tool gives structure to your keyword research, allowing you to plan PPC and SEO campaigns with ease.
Search Volume Data
Keywords aren't much good without accurate search volume data. You might find what you think is a great keyword, only to discover inaccurate stats mean it's not as good as you thought.
SEMrush boasts the most accurate data for search volume. That means when you find that magic keyword, you can easily check its performance.
That, in turn, makes it much easier to make the right decisions for your campaigns. You know which keywords will need more of your budget, which ones are going to give you the most for your money, and which ones aren't worth your time. The platform performs constant updates to data to ensure you have the information you need, almost in real-time.
Tracking and Monitoring
SEMrush also provides support for better monitoring of your position. Basic tracking is available to all users, no matter what plan they're on.
The Position Tracking tool is great for SEO specialists. It's the most accurate position tracking tool on the market today.
It also provides local-level data for all users. Daily data updates, mobile rankings, and more are also available.
No extra payments or add-ons are needed to add keywords either.
Link Monitoring
Backlinks are an important part of a good SEO strategy. SEMrush provides a tool for toxic links monitoring and penalty recovery.
These links can hurt your SEO scores. SEMrush is one of the only platforms that offers an analysis of links toxicity. That makes it easier to identify harmful links.
It also offers outreach options, which can help you recover from SEO penalties.
Content Market Integration
Content is perhaps the core of SEO. Without content, what are you ranking for? That's why SEMrush offers a host of tools that integrate with your content marketing.
You'll find support for the following:
Brand auditing
Post tracking
Content auditing
On-page SEO templates
SEO friendly writing
These tools can help you ensure your content creation meets the markers for great SEO.
Reporting Tools
Another strength of the SEMrush platform has to be its reporting capabilities. Other SEO platforms don't offer the same options when it comes to creating branded reports.
SEMrush allows you to easily organize your data and track your KPIs. Integrations with other platforms ensure you have access to the data and reporting formats you need.
The option for branded and white label SEO reporting make SEMrush a great choice for agencies as well.
Moz Review
Moz is another popular all-in-one SEO tool. It actually started out as a blog and SEO community, before transitioning to offering SEO tools. It's been around the longest of the three platforms compared in this guide.
Unlike SEMrush, Moz is not a tool for beginners. It's not nearly as easy to use. It also doesn't offer as many features, which may limit its usefulness.
Moz does have competitive pricing and a lengthy free trial period. It also offers a limited free version.
Keyword Database
Moz offers what it calls the Keyword Explorer. It performs the same function as SEMrush's Keyword Magic Tool.
Moz's primary strength here is that the free version of its tool offers more keywords than SEMrush. Moz includes the search volume information within the keyword tool.
Moz also gives you some key details on that keyword, such as an estimate about how difficult it is to rank for.
Finally, Moz's keyword tool can show if a keyword should be a focus of yours. This is a unique feature.
Link Monitoring
Like other platforms, Moz offers more than keyword research. It also gives you access to the Link Explorer, which is their tool for tracking and monitoring links.
Like SEMrush, this tool lets you analyze a huge number of URLs. This is great for getting information on your competitors.
It also provides information on backlinks. Unfortunately, Moz's database isn't always up to date, particularly when it comes to backlinks.
This could mean you're working with outdated information. That's not ideal. You may not be able to get an accurate analysis, which could mean a toxic backlink could keep harming your site.
Auditing Tools and Other Features
Moz does provide some tools to help you analyze your SEO performance. The range here is again limited, especially when compared to SEMrush or Ahrefs.
One of Moz's strengths is that it provides quite a few other tools as well. One of these is the Moz Bar, which is a free extension for the Chrome browser. With the Bar, you can analyze the SEO of any website or even perform SERP analysis of a keyword.
Moz Local is another tool you may want to consider. Moz was leader of the pack when it came to local SEO for a little while, although other tools are now more comparable.
Still, Moz's tool is good for local businesses that want something cost-friendly to help them.
Moz has also developed other tools, such as Page Authority and Domain Authority. These ranking tools are designed to help you get an idea of how your site should stack up in the SERPs. It's proprietary and has nothing to do with your actual ranking, though, so don't consider its necessity.
Ahrefs Review
Ahrefs is the newest of these three platforms, having arrived on the scene in 2011. This tool started life with a focus on analyzing backlinks. That's even clear in the name, which comes from the HTML code for linking: a href.
Like SEMrush and Moz, though, Ahrefs has evolved to include a whole suite of tools. Much like the others, it also has its strengths and weaknesses.
Keyword Explorer
Like Moz and SEMrush, Ahrefs provides a keyword database. This lets you research keywords to include in your SEO and PPC campaigns.
Although the tool has come a long way in a short time, it's not necessarily the best one out there. It does provide more accurate search volume data than Moz. Despite that, SEMrush still provides even more precision.
The Ahrefs database is still smaller than SEMrush's as well. Although it does a good job at making keyword suggestions, the smaller database does limit this feature.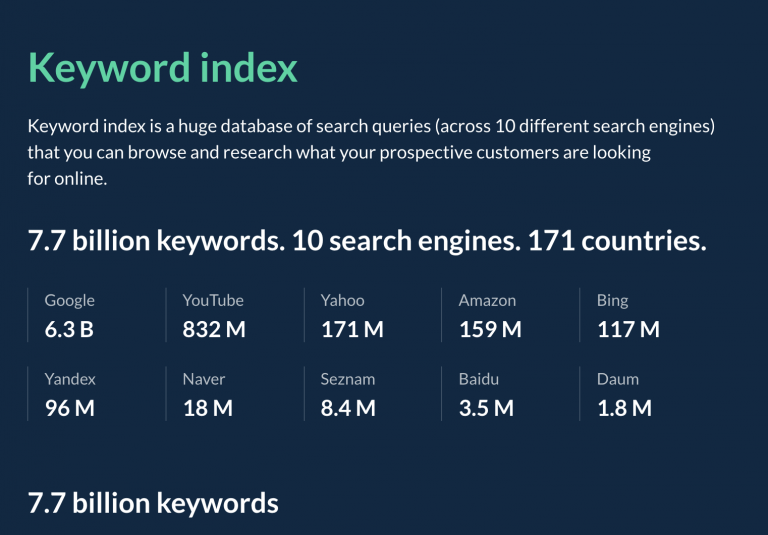 Link Monitoring and Analysis
Ahrefs started as a tool to monitor backlinks, and that's still its primary strength. It boasts the world's largest database of links.
It also offers options for monitoring both your own links and your competitors'.
SEMrush and Ahrefs have similar functionality in this arena. Ahrefs still doesn't offer tools that provide the depth of analysis that SEMrush does. While the tools are leaps and bounds ahead of
Moz at this point, Ahrefs is still missing crucial data when it comes to linking strategy.
Auditing and Other Features
Ahrefs does offer some auditing tools. It also scores points for gathering up data and putting it all in one easy-to-use dashboard.
It doesn't offer the same range of integrations that a tool like SEMrush has. It's also lacking in the reporting department. There's a ton of data here, but you'll have a harder time getting it out of the system and into a format you can use.
Ahrefs is also criticized for a lack of free options. It does offer a free toolbar, but you'll pay for a seven-day trial of the platform. After that, everything is behind a paywall.
Moz and SEMrush both offer free versions, which make them better choices for someone just getting their feet wet with SEO tools.
The Verdict
So, who wins this epic battle of comprehensive SEO tools? Should you choose SEMrush vs Ahrefs, or are you better off going with Moz?
When it comes right down to it, there's no contest here. SEMrush offers the most complete deck of SEO tools. Whether you want to provide on-page SEO, develop a better content strategy, or dig up the right keywords for a PPC campaign, SEMrush is far and away from the winner.
With a range of free options to help you get started, as well as more robust reporting capabilities, there's no reason not to choose SEMrush vs Moz or Ahrefs.
Of course, Moz and Ahrefs still have their strengths. Moz, for example, might be a good choice for a casual blogger or a local business. Moz has fallen behind in recent years, but their local tool is still one of the best out there.
If your budget is limited, then Moz might be a good choice.
Ahrefs is a good choice for an SEO specialist looking specifically for link information. Even then, it's hard to recommend Ahrefs vs SEMrush. SEMrush offers more in-depth backlink analysis.
The lack of free offerings from Ahrefs and the fact that SEMrush is almost always rolling out new features cement SEMrush as the winner of this epic bout between SEO tools.
The Tools That Fit Your Business
When it comes to SEMrush vs Ahrefs vs Moz, it's not difficult to see that SEMrush is the clear winner. A lengthy list of killer features, the most accurate databases, and plenty of free options make this tool a surefire choice for almost everyone who needs to do SEO.
Of course, there are some things even SEMrush can't do. If you're hoping for more insights on content marketing or forensic, technical SEO, then you may need more specialized tools.
Using the right SEO tools is one of the ways to drive more traffic to your site. If you're looking for more insights on improving your rankings or tips for getting more traffic, then check out more in-depth articles and analysis in the archives.
The right information can inform a smarter strategy. In turn, you can keep your business growing toward a better tomorrow.

João Aguiar
Head of Digital at Mobidea
More articles from João Aguiar
João is the Editor-in-Chief at Mobidea Academy, a tech player, dynamic, proactive, and fun! When he's not focusing on his role, he enjoys eating tasty food.
SEO
Crazy about SEO and marketing? Are you the kind of affiliate marketer that wants to boost affiliate marketing with SEO? Follow these actionable rules now!
SEO
Learn how to effectively research keywords taking Google's Algorithms into account and become a true SEO pro!
SEO
A comprehensive guide on how to find, use and buy expired domains with high authority.