Landing Page Builders
Last updated on July 15, 2020
by
Mobidea Academy
10 min read
Advertisement

If there's one resource that's chronically insufficient and interminable at the same time, it's… well, time.
Creating landing pages for your marketing campaigns has been, and will always be time-consuming, especially when you need them on a regular basis for various purposes.
This is where Landingi turn in with an idea to create a landing page builder that's all about saving time.
With Landingi you can reduce the time it takes to create a landing page from a few days to a few hours.
There's no need to take my word for it – see exactly how it works:
Get to know Landingi!
Landingi Overview
Landingi is an end-to-end landing page platform that helps businesses reach their marketing goals by simplifying the creation and optimization of highly converting landing pages and, consequently, increases their users' lead count.
With more than 200 templates and a simple drag & drop interface, Landingi offers hundreds of personalization options, allowing its users to create landing pages without programming or designing skills of any kind. All it takes is a few hours and a specific purpose for the landing page.
Landingi works great with other marketing tools thanks to dozens of built-in integrations which allow users to manage leads, send them directly to other platforms or simply extend the functionality of landing pages.
It also features a number of additional functions, such as testing domains, version history, audit log, basic statistics, custom JS, HTML and CSS script support or A/B/x tests.
The whole process of creating a landing page in Landingi is as easy as it gets. Start with logging in to the Landingi platform. Then choose the "select a template" option. Pick your template from a template library or start with a blank page. By doing so, you will open the editor. Now start designing your landing page!
This is where the real fun begins. Landingi editor features an intuitive drag and drop mechanism that makes it all even easier. Just choose the thing from the left panel, move it to the desired spot, and edit it using options on the right panel.
See how it works!
After setting up the design, it's time to replace the copy on your landing page.
Landingi uses the Google Fonts repository, which means there are over 800 fonts ready to write with!
Once your landing page is done, you can publish it on landpage.com (which is a test domain) or connect it to your own subdomain.
Then it's time for A/B tests – the most popular way of measuring the effectiveness of two variants of a landing page.
This functionality also can be found in the Landingi platform. All throughout the test period and after, you can check the built-in basic statistic tool, to see which version turned out to have the higher conversion rate.
Why Use Landingi?
Getting leads is most effective with landing pages – it's common knowledge, and you should also know that only 22% of businesses think that their current conversion rate is enough.
Well, looks like it's time to start using landing pages. It's science!
Landingi gives you a complete, powerful tool to create landing pages to begin with. It comes with a simple, drag and drop interface and it doesn't require any programming nor design skills. You can place, resize and move every element on your landing page freely.
If your design skills are not very great, you can use the free templates available in the Landingi platform. There are hundreds of them and they're all carefully designed to deliver maximum conversion rate and a friendly user experience, not to mention they are fully customizable both for desktop and mobile devices.
Landingi can be used with no coding skills and yet, if you know anything about it, you can use it to your advantage – there's a way to additionally personalize your landing pages with custom JS, HTML or CSS codes.
It all feels like this platform can really make you IT independent.
Creating a fine landing page normally takes a few days to a few weeks, considering the necessity to contact designers, programmers, copywriters and approving changes at every stage.
Using templates and creating your own content can save you days of hard work, and the reasonable price for access to the platform (starting at $29/month) makes it even more appealing.
What Makes Landingi Powerful?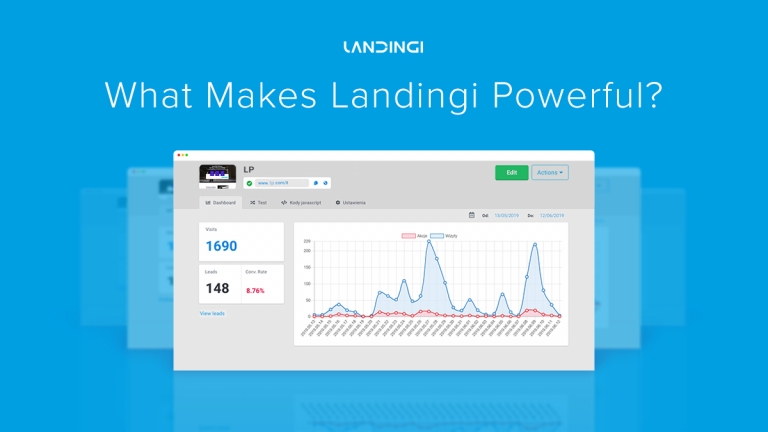 There are certainly some things that make Landingi stand out from the crowd. A rich library of templates and free images, a flexible offer and no limitations – and that's still just the tip of the iceberg!
A flexible offer
Landingi offers seven plans – Core, Create, Automate and Suite for businesses, Consultant, Agency and Agency Pro for agencies.
You can choose the tier that contains exactly what you want – no need to overpay for stuff you won't use anyway!
Also, you can select the frequency of payments – monthly or yearly – that suits your needs the best. The latter comes with an additional 25% discount.
Rich template repository
No point in a landing page platform without dedicated templates.
Landingi knows it and they offer 150 professionally designed templates free for every user and another 50 premium templates for Create and higher plans. That means there are two hundred templates designed for various purposes and industries.
Image, font and icon library
When you think that you've already seen every stock photo out there, Landingi's got your back!
There are over 5 000 free images in their library split into 10 categories, more than 800 fonts (Google Fonts library) and 800 icons.
Use them to make your every landing page unique!
Features
All the essential functions are available even in the cheapest Landingi plans – they contain everything users need to create high conversion landing pages.
If you know you'll need more than that, take a look at the pricing table to see if any other plan meets your expectations.
Basic
No matter what plan you select, these features are always ready to use:
No limits for gathered leads
150 landing page templates
Drag & Drop creator
Cloud hosting
Forced SSL
Customizable mobile view
Lead Inbox
Email notifications
2 active landing pages
Custom domain
1000 visitors per month
Email support
WordPress plugin
The most affordable Basic plan includes all of the features mentioned above.
Core
Upgrading to Core gives users access to additional functionalities and resources:
Unlimited Landing Pages
5 custom domains
100.000 visitors per month
Popup builder and 10 active popups
Email integration
Custom HTML
Create
The third in line, Create plan, contains more features for those who use landing pages on a regular basis.
Upgrading to Create unlocks the following features:
10 custom domains
10 account users
Email, phone and chat support
Unlimited popups
50 premium templates
Access to image and icon library (with more than 5000 assets)
Email marketing integrations
Lightboxes
Automate
The Automate plan comes with a few more features suitable for those who need more marketing automation tools.
Subscribing to the Automate plan gives you:
20 custom domains
200.000 visitors per month
Advanced third-party integrations
Campaign scheduler
Autoresponder
A/B/x testing
Agency
Running an agency means that there's often an urgent need for subaccounts – mostly because you need the workspaces of your customers to be separate.
Thanks to Agency plans by Landingi, you can give them a space that's all theirs to create and work on landing pages.
Get to know all the features available to agency clients:
Consultant
The Consultant plan gives even more options for managing your Landingi account.
It comes with at least 5 subaccounts with the possibility to extend this number.
Buying Landingi Consultant plan gives you:
5 or more subaccounts
Separate access for customers
Advanced permission settings
Unbranded emails
Unbranded WordPress plugin
Agency
For those who run their own agency and have their own clients in need of a landing page platform, there's another plan, called Agency, with a whole set of new features:
Custom templates – create them and they will be available only for you and your customers.
Custom image library
Audit logs
Priority support
Agency Pro
The Agency Pro provides a truly white-label experience for your company.
Make the whole Landingi platform look like your own and build a whole environment for your customers (with up to 20 subaccounts).
Place the Landingi platform under your domain
Use the Landingi platform with your own branding
Custom login page
Custom 404 error page
Custom CNAME
Brandable outgoing emails (with your own logo)
API for creating subaccounts
Integrations

A landing page platform without the possibility to integrate with third-party applications is no good.
Landingi knows that, so they put a strong emphasis on the development of this aspect of their product, creating over 40 integrations for Landingi users (and counting).
The leads gathered using landing pages created in Landingi are not meant to stay in their inboxes, but are being used in email marketing, analytics, callbacks, payments and many other activities. This is where integrations spring into action.
E-mail Marketing Integrations
If you use newly acquired leads to contact potential customers via email, you may want to integrate the Landingi platform with one of the following tools:
Active Campaign
AWeber
Campaign Monitor
ConvertKit
Drip
FreshMail
GetResponse
impleBOT
MailChimp
MailerLite
Sare
CRM/Sales Integrations
Trying to build a strong relationship with your customers can be made easier by using CRM software.
LeadsBridge
Base
Bitrix24
HubSpot
Livespace
Pipedrive
SalesFlare
Salesforce
ZOHO
SALESmanago
Callback/Chat Integrations
A huge part of lead nurturing is keeping in touch with potential customers. One of the most successful ways to do this is to place a chat on your landing pages and be ready to answer all questions regarding your offer.
Integrating Landingi with these apps is as easy as pie:
CallPage
Intercom
LiveChat
tawk.to
Zendesk Chat
Analytics & Tracking Integrations
Creating a landing page is just the beginning of the journey.
To squeeze the most of it, you need to analyse and track at least the most important records: traffic and conversions.
This is why Landingi decided not only to allow their customers to generate an Ads Conversion Tracking Code, but also to support these integrations:
Facebook Pixel
Google Analytics
Google Tag Manager
Heap Analytics
Kissmetrics
Mixpanel
Yandex Metrica
Other Integrations
There are plenty of other purposes Landingi users may need to use the platform for.
Selling products, publishing landing pages in WordPress domains, sending data further and more.
Landingi works with these tools as well:
PayPal
PayU
Sofort
TPay
Przelewy24
PayLane
Shopify
Webhook
WordPress
Zapier
Pricing
Landingi offers seven plans divided into two categories: Business and Agency.
The prices differ for monthly and annual payment. If a customer decides to subscribe to Landingi for 12 months, he or she gets a 25% discount.
Let's take a closer look at available plans.
Business Plans
There are four available plans in the Business category:
Basic ($11-15) – for those who want to create high converting, but simple landing pages.
Core ($29-39) – for those who need more personalization options and popups.
Create ($49-59) – for those in need of advanced integrations and even more templates.
Automate – ($59-79) for those who search for advanced marketing automation and testing features.
Agency Plans
There are three plans in the Agency category, each comes with a selectable number of subaccounts:
Consultant ($95-129) – for small agencies with a need to send unbranded email and use the Landingi WordPress plugin without branding.
Agency ($149-199) – for agencies that want to offer their clients custom templates and that work with 10 or more companies simultaneously.
Agency Pro ($245-329) – for those who are looking for the full white-label experience with their own branding and custom API for creating subaccounts.
Support
The success of customers is the success of a platform. Landingi seems to know it, and this is why they established a Customer Success team trying to make your landing pages work like a charm!
Landingi also offers a Knowledge Base full of both basic and advanced instructions on how to create landing pages, use integrations and more.
They are constantly updating it with new content as new functions appear in the platform.
If you haven't found what you were looking for, there are still a few ways of contacting the company:
The phone support is available 8:00AM – 8:00PM CET, Monday to Friday.
If you want to describe your problem thoroughly, create a ticket or send an email at support@landingi.com.
Find more information at Landingi Contact page.
Advertisement

Best Picks
Use the most powerful and best affiliate marketing tools to become a better affiliate today!
Guides & Tutorials
Affiliate Marketing Banners can make or break your campaign so check the best sites and platforms to write banner ad copy in different languages!
Media Buying Tools
Read our in-depth TheOptimizer review and get to know the platform, settings and features.