Domain Hunter Gatherer: Honest Review
Easily Find High Authority Expired Domains
When it comes to building high authority websites quickly and efficiently, there is no better way than to look for expired domains. There are many software applications that allow you to scrape high authority expired domains off the internet.
One of the best softwares, if not the best, is Domain Hunter Gatherer (10% lifetime coupon). When you are in search of high-quality aged domains, there is hardly any tool more popular than Domain Hunter Gatherer. You can always go on a manual hunt to find a high authority domain name, but the process is time-consuming and laborious.
Domain Hunter Gatherer makes it a sheer convenience to find desired domains in no time.
Domain Hunter Gatherer Key Features
Finds expired domains quickly
No limitation on the number of domains the tool can find
Offers filtering options for better categorization
Provides domain analysis and stats
Different price tiers for different needs
Least demanding tool in terms of technical requirements
Intuitive and user-friendly interface
30-day money-back guarantee
Advanced settings and options for professional users
Software Pricing
The price is one of the most significant factors in the value equation of any software or service. Domain Hunter Gatherer offers 3 plans that include Free, Premium and Professional.
Free Plan
This tier is for non-tech savvy people who just want to look up a few high authority expired domains to strengthen their website's online presence. The tier includes pretty much all the features a layman would need.
Premium Plan
This plan costs $17 a month and is offered for those who want to scrape expired domains off the internet from time to time. This is a good option for people who are looking to build multiple private blog networks.
Professional Plan
With quite a steep price tag of $87 per month, the professional plan is loaded with all the features, bells and whistles you would need to hunt down the best expired domains. It allows you to crawl unlimited web pages daily and includes DomRecovery and Easy Expired Domains services at a price of $87 per month.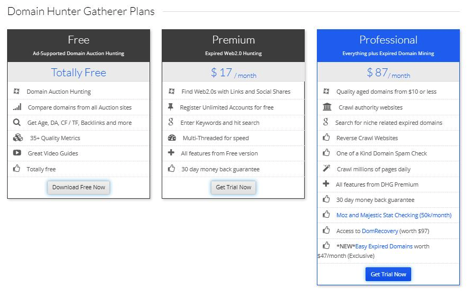 For your basic needs, a free plan will serve you well, but if your demands are slightly more intense and you're looking to achieve more, then a professional plan is the way to go. It's worth noting that the paid plans give users 30-day money-back guarantee. So, if you are not happy with the results, you can always request a refund.
Instead of searching for Domain Hunter Gatherer crack online, you can use the free version. Domain Hunter Gatherer free download is available once you sign-up.
Domain Hunter Gatherer Requirements
One of the best things about Domain Hunter Gatherer is that it's a desktop application that you can run locally on your computer. You'll need a username and a password which you can get for free upon signing-up on the Domain Hunter Gatherer website.
Hardware
You'll need at least 512 MB of RAM and a Pentium 4 PC with a decent internet connection. Recommended hardware is a dual-core CPU with 4 GB of RAM and a fast broadband connection, preferably dedicated.
Software
The software runs on Windows XP and Vista but it's recommended to use it on Windows 7 or later. You will also need private or semi-private proxies.
Although the tool works without proxies, to get the most out of it, the developers of Domain Hunter Gatherer strongly recommend using shared or private proxies. The presence of proxies improves the chances of the software of finding high-quality domains with enhanced accuracy.
Unser Interface
The most important aspect of any software is its User Interface or UI. Complex interfaces are harder to navigate and understand for the user and can be a deal-breaker. Thankfully, that's not the case with Domain Hunter Gatherer.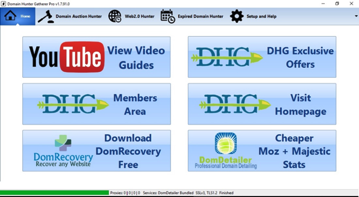 At first sight, the UI appears a bit outdated, but it's super practical – clean and intuitive. You have different tabs for different tasks such as Home, Domain Auction Hunter, Web 2.0 Hunter, Expired Domain Hunter, etc. Every tab contains options and preferences relevant to it. The labeling of every button is quite accurate and there isn't anything to confuse the user.
Moreover, it's far too easy and convenient to hunt down the expired domains. All you have to do is copy and paste proxies in the settings and add keywords. As simple as that.
Domain Hunter Gatherer isn't one of those tools that will leave you frustrated. Quite the opposite actually. The design itself can do with a cosmetic facelift, but looks, in our opinion, are secondary.
Domain Hunter Gatherer – Home
The Homepage is clean and to the point. It contains links to 6 different resources that can help you with your expired domain hunting.
YouTube Video Guides
The first link takes you to a YouTube channel where you can find all kinds of videos needed to install, set up and run the Domain Hunter Gatherer application.
DHG Members Area
This link will guide you to your profile from where you can download the setup files and manage your DHG profile.
Download DomRecovery
The third link allows you to download a free copy of DomRecovery which is a software that reinstates websites to their previous state.
DHG Exclusive Offers
The team behind Domain Hunter Gatherer brings exclusive promotions and offers from time to time. This link takes you to the page where you can get those exclusive deals.
DHG Homepage
Takes you back to the homepage of Domain Hunter Gatherer's website.
Dom Detailer
This link lands you on DomDetailer's website where you can find statistics related to an expired domain by Moz and Majestic at cheaper rates.
Expired Domain Hunter
Although Expired Domain Hunter is third in line after Auction and Web 2.0 Hunters (in terms of what? I think this needs some clarification), let's analyze it with priority since it's the most important of them all. This is the primary feature of the tool that will help you in hunting down high authority expired domains.
Adding Proxies
Before you can start searching for expired domains, you need to go to the Setup and Help section where you will be adding proxies. As discussed above you don't necessarily need proxies to get the job done, it's highly advised that you use shared or private proxies to hunt quality domains with much higher accuracy.
On the settings page you can see the Primary Proxies tab where you can add the proxies, usernames, and passwords separated by colons. Right under this, you should tick the boxes that are relevant to your search. The tool also gives you the option to test your proxies so you know if they are functional or not.
Before switching back to the Expired Domain Hunter tab, ensure you have checked the Use Primary Proxies option.
Searching Domains with Expired Domain Hunter
Expired Domain Hunter tab gives you three different ways to look for expired domains.
Hunt from Keywords
This allows you to search expired domains present on high authority websites through keywords. You can add multiple keywords at a time to make your search more targeted.
Hunt from Website(s)
This way enables you to find domains that contain backlinks from a particular website. You can add filters through Must Contain and Must Not Contain options.
Reverse Hunt Domains
This is a clever option to find the expired domains that have backlinks linking back to your own website.
Before initiating the search you can play with the search settings to narrow down what type of domains you are looking for. You can filter out domains based on footprints, search engines, languages, countries and registration dates.
Through the Search settings, you can filter results according to desirability or relevance to your objectives.
Once you have picked all the right settings and the criteria, you can initiate the search. The software will start looking-up expired domains which may take some time depending on the quality of your proxies, as well as your connection speed.
The search is complete when Domain Hunter Gatherer generates a complete list of domains along with other related helpful information.
You can assess the quality of the domains by looking at the data and stats shared alongside the results – age, trust flow, Facebook shares, Alexa ranks, etc. They determine the expired domain's authority.
If you want more stats and analysis, you can go to the Analyze Domains options and carry out deeper research. You can pick which domains you want to analyze and what by which criteria.
The analysis could take quite a bit of time depending on the speed of your internet, the number of domains and the criteria you've selected.
To recap, Domain Hunter Gatherer provides an easy and straightforward way to search for high authority expired domains using a wide range of options, settings, and filters to get to the results you are looking for.
Domain Auction Hunter
Auction hunter is a really valuable service that's integrated into Domain Hunter Gatherer. It crawls major domain auction websites and streamlines all the results in a list.
The results include all the information you need to make the purchasing decision. Apart from all the key factors that contribute toward domain authority, you can also see the price, currency, age and when the auction ends. Here is a list of auction sites where Domain Hunter Gatherer collects domains from:
Flippa
GoDaddy
NameJet
DynaDot
Snapnames
Huge Domains
Above
Bido
You can save or export all or selected domains in a file using Save / Export Auctions. If you want to exclude the results from a particular domain auction website, you can uncheck it from Search Settings. Domain Hunter Gatherer won't crawl the unchecked website. However, for an optimized and trustworthy number of results, it is advisable to search for all the auction sites.
Web 2.0 Hunter
Web 2.0 generally refers to social media, blogging, microblogging and content marketing. Web 2.0 Hunter searches for all the domains that have hosted the aforementioned content. This usually includes Tumblr and WordPress domains.
This could be especially useful if you are trying to build a network of high authority blogs. You can look-up for blog domains that are relevant to your niche and then leverage the pre-built domain authority to extract benefits for your own website.
Advertisement

A strong Web 2.0 presence has become increasingly important for Google's and other search engines' algorithms over the last few years, so if your end game is building a high authority website that organically ranks better in the results, Domain Hunter Gatherer can pave the way. Getting the right high authority domains to host relevant content and improve the digital authority of your own website has never been easier.
Web 2.0 Hunter looks for the expired domains on 20 websites including Tumblr, WordPress, Weebly, Blogspot, Blog.com, Typepad, OverBlog, Svbtle, Tripod, LiveJournal, Webs, Jigsy, Jimdo, Wikidot, NewsVine, Postagon, SnapPages, HubPages, Twitter, and Sapo.
If you want to limit your domain search to a few popular Web 2.0 websites, such as WordPress and Twitter, you can remove the check from the Search Settings. You can also select the search engine as well as the custom date range of domain registration.
Conclusion
These are the primary ways to hunt down expired domains through Domain Hunter Gatherer and all of them are extremely easy to use.
All in all, Domain Hunter Gatherer provides a convenient, easy and affordable alternative to scrape high authority expired domains off the internet. It also includes a wide array of settings, options, and preferences that you can easily navigate in order to get the desired results.
Additionally, if you are having any trouble, you can use the resources and guides provided on the homepage.
Domain Hunter Gatherer is the easiest, the cheapest and quickest first step to building high authority websites.
Don't forget to get advantage of our exclusive Domain Hunter Gatherer coupon.
Advertisement

Tags: Affiliate IndustryAffiliate MarketingMaking MoneySEOTips