Advertisement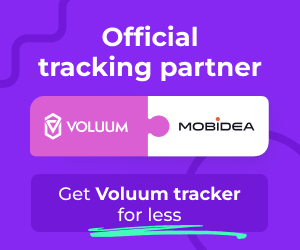 One of the most popular verticals in affiliate marketing is Sweepstakes.
Each year it attracts beginners and seasoned affiliates alike with tons of offers, availability across all GEOs, with high converting potential and good response to all kinds of traffic.
But though it may seem like a low-hanging fruit in terms of ROI, launching a profitable sweepstake campaign requires skill and practice.
For you to get the most out of running sweepstakes, we've narrowed all the best practices down to 3 key points.
What are Sweepstakes and What Types Are There?
Sweepstakes are a form of an online prize draw where the winner is determined randomly among all the participants. This term is often used interchangeably with "contest", however, a contest implies an element of skill.
With sweepstakes, the outcome depends strictly on pure luck.
There are various kinds of sweepstakes funnels, which define the mechanics of participation for a user.
SOI/DOI (Single Opt-In/Double Opt-In) sweepstakes require a user to provide their info (e.g. an email, a social account or a phone number) and possibly confirm it.
CC submit offers require a user to provide their credit card details.
All types show great results on RollerAds traffic with both push ads and popunders, given the advertiser applies the best practices listed below.
Tip #1 Always Use Prelanders
The best prelanders (definition) are styled as questionnaires or surprise boxes, customized according to the product you're promoting. As the user answers the questions or "unwraps" the box, they get invested in the process and provide their details more eagerly.
Example #1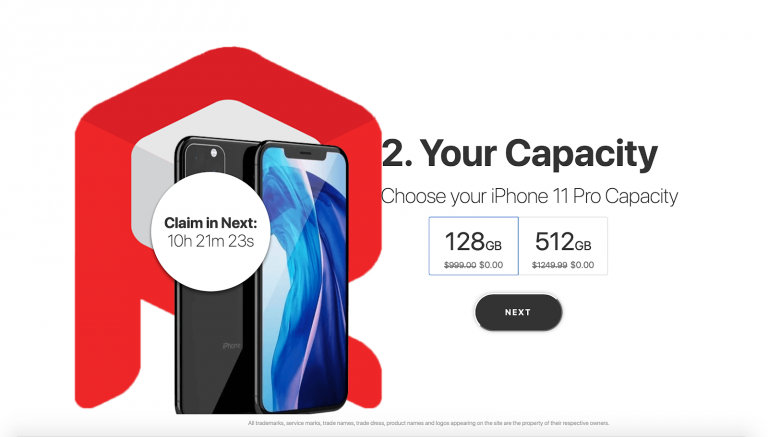 Example #2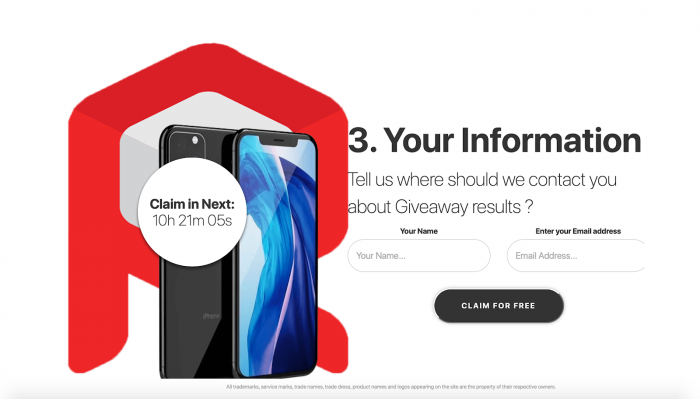 Example #3
If you're running an iPhone 12 campaign, make sure your prelander is styled for the user's mobile carrier. This targeting is available in RollerAds.
If you have a gift card offer, don't hesitate to use recognizable brands on your prelanders.
Popular brand images evoke trust and instill confidence in users which positively affects the CTR.
But when you do that, the job's not done yet: inspect your prelander's CTR levels, optimize the colors, buttons and shapes.
Compare the results of your campaign with different elements and keep the ones that show higher ROI. And if you're running a push campaign, a creative is what the user will see first.
You can apply the same tips to it as for the prelanders.
For example, images of popular brands on a creative boost CTR compared to a plain image.
Tip #2 Optimize Your Creatives
For creatives to hit the goal and make your offer irresistible to the user, you need to pay attention to both the image and the text accompanying it.
Phrases like "The prize is waiting for you" or "You have (1) item to collect" are two of the most efficient examples.
iPhone sweepstakes dominate the vertical, so if you're running one, make sure to use the same image (model, color, etc.) as the user will see on the offer page. If you're looking to run new and converting sweepstakes, sign up on Mobidea and browse the offers directory.
As for the images, gift boxes, emojis associated with the celebration and urgency are the things that excite users the most.
Tip #3 Analyze Your Traffic
The previous two tips, however helpful they might be, won't be your silver bullet if you don't put in enough effort into optimizing your campaigns.
It should start with analyzing your traffic. They say knowledge is your best armor. Make sure you know everything about your campaign: track the OS versions, carriers, browsers, browser languages, etc. to know what's bringing you conversions and what's a waste of budget.
Scale up the first, and exclude the latter — and you'll see your profits.
Bonus tip: Test GEOs and offers.
As we've mentioned at the beginning of this post, there are several kinds of sweepstakes offers.
Our data shows that SOI/DOI sweepstakes perform especially well with push ads in US, ZA, GB, DE, FR and Asian countries.
As for the CC submits, popunders are the preferred format here. It has higher volumes and provides a broader reach.
Tier-1 GEOs like US and Europe are the place to go, and don't forget to customize your prelanders for a particular audience!
Wrapping up
RollerAds is a great place to run your sweepstakes offer.
Don't hesitate to give it a try! And if you have any questions or need assistance, get in touch with our support team – contact@rollerads.com.
Advertisement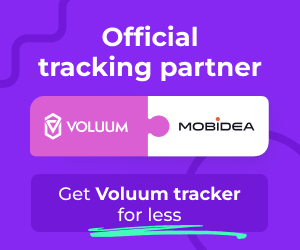 Ivan Sokrushalo
Account Manager at RollerAds
More articles from Ivan Sokrushalo
Ivan is an account manager, and responsible for programmatic DSP integrations at RollerAds.
Media Buying
Want to understand why you should become interested in mobile Media Buying? Wait no more and read all about it in the Mobidea Academy!
Media Buying
Wanna understand the importance of click-through rate (CTR) in CPM campaigns? Check this post written by an internet marketing expert!
Media Buying
This is the reason why native advertising matters and why it'll be crucial for every single affiliate marketer in the years to come!