Landing Page Builders
Last updated on October 26, 2022
by
Jairene Cruz
14 min read
Advertisement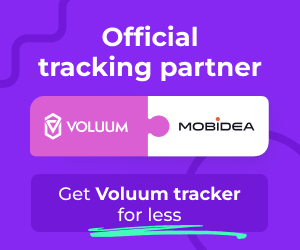 Here's something that all marketers can agree on: landing pages are essential. They're your chance to make a good first impression and convince visitors to take your desired action. But sometimes, you just don't have the time or resources to create a custom landing page for every campaign.faffi
Enter PureLander, one of the most well-loved landing page builders in the affiliate marketing industry. If you want to know how this tool works and more, this PureLander review will surely give you all the information you need.
Related Content: Affiliate Landing Pages: The Definitive Guide
Why do you need landing pages and landing page builders?
If you're anything like me, then you're always looking for new ways to improve your conversion rate and increase your revenue. And one tool that can be extremely helpful in this endeavor is landing pages.
Landing pages, also known as pre-landers or bridge pages, are a great way to focus a visitor's attention on a specific offer or piece of content.
But these pages can also be very tricky to get right. You can spend several hours making what you think is the perfect landing page, only to find out that it doesn't convert as much as you've hoped.
This is why creating multiple landing pages at a time for a specific campaign is essential. You need to split-test to get the best-performing landing page and then do it again. If you have dozens — even hundreds — of campaigns running at a time, you'd need to create at least twice that number of pre-landers.
But who has that much time in his hands? That is where landing page builders come in. Landing page builders are tools that help you create great landing pages quickly, easily, and without having to code.
You can use these tools to create as many landing pages as you want without having to spend hours on each one. And the best part is, most of them come with templates, so you don't even have to start from scratch!
Now, if you're in the market for landing page builders, you should factor in PureLander into your list of options.
What is PureLander?
PureLander is a landing page builder that was created with affiliate marketers in mind. It comes with all the features you need to create high-converting landing pages, and it's very easy to use.
With PureLander, you can create an unlimited number of landing pages and split-test them to find out what works and what doesn't. It's one of the easiest-to-use LP-building tools out there.
How Does PureLander Work?
Creating a landing page with PureLander is very easy, even if you're not a tech-savvy person. All you need to do is select a template, add your content, and then save it — no coding necessary.
If you want to get more creative, you can also customize the templates to better match your brand or campaign. Once done with the customization, you can then download the landing page to your computer and then upload it to your server.
What usually takes you an hour or two to conceptualize and craft your landing page, you can do it in less than a minute with PureLander!
PureLander Features
Now that you know how PureLander works, it's time to take a look at its features. This tool is pretty easy to use and has loads of features that affiliate marketers look for or use on their landing pages.
Here are some of the things that you can do with this tool:
Create an unlimited number of landing pages
By creating multiple landing pages for a specific campaign, you can increase your chances of finding the page that converts the best. For a single fee with no limit to the number of landing pages you can create, you can split-test LPs to your heart's content.
250+ pre-designed and editable templates
If you're not the creative type or if you don't have the time to design a landing page from scratch, you can use one of PureLander's many templates. You can also edit these templates to better match your branding. These templates are easy to customize, so you can create a unique landing page that matches your campaign with relative ease.
Landing Page Ripper
Creating a high-converting landing page doesn't have to be difficult, and with PureLander's landing page ripper, it's even easier. With this tool, you can copy any landing page using its URL and then edit it to add any features you want.
Import External Landing Pages
If you already have landing pages that you want to improve, you can import them and then make some edits within the dashboard. This means that you can add additional features or elements to make it more effective. Plus, the editing process is simple and straightforward, so you won't waste hours trying to figure it out.
No Coding is Necessary But Additional Codes are Available
Creating a landing page used to be a tedious and time-consuming process that required coding skills. However, PureLander has changed all that. With PureLander, you can create a landing page with no coding necessary.
But if you need to add additional codes, that option is still available. This means that even if you're not that techy, you can still create an effective landing page. And if you are a coder, you can add even more features and functionality to your landing page.
Either way, PureLander makes it easy to create a page that will help you achieve your marketing goals.
Mobile responsive landing pages
As a marketer, I have always found that the most challenging part of creating a landing page is making it look good on mobile. You can spend hours painstakingly designing a beautiful landing page, only to find out that it doesn't look right on mobile.
PureLander makes it easy to create landing pages that look great on any device. With PureLander's mobile responsive templates, you can create a landing page that looks good on desktop, tablet, and mobile.
Disable Back Button
Back button, be gone! With PureLander, you can create landing pages that have the back button disabled. The thinking is that, by blocking the go-back button, visitors will be more likely to stay on the page and convert. You can do this without the need to add Javascript code by yourself.
And while this may seem like a shady tactic, there's actually some science to back it up. Studies have shown that when people are presented with a choice, they're more likely to choose the option that they can't go back on.
So by disabling the back button, PureLander is essentially taking away the visitor's choice and increasing the chances that they'll stay on the page. Whether or not this tactic is ethical is up for debate. But there's no denying that it could be effective in increasing CTR.
Redirect Visitor
PureLander gives you the option to automatically redirect the visitor to another page after a specific amount of time. This is best used when you think seeing the first landing page is enough to warm the visitor up for your actual offer, even without them clicking to move to the next one.
Capture Tokens
This tool helps you easily pass tokens to your tracking platform, ensuring that you always have accurate click or traffic information. This way, you'll have the information you need to optimize your ad campaigns instead of feeling around in the dark.
Adding a token on the landing page also allows you dynamically change the content on the page based on the user information. For instance, instead of saying "You're the winner from your city," your landing page can show "You're the winner from Los Angeles."
Capture Browser & Device Info
You can also capture the browser and device information in the same manner as capturing tokens is done. However, the section for passing this information is added separately as the tokens.
Save your progress and continue later
With PureLander, you can create a professional-looking landing page in minutes using pre-made landing page templates. You can edit these to match your offer or campaign, but if you can't finish editing in one sitting, you can always come back to them later on.
You can rename a pre-lander and save it in separate folders within the dashboard so that finding the right page is easier the next time to log back in for edits. We'll talk about how you can do this later.
Special Landing Page Elements
With PureLander, you can easily add and remove conversion-inducing elements on your landing pages with just a few clicks. This is very helpful when you want to test different layouts and designs.
The special elements you can add to your pre-landers include the following:
Count Down
Creating a landing page with a countdown timer is a great way to increase the urgency and encourage visitors to take action. With PureLander, you can easily add a countdown timer to any page and customize it to match your style. Plus, you can set the countdown to any length of time you want, so you can create urgency without sacrificing usability.
Exit Pop-up
With exit popups, you can add a message or offer that appears when a visitor goes to leave your page. This ensures that you don't miss out on any potential leads, and it can help you boost your conversion rate.
Vibration
This feature allows you to automatically vibrate devices when the page opens up in order to capture the visitor's attention. This works on mobile devices, and it's a great way to make sure your message is noticed.
Audio Alert
If you don't want to use the vibration alert on mobile or you want to capture your visitor's attention on your desktop landing pages, you can use PureLander's audio signal. This is best used on popunder ads so that the user will have to search for the browser or tab that is causing the sound.
The alert can be a short message or even a long audio clip, and it will play automatically when someone opens your landing page. You can also add a delay so that the sound will not play until some time has passed, encouraging your visitors to come back.
Javascript Alert
This alert is a pop-up message that appears either when the page opens or with a specific delay. This helps grab your visitors' attention and increases engagement with your page.
As you can see, PureLander comes with all the features you need to create high-converting landing pages. It's very easy to use, even for those who are not tech-savvy.
PureLander Pricing Plan
For just $25, you can get full access to PureLander for six months! That's less than $5 a month to use all features and generate unlimited landing pages. It's the perfect tool for businesses of all sizes.
You will only be charged once, then you'll have to renew your access after 6 months. They don't offer a free trial.
How to Use PureLander: A Step-by-Step Guide
Now that you know all about the features of PureLander, it's time to learn how to use it. Creating a landing page with Purelander is very easy and only takes just a few minutes. Once you get used to it, you can even make one in less than a minute.
PureLander doesn't offer a free trial, but you can gain access to the tool for a low price of $25 for half a year anyway. Use this link to sign-up and get a discount.
Step 2: Choose a Template
Once inside the dashboard, you'll immediately find a list of all the landing pages that PureLander has. You can narrow these templates down to mobile landing pages or desktop landing pages. You can also filter the pre-landers based on verticals, as shown below:
It's worth noting, though, that sometimes the resulting list is not really focused on the vertical you intend. Maybe because some of the templates are too generic that you can use them on anything. Although sometimes, even when narrowing down to the Dating vertical will show Antivirus pre-landers, so the filter is not really that effective.
Related content: Most Common Mobile Pre-landers
If you already know the template ID, you can simply type it in the search box.
To see what the template looks like in a separate tab, click on the Preview button. If you want to use the template, then click on the Use button.
Step 3: Edit the Template
After clicking on the Use button, you will be asked to name the landing page and place it in your selected folder. I'll show you how to create new folders later, but for now, we'll be placing this new lander on the default folder named Undefined.
On the Edit page, you'll find two sections. The section at the top is where you can edit the landing page, while the section at the bottom shows a preview of the landing page.
It's a simple and easy-to-understand editor, so you can instinctively know how to use it if you've ever edited any webpage or document in the past. Click on the Save & Preview button every time you make changes so that you can see how your changes will take effect on the page.
You can find the additional editing buttons at the bottom of the Editing section. For special features, click on the Other Features button.
Step 4: Add Special Features
A new page will open up, showing the special elements you can add to your pre-lander. Upon adding the element, make sure you click on the Update button next to it.
Click on the red play button next to the feature to learn how to add the object. The video tutorials are short and easy to follow, making this tool really beginner-friendly.
There are a total of 14 special features that you can add or edit on PureLander:
Count down
Exit popup
Additional codes
Capture tokens
Audio alert
Vibration
Redirect visitor
Disable Go Back button
Javascript alert
Make the whole page clickable
Background color
device and browser info
Landing page title
Protect – This option allows you to redirect a portion of your traffic to a different page.
Even if you have no element to add, I suggest you visit this page to change the Landing Page Title. It is the same as the tab name, so it's what's displayed on the tab when the page is opened.
Once you're done adding features or elements, click on the Go To Editor button to go back to the editing page.
Step 5: Download Your Landing Page
When you're done editing and adding elements to your pre-lander, it's time to download the page.
Click on the Download button at the bottom left corner of the Edit section. You will be asked whether you want to download the original version or if you want to compress and minify the page. I always choose to compress so that the file size becomes smaller and the page loads faster, but it's up to you if you want the original version.
PureLander will compress the page (if you so choose) and then the button will change to green to show that the compressed version is ready for download.
You can now use your landing page by uploading it to your own server!
Ripping a Landing Page
Let's say none of the LP templates appeal to you. Does that mean you won't have any use for PureLander? Not necessarily. It has other tools like the Landing Page Ripper.
To do this, click on "Lander Ripper" on the left panel.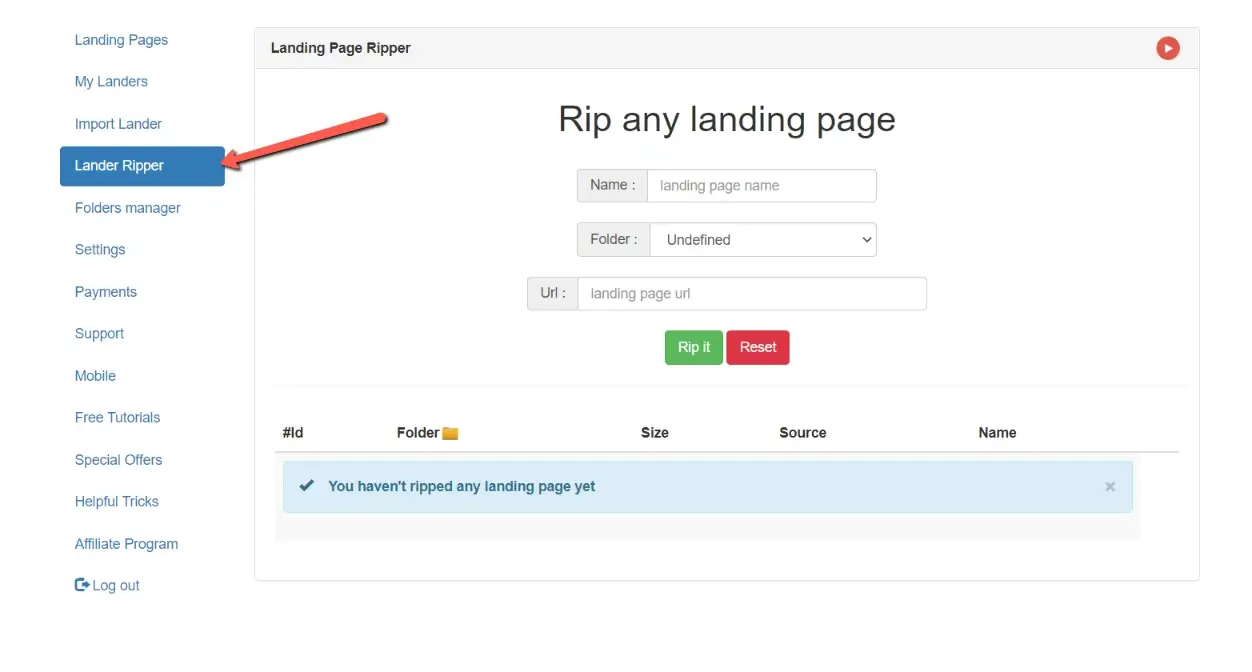 Add a name for this landing page, choose a folder if you like, then paste the URL in the right field. Click on the "Rip It" button when ready.
It'll take anywhere from a few seconds to a couple of minutes for PureLander to rip the page, depending on the page's content. Once done, it will appear on the list of ripped landing pages.
Click on the Edit icon to edit the page. This way, you can make adjustments to make sure the pre-lander fits your needs. And also, you can check the code of the page to remove anything unnecessary.
You will then be taken to the Edit page where you can make the necessary edits.
Organizing Your Landing Pages
You can keep your PureLander landing pages organized by creating folders. This is especially useful if you're handling multiple projects or campaigns.
To do this, click on the Folder Manager link on the left panel of the main dashboard.
On the Folder Manager page, you will see your list of folders. The default folder named Undefined will already be there. Click on "Create new folder" button.
Add the name of your folder, then click on the "Add folder" button.
You can add as many folders as you want.
Now, to organize the landing pages you've already created, click on the "My Landers" link.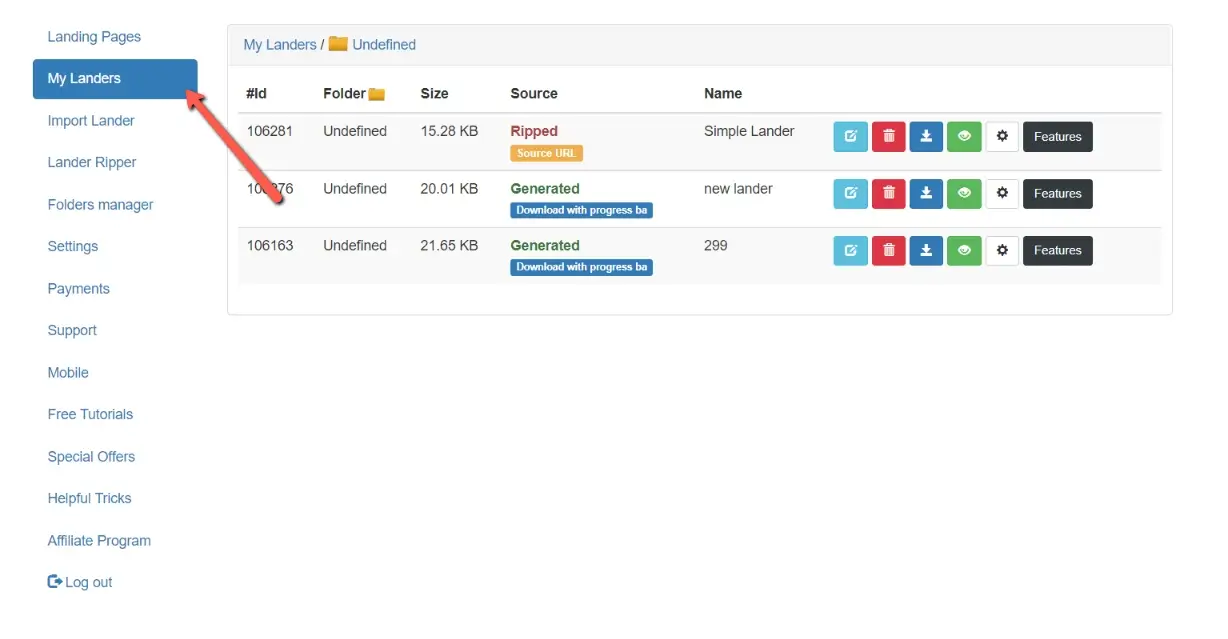 You will find a list of your landers on this page. To move a landing page to the right folder, simply click on the Settings icon for the right item.
The pop-up window will show you two options: change the lander's name or move it to a different folder. Select the right folder name on the drop-down, then click on Update.
Your landing page will now be in the right folder.
Pros and Cons of Using PureLander
PureLander is one of the best landing page creation platforms available today. However, as with any tool, there are both advantages and disadvantages to using it.
Pros:
Easy to use editor – The landing page editor is very user-friendly and easy to understand. You don't need to be a tech-savvy person to be able to edit a pre-lander using PureLander.
Plenty of features and options – As I've mentioned, there are plenty of features and options that you can use to create a high converting pre-lander. You can also find other useful tools like the LP Ripper, which allows you to rip any landing page so you can edit it to suit your needs.
Affordable – PureLander is one of the most affordable pre-lander builders in the market. If you're on a tight budget, then this is the tool for you. For $25 for 6 months, it's a steal.
Landing pages are clean – The landing pages created using PureLander are clean, meaning there are no unnecessary links and tracking codes from their possible sources.
Cons:
Limited templates – There are 200+ templates available, but many of them are a repetition of the same style. However, you can always rip any landing page you like and edit it using PureLander.
Slow update on new LP designs – The team behind PureLander is constantly working on adding new templates, but they're pretty slow in updating their design library.
LP objects are not always available – Some of the items available in one template may not be available in others. For example, if you want to use a certain progress bar style, it's only available in one template and you cannot transfer or use it in another template.
Overall, PureLander is a great tool for creating pre-landers. It's user-friendly, packed with features, and very affordable. If you're looking for a pre-lander builder, then I recommend that you check it out.
PureLander FAQs
Is PureLander an ad spy tool?

No, PureLander is not an ad spy tool. It's a tool that allows you to create landing pages through pre-made templates and its landing page ripper.
Can you host your landing page in PureLander?
No, PureLander doesn't host landing pages. You will need to either host it on your own server or use a third-party hosting service.
What are the payment options for PureLander?
PureLander accepts payments through PayPal and credit cards (Visa, Mastercard, American Express, and Discover).
Does PureLander have an affiliate program?
Yes, it does. You can earn 52% for each sale you generate and 25% for each renewal for life. You can sign up for the affiliate program through the PureLander dashboard. Payment is released on a weekly basis.
The Bottom Line
PureLander is an affordable and easy-to-use landing page builder that comes with a variety of features to help businesses grow. The different alerts feature is particularly useful, as it allows pages to catch the attention of visitors. A landing page ripper is also a handy tool, as it lets affiliates quickly and easily create custom landing pages, especially if what they need is not available in the templates.
All in all, Purelander is an excellent choice for marketers looking for an affordable and straightforward landing page builder. We hope you find this PureLander review helpful!
Try it out for yourself by signing up here.
Advertisement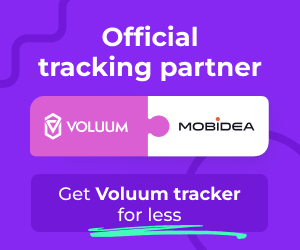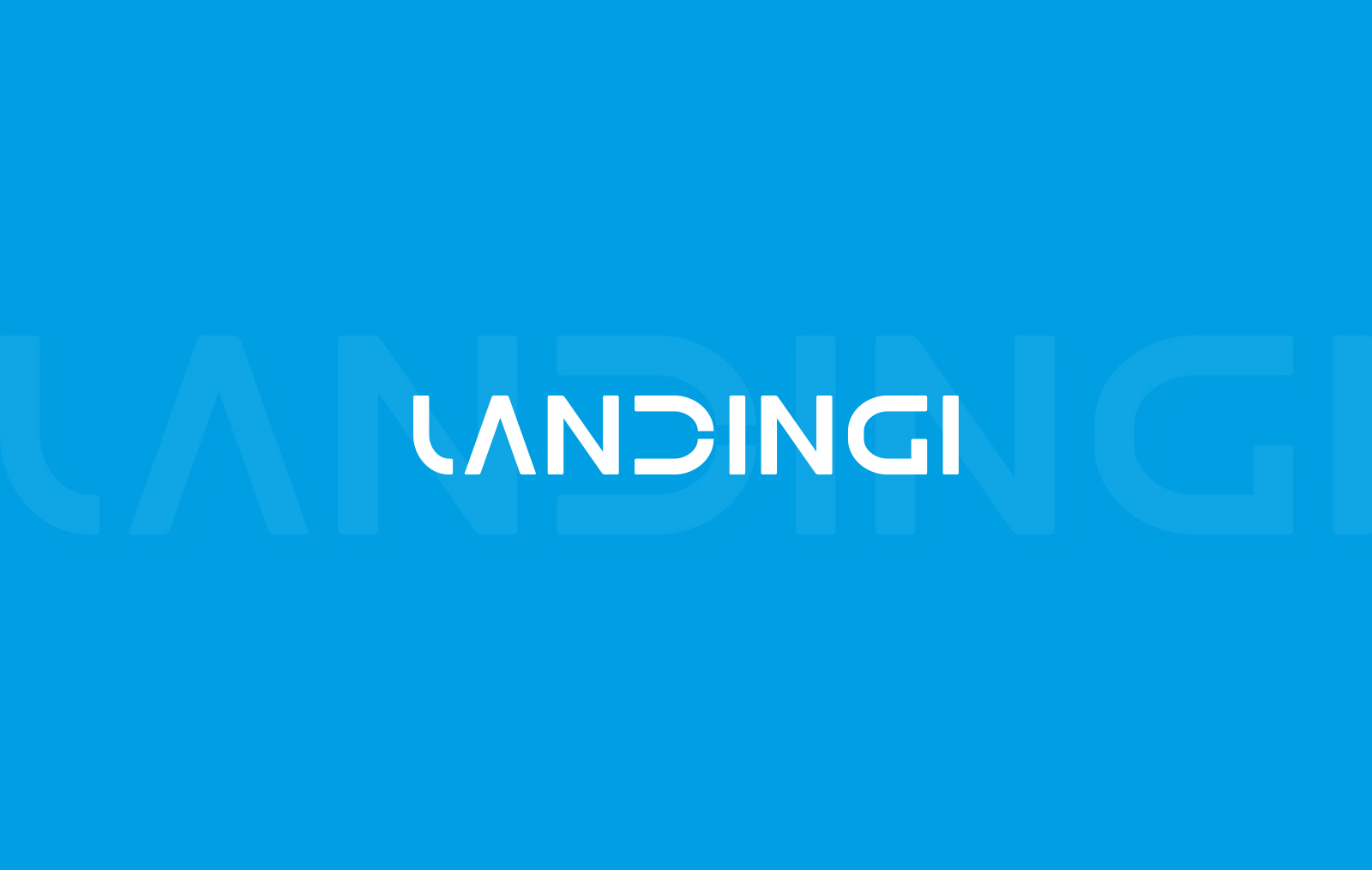 Landing Page Builders
Our Landingi review will give you a real impression of what it's like to use the tool as a landing page builder and optimisation tool for your business.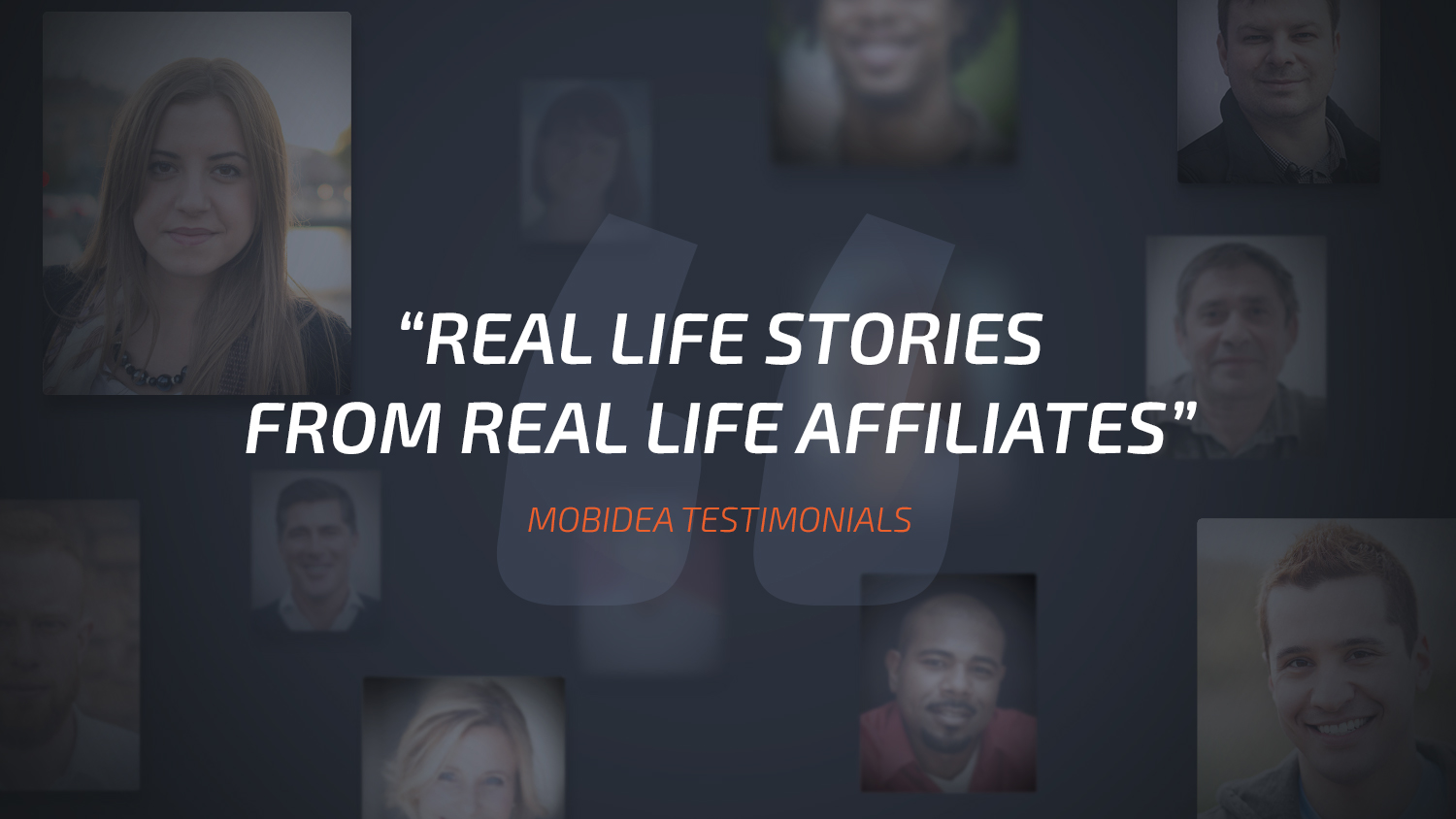 Interviews
Feel like listening to opinions of affiliates who've earned big and get paid every day? Check Mobidea's Testimonials right now!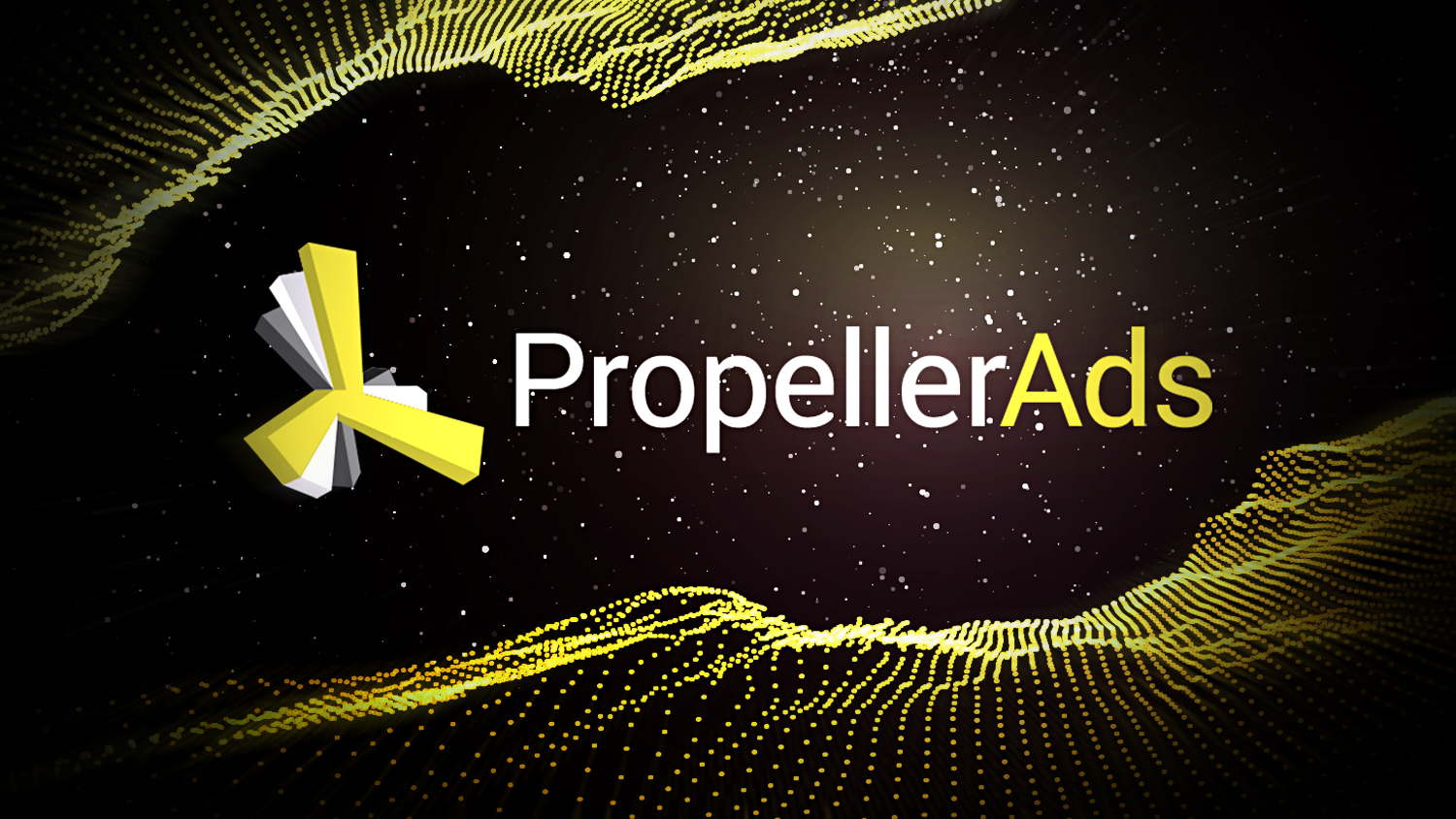 Ad Networks
This fantastic PropellerAds review is gonna show you how to explore a network that's remarkably famous for its pop traffic!