Advertisement

Mirelia Networks Review – Intro
If you have any skin in the dating game – and by that I mean you love to promote dating offers – then you need to check out Mirelia Networks.
Mirelia Networks is a self serve demand side platform with a high volume of high-quality members area dating traffic.
The team behind Mirelia Networks have over 10 years of experience in affiliate marketing and are highly skilled in digital ad tech solutions that will skyrocket your ROI.
So let's break down the stats.
The network currently has 1.5 billion monthly impressions and 30 million clicks per month.
They have 1.5 million daily users in over 20+ tier 1 GEOs, across a network of their own exclusive members' area sites.
This translates to a high volume of highly converting traffic from direct sources (members area) and, as there's no commission paid to publishers, affiliates can get higher payouts and premium adult traffic at affordable rates.
The vast majority of Mirelia's traffic is mobile, with 90% of all traffic coming from mobile users and the remaining 10% of traffic being equally split between desktop and tablets.
This makes Mirelia one of the largest sources of traffic in the adult dating industry. Couple this with an impressive partners' network that's only set to grow in strength and number, and it's easy to see how Mireila Networks has become such a powerful ad tech solution for dating affiliates and advertisers worldwide.
If high-quality adult dating mobile traffic from Tier 1 GEOs is high on your list of priorities, then it's time you checked them out!
Getting started with Mirelia Networks
Registering an account with Mirelia Networks is quick and easy.
Simply click on the Advertisers tab on the Mirelia website homepage and then Register Now.
Once you've filled in the short form and confirmed your account via email you'll be able to log in to their self serve platform (DSP).
The welcome area looks clean and crisp, with a layout that's functionally designed and easy to navigate.
The rest of the platform looks every bit as good as the welcome screen, and the recent redesign goes more than just skin deep.
You'll find the DSP has an intuitive layout, that's snappy and responsive. The admin panel is fast and flows seamlessly from one screen to the next.
Once the welcome screen shows itself you'll see three options:
Add funds
Create a campaign
Statistics
You can also access these same screens by clicking the corresponding menu links at the top of the page.
Funding Your Account
Before you create your first campaign you'll need to fund your account.
One of the great things about Mirelia is that you can start small.
The minimum top-up amount is just $30 if using debit or credit card, and $50 for Paxum, and ePayments or wire transfer on request.
It only takes a few seconds to top-up and you'll be up and running in no time at all.
While you can deposit the minimum amount it's recommended to bump this up if you wanna give the platform a fair chance and test all the options available.
There's even a convenient payments history tab where you can see all your past payments in one place.
Bear in mind that if you are using the managed campaign option you will need to have sufficient funds in your balance to cover costs.
Setting Up Your First Campaign
So now let's get to the fun part – creating a campaign.
Mirelia works a little differently from other DSPs you may be used to working with.
The difference is in the way that Mirelia targets audiences and how this is reflected in the campaign set up.
Go ahead and click on create campaign. You'll be able to see any campaigns you have running here – which at first is gonna be blank.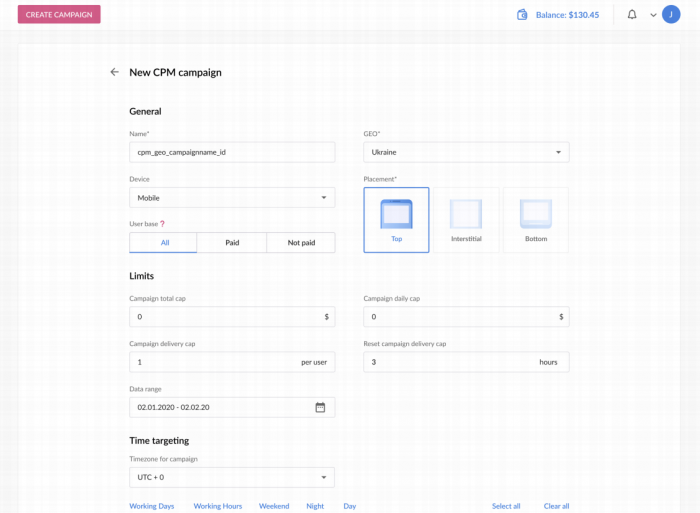 Only active campaigns will be visible and you can search by name or sort by all, active, or disabled campaigns.
This helps you to see your best performing campaigns and find out which ones are working best for your offers. This is especially useful if you create a high number of campaigns.
Use the placement filter to view all campaigns with the same placement or see which verticals are working out best for you using the vertical filter.
Now click on create a campaign. On this screen you're only gonna see the CPC option. You can check the table of minimum CPC rates in the help section for bid recommendations for your placements.
This is the best place to start for mobile display traffic to promote your dating offers.
For CPM bidding you'll need to speak with your account manager.
We recommend doing this as a matter of course, as they can really help you with setting up your campaigns to get the best traffic for your offers.
With CPM bids you can use the following verticals:
Dating
Cams
Adult Paysite and VOD
Entertainment and Media
Software / Applications
Games
Pharma
Survey / Sweepstakes
Gambling
Sex Toys
With both bidding models, you get state-of-the-art security and 24/7 support but you may have to wait a little longer for the approval process with CPM if you are uploading your own banners.
You can also stop or pause your campaign at any time to make changes.
The campaign creation is split into two parts – Targeting and Landers.
The reason for this will become clear as we go on.
For now, let's run through the targeting options.
Targeting and Segmentation
Mirelia uses high-performing creatives in connection with the platform's smart targeting options.
This gives advertisers a smart way to get cost-effective traffic and show the right ads to the right user at the right time.
The targeting options are a reflection of this and include some unique features.
Here's how it looks:
Name
Segment
Geo
Device type
Vertical
Campaign frequency cap (per user)
Daily cap (clicks)
Daily cap refresh timezone
Total campaign cap (clicks)
Spending cap (USD per hour)
PPC rate (USD)
Product domain
Domain frequency cap (per user)
Splits
Some of these like name and Geo are gonna be pretty self-explanatory but others you may need to familiarize yourself with first.
So first choose a campaign name. You'll need something unique and specific, especially if you are using the splits feature to find it later on.
If you're using the CPC model you only have one vertical, which is dating.
One of the big differences between Mirelia and other platforms is the way they segment users. The drop-down menu for this is as follows:
$ Green
$$ Red
$$$ Blue
$$$$ Yellow
$$$$$ Purple
$$$$$$ PPS
Pink
Grey
Brown
C Backfill
So what is this madness?
Well, actually, it's pretty simple.
To keep the traffic quality high and help with user segmentation, Mirelia assigns users a specific tag.
These tags relate to customer purchase loyalty.
With Mirelia, there's no overlap between segments and advertisers can check the help section for price estimates on each segment.
So when you're creating your campaigns you'll want to test different segments to find out which ones convert for your offer.
The easiest way to do this is to create two identical campaigns and just change one thing – in this case the segment. Keep in mind that some segments will cost more than others, so you'll need to keep a close eye on your ad spend.
For the frequency cap per user you can choose whatever you like, but keep in mind that Mirelia will only show 3 ads per user per day so if you want the freshest users be sure to keep this low.
Now you're gonna see another big difference called Splits. Splits are the ability to test traffic sources across identical campaigns.
You can run split tests for up to 5 variations of a campaign including segmentation, bids, and landers. This will give you 20% of the allocated budget across all your splits which you can later adjust based on performance stats.
It's also worth noting that the traffic doesn't overlap, so you'll only receive unique users for each split.
To see this in action let's take a look at the Landers tab.
Landers and Traffic
Mirelia takes an innovative approach to landers.
Unlike most DSPs which ask you to upload your own creatives, Mirelia has these already built-in.
This is great news for affiliates using Smartlinks and is a great time saver.
So how does this work?
Each lander is specifically chosen for its high CTR value. This means you don't have to test this yourself as the work has already been done for you.
These in-house high performing pools of creatives work together with smart targeting to keep the quality of landers on the network high.
There's a similar range of creatives on offer for CPM bidding, with the difference here being that you can also upload your own banners if using CPM campaigns.
Mirelia is also unique in that it only works with display traffic – banners, native, and interstitial.
These are shown in various zones across Mirelia's network of direct sites and managed by the smart targeting ad tech.
The way the system works is as follows: Using smart targeting, impressions are displayed to the audience using RTB ad tech. The platform then selects the highest bid and selects the best ad spot for the impression.
Once the user clicks the banner they are shown an interstitial page where they can register for push notifications. After 3-5 seconds the user is directed to the click URL.
The whole process makes sure all available inventory is filled and it continuously delivers high-quality traffic to your offers.
You'll pay more for the priority traffic which consists of the freshest users and offers with historically high EPC.
Backfill orders cost less but these will only be shown to users who have already clicked on priority ads. You may actively choose backfill if you are using smartlinks as these automatically select the best offer for the user – regardless of whether they have viewed that offer previously.
Understanding this system can help you to manage your bids effectively.
So now, let's put the split test into action using the pre-built landers.
First, you create two identical campaigns.
Next, assign the lander best suited to your offer. You can preview the landers from the landers section. Try to select one with a high CTR that fits the vertical: dating or mainstream.
Now you can choose your split. If you are using only one split, then this will receive 20% of the traffic. If you select two splits, you will receive 40% of the traffic, and so on up to 100%.
Tracking and Optimization
Once you have set up and saved and activate your campaign you are ready to start testing the traffic and targeting and begin the optimization process.
Mirelia integrates with most tracking platforms making optimizing your campaigns easy.
While it's advisable to use your own tracker, it's important not to overlook the statistics tab.
This will give you instant report generation for any campaigns that you have running as well as real-time statistics.
Following on from the split mentioned above, you are now ready to start tracking this in your campaigns.
Simply assign your split value to your tacking link using a predefined parameter eg, &utm_term = mirelia_split1.
Then, once you have let this run for a day simply analyze the results using your tracker and adjust your bids accordingly, giving more weight to the winning split.
In this way you can boost your ROI and increase volume to the winning campaign.
Additional Tabs
You should now have everything you need to get started with Mirelia.
However, there's a couple of super useful guides in the help tab so I recommend also checking those out to completely familiarize yourself with how it all works.
You'll also need the help tab for the CPC estimates.
If you wanna promote the platform and get 2.5% commission for six months on your referrals check out the Affiliate Programme tab. This will give you everything you need, including banners and your referral link, to start promoting the platform.
Mirelia Networks Review – Wrapping up
Mirelia Networks is a powerful data-driven DSP with a good choice of high-converting creatives to fit your strategy.
The platform is well designed and uses innovative ad tech solutions that provide dating affiliates with high-quality traffic and leads.
The smart targeting features are particularly useful and the anti-fraud software and high-end security mean advertisers are in safe hands.
As an affiliate, you'll be able to get competitive rates and personal live support via an innovative DSP that offers great performance and value.
There's also a good selection of payment methods to fund your account.
While the platform is a little different from what you may be used to, it's easy to get the hang of and most affiliates will be up and running in no time at all.
The platform also has plenty of optimization and tracking options, including real-time statistics to boost your ROI.
If you wanna see insane results from high-quality members area traffic, register an account with Mirelia Networks.
Advertisement

Ad Networks
It's finally time for you to read, analyze, explore and dive into this updated Clickadu Review in order to become a dope affiliate master!
Ad Networks
This PopCash Review will allow you to learn how to setup a campaign on PopCash like a true media buying master professional!
Ad Networks
Read our in-depth SpyOver review, one of the great native spy tools in the market.