Ad Networks
Last updated on September 6, 2023
by
Jairene Cruz
30 min read
Advertisement

JuicyAds At A Glance
JuicyAds: Offers & Verticals
Ad types: Banners, Pop-Unders, Native ads
Verticals: Online Gaming/Video Games, Casino, VOD, Cams, Dating, and Nutra
JuicyAds: Payment & Investment
Cost Model: CPC and CPM
Minimum Deposit: $50 if for Direct Buy and $100 for RON Campaigns
Payment Methods: Credit cards (Visa, Mastercard), PayPal, Paxum, Wire (min $1,000)
JuicyAds: Support
Personal Account Manager: Available if you have an ad budget of over $500. If not, you can use Adsistant, the AI media buyer.
Knowledgebase: Has a standard Help Center.
Support Response Speed: Good
Support Rating: Good
Contact Methods: Live chat, contact form, ticket, email
Email Contact: rainey@juicyads.com
Are you on the lookout for an adult advertising platform that knows its stuff?
Then you best try JuicyAds.
This advertising network is so well known in the industry that if you haven't tried them or haven't even heard of them yet and you're in the adult niche, it means you're still pretty new in the business.
In this JuicyAds review, we'll talk about this ad network's best features and how to use the platform for advertising offers or earning as a website publisher. Finally, we'll discuss whether it is one of the best adult advertising networks out there.
Is it really a sexy traffic source? Let's find out.
Key Takeaways
JuicyAds is a great source of adult traffic, so if that's what you're looking for, this ad network is a must-try!
It offers two modes for purchasing ads: Direct Buy or Run-of-Network (RON) Campaigns.
It provides in-depth information on its websites and ad zones in the Marketplace, so advertisers will be able to decide properly which ad placements to choose for their promotions.
Outbid Auction is available in case you want to buy traffic from a particular ad placement that is already sold out.
Various optimization options are available for RON campaigns, including SexyTechnology, Source Smoothing, Auto Blocking, and the use of Adsistant with custom rules.
Getting started as a publisher is as easy as pie.
What is JuicyAds?
Let's talk about one of the biggest players in the adult marketing game — JuicyAds. These guys specialize in adult entertainment websites, so if you're looking to promote anything within that niche, you're in for a treat.
This sexy advertising network has got all sorts of traffic sources up its sleeve, from Tubes, Cams, and Videos to Social Networks. They also have websites that focus on Gaming and Hentai or Toon-based videos.
With over 30 industry awards under its belt since launching in 2006, you know you're dealing with pros. It has signed up more than 200 thousand website publishers, so the traffic volume is pretty high. And get this — they actively monetize around 11% of Alexa's top adult sites. That's pretty impressive if you ask me.
JuicyAds Best Features
Traffic Volume
As an affiliate marketer, access to high-volume traffic sources is key to success. JuicyAds is one such source that delivers in spades. With a couple hundred thousand website publishers in their network, JuicyAds can serve up an incredible 1.2 billion ad impressions in a single day.
Their rate sheet is a handy tool for figuring out the kind of volume you can expect based on the country and ad type. It'll even recommend a minimum price for CPC and CPM campaigns as a starting point.
The network's top countries are:
Japan
USA
China
Indonesia
India
France
Taiwan
The network has traffic from all over the world, so you are sure to find an audience for your ad, whether they be in Tier 1, Tier 2, or Tier 3 regions.
Ad Formats
Juicy Ads offers three modes of advertising:
Banner Ads – Minimum of $0.003 for CPC and $0.01 for CPM.
Pop Unders – Minimum of $0.30 for CPM.
Native Ads – Minimum of $0.003 for CPC and $0.01 for CPM.
Auto-Optimization Technology
With thousands to millions of clicks and views to manage, you'd want to have options to automatically perform tasks that are actually just routine. Here's what Juicy Ads has for its advertisers:
SexyTechnology
Launched back in 2014, this technology has helped thousands of affiliate marketers out there to improve not only their campaigns but also their engagement with customers.
One of the perks of this technology is its automatic source blocking based on analyzing your CTR after reaching a certain number of impressions or clicks.
Advertisers can enable this proprietary feature to automatically optimize traffic sources to ensure a better quality of traffic for your offers.
AutoBlocking Feature
The AutoBlocking Feature allows marketers to indicate the number of test clicks per source and the minimum and maximum click-through rates (CTR) for traffic sources to continue running. This limit is based on daily traffic, ensuring a smooth and steady flow of visitors.
Source Smoothing™
The Source Smoothing™ feature temporarily pauses traffic from a particular source instead of permanently blocking it. Think of it as receiving traffic evenly across JuicyAds' sources instead of getting the bulk of your traffic from a few large ones.
Adsistant®
Aside from automatic optimizations, JuicyAds goes a little further by offering a smart media buying assistant named Adsistant.
Rather than spending hours manually optimizing campaigns, Adsistant utilizes data, custom rules, and automation to help make media buying more intelligent and efficient than ever before. Say goodbye to the days of manually tweaking campaigns — Adsistant automates the process so you can focus on the bigger picture.
It's not just a robot that provides tips and tricks to help pinpoint and fix any errors in banner campaigns — Adsistant is also great for troubleshooting and looking for errors in your campaigns. Plus, if you're on the hunt for new spots to promote your offers, Adsistant has got you covered with insightful suggestions.
With this tech on your side, you'll be able to streamline your approach and achieve greater success with less effort.
Two Ways to Buy Traffic
With most adult ad networks, the only option to get traffic is through buying Run of Network (RON) traffic through ad campaigns. These work on CPC or CPM traffic buying models and can be filtered so as to reach your target audience. You can also actively turn it on or off depending on how long you want it to run or for how much traffic.
This adult advertising platform, however, offers another option to promote your products and offers, and that is through Direct Buying on their Marketplace.
With the Marketplace, you can choose the website and exact placement that you want to buy. Traffic is purchased in bulk and based on a specific period (7 days, 14 days, or 30 days). You will pay a fixed price, no matter how many impressions and clicks you get.
To make it easier for you to decide which ad spot to select, the platform provides a complete site profile as well as estimates on the possible impressions, clicks, and user demographic.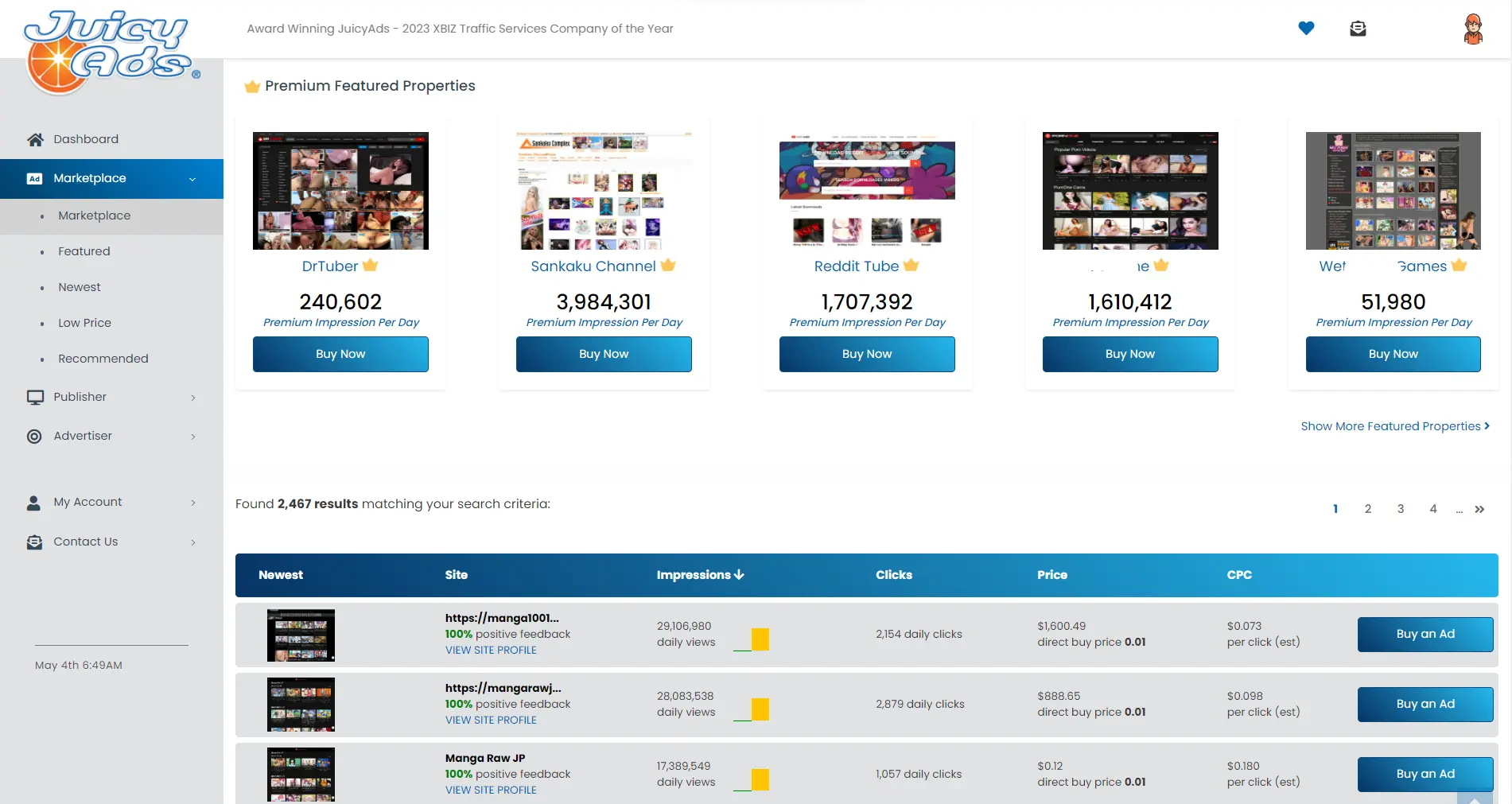 Improved User Interface
In the past, navigating through the old interface could be a bit clunky and overwhelming, but with UX13, it's like a breath of fresh air. The layout is very user-friendly, and it's easy to find what you're looking for.
Since JuicyAds is a self-service ad network, the new interface makes it much easier to manage your campaigns, analyze your data, and make informed decisions.
Here's what the old interface looks like:
And this is what the new one looks like: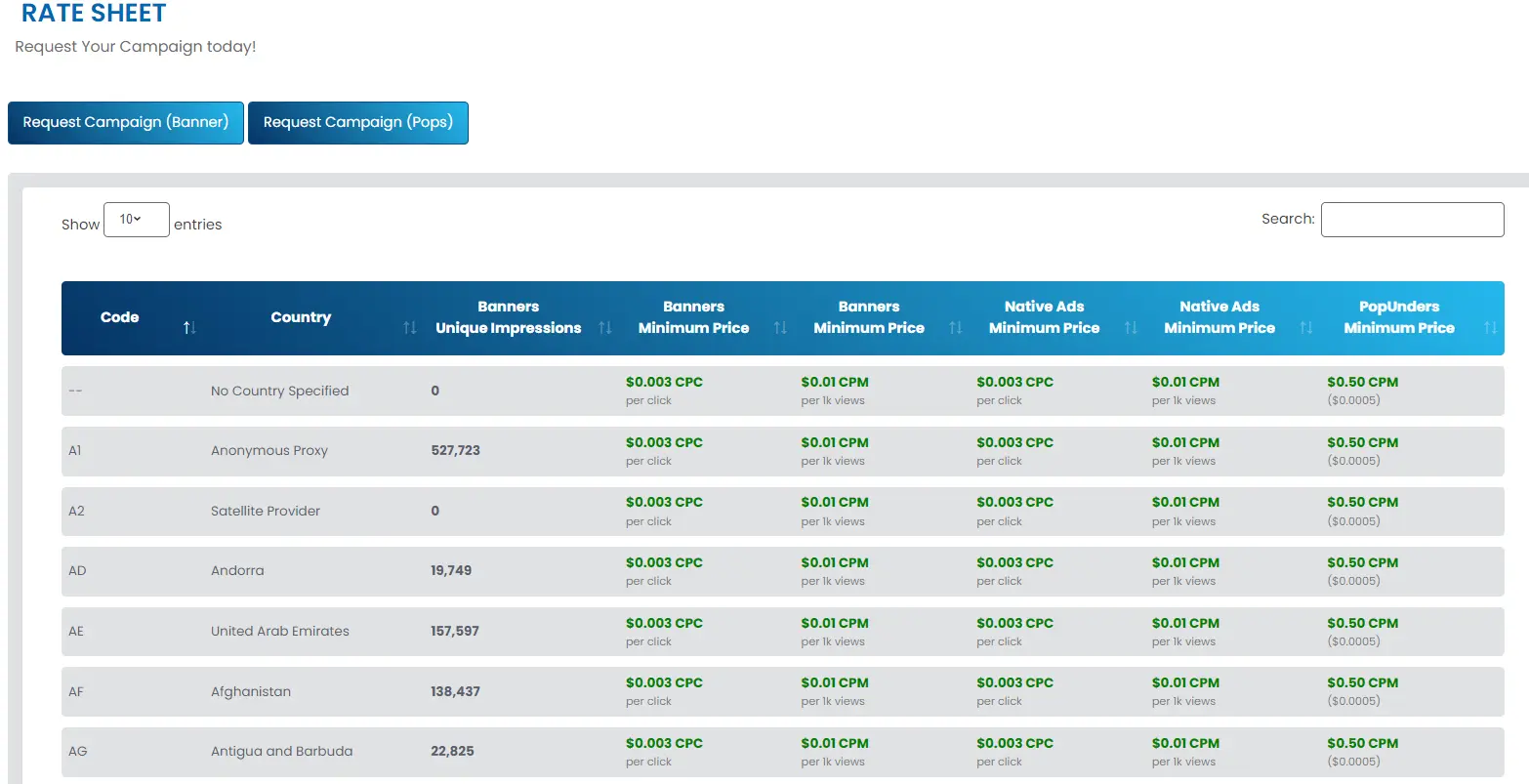 The new user interface was rolled out last 2022, and the new dashboard provides a more fluid experience. It's clear that they put a lot of thought and effort into its design, and it really shows.
It is also worth noting that whether you are an advertiser or a publisher, you'll have the same interface. In fact, if you plan on becoming both in this network, you'll only need one account to access your publisher and advertiser dashboards.
Dedicated Account Manager
If you're tired of managing campaigns on your own, you can always work with an account manager from JuicyAds. And get this — it's free! All you need to do is spend or deposit at least $500 in your account.
Once done, you can send them a message through their contact form to request a manager. Or you can also send an email to rainey@juicyads.com.
Running Ads in JuicyAds
If the features mentioned above got you curious about how to run an ad campaign in this adult ad network, then let's walk through how this can be done.
Create an Account
To create an account in JuicyAds as an advertiser, you just need to complete the form on this link. Use our exclusive JuicyAds coupon and get a $100 bonus directly to your account.
Verify your email address, and you'll be able to access your dashboard immediately.
Adding Funds
While you'll be able to see the Marketplace, you will not be able to buy ads unless you add funds.
And before you are able to add funds, you'd first be required to verify your identity.
Don't worry; verifying your account is pretty easy anyway. All you have to do is provide a contact number to receive either an SMS or a phone call for a pin code.
Keep in mind that they only accept permanent numbers, which include mobile phones, landlines, and permanent VOIP numbers. Skype, Google, and similar anonymous or temporary phone numbers will not be accepted.
You can also request manual verification for VIPs if you work for a reputable company and would be running ads for them.
Now once your account has been verified, the next thing to do is load your account. If you're planning on Direct Buying on the Marketplace, the minimum is $50. If you'd rather create your own campaigns and buy RON traffic, $100 is the minimum.
Also, Popunder campaigns require a minimum deposit of $100.
Payment methods include Credit cards (Visa, Mastercard), PayPal, Paxum, and Wire (minimum of $1,000).
Deposits reflect immediately (except for wire transfer), so as soon as you add funds, you can start your media buying plans.
How to Buy Ads Directly through the Marketplace
As we've discussed in the features section, the Marketplace allows you to buy ads directly from websites.
To start, click on the Marketplace tab on the left pane of your dashboard, then choose Marketplace on the dropdown.
You can also narrow down websites and ad zones by clicking on the submenu under Marketplace on the left pane. You can filter based on Featured, Newest, Low Price, and Recommended.
The main Marketplace dashboard has three sections: (1) the filter, (2) the premium feature properties, and (3) the list of all spots available for direct ad sales.
Filter Properties
To find a property that accurately matches what you need, you can use the filter. There's a basic filter that requires only the following:
search keywords
price range
CPC range
daily impressions
daily clicks
Now, if you want to dive deeper and narrow down the results even further, click on the Advanced Filter button to have access to the following:
Website Type – Choose among blog, videos, tube style, gaming, R-content rating, and more.
Niches/Categories – Choose among Amateur, Games, Mature, Webcam, Anime, Celebrity, and more.
Ad Sizes
Country
You can also choose to see Only New Zones or not.
Featured Websites
This section is right under the filter section. Only the first five featured sites are shown at a time. If you'd like to see more, click on the Show More Featured Properties link. You can also access it by clicking on Featured under the Marketplace submenu on the left pane.
On the Featured Websites page, you'll find a list of sites and their corresponding ad spots. If the ad zones are already sold, the button next to it will be in red and marked Sold Out. If it's still available, it'll be in blue and will show Buy an Ad.
Listed Ad Zones
This is the bottom section of the Marketplace dashboard. By default, these are arranged based on the number of impressions, but you can sort the list based on the newest ad zones, the name of the website, impressions, clicks, price, and CPC.
At the moment, there are almost 2,500 ad zones available. In the list, you'll see a brief summary of each website, such as its average feedback rating, the link to its website, its total impressions, and more. If you filter the results based on country, you'll also see how much traffic that website has for the specific country you chose.
Buying an Ad Spot
To get your banners placed on specific ad spots, all you need to do is select a website or click on the Buy an Ad button.
You will be taken to the Website and Ad Zone page, which shows all the details of the website and all its ad zones.
Here's what the website details page looks like:
Let's break down the parts of the page.
At the very top is the website's name and the following details:
URL
category
niche targets
rating – Whether it's General (PG), Adult: Non Nude, Adult: Softcore, and Adult: Hardcore.
Its average feedback score is also shown. Feedback is given by advertisers who previously purchased ads from this ad zone.
The next section is the ad size. For this example, the ad size is 300×250 image. If the website offers multiple spots, you'll be able to scroll down and see other image sizes.
Each image size has its own section that outlines the details of the ad placement.
You'll be provided with the following information for each ad spot:
zone details – what part of the website your ad will appear;
zone statistics – information on the ad spot's previous performance;
zone impressions – the exact number of impressions the zone received for the previous three days;
traffic sources – the percentage of devices used to access the website;
traffic by country
ad availability – how many such ad spots are available.
The final section (and the most important) is the Buy an Ad section, where you'll find the price of showing your ad on that ad spot for a specific number of days. Each ad spot is priced based on 7 days, 14 days, and 30 days.
If you like this zone and would like to buy the ad space, just click on the button (Buy Now!) corresponding to the number of days you want to have your ad posted.
You will then be taken to the Buy Ad Spot page.
This is where you can add the image for your banner campaign and the link to your landing page.
Next, place a link title for this campaign, then enable or disable Autorenewal which allows you to automatically purchase the same ad space when your chosen period expires.
Verify the amount you'll be paying for and the duration of the campaign. Once everything's set, place a check on the statement regarding click volumes not being guaranteed, and then hit the Buy Now button.
Your ad will then be placed on the queue and, once approved, will immediately start running.
Outbid Auction
Now what if you like a specific ad spot, but it's already sold out?
You still have the chance to get your ad shown on the ad space by joining the Outbid Auction. Just follow these steps.
If you're still in the Marketplace dashboard, you can click on the Red Sold Out button to join the bidding.
You will be taken to the website and ad zone page, where you'll see the "Buy an Ad" section looking like this:
Click on the Buy! Outbid Now button to participate in the auction.
Make sure that you have enough balance for your bid to be considered. For instance, in the example above, you can see that the 7-Day Ad is priced at $2,954.36. As such, to rent the space for when the previous advertiser's time has expired, you have to pay higher than this amount.
But there's also a chance that someone else bid for the ad spot. If that happens, you must then outbid this competition. If they paid $3,000 for the ad spot, you must bid higher. It is an auction, after all.
In case someone bids higher than you, you'll be notified. You can try to overbid the competition if that ad spot is really important for you.
Can anyone join the Outbid Auction? Not really.
If you're a new advertiser, you will not be allowed since you must first have a feedback rating of 100 to be allowed to participate.
How to Run RON Campaigns
Purchasing ads through the RON traffic in JuicyAds is just like how you would with any other network — you create a campaign and wait for its approval. You can do this for banner ads, native ads, and popunder ads.
First, click on Advertisers in the main menu, then choose Campaigns from either Banners, Native Ads, or Popunders, depending on what ad format you want to use.
Next, click on the Start New Campaign button. You will then be taken to the campaign creation page.
Campaign Info
First, fill out the basic information such as campaign name, URL, and bid type (either CPC or CPM for native ads and banner ads, CPM only for Popunder ads).
For banner and native ads, you will also be asked to choose a Campaign Mode (whitelist or blacklist).
Niche Targets
You can then choose the niche of the websites on which you want your ads to appear on. You can select just one or several if you like.
Geolocation
Finally, choose the country of the viewer. You can also select multiple locations here.
You will notice that JuicyAds marked the countries with T1 (Tier 1), T2 (Tier 2), and T3 (Tier 3).
After completing this basic form, you can go ahead and click on Submit.
Now, you may be wondering why there are no other targeting options. JuicyAds does provide in-depth targeting, but it can only be accessed once you have submitted the campaign request. Even the ad creatives can only be added afterward.
So now your campaign is pending approval. While you wait, you can start editing the campaign details. Here's what your campaign page will now look like:
Ad Creative
Scroll down the Settings page to add your ad creative. You can only place one creative per campaign, but you can split-test the landing page URL by clicking on Split Testing and adding the new URL.
Fill out the necessary info such as ad title, ad text, and ad long text. You can also choose a group ID for this ad for easier reference later on.
Click on Update settings for your ad creative to be saved.
Bidding
Next, scroll down to find the Bidding / Price section and place your campaign bid.
The minimum bid will already be filled in as the campaign bid by default, but you can always change it. Adsistant will show you the recommended bid and the current highest bid for the countries you selected to help you evaluate the best price.
You can always check the rate sheet for more information.
Don't forget to set the max frequency of views for every 24 hours to avoid overspending on one user.
Daily Budget
Adding a daily budget to your campaign is an important step towards ensuring that you don't overspend, so make sure you do so under the Daily Budget & Features section. If you don't, your campaign will automatically have an unlimited budget.
By the way, Juicy Ads automatically turns off campaigns whenever you run out of funds in your account. You can enable auto-activate in this section so that your campaign will resume once you add more funds.
Under the daily budget section is the niche section, so you can edit your selection in case you have a change of mind.
Targeting
In order to narrow down to your exact audience, scroll back up to the very top of the page, then choose the Advanced Targeting tab.
Here are the targeting options available on JuicyAds:

IP Targeting – for exact IPs or range of IPs
Day + Time + Throttle – for dayparting
Carrier Targeting – choose the types of traffic you want to accept: proxy, wifi, or mobile carrier
Device + Browser + OS
Language Targeting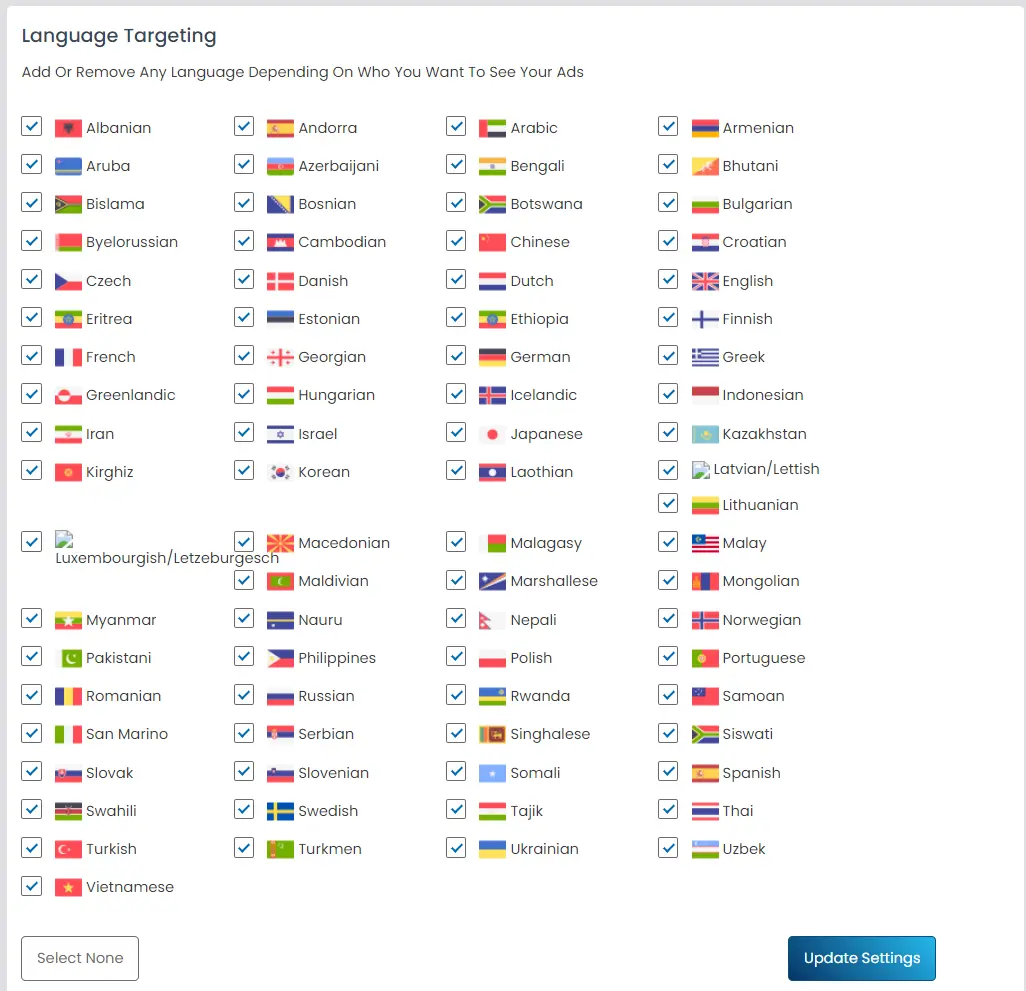 Campaign Approval
It normally takes Juicy Ads' approval team up to 24 hours to review the campaign (except during weekends). If you're a new advertiser, it's possible that JuicyAds will ask for additional documentation to verify your account.
Optimizing Campaigns
Once your campaign is already up and running, you can check your stats on the campaign page as well. Just click on the Settings and Statistics tab and choose Statistics.
For manually optimizing campaigns, choose the Traffic Optimization tab and click on Traffic Sources or Manage Lists.
For auto-optimization, click on SexyTechnology. There are a few options for auto-optimization here.
Adsistant
The first one is the Adsistant, where you can set rules that follow the IF-THEN-ELSE execution.
SexyTechnology
You can enable or disable this feature. Basically, what this does is block poor-quality sources based on SexyTechnology's own evaluation.
Auto Blocking
If you don't want to leave the blocking of sources to arbitrary rules, you can always rely on Auto-Blocking.
Here, you can set the minimum and maximum CTR of an ad source, as well as the test clicks amount. If any of these limits are reached, the source is automatically blocked.
Source Smoothing
If you don't want to keep getting traffic from the same sources, you should utilize Smooth Sourcing. Here, you can set the maximum number of daily engagements on your ad to trigger the pausing of a source for the day.
You can set either of the following:
maximum number of clicks – Anywhere between 10 to 99,000 clicks, in increments of 10, 100, and 1,000.
maximum number of impressions – Anywhere between 10,000 to 990,000, in increments of 10,000.
No matter what change you make, make sure to always click on the Update Settings button. Each section has this button anyway.
JuicyAds Ad Network Pros and Cons for Advertisers
Whether you opt for direct ad sales or run of network, there are distinct advantages and disadvantages to weigh up. Although if you ask me, the availability of Direct Buy is itself an advantage.
Pros of Direct Buying with JuicyAds
You get all the impressions or clicks for a fixed price, which means you won't have to pay more for high-quality traffic.
You can choose the exact website and ad spot at the onset.
You can utilize Adsistant.
There's an option for Outbid Auction in case you want to buy an ad spot for when it becomes ready to accept bids.
The minimum deposit is just $50.
Pros of Running RON Campaigns with JuicyAds
You can edit the targeting filters to find users that closely match what you are looking for.
You can turn the campaign on or off anytime.
You can select the frequency at which one user sees your ad.
You can utilize SexyTechnology and Adsistant.
Cons of Direct Buying with JuicyAds
While you get all the quality traffic, you'll also get the crappy traffic.
You can't stop the campaign once it's already started. Since you have already paid for the ad spot, you can't take it back.
Cons of Running RON Campaigns with JuicyAds
The traffic comes from ad spots that have not been purchased through direct buy — it means these are remnant traffic, so your ads a just filler ads.
How to Earn from JuicyAds
We've already mentioned that you can access both your publisher and advertiser accounts in one dashboard. So what if you have an adult or online games website that you want to earn from? You can work with this network as a publisher, too!
Let's talk about how you can sell ads here.
Assuming you already have an account (if you don't, then sign up HERE), log in to the dashboard and choose the Publisher dropdown on the main menu.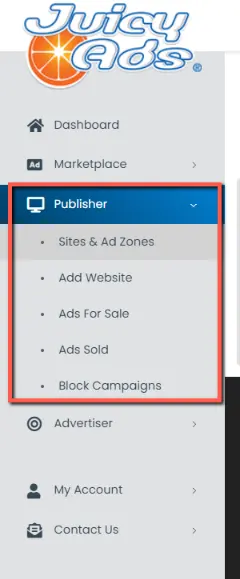 Next, click on Add Website.
Complete the form for adding a website. Don't forget to categorize your website properly, indicate the appropriate Content Rating, and select the main and secondary niches.
Once submitted, you will be redirected to the Sites & Ad Zones page, where all your websites are shown. To start earning, you must verify your website.
Click on the Website Unverified button under your website thumbnail.
Copy the website verification code and add it to the head tag of your website.
Once done, click on the Verify Website button in JuicyAds. That's it!
By default, PopUnders and LiquidFire will already be available for your website, so you can immediately get the codes for these and start using them.
For Popunders, there are two available codes:
Standard Popunders code – for aggressive popunders
Friendly Popunders code – less aggressive and is said to be more Google-friendly
Whichever you choose, make sure to add these codes within the body tag of your website, not the head tag.
What is LiquidFire?
Liquidfire is basically a SmartLink technology that not only allows publishers to create their own creatives but also provides them the flexibility to earn using other traffic-generating strategies.
Basically, you can use the link on banners you create yourself and add to your website. You can even use them on text-based content.
You can also send redirect traffic, remnant traffic, or even traffic that you purchase elsewhere!
This is CPA-based, so you only earn once a conversion is made. All payments from LiquidFire are placed on a 30-day hold.
If you really want to maximize your earnings in JuicyAds, we suggest you utilize adult-centric website themes. Check our article on the Top Adult WordPress Themes to gain an edge!
Adding Zones for Banner and Native Ads
Aside from PopUnders and LiquidFire, you can earn more from your website by placing some ad spots available for direct buying. To do so, you must first create an ad zone.
Click on the Sites & Ad Zones submenu on the left pane. This will take you to the Websites and AdZones page.
On the dropdown, choose the website you want to create an ad zone for and then click on the Create New Banner AdZones button. This section is right at the top of the page, so it'll be pretty easy to find.
You'll be taken to the AdZones wizard page, where you can select the ad zone type.
Available ad types are:
Interstitial Ads and Interstitial Native Ads
Banner Ads (with different sizes)
Text Ads
Native Ads (also with different sizes)
Special Formats (float ads and in-video ads)
Select your ad type of choice and click on the Create Zone button. You will then be shown a preview of your ad and the ad code you need to paste on your website, depending on where it should be located.
And that's it! You can start earning from your ad zones once the codes have been added and your ad spots become available in the Marketplace. It normally takes 24 to 48 hours for new ad zones to appear in the Marketplace.
How to Withdraw Earnings
JuicyAds offers different payment options and an agreeable schedule that aligns with your needs as a publisher.
They have Digital Payments, which include Paypal, Paxum, and ePayService. You can receive payment every Friday for as long as you reach the minimum of $25 earnings and you make a withdrawal request by Wednesday.
ACH Payments are also available, but only for those in the US. The minimum for this option is $100, and the payout is made on the 1st and 16th of each month.
Wire Payments are made in the first week of each month but require a minimum of $500.
Finally, for those who prefer BTC Payments, this option is available, but only upon contacting the support team.
Juicy Ads also has an auto-payments feature that automatically requests payments when the minimum is reached, making payment collection an effortless process for publishers.
JuicyAds Pros and Cons for Publishers
JuicyAds is a popular adult advertising network that has been around for over 16 years now. For publishers looking to monetize their adult websites, it offers a variety of options. However, like any other ad network, there are pros and cons of working with JuicyAds.
Pros:
A reasonable variety of payment options are available, including Digital Payments, ACH, Wire Transfers, and BTC.
No setup fees or contracts are required.
There are several ad formats to choose from.
Ability to sell ads in bulk.
Has the option to block specific ads or campaigns from appearing on your website.
Cons:
It's primarily an adult advertising network, so mainstream websites may not work (or if accepted, expect ads that are adult in nature).
The ad fill rate varies.
JuicyAds Ad Network Verdict
JuicyAds is a phenomenal ad network that offers a great range of options for media buyers. The new and improved user-friendly dashboard makes it easy to manage campaigns, and the tools like Auto Blocking, Source Smoothing, Adsistant, and SexyTechnology make sure that your ads are seen by the right audience.
The best part is that it also provides a direct ad sales option which means you can easily make a consistent profit once you've found a website that is the perfect fit for your offer.
So is JuicyAds the best adult advertising network? Based on what we've seen so far, it certainly is a contender!
Advertisement

Ad Networks
This Adf.ly Review is gonna show you how to effectively earn money on this original and super awesome URL shortening tool!
Ad Networks
This Mobads review is gonna help you understand how to effectively explore this recently-created ad network to the ultimate max!
Ad Networks
Read our in-depth SelfAdvertiser review and learn how to start working there.