Advertisement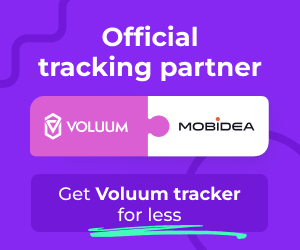 If you're looking for a comprehensive ClickAdilla review, you've come to the right place.
In this review, we'll give you a full rundown of what ClickAdilla is, how it works, and what it can do for your business — whether you are an advertiser buying ads or a publisher on the other side of the advertising supply chain.
ClickAdilla is an ad network that helps connect advertisers with publishers. It offers various features, including real-time bidding, campaign management, and reporting tools.
While it sounds all too awesome, we should take a deeper look into the ad network before jumping right in.
What is ClickAdilla?
ClickAdilla is an international self-serve ad network platform based in Dublin, Ireland. It is a turnkey solution that allows advertisers to create, manage, and optimize campaigns for multiple ads with just a few clicks.
The platform provides access to over 4.5 billion users worldwide and allows users to track performance in real-time while making changes on the fly. Its primary traffic is adult in nature.
ClickAdilla also offers tools to help advertisers maximize their return on investment, including advanced targeting options and bid management capabilities.
In addition, ClickAdilla provides publishers a self-service portal, which allows them to add ad placements to their website, help them manage their traffic inventory, and view performance data.
ClickAdilla Best Features
There are a lot of ad networks out there, and it can be hard to decide which one is the best for you.
They all seem to offer similar features, so how do you know which one is right?
To do so, you must look not into what is common among these networks but what makes each one stand out.
However, you also shouldn't forget the basics needed to run successful ad campaigns.
That's exactly what we'll do here; we'll analyze the features of ClickAdilla that sets it apart from the rest while mentioning a sprinkle of the basic necessities of an ad network.
Special Bonus for Mobidea Academy Readers
Use the promo code MOBIDEA55 and get a $55 bonus on your first deposit of at least $250.
Ad Types
ClickAdilla is an adult ad network that provides multiple ad formats for its users. This is advantageous for advertisers as it allows them to test different formats for their promotions.
It is likewise helpful for publishers as they have a lot of options of ads to display, thereby increasing their earning potential.
Here's a list of ads available in ClickAdilla:
1. Popunder
For popunder ads, you can choose between Adult and Mainstream traffic. The best-converting verticals for Clickadilla's popunder ads are Webcam, Dating, Adult, Forex, Gambling, and Nutra.
2. Banner
This classic ad type is one of Clickadilla's newest offerings. There are eight formats available for banners, which are:
Banner Cube Head, Cube Middle, Cube footer
Banner NTV-A, NTV-B, NTV-C
Banner Footer
Banner Underplayer
In-Video Banner
Mobile Header Banner
Mobile Instant Message Banner
Mobile Interstitial Banner
Clickadilla's banner ads have been proven to perform well for Games, eCommerce, Forex, Betting, Dating, and Adult offer categories.
3. Full-page Interstitials
This ad can be promoted on desktop and mobile devices. The best performing verticals for full-page interstitials are Webcam, Dating, Adult, Nutra, Gambling, and Forex.
4. Push Ads
Clickadilla has amassed over 65 million subscribers for push notifications. The top-performing verticals for web push ads are Nutra, Dating, Gambling, Sweepstakes, Betting, and Utilities.
5. In-page push
This push notification-looking banner ad is best for Dating, Nutra, Sweeps, Gambling, Utilities, and Betting offer verticals. It can be promoted on all kinds of devices, including iOS.
6. Notification Widget
This ad format is a text-based banner that pops up when you visit publisher websites on mobile devices. It provides users with two buttons that let them decide whether or not to act on a product offered.
Because it resembles a system notification, it has high click-through rates. It works well in sectors like Utilities, Dating, Sweeps, and App Downloads.
7. In-App ads
Mobile advertising has been booming recently, and ClickAdilla followed this trend. In-app ads are a great way to reach potential customers who are using mobile apps.
Advertisers can use in-app ads to promote their products or services to users using a publisher's app. There are four in-app banner sizes for you to choose from.
According to Clickadilla, Utilities, Games, and Dating offers, work best for their in-app ads.
8. Native ads
Clickadilla's native ads are the perfect way to get your ad noticed without being intrusive.
They are placed at the website's footer, where they perfectly imitate the site's content.
This makes them less likely to be detected as an ad, and more likely to be clicked on by users.
The native ad block consists of 6 banners (300×250) with title text, making it easy for users to find what they're looking for. The best offers to promote for this ad type are Games, eCommerce, Betting, Forex, Dating, and Adult.
9. Gallery traffic or Content Feed
This video-preview format is especially well suited for adult tube websites. Users who click on a gallery thumbnail will be taken directly to your website to watch the content.
10. Direct Links
With this ad type, a new menu or link is placed at the navigation bar, which opens up the advertiser's website or landing page. Clickadilla sets a maximum of two direct links per site.
Dating, Webcam, Games, and Adult are the best performing verticals for direct links.
11. In-Stream Video Ads
These are video ads that show up in the video feed or before the main content (in the same video player).
Available in-stream video formats include:
Video pre-rolls – These ads automatically play before the main video content on a website.
Native roll – These video ads show up in the video feed. Clicks are necessary to start the video preview to allow viewers to choose whether or not to watch them.
Motion banner – These are animated banners that work like video pre-rolls—they show up before the video content. They can only be skipped after a minimum of five seconds, ensuring that viewers see them in full and with complete attention.
This ad type is best for Dating, Cam Offers, Games, Gambling, Adult, and Betting.
12. Video Slider
This is a small floating window that shows up at the bottom of the screen where the main video is being played in. It looks like a floating recommended video that encourages viewers to watch it next.
Its top-performing offer verticals are similar to that of in-stream.
13. Out-stream video
This is another video ad format, except that it doesn't appear in video feeds. Instead, it shows up in the middle of non-video-based content. Essentially, it's like a banner ad, except that it contains a video instead of an image.
Huge Traffic Volume
ClickAdilla is one of the world's leading ad networks, with a daily reach of over 4.5 billion users from 240 countries. The company prides itself on its high traffic volume and ability to deliver targeted ads to a global audience.
The network partners exclusively with publishers and traffic sources to deliver this much volume.
Here's how much daily traffic you can expect per traffic type:
Popunder ads – 10 million
Banner ads – at least one billion
Full-page Interstitials – 100 thousand
In-page push – up to 3 billion
In-app ads – up to 5 million
Web push – up to 3 billion
Native ads – 250 million
Gallery traffic – 50 thousand
Direct Link – 50 thousand
iOS Calendar Push – more than 70 thousand
Video ads (in-stream, slider, and out-stream combined) – over one billion
To know how much traffic you can get based on ad format, operating system, country, and more, you can visit the Traffic Chart section in the dashboard.
Traffic DSP
This is ClickAdilla's latest feature. With it, you can manage campaigns from other traffic sources, all within ClickAdilla. This is not to be confused with buying traffic from ClickAdilla as it will only be used as a traffic management platform for programmatic media buying.
One of the biggest advantages of using this feature and purchasing directly from SSPs (Supply Side Platforms) is that the price for traffic is lower. The traffic is purchased at auction prices; hence it is possible to buy them at 30% to 50% cheaper than when buying from ad networks.
To use this feature, you must first sign-up for a subscription account whose price depends on the number of requests per second.
Keep in mind that the payment for the actual traffic you buy does not go through ClickAdilla — you would have to pay for that directly with the third-party ad network you work with.
To make this function work, the third-party traffic source, whether an SSP or a simple ad network, must have XML or RTB functionalities.
Marketplace
The Marketplace is a one-stop shop where you can purchase the entire website traffic for specific ad formats, placements, and geolocations. This works on a flat-deal system, which means you purchase all of the traffic for a specific price — no more intensive bidding wars; plus, you get even the most exclusive and expensive traffic from this source.
The upside to this feature is that you can get traffic based on your budget level without competing against other advertisers. The downside is that if the specific ad combination that you buy (placement-format-website combination) does not work for you, you have no choice but to wait for the deal to end since you have already paid for it.
Buy Traffic in Several Ways
There are multiple ways that advertisers can buy traffic from ClickAdilla.
One way is through the self-service platform, allowing advertisers to set up and manage their own campaigns.
Another way is through the openRTB option, which allows advertisers to access real-time bidding data and connect with publishers.
API is also available for more advanced users. This one provides more flexibility and control over campaign management.
Ultimately, Clickadilla provides a variety of options for advertisers to choose from, depending on their needs and preferences.
Streamlined Interface
The platform's streamlined interface means that advertisers and publishers alike can easily set up and manage their campaigns with little to no prior experience in online advertising.
The dashboard provides an overview of everything that is happening with your account, including real-time statistics, graphs, and trend reports.
You can also use the dashboard to create new campaigns, manage existing ones, and track your results.
Quick and Easy Integration
One of the best things about ClickAdilla is that it integrates with several of the most popular tracking platforms on the market, making it super simple to keep track of your results. It only takes you a couple of clicks to link your tracker to the network.
Multi-Language Dashboard
ClickAdilla offers a personal account dashboard that is available in 5 languages: English, Spanish, German, Russian, and Japanese. This makes it easy for users from all over the world to access, understand, and manage their account settings and statistics.
Fast Campaign Moderation
When it comes to online advertising, time is of the essence. You want your campaign to go live as quickly as possible so that you can start generating leads and making sales. But publishers, on the other hand, don't want to sacrifice quality for speed.
That's where ClickAdilla comes in. This advertising network offers quick campaign moderation, so you can get your ad up and running in under 10 minutes while ensuring that ads match their requirements.
Anti-Fraud Technology
ClickAdilla's anti-fraud system uses various methods to prevent click fraud and bot traffic, including IP blacklisting, domain blocking, and activity monitoring.
Their system is constantly evolving to stay ahead of the latest fraud tactics.
As a result, advertisers can rest assured that real people, not bots, are seeing their ads and that they're getting high-quality traffic.
Low Minimums
The minimum deposit for advertisers and minimum withdrawal for publishers are both $50.
The low deposit requirement means that you can start advertising with ClickAdilla with as little as $50, and the low withdrawal amount means that you can easily cash out your publisher earnings without having to wait for a large amount of money to accumulate in your account.
How To Use ClickAdilla
ClickAdilla is a powerful ad management tool that can help you create and track effective ad campaigns.
To get started with the advertising, follow these steps:
First, register for an advertiser account. Just fill out the form and once that's done, your account will be ready to use.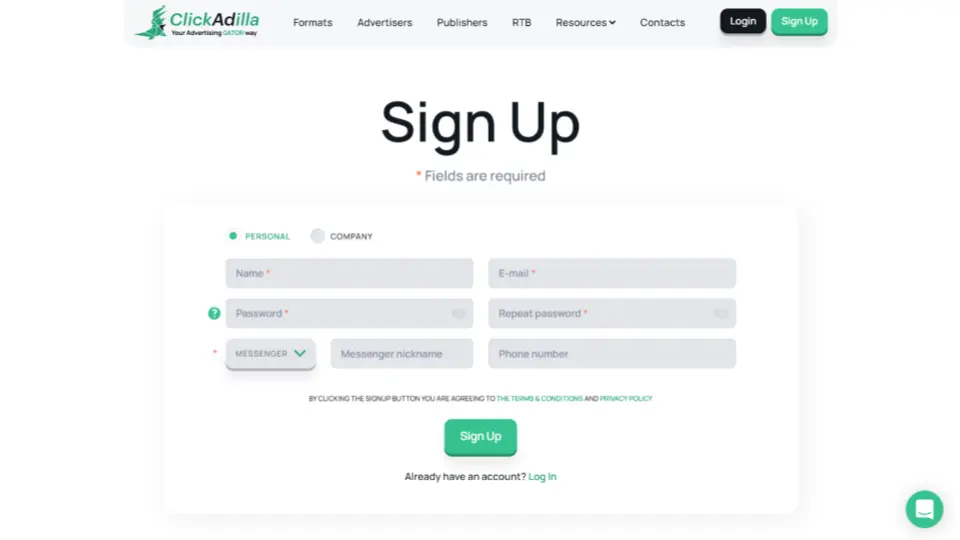 The dashboard is fairly self-explanatory. To create a campaign, click on the "Create Campaign" button.
Just a quick note here, ClickAdilla recommends creating a campaign first and waiting for it to be approved before topping up your account.
This is because getting refunds for unused dollars in your account is a tedious and costly process.
The network prefers advertisers to spend the balance in their accounts, which can only be ensured with an active campaign.
A refund fee of 10% applies, and there is a $25 minimum amount, in case you decide to get a refund.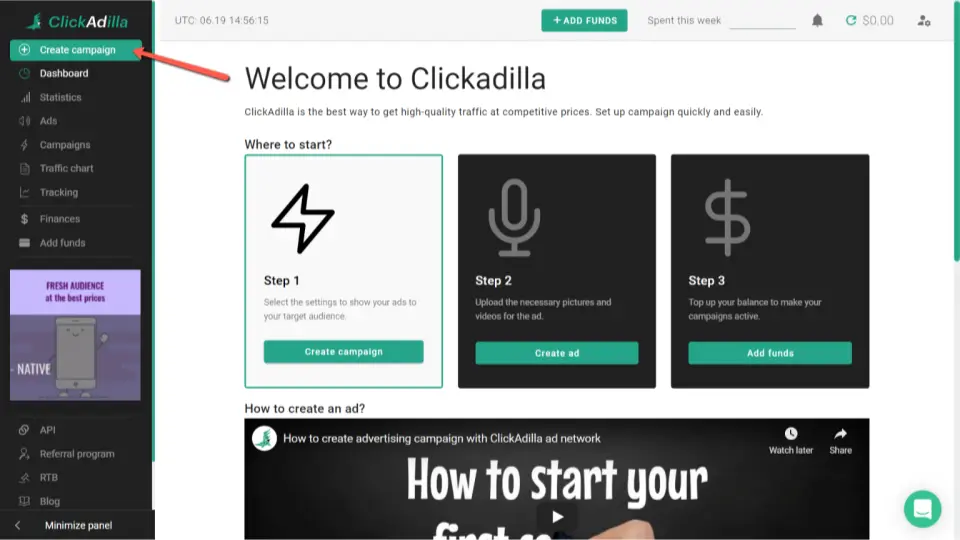 On the first page of the campaign creation page, you can do the following:
Add a campaign name
Choose an ad type
Select the pricing model (CPM, CPM Goal, CPC)
Add creatives
You can also pre-create ads on the Ads page, so you can just select the ad on the dropdown during campaign creation.
On the next page, you can set your targeting filters.
You can choose to target by location, devices, or other factors.
On the Sources page, you'll be able to select whether to run RON traffic or just Premium sources.
This is also where you can add a blacklist or whitelist of websites.
You can limit the views and clicks on the Limits page based on money, impressions, and clicks. You can also set a maximum number of impressions per minute.
Once you're done creating a campaign, wait for it to be approved.
ClickAdilla's moderation period is pretty fast, so you can expect it to be approved within 10 minutes to an hour if everything in your ad creative and landing page is acceptable.
How to Use Traffic DSP
Aside from ClickAdilla's own traffic, you can purchase traffic elsewhere through the Traffic DSP. This can make your life a whole lot easier since you won't have to open multiple platforms to manage all your media buying campaigns.
All the statistics and reports for these campaigns can likewise be viewed within ClickAdilla.
To use it, first, go to the Traffic DSP tab from the Menu.
Once you've chosen and paid for a plan, you can add your SSP or traffic sources under Providers. You must already have an account with the SSP you want to connect to ClickAdilla for this to work.
You will need to send an integration request via eRTB or XML, whichever works with your provider. Once you've completed all the steps, you will see in your Traffic DSP dashboard the list of traffic sources you have and their status (whether Approved or Pending).
If the status is approved, you can start creating campaigns for these SSPs.
The process for creating a campaign here is the same as what we discussed above, except you'll find the option to enable Providers right after selecting categories (adult or mainstream). If you enable Providers, you will be asked to choose which provider to use based on your list.
All settings and filters during campaign set-up are also available for the Traffic DSP. However, make sure that your SSP account has funds; ClickAdilla will not process the payments for your third-party providers.
Since you are already paying for a subscription for Traffic DSP management, ClickAdilla will not charge you for incoming traffic. Only for the traffic you buy in ClickAdilla.
How to Buy Traffic from the Marketplace
If you want to buy traffic from a specific website, then ClickAdilla's Marketplace is your best bet. Using it is pretty simple; just click on the Marketplace tab on the left pane.
On the Marketplace dashboard, you'll immediately see a list of websites available for flat deals. You can narrow down the results by filtering based on any of the following:
Website
Ad format
Ad placement
Countries group (Tier 1, Tier 2, Tier 3, English-speaking Countries, Germany, etc.)
Device type
ID
You can also sort the list by price (total price), CPM, countries group, and domain in ascending or descending order.
For each flat deal offer card, you'll see the following information:
The logo
Website ID
Domain
Global rank
Total visits
Page views
Vertical
Audience (percentage of males and females)
Top countries (top 3 countries where traffic is coming from)
Format
Impressions (monthly impressions for the particular ad format)
Ad placement
CPM
Device type
Countries
Price model
You'll have the option to purchase traffic based on the number of days (minimum of 10 days) or the number of impressions you expect to receive (minimum of one-third of the total monthly impressions).
The amount shown on the upper right corner of the card (in dollars) pertains to the amount you have to pay if you opt to buy based on the minimum required impressions.
If you like what you see, you can immediately click on the Buy button. A small pop-up window will appear.
If you like this deal, agree to the Terms & Conditions and click on the Send Request button. ClickAdilla will contact you through email or chat regarding the deal.
Most of the information you need is already available on the card, but for additional info, click on the More button.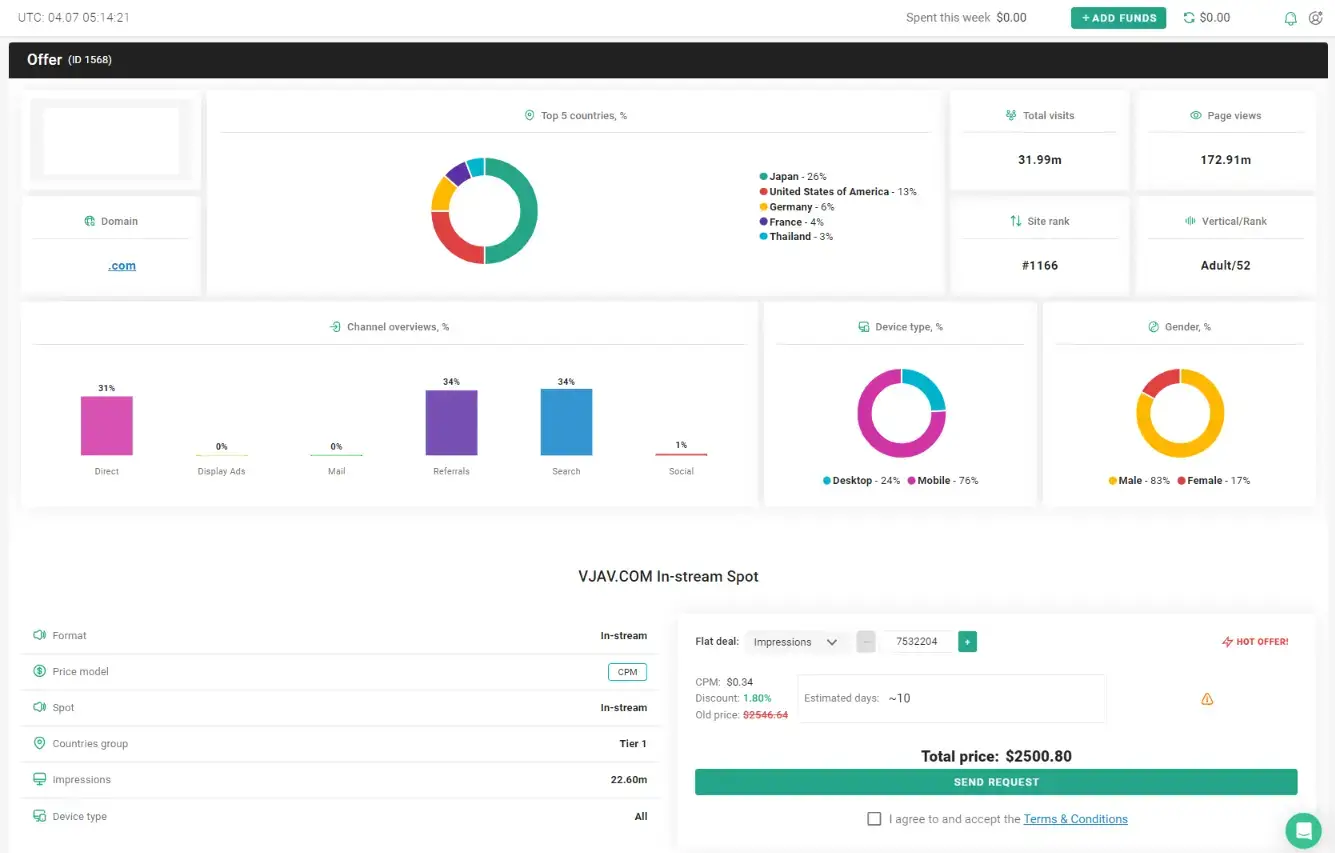 You'll find other countries where the traffic is coming from, the percentage of device types, and channel overviews.
Top-up your account
Select "Add Funds" on the left panel. From there, you can select from any of the multiple payment methods that ClickAdilla offers. This includes credit card, bank transfer, Paxum, Payeer, Bitcoin, Capitalist, Stripe, Qiwi, USDT, and Coinbase.
Once your payment has been processed, the funds will be immediately added to your account and you can start running ads (except for wire transfers).
Reports and Statistics
ClickAdilla provides a suite of tools for advertisers to track and report on their ad campaigns. The platform offers real-time reporting, as well as detailed reports that show performance over time.
Advertisers can also segment their data by country, device, and more. In addition, ClickAdilla offers a wide range of statistical tools that allow you to analyze the data in depth.
ClickAdilla Pros and Cons for Advertisers
Advertisers have a lot to consider when it comes to choosing an advertising platform, which is mainly what this Clickadilla review is for. ClickAdilla is a popular choice, but it's essential to weigh the pros and cons before deciding.
Pros for Advertisers
Huge traffic volume of 4.5 billion users
Global coverage
Multiple ad buying options (API, RTB, self-service)
Several ad formats to choose from
Dozens of funding methods, including crypto
Convenient personal account
Cons for Advertisers
Ad blockers can block ads
It advertises having mainstream traffic apart from adult, but there's not much volume on mainstream traffic.
How to Earn from ClickAdilla
ClickAdilla works directly without website owners to gain traffic and sell them. So how can you earn from ClickAdilla as a publisher or website owner?
Well, it's actually quite simple.
First, you need to sign up for an account. Signing up is pretty easy; you will only be asked to set up your login details.
You will then be taken to the dashboard, where you will go through a quick tutorial on how everything works.
From there, you can copy the code of your desired ad type and paste them into your website.
Once you've done that, you can start displaying advertising on your website or blog.
Clickadilla will then pay you based on the number of impressions and clicks that your ads receive.
The more premium traffic you have on your online properties, the more clicks you're likely to get, and the more money you'll earn.
So if you're looking for a way to boost your earnings, Clickadilla is definitely worth considering.
The withdrawal methods for a $50 minimum payout are Bitcoin, Paxum, and WebMoney. Then there's $100 for Capitalist, $200 for Paypal, and $500 for wire transfer.
Payments are released twice a week, so you can quickly get money for better cash flow.
If you encounter any issues, you can reach out to the support team via live chat, email, and other online messaging options.
ClickAdilla Pros and Cons for Publishers
The platform promises to provide high-quality, targeted ads that are relevant to your content. ClickAdilla also offers a variety of features that can help you customize your ads and track your website's performance.
However, there are some potential drawbacks to using ClickAdilla. Before signing up for the platform, here are some pros and cons.
Pros for Publishers
One tag for multiple advertising formats
Availability of custom scripts
Impression frequency control to prevent user ad fatigue
Bi-weekly payments
Low minimum payment
Multiple payout options
Cons for Publishers
Some browsers can block the ads
ClickAdilla Review Verdict
Overall, ClickAdilla is a good advertising network to work with.
They have a wide range of ad types and formats to choose from, and they're always innovating and introducing new features.
ClickAdilla also offers a variety of features that make it easy for advertisers to track the performance of their campaigns and optimize their ads for maximum impact.
In addition, the company provides excellent customer service and is committed to helping its clients succeed.
As we've proven in this Clickadilla review, this network is definitely worth considering.
Whether you're a small business or a global enterprise, ClickAdilla can help you reach your advertising goals.
So why not give it a try today?
You might just be surprised at what this powerful platform can do for your bottom line.
I hope this ClickAdilla review helped you out understanding better their platform before you join in.
Advertisement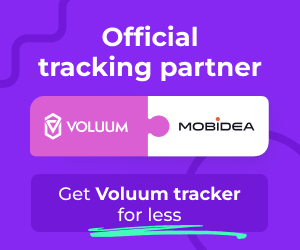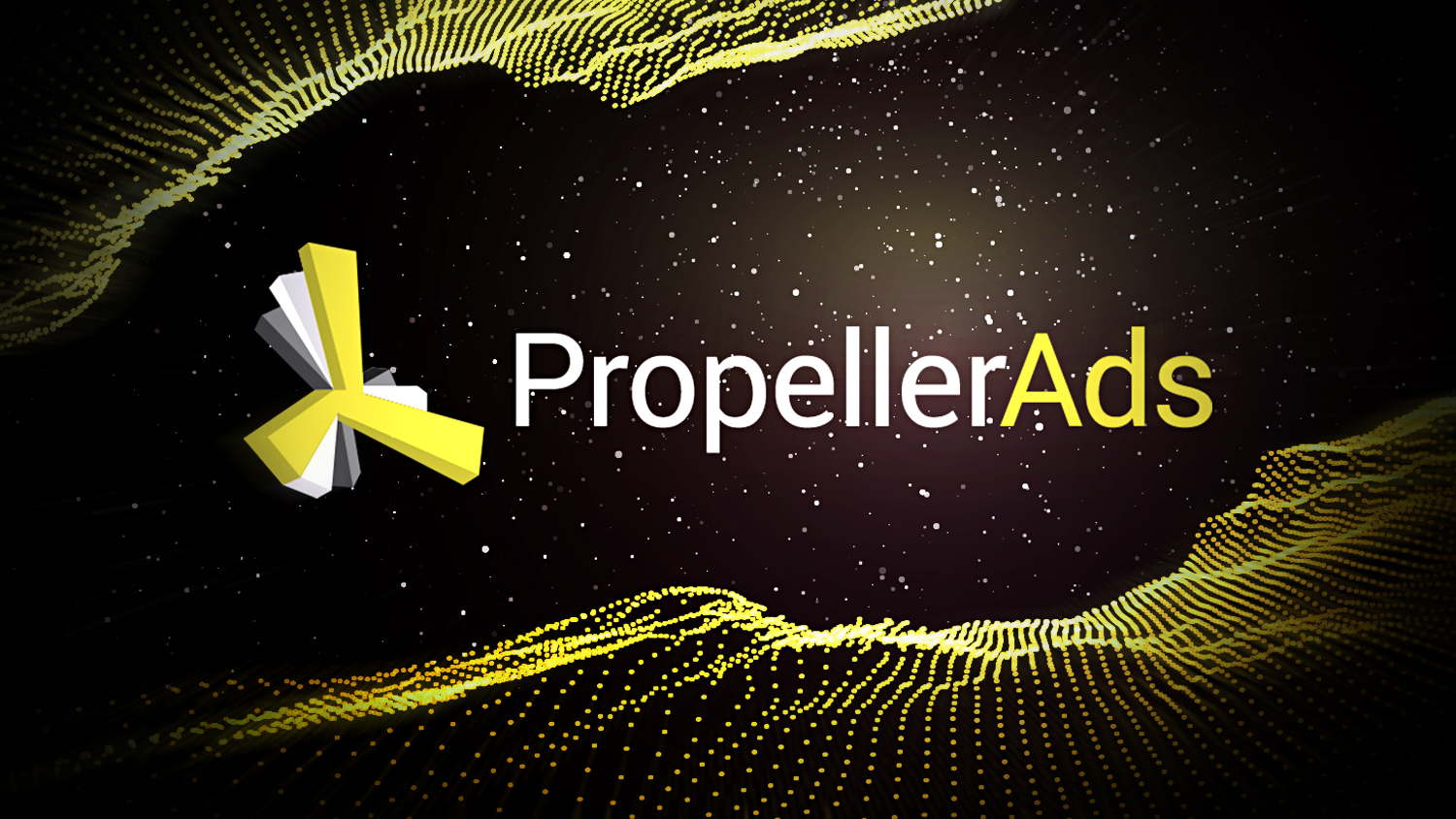 Ad Networks
This fantastic PropellerAds review is gonna show you how to explore a network that's remarkably famous for its pop traffic!
Ad Networks
Editor's note: Go2mobi is no longer available. Check this Go2mobi review and understand how to make money on Go2mobi like an expert!
Ad Networks
Jump on a super detailed Traffic Force Review. We're gonna review the upsides, the downsides and the features of one of the most popular ad networks specialized in Dating, Nutra and Adult offers.