SEO

&nbsp

SEO Tools
Last updated on June 21, 2023
by
João Aguiar
8 min read
Advertisement

A strong online presence is key to building long-lasting marketing success. Ahrefs and Semrush are two tools that can help you get there.
Running a small business, managing a digital agency, or getting a startup off the ground is no small feat. Aside from all the business decisions you have to make, learning how to market yourself in a competitive online space can be daunting—especially when the rules and SEO best practices are always changing.
Ahrefs and Semrush are two big names in the SEO industry—and for a good reason. They are powerful online visibility suites designed to help small businesses take marketing into their own hands. They both have tools for keyword research, competitor analysis, content, and more…everything you need to drive online success.
But which is the best SEO tool for you? It depends on where you're at, what level of effort you want to expend, and what your ultimate goals are.
Check out our deep dive comparison of these two SaaS visibility suites below. We hope it helps you make an informed, empowered business decision. And don't forget to activate a special 14-day Semrush free trial to start testing the tool right now!
Ahrefs vs Semrush: What's a More Affordable SEO Tool?
Cost is always an important factor for all small businesses, freelancers, and marketing professionals starting out. Hiring an agency or a professional to manage your SEO can cost thousands of dollars per month. That's why SEO tools like Semrush and Ahrefs are such valuable options. They've helped thousands of organizations make their mark without breaking their budget.
Both are subscription-based and have a tiered pricing structure. The higher the monthly cost, the more access to toolkits, reports, and features you get.
Ahrefs has a free Ahrefs Webmaster Tools account, which gives you limited access to two of its basic SEO tools, Site Explorer and Site Audit. Standard subscriptions are $199 monthly, while the equivalent Semrush Pro account runs at $119.
Semrush offers a free 14-day trial, so you can test out the full power of its toolkit. You can also use Semrush's Free account, which gives limited access to over a dozen tools for SEO, advertising research, position tracking, content marketing, on-page SEO, and more.
At their highest membership tiers, Ahrefs costs more than twice as much as Semrush. These subscriptions are geared toward large agencies and enterprises. Ahrefs' Enterprise User starts at $999 per month, whereas Semrush's Business User costs $449 monthly.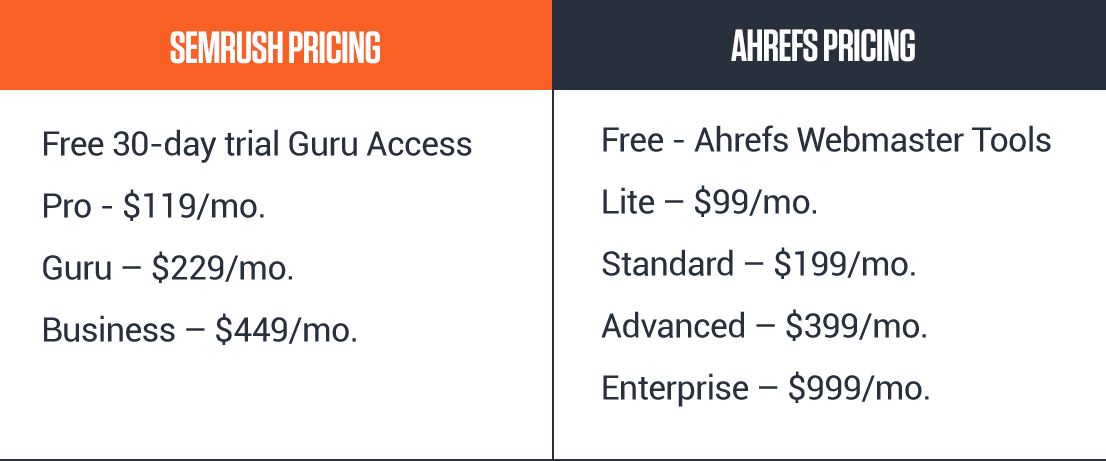 Not everything is about price, however. Let's unpack what each toolkit provides to help small businesses in their journey to better SEO results. For our intents and purposes, we won't compare every feature of each platform; rather, we'll highlight the most important considerations.
In Brief: Ahrefs Overview
Founded in 2010, Ahrefs initially launched a backlinks index, which became the Site Explorer tool.
It quickly rose as the industry-leading tool for backlinks and analytics at the time.
Today, it's a complete software program loaded with tools, resources, and educational materials helping SEOs of all levels move forward.
Headquartered in Singapore, Ahrefs is used by companies like Facebook, eBay, and Netflix, as well as small businesses worldwide.
In Brief: Semrush Overview
In 2008, Semrush was started by two people with a shared vision: to make online competition fair and transparent with equal opportunities for everyone.
Fast-forward to 2022: Semrush is an all-in-one online visibility platform with 50+ tools (and growing) that cover SEO, content marketing, PR, advertising, tools for growing agencies, and more. It's a global technology company with offices in almost a dozen countries.
Companies like Amazon, Forbes, Quora, and Tesla use Semrush.
Earning several international SEO awards, Semrush has been used by more than 10 million marketers worldwide.
Ahrefs and Semrush: SEO Tools Compared
SEO (search engine optimization) refers to improving your website's visibility to search engines like Google and Bing. Better visibility means more website traffic, higher sales, and increased brand awareness.
Semrush and Ahrefs tools help power keyword research, optimize your content, monitor and audit your site's health, get information on backlinks, keep tabs on your competitors, and more.
They also provide free resources and educational materials geared toward improving your online visibility.
There are at least 200 Google ranking factors (that we know of), so having a robust toolkit with reliable data is key.
We compared SEO tools from both Semrush and Ahrefs that address the most important things you should be doing to power up your digital marketing.
Keyword Research Tools
With SEO, everything starts with keywords. Both Semrush and Ahrefs have tools to identify promising keywords and assess how difficult they are to rank for. They also give stats such as global volume and cost-per-click (CPC).
Semrush has three tools dedicated to these pursuits, whereas Ahrefs has one. Unless the basic keyword research information suffices for you, Semrush offers up several SEO advantages that Ahrefs lacks, namely:
The largest keyword search volume database in the industry (21 billion vs 17 billion)
SERP features including Google images, news, featured snippets, Knowledge Panel, reviews, and video carousels
Keyword intent—a metric that reveals what your customers are really looking for
Ability to filter keywords by language
145 geographic keyword databases
The most accurate keyword difficulty metric in the market
The most accurate search volume metric in the market
Here's a side-by-side comparison of their offerings:
Domain Analytics: Semrush vs Ahrefs
Assessing your website's domain visibility—as well as your competitors'—is vital in improving your results.
It shapes your SEO strategy and sheds light on how to leapfrog the competition.Semrush has three tools for analyzing domain visibility on any website: the Domain Overview tool, the Organic Research tool, and the Keyword Gap tool. You get access to search data on the top 10 pages of Google (top 100 positions) for all SERPs.
The Ahrefs equivalent is Site Explorer. Users must upgrade from a Lite account to access the top 100 positions. Otherwise, it provides organic data for the first 20 positions only.
Semrush and Ahrefs have similar tools for identifying keyword gaps, or keywords that your competitors have that you're missing out on. However, the Ahrefs version is labeled as the Content Gap tool and provides more topical information rather than SEO-based suggestions.
If you're analyzing multiple websites daily, Semrush's platform surpasses Ahrefs with substantially higher limits. Their top-level subscriptions, Semrush's Business and Ahrefs' Enterprise, provide 10K vs 1K daily reports, respectively.
Another important feature is historical access to organic data. Semrush provides full access at the Guru level ($229 per month), while Ahrefs provides it to Enterprise users at $999 per month.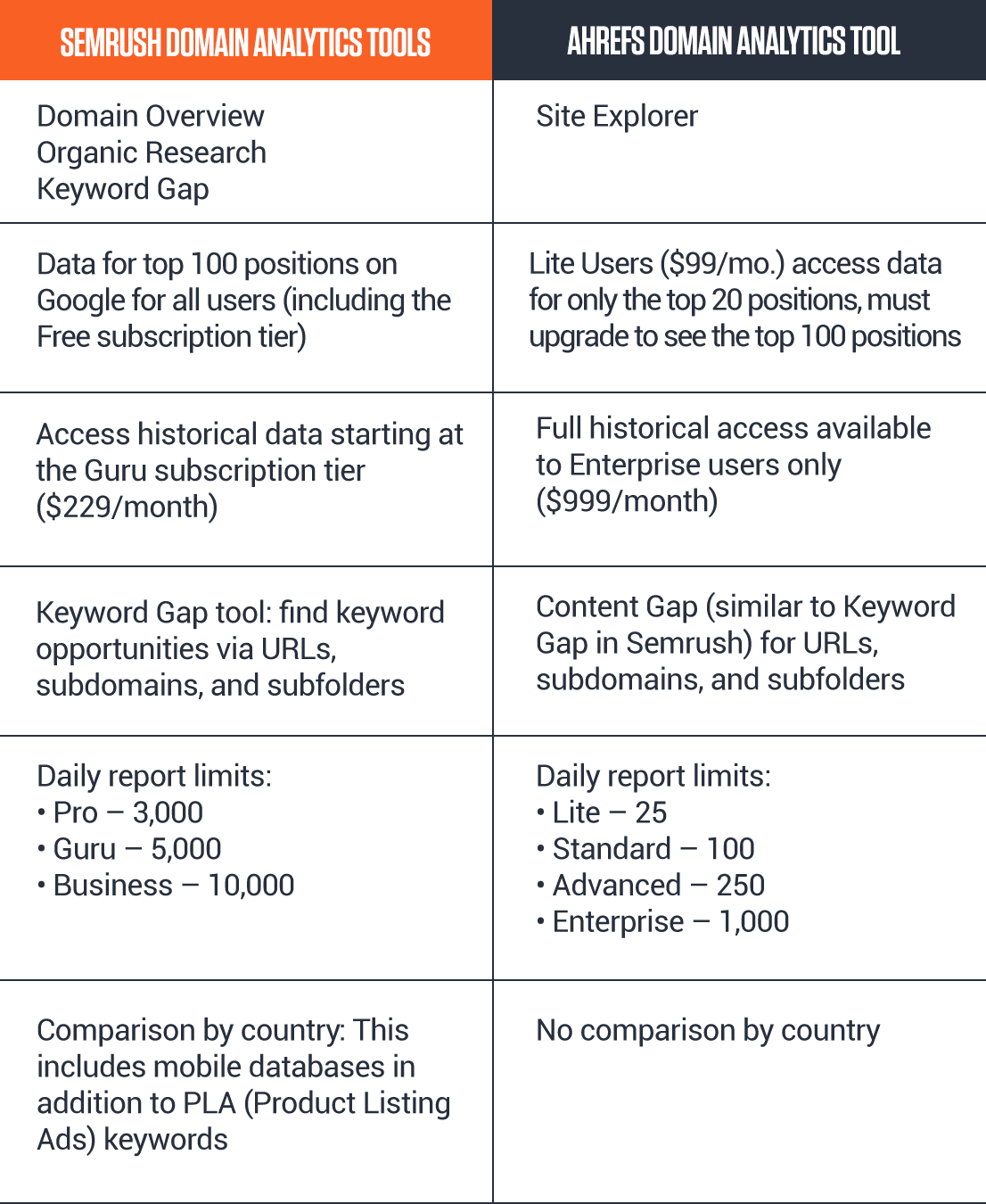 In short, both Ahrefs and Semrush offer comparable data and features for performing domain analytics, but Ahrefs' comes with a significantly steeper price tag.
Tools for Building Backlinks
Simply put, a backlink is when another website links back to yours. In the world of SEO, quality and quantity matter a great deal. Just as you want authoritative websites to link back to you and boost your clout, you'll want to avoid potentially harmful backlinks that undo your best efforts.
Semrush and Ahrefs are excellent solutions to help build and track your backlink profile, monitor the backlinks of your competitors, and help assess the best websites for potential backlinks.
As we mentioned a moment ago, Ahrefs' backlink tool started as its flagship product—but Semrush's larger, faster database and improved algorithms have set the new industry benchmark.
Semrush's Toxic Score metric identifies harmful backlinks, with a step-by-step guide to removing them and side-stepping potential penalties from Google.
Here's a snapshot of their toolkit offerings for backlinks:
Overall, Semrush provides a more comprehensive solution to managing and improving backlinks. Let's look at the other core technical SEO features both tools provide.
Site Audit
Regular site audits help ensure that your website is healthy and isn't breaking any major Google compliance rules.
Here's what Semrush and Ahrefs Site Audit tools have to offer:
Tools for Tracking Position Changes in Google: Ahrefs vs Semrush
In a competitive online landscape, getting closer to the top of Google's page is the name of the game.
Semrush and Ahrefs both track your position changes for target keywords as they ascend or dip over time. Here's a comparison of their tools' capabilities:

Is Ahrefs or Semrush Better for SEO Reporting?
Cost-effectiveness plays a big role in our comparison, and it's just as important as the need to validate marketing efforts. That's why SEO reporting is critical in understanding what's working—or if the juice isn't worth the squeeze.
Semrush's dedicated My Reports tool provides the best solution by a long shot, with options for branding and customization, multiple data integrations from Google products, and a lower price tag to boot.
Ahrefs can generate a few limited reports within its Site Explorer, Site Audit, and Rank Tracker tools, but it does not have a dedicated reporting tool.
Tools for Local SEO
Local SEO is integral for brick-and-mortar businesses that compete locally within a geographic area. They want to be seen on Google Maps, be included in local business directories, and earn stellar online reviews.
Semrush's all-in-one Listing Management tool gives businesses of all sizes one turnkey solution for enhancing their local presence from one platform.
Ahrefs currently does not provide a dedicated Local SEO tool.
More than 75% of people who conduct a local search visit a business within 24 hours, and 28% of those searches result in a purchase, according to Google. Fortunately, small businesses can leverage Semrush's tools for local success.
Is Ahrefs or Semrush Better for Advertising Research?
This is a popular question asked by marketing specialists of all levels. Even though this comparison focuses on organic search, advertising (also known as SEM, search engine marketing) is most effective when you have the best tools in your digital toolkit.
Here's what Semrush and Ahrefs have to offer:
Other Digital Marketing Tools for Consideration
While Ahrefs and Semrush are often placed in the same SaaS bucket, it's clear that this isn't a case of comparing apples to apples.
Semrush has more than 50 tools that cover the full spectrum of digital marketing. Its ecosystem of marketing tools, processes, and add-ons makes it a toolkit for overall growth, not just SEO. These specialized add-ons, which incur additional costs, bring a variety to any business's marketing mix:
And the list goes on. If pure SEO is the only thing you're looking for, Ahrefs is still a great option—but at a much higher price point than Semrush.
Semrush or Ahrefs? The Choice Is Yours
Semrush is a growth-focused platform that provides a more complete and comprehensive toolkit for nearly every facet of digital marketing today.
Ahrefs is an excellent option for SEO and backlink analytics, but overall it offers up fewer tools at higher price points.
If you're a powerhouse small- to medium-sized business, solopreneur, freelancer, or an individual with ambitions to take over your market, we recommend Semrush over Ahrefs—the choice is yours.
Building a memorable brand goes far beyond ranking well on Google. Tools for engaging content, better data to inform your decisions, and an entire ecosystem of digital tools are what drive your marketing results forward.
Dive into Semrush's free 14-day trial and see how it can help move your business forward.
Advertisement


João Aguiar
Head of Digital at Mobidea
More articles from João Aguiar
João is the Editor-in-Chief at Mobidea Academy, a tech player, dynamic, proactive, and fun! When he's not focusing on his role, he enjoys eating tasty food.
SEO
Check these wicked SEO first steps for new webmasters and create a super profitable website like a master who earns money faster!
SEO
Check the most updated SEO mistakes and get to understand what you must do to have a Google-friendly SEO strategy in 2018!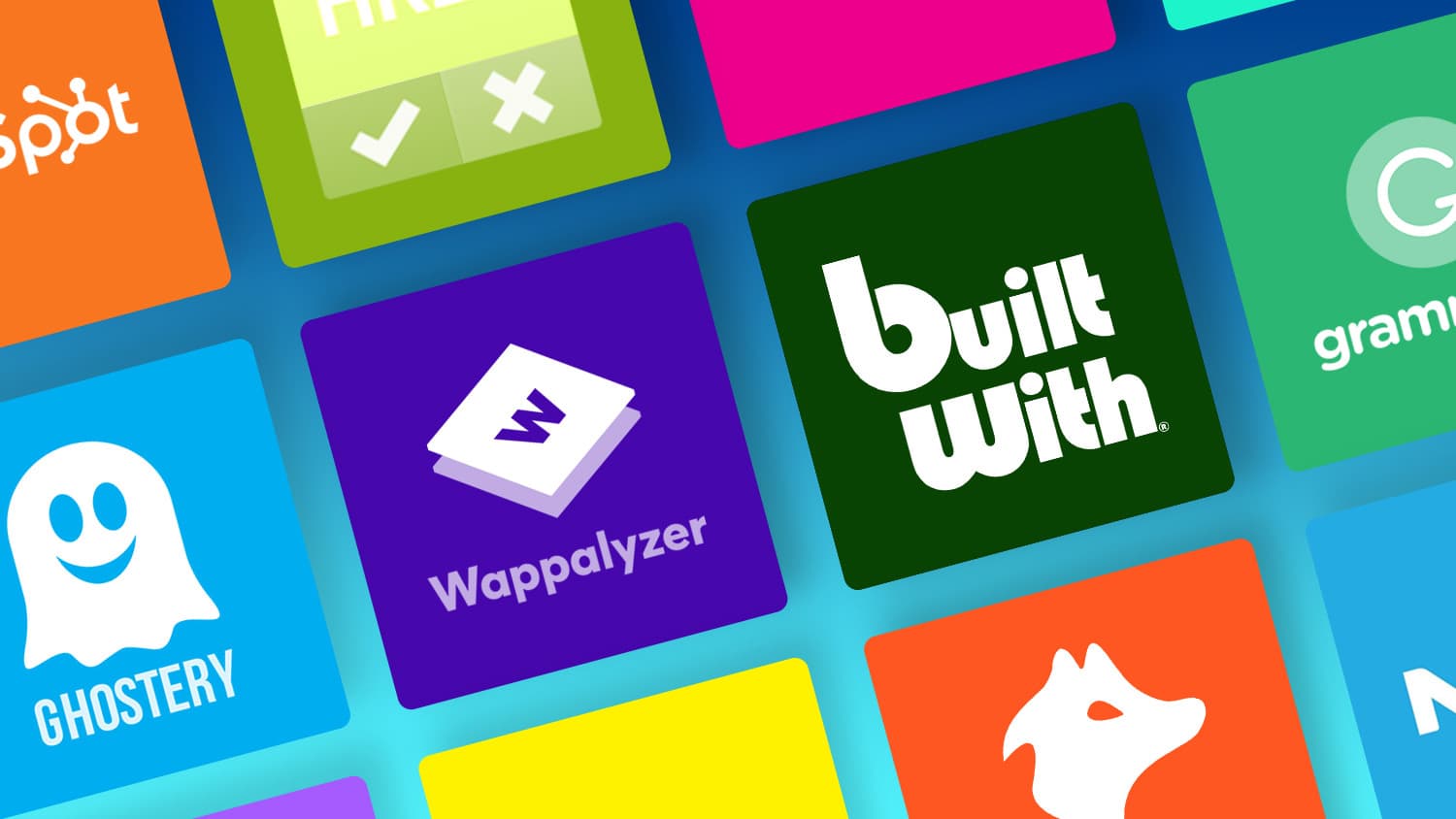 SEO
These SEO Chrome extensions to make your work easier are gonna be everything you'll ever need to make your SEO game become the best of all time!