Advertisement

Introduction
The majority of Mobidea Academy articles are written for affiliate marketers.
Wondering why?
Because this is the ultimate university for affiliate marketing beginners, that's why!
Feel like you need to know more?
Wanna become fully able to know every nook and cranny of the affiliate marketing game?
It seems that – if your goal is to know it all – you need to go deeper and get to know all the market's main players.
Most affiliates are only aware of half of the equation – getting paid for the promotion of a product. It's that simple.
It looks really easy, doesn't it?
You see the offers available on affiliate networks.
That's where affiliates usually pick up the content they want to advertise.
But is that all?
Don't you wanna know where offers come from?
How does it all happen?
Enough waiting!
This is your day!
This is when you get to learn more about advertisers, finding out what kind of traffic they expect from you.
Ready to play the affiliate marketing game?
Let's do it!
Affiliate Marketing Game: Player & Tactics
We all know how important affiliates are.
However, without advertisers, there would be nothing to promote.
You've read it.
Without advertisers, online advertising simply wouldn't exist.
They're the ones developing the content and they are very important business players.
Here's a pictograph showing the position of each entity in the market: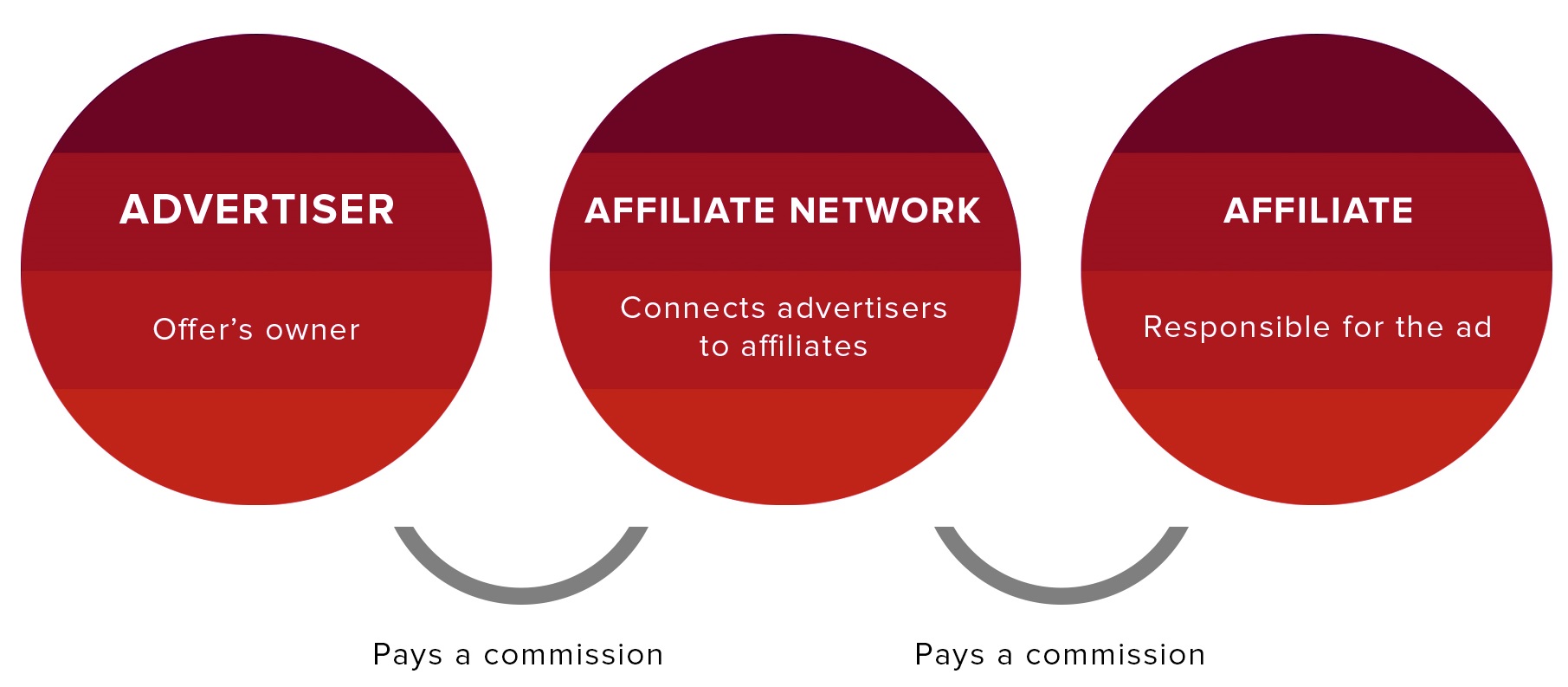 They're also responsible for most restrictions you see when applying to an offer.
They'll restrict:
The type of traffic you can send
The places where you can run their offers
The creatives you're allowed to use
The money you'll make from them
In today's highly competitive mobile advertising market, performance is everything.
Advertisers can pay using different payment methods:
Per Action: CPA/CPI/CPL – Acquisitions and downloads bring higher value to the advertiser as the user needs to actually show they're interested in acquiring the product
Per Click: CPC – Clicks only show a slight interest that may or not turn into a conversion
Per 1000 Impressions: CPM – Impressions are the cheapest since they bring less value to the advertiser. A user can come across adverts without even looking at them, which turns out to be a waste of the advertiser's money
That being said, advertisers have a full range of price models to choose from.
However, if they want to achieve results while spending the least amount of cash possible, they should go for the first option, known as CPA or CPI.
Let's Dive Deeper Into the CPA Waters!
Cost per Action (CPA) is the price an advertiser pays for a specific action on their advert.
That action is usually a purchase or a product subscription.
The advertiser is the one specifying which action should be performed by the user in order for the publisher to be paid.
As aforementioned, this method is beneficial both for the advertiser and publisher.
Advertisers only empty their pockets when their ad has been seen, clicked on, and the user has completed a successful action (sale or subscription).
If you're a powerful publisher (let's imagine you're an influential Instagram star with tons of followers that love your posts) CPA is perfect for you.
You'll earn a lot of money if you get your viewers to subscribe to a certain product, due to the fact that CPA payouts are much higher than those of CPM or CPC.
Advertisers pay much more for this model because users are actually bringing them instant profit.
Advertisers need to manage their budget very carefully when opting for a CPA model.
How do They Manage the CPA model?
They calculate the Average Revenue Per User (ARPU).
This value represents the average money they earn from users purchasing their service.
The CPA they're willing to pay needs to be lower than the ARPU.
The difference between these two values will be the advertiser's margin.
They may decide to cut you as a source of traffic.
They may lower the CPA (payout) to increase their return on investment.
In subscription products, advertisers want users that renew the subscription week after week without ever cancelling the product.
This is why it's important to adapt the ads to the type of website where you're promoting them.
Some advertisers will say they want their gaming products promoted on gaming websites, as they know those users are much more likely to become engaged and excited with their product.
Another pricing model that may be considered as CPA is Cost per Lead (CPL).
This is a more specific type of cost per action.
Here, the action required is the delivery of a new lead to the advertiser.
This can be done by submitting an email address or filling a form that requires more info.
What's a Valid Lead?
That's the advertiser's decision to make.
Indeed, they're the ones who know what is or isn't considered a valid lead.
If their requirement is that the user inserts their name and email, they'll confirm whether these are real ones and not a bunch of made up words.
What if the info provided is fake?
Advertisers won't pay for those leads.
It's that simple!
Advertisers want quality traffic.
This is their main goal.
However, they don't want you to run their campaigns if you have an average of 50 persons visiting your website every month.
Before they know if your traffic has quality, the only metric they can analyze is the amount of traffic you can deliver.
Volume –  An Advertiser's First and Only Love
Advertisers always ask about volume.
It's their mantra.
With no other metric to analyze, volume will show advertisers how many potential users you'll be able to drive to their products.
If you can, provide your Affiliate Manager with the average numbers you're making with other networks.
When advertisers want to get large volumes to get visibility, the campaign usually:
Allows incentivized traffic
Affiliates that use incentivized offers already know the main goal is to get as much traffic as possible
Has a higher payout
With higher payouts the goal is to get larger volumes
Higher payouts are cool and all, but how are they different for Smartlink and Single Offers?
Smartlink: if the conversion rate is similar for all advertisers, higher payouts mean better performance which leads to higher volumes.
Single Offers: with higher payouts, advertisers expect to have a higher number of interested affiliates which means higher volumes.
Traffic Quality – Go High or Go Home
When advertisers have enough data, they'll look for quality traffic.
What does that even mean?
Users that subscribe for a long time
Users that insert their data and become consumers of the advertiser's products
Amazing!
But how can they get these users?
Advertisers can:
Block low quality traffic sources – They've got info about the type of traffic each affiliate is sending and may opt to block some
Use tools to detect fraud traffic. These traffic sources will be easily blocked
Create a whitelist (e.g. allowing only Media Buying traffic, webmasters with sites related to the offer's content) with affiliates sending better quality users
Block incentivized traffic
Block spam traffic
Whether the goal is volume or quality, fraud is poisonous.
In fact, fraudulent and non compliant activities will drive advertisers crazy.
Advertisers can be fined for these shenanigans and force you to pay up!
This is why it's crucial to respect the regulations and follow the rules.
Remember:
What do advertisers want?
Great partners to work with!
When do they want them?
Now!
I hope all knowledge-thirsty affiliates have been able to learn more about the other side of the struggle.
I know that — after reading this article — you'll be able to understand why each offer has different requirements.
Wondering if this is Game Over?
No way!
The Mobidea Academy is gonna show you the second part of this advertising fun fest!
Let's keep traffic flowing to put a smile on advertisers all over the world!
Advertisement

Maria Carvalho
Business Intelligence Team Member
More articles from Maria Carvalho
Maria Carvalho may be young, but she's not the kind of girl to get fazed by such a minor detail. Passionate, artful and filled with professional knowledge, Maria is the queen bee of the Business Intelligence Team. Analyzing data like a pro is easy for her, and that's why she writes with amazing intelligence and super competent skills. Read her articles in case you don't want to be left behind in affiliate school!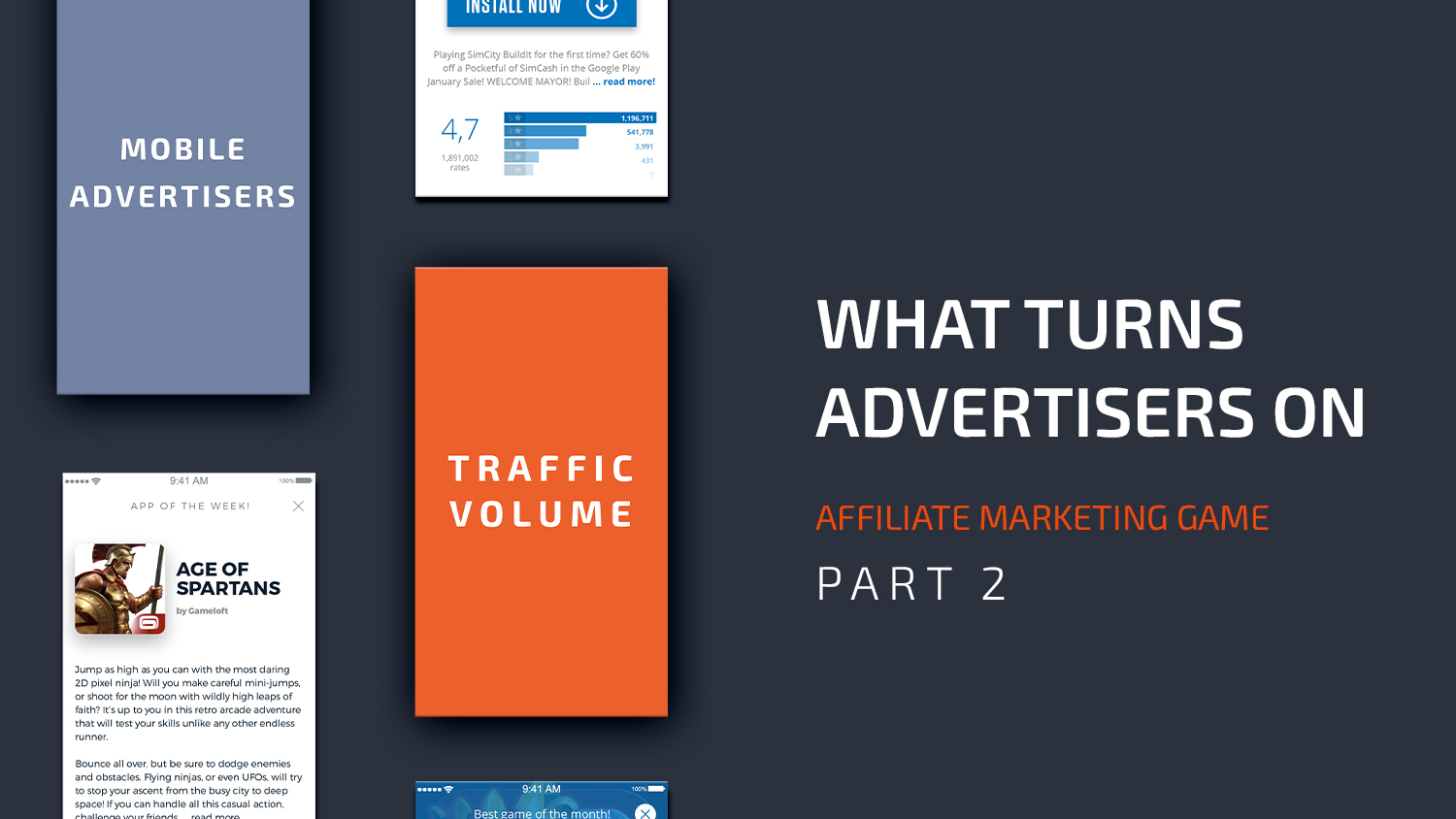 Affiliate Marketing
The insanely awesome second part of Mobidea Academy's Affiliate Marketing Game article is here so you must really check it out now!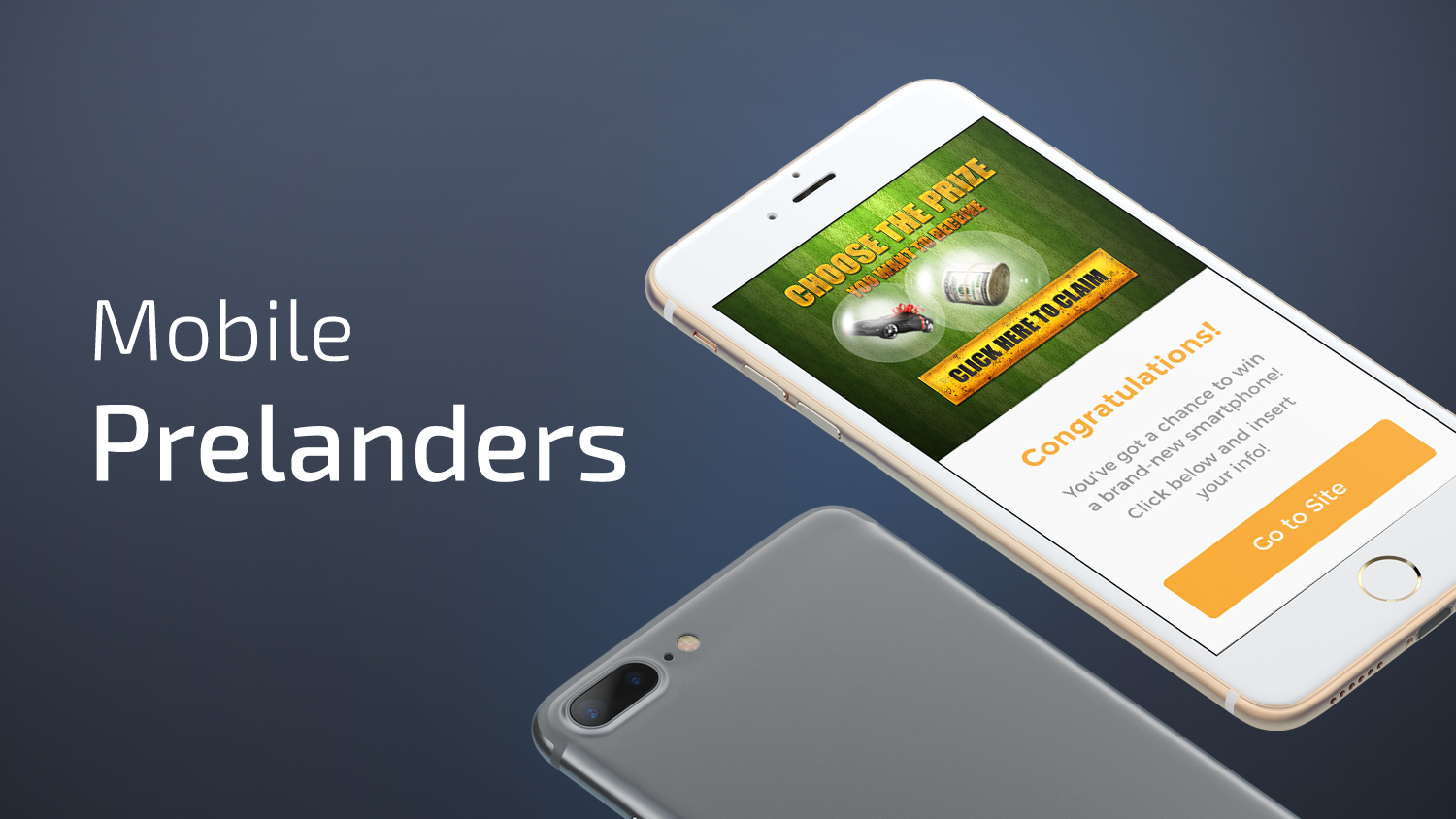 Media Buying
Interested in some awesome strategies to boost your profits? Check these high converting pre-landers and change the whole game!
Media Buying
Matuloo is simply one of the best affiliate marketers out there so you've gotta read his opinion about which trends will rule in 2017!