Guides & Tutorials
Last updated on May 24, 2023
by
Xavier Santana
6 min read
Advertisement

Introduction
The online world is filled with possibilities.
If you're young and able to think outside the box and get creative, you can definitely learn how to make money from home.
You can make money from your home computer, taking advantage of your skills to make money online fast!
Ready to find out the kind of jobs you could be doing?
Let's get started.
5 Activities to Make Money From Home
1. Virtual Customer Service Representatives
There's a bunch of organizations that employ customer service representatives all around the globe.
What they do is use call-center service providers such as Alpine Access or Arise.com and others to employ work-at-home in-bound customer-service agents.
Hourly wages can start from $9 and up and most people can work 20+ hours from home.
This is a great opportunity for those who want to earn that steady cash while still being committed couch potatoes!
2. Freelance Writer/Blogger
This is a rapidly growing work-from-home opportunity for those who have excellent writing skills.
Most businesses today have websites and blogs and are always on the lookout for people who can provide them good content that's interesting, informative and persuasive.
There's an array of online websites that have writing jobs including Upwork, PeoplePerHour, JournalismJobs, About, ProBlogger and many others.
Rates vary depending on the writer's skills and experience but most freelancers can get regular work if they're able to build a solid online portfolio and a steady stream of clients.
Think you've got what it takes to use the right words?
Give these websites a try and start earning that paper like a pro!
If you're doing it already but you're struggling with it, Venngage published an in-depth article on marketing strategies for freelancers.
3. Virtual Assistant
Many businesses, especially smaller operations, now hire virtual assistants to save payroll costs and still get their administrative work done.
This is a well-paid work-from-home opportunity for those who have good computer skills and are hyper dependable/reliable players.
Virtual assistants can be asked to handle a variety of tasks including business correspondence, travel arrangements, event planning, social media management, data entry, content management, etc.
There are several online platforms where you can apply for virtual assistant jobs, including the International Virtual Assistants Association, Virtual Assistant Jobs, etc.
A virtual assistant can make money online fast, especially if they prove to be super dependable and professional.
In a world that's constantly changing, the need for planning events, managing social media, or managing content is more than crucial.
That's why virtual assistants are now making money on the internet like champions!
4. Online Tutoring
This is another excellent opportunity for teachers and academics to use their knowledge and skill by helping out students in need of some extra guidance.
It's estimated that the private tutoring market will go up to $102 billion by 2018.
Yup.
You've heard it.
Billion!
This is how hot this profession is, you feel me?
There are various freelancing sites such as Upwork, Freelancer, and PeoplePerHour that advertise opportunities for English and Math tutors.
You can also check out Tutor to find exclusive tutoring opportunities around the globe.
Who knew that being a Math wiz would eventually payout?
Who knew that knowing your theorems could help you earn extra money from home?
5. Transcriptionist
Those with good computer skills and excellent typing speed can earn extra money from home by transcribing audio and videos for clients around the world.
There's an increasing demand for medical transcriptionists as more and more doctors hire online transcriptionists to transcribe patient notes, medical history, disease information, etc.
Several platforms offer the opportunity to find transcription jobs including Transcribe, TranscribeMe and others.
Are you fast with the QWERTY keyboard?
Are you a master of typing and writing so fast your fingers get burned by your devilish speed?
Then do what you were meant to do and make money online now!
Make Money From Home vs Affiliate Marketing
I know the kind of player you think you are.
You're probably wondering how does knowing all this gonna help you on your affiliate marketing journey to the top of Golden Mount Everest?
Easy!
By knowing that there's a whole word of invention, innovation and creativity that is found online, you can get a glimpse of your future!
If there are human beings out there who get their bank accounts fatter than an obese, diabetic cat on a daily basis, what the heck are you waiting for?
Quit being a loafer and stop blaming the world for lack of employment!
You know why? Because your job can be what you want it to be!
Become the affiliate marketing extraordinaire, get those paper rolls deep inside your pockets, and learn from these examples to become #1 in the craziest, most competitive, most ludicrously addictive game of all: affiliate marketing!
Still not convinced?
Think I'm trying to sell you something you reckon makes no sense at all?
Then get ready for some…
Super Straight Facts
In a survey of business leaders conducted by the Global Leadership Summit in London, 34 percent of the people who were asked said that over half of their company's full-time workforce will be working remotely by 2020.
In fact, 25 percent of respondents indicated that over three-quarters of their workers wouldn't work in a traditional office by the same year.
Want more?
According to Forrester Research's US Telecommunity Forecast, approximately 34 million people in America work from home.
It's estimated that this number will increase to 63 million by 2016, which basically means that nearly 43 percent of the workforce in the US will be working from home by 2016.
Work from home – also referred to as remote working, virtual working, teleworking or telecommuting – includes different types of working arrangements where workers choose to work from their home, a remote office or any other off-site location.
The biggest advantage for employers when it comes to remote working is that they have a large variety of talent from across the globe at their disposal.
In addition, by hiring remote workers, they can save operational and infrastructural costs.
Some of the coolest advantages of work-from-home jobs for employees include the ability to work extended hours if and when required, not having to commute long hours, lower rates of workplace conflict, higher satisfaction, and greater flexibility.
However, in order to be successful at work-from-home jobs, it's important for individuals to be committed and punctual.
They must also be professional and detail-oriented, showcasing excellent communication skills.
They should ensure they have all the necessary tools they'll need to get the job done.
These tools typically include a good computer system, high-speed Internet service, computer proficiency, and necessary communication software such as Skype, Google Hangouts, etc.
It's getting to you, isn't it?
Admit it!
Now you're really pondering upon this whole remote work stuff!
Are you thinking about it? Are you ready to become an affiliate marketing master sitting on your couch and making money rain like champagne by optimizing like a king with a powerfully awesome internet connection?
Wanna change your life and turn boredom into professional stardom?
Wanna start doing affiliate marketing and make money online like a master?
Then just do it!
Conclusion
Thought that was the conclusion, right?
Well, I guess you were wrong!
I just wanna add that, with technology advancing rapidly and with more and more online tools and services becoming easily accessible for people, the world is yours, you know?
It's easier than ever to find out how to earn extra money from home so don't waste time, read up, and find out what your niche is so you can tap into that gargantuan potential!
It's now possible to give online interviews, conduct online conference calls, find online work, sell products and services online and find regular, consistent and well-paid work all from the ease and comfort of one's home. What else could you ask for?
You're a millennial; a super lucky guy who knows a whole lot about technology and can make some serious cash sitting on the family couch!
This is terrific and you've gotta be able to take advantage of this incredible new world we're living in!
But wait!
Cooldown!
It's still important to note that, while work-from-home opportunities are growing tremendously, there's also an increase in work-from-home scams.
All freelancers and remote workers should make sure they sign up for jobs that are legitimate.
Don't be playing around with shady websites or you'll get ripped off easy!
Websites and online job providers that ask for money up front are likely to be scams!
That's why you should be hyper-cautious, slick careful, and saucy sceptical!
You've gotta do your research and then commit to online work that's both legitimate and honest!
Now, what?
What else can you possibly want?
The world is yours so make money online from home as you mean it!
You may find more work from home jobs at Jooble.
Peace out!
Advertisement


Xavier Santana
Moral Support Hero
More articles from Xavier Santana
Xavier comes from a background of Finance and Management which means he loves numbers, sheets, data and lives for analysis. This is the reason why he likes to say he was born to be dedicated to Media Buying. This business is all about analyzing, testing and experimenting with different banners; it's about seeing what others don't after spending hours surrounded by numbers. It's a thrill and a hunt and he happens to think it's the best job he could possibly have. When he isn't worried about helping Mobidea become better than it's even possible, Xavier enjoys playing softball with his childhood friends!
Interviews
Get ready to check an insanely informative interview with Charles Ngo and learn from the ultimate affiliate marketing master!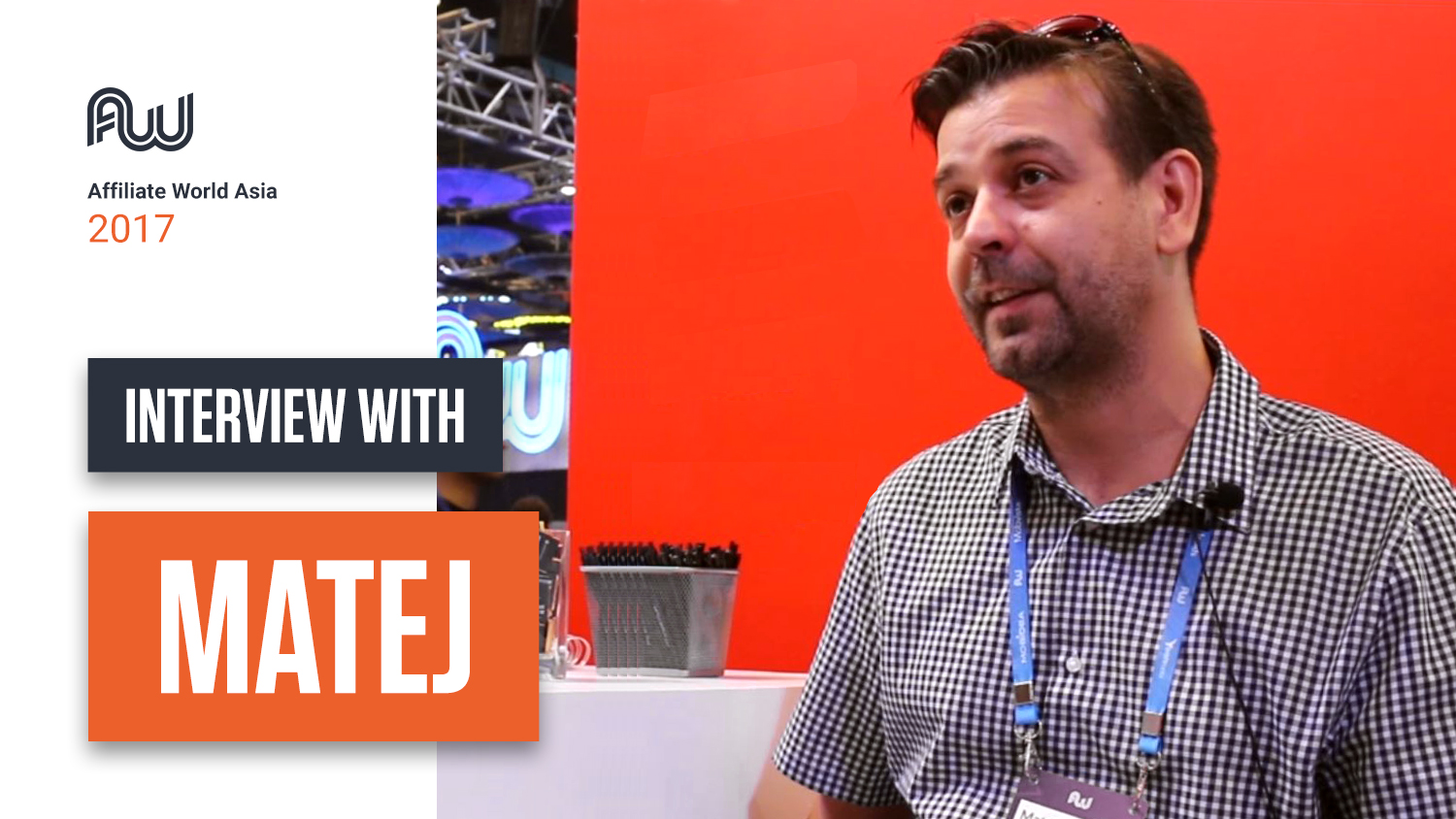 Interviews
Time for you to check this Affiliate World Asia interview with none other than Matej aka Matuloo, one of the coolest and most experienced affiliate marketers of our time!
Interviews
Mirella Crespi is a terrific online marketing superstar which means you can't possibly think about missing this phenomenally informative interview!