Advertisement

ClickDaly At A Glance
ClickDaly: Offers & Verticals
Ad types: Pop ads (Banner ads, Video Ads/VAST, Push Notification Ads — these are so far not yet available)
Verticals: Betting, Games, Sweepstakes, Dating, Adult Livestream, Cryptocurrency
ClickDaly: Payment & Investment
Cost Model: CPM
Minimum Deposit: $100
Payment Methods: Cryptocurrency or Payoneer
ClickDaly: Support
Personal Account Manager: Yes
Knowledgebase: It has a limited FAQ.
Support Response Speed: Excellent. The support team (particularly Adam) responds within minutes when contacted through live chat or through Skype during business days.
Support Rating: Excellent.
Contact Methods: live chat and email
Email Contact: Contact@Clickdaly.com
Telegram: @DavidClickDaly
Skype: live:.cid.d0207fa805f824d4
The world of affiliate marketing is like a vast ocean of endless possibilities, expanding day by day as new tools, networks, and opportunities emerge. It's like a treasure hunt where you never know what you might discover next.
One such find in this digital realm is ClickDaly, the latest entrant in the advertising network space. In this ClickDaly review, we'll find out if this new traffic source can hold a candle to other networks out there.
Key Takeaways
ClickDaly is a new advertising network specializing in popunder ads. It claims to offer other ad formats, but these are not readily available in the dashboard.
The majority of ClickDaly's traffic comes from the Asian market, with the USA and South America following suit.
Support is fast but the platform is too basic and hopefully improves.
What is ClickDaly?
Have you heard of ClickDaly? It's the newest kid on the block in the advertising world. Although registered in London, the company's headquarters is actually located in Vietnam.
This Asian-based network is gaining traction as a fresh source of advertising after it opened its doors to advertisers in early 2023. With the majority of its traffic coming from Asia, ClickDaly can establish itself as a major player in the region's digital space — if it plays its cards right.
ClickDaly Features
Let's take a look at what ClickDaly aims to offer advertisers right now.
Ad Formats
According to ClickDaly, they have multiple ad formats including popunders, banner ads, push notifications, and video ads (VAST). Popup ads can be used immediately, but other ad formats must be requested first.
Self Managed
In this industry, advertisers are well-versed in using self-managed platforms, which is why ClickDaly opted to offer the same. The platform is pretty straightforward, but we'll talk more about how to use it later.
Direct Publishers
With over 3,300 active publishers and almost 200 million daily impressions, this network is not here to mess around.
ClickDaly's publishers are a unique blend of streaming sites for anime, movies, adult entertainment, and much more. If this is the kind of content that your audiences frequently visit, then ClickDaly is a must-try.
Some examples of ClcikDaly's publishing websites are as follows:
https://filmapik21.skin/
https://dutafilm.buzz/
https://doramasflix.co/
https://filmoves.net/
https://doramasflix.io/
https://pelisplay.cc/
https://animeid.live/
https://w4.cuevana3.ai/
https://cuevana.uno/
javgg.net
http://tantenakal.live/
https://javtsunami.com/
https://sextb.net/
javdoe.to
Javstory1.com
Its top countries are as follows:
Indonesia – with estimated 40 million daily impressions
India – with estimated 25 million daily impressions
Vietnam – with estimated 18 million daily impressions
Japan – with estimated 13 million daily impressions
South Korea – with estimated 10 million daily impressions
United States – with estimated 8 million daily impressions
Mexico – with estimated 6 million daily impressions
Dedicated Support
This is probably one of ClickDaly's best features — having a highly responsive support team. You will be provided with a dedicated account manager upon signing up, and you can reach him through the following options:
Live chat in your account dashboard
Email
Telegram
Skype
by sending a message through the Support page, still within the dashboard
Traffic Chart
This one is widely mentioned in ClickDaly's posts and in its blog, but it seems like it is not available at the moment.
How to Start Advertising with ClickDaly
Signing up is super easy, and all you need to do is visit the website and click on the Advertiser Sign Up button.
Complete the sign-up form as an advertiser and verify your account.
Familiarizing Yourself with the Dashboard
The dashboard is your centralized hub for all things related to your account. One of the things that set ClickDaly apart is its simplicity and ease of use, and that philosophy extends to its dashboard.
You will be brought to the main dashboard upon logging in. This is where you'll find a quick summary of all your campaigns and stats for the day, the previous day, and the whole month.
The Campaigns section is where you'll find the list of all your campaigns — both active and inactive.
The Statistics section is where you'll get the reports for your campaigns' performance.
The Groups section is where you can create campaign groups, while the Support section is where you'll be able to send a message to the support team.
Adding Funds
The Finance section is where you can add funds and manage transaction receipts. For your first-time deposit, you'll be given a 50% bonus, hence the bigger your deposit, the bigger the bonus.
The minimum deposit is $100, and you'll have the option to use either Payoneer or Cryptocurrency. We hope other more convenient payment methods will be added in the future such as Paypal and credit cards.
Once you've topped up your account, it's time to set up your first campaign.
Create Your First Campaign
Head over to the Campaign section once again and click on the Create button.
Add the campaign name and select the group. The group is not required but if you want to add your new campaign to one, you can simply create a new group on this page.
Next is the Category. You have three options to choose from:
Adult
Gambling
Mainstream
Then there's the ad format.
While the network is advertising itself as offering multiple ad formats, the only one readily available to any advertiser is popup ads.
You would have to message your account manager to make the other ad formats available for your account. We will update this review once the network makes other formats available.
The next part is the Status — either Running, Paused, or Finished. For now, let's choose Running.
Now for targeting, we'll start with Geolocation.
With ClickDaly, you can target multiple countries in a single campaign by manually adding them. You can also use country groups such as Tier 1, Tier 2, Tier 3, Asia, Europe, etc., by clicking on the text links. I find it weird that there are two options for Europe (Europe and EU); maybe they have overlooked it.
The platform also has an import option for geolocation, although they do not provide a template. What you can do is add any country and you'll see that new links appear: Import, Export, and Remove All.
Click on Export and you've got yourself a template for importing geolocations. Just edit this CSV file to reflect the countries you want to target. Save it then Import.
The next part is the Pricing section where you choose the price model (only CPM is available for pops), add your bid under Rate, and place your Total or Daily budget.
The lowest bid is $0.1.
As for the budget — there is no minimum. I suspect this will change in the future.
Then you need to set the schedule — when you want the campaign to start and end as well as the dayparting plan. If you want the campaign to keep running, don't change anything in this section.
Next is Limits, where you can set the maximum number of clicks or impressions you want the campaign to receive in total or on a daily basis. This is not required.
Then there's Frequency capping, which allows you to limit the number of clicks or impressions per visitor or IP address, for a specific time interval. The time interval can be based on seconds, minutes, hours, days, weeks, months, or even years!
You can then filter your campaign further by targeting users based on Device, Operating System, Browser, Brand, and Language.
The subsequent section is called Carrier and ISP targeting, but this is not really what this section reflects.
As you can see, this section is actually for IP targeting, not carrier and ISP.
Now when you go to Sources targeting, you will see that they have the option to Include or Exclude website categories. This part is confusing for me since you are already required to place a category at the beginning of the campaign creation, why do it here again?
If you choose to include a different category from the one you initially chose above, which one will the campaign follow? Let's leave it blank for now.
Once you have identified the website IDs or Zone IDs that you want to whitelist (include) or blacklist (exclude), you can add them in the Sources Targeting section.
You can now click on either Create or Create Ad to proceed.
On the Ads page, you'll be asked to select a format first, which is kinda redundant since we already did that on the campaign creation page. In any case, let's choose Popup since it's the only one available at the moment (and it's the one we initially chose!)
Add a name for your creative and place the destination URL from your tracker or affiliate network. Make sure your variables match what is needed by clicking on the Placeholder link to reveal available macros.
Click on Create when done.
You can create as many ad creatives as you like. I have created up to a dozen within one campaign and have not faced any errors so far.
Your campaign will now go into moderation. Here's what the campaign page looks like: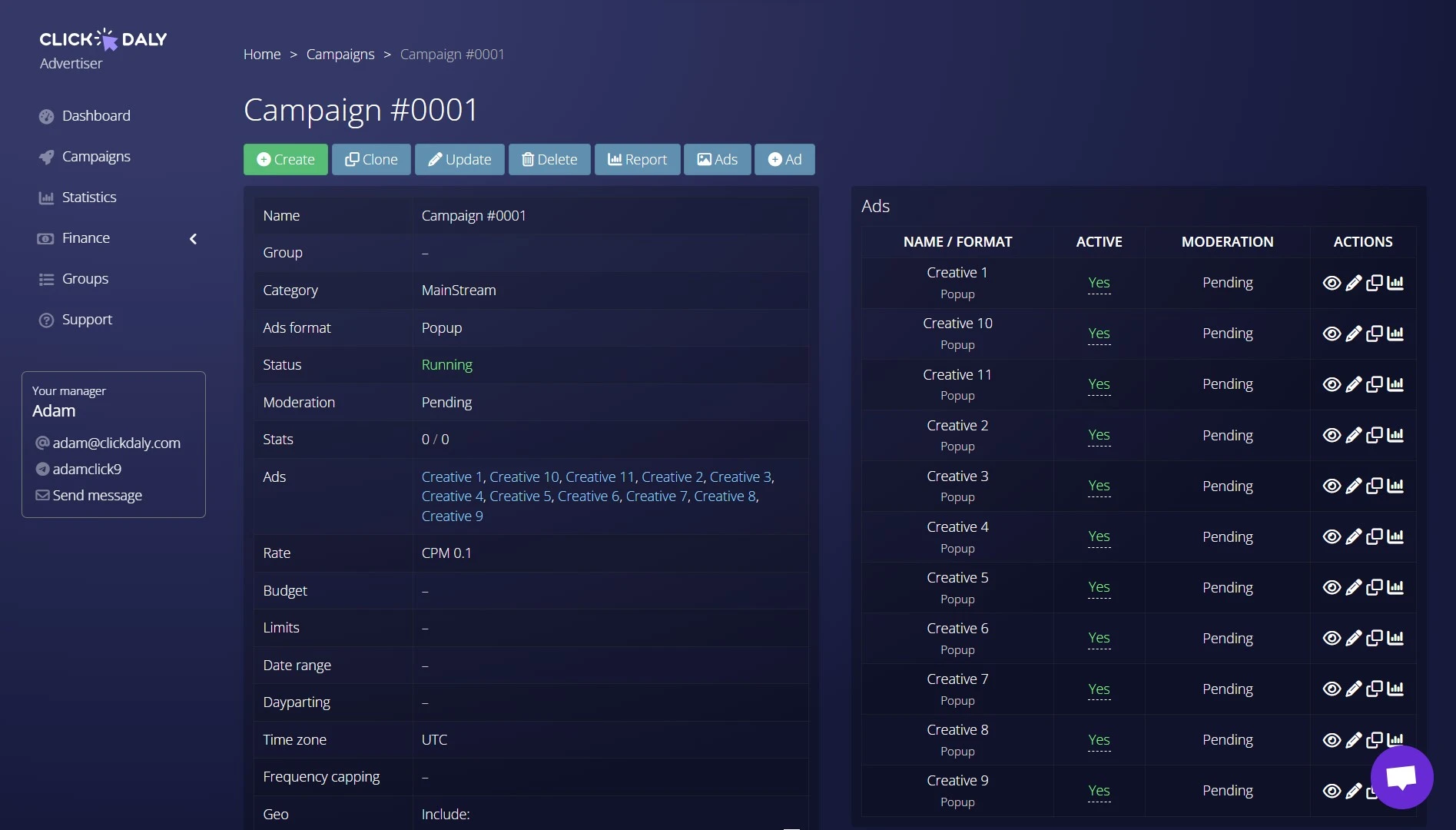 You can easily view the campaign details here and edit anything.
As for moderation, it is processed during business days. To get it approved quicker, shoot your account manager a message.
ClickDaly Pros and Cons for Advertisers
There will always be advantages and disadvantages to working with a new ad network. Here are some that we've identified.
Pros
Offers 50% deposit bonus for the first deposit — no promo codes needed!
Will allow you to test their traffic for free so you can see if the traffic will work for you or not. Just reach out to ClickDaly account managers to see if you qualify.
Unlimited ad creatives per campaign so you can split-test as many ads as you like.
Targeting is within the standard.
Their traffic is fresh, direct, and has some potential.
Cons
Carrier & ISP Targeting is mislabeled — the section with this name is actually for IP Targeting.
The company mentions having a traffic chart (in its blog post and posts in various places online), but it is nowhere to be found.
The FAQ section is too basic and does not provide other important information such as how to access other ad formats.
There is no ready information on the best bids or recommended bids, traffic levels, and other relevant data.
How to Earn Money as a Publisher with ClickDaly
Now, let's talk about working with ClickDaly if you're on the other side of the advertising fence. As a publisher, earning money is obviously the end game. And the folks over at ClickDaly are here to make sure you get there.
However, the company does not provide details on the minimum traffic your website must have, nor the niche that it should belong to. As such, I assume they accept all kinds of websites.
To get started, click on the Publisher Sign Up button on the homepage. Fill out the necessary details.
Once completed, click on Register and head over to your email. ClickDaly should have sent you an email message that contains your login details.
Here's how the publisher dashboard looks like:
To start running ads, you need to first verify the website you added.
You'll be provided with three easy options:
HTML file upload to your root folder
HTML Meta tag
DNS TXT-record
Once your website is verified, you can begin creating zones and adding the ad codes on your websites.
Refer Other Publishers
By spreading the word about this amazing platform, you could earn a cut of the revenue from publishers that sign up through your referral link.
That's right — not only will you benefit from your own earnings but you'll also rake in an extra 5.0%! So if you have a knack for convincing your audiences to jump on board, you can earn extra.
Getting Paid
You can verify your website's traffic and earnings performance through the Statistics tab.
The minimum withdrawal amount is $20 and payments are released weekly for as long as you submit a request. Payout options include Bitcoin, Paypal, and USDT.
ClickDaly Pros and Cons for Publishers
As with any platform, there are trade-offs to consider. Here are ClickDaly's pros and cons for publishers.
Pros
Creating an account is quick and painless.
Low withdrawal threshold and weekly payouts.
No minimum traffic requirements (as far as I can see)
Cons
While the verification process is straightforward, it takes a while before ClickDaly can detect either the tag, file, or TXT record.
ClickDaly Verdict
Do we recommend ClickDaly?
If you are looking for traffic in the Asian region and your offer converts well for audiences coming from streaming websites, then yes, do try it.
Seeing as they are fairly new in the game and there is much to be learned about how the traffic fares in various verticals, we suggest taking it slow. But if you find a winner, you can surely rake in the dough since not a lot of advertisers will jump into a yet-unknown network!
So which is it — take it slow or hurry and find a winner before anyone else does? You decide!
Advertisement

Ad Networks
Read our in-depth RUNative review and analyze how we made a profitable campaign on this ad network.
Ad Networks
This Bidvance review will tell you everything you need to know about this advertising network.
Ad Networks
Have you tried Coinis DSP? Read this Coinis Review and learn all about the platform, traffic, best offers to run, and more.