Spy Tools
Last updated on May 25, 2023
by
Jairene Cruz
18 min read
Advertisement

Navigating the ever-evolving landscape of social media advertising can be hard, but there is one surefire way to stay ahead of the competition: keep tabs on what they're doing. That's right — you've got to become an ace undercover operative and spy on the other guys. And that's where SocialAdSpyder comes in.
Performing a deep dive into their social media campaigns, content, and messaging will provide insight into what works and what doesn't so that you can fine-tune your own strategies for maximum impact. Whether you're just getting started or already have a few campaigns under your belt, it pays to stay on top of what your competitors are doing.
But can SocialAdSpyder really do all these? In this SocialAdSpyder review, we'll talk about how you can use this tool to improve your marketing and make more sales — whether for your own brand or as an affiliate for someone else.
👉 Key Takeaways:
If you don't want to read through three thousand words of SocialAdSpyder review, here's a quick summary:
SocialAdSpyder is a good choice for a social media ads spy tool. However, it is still new in the game, so it pales in comparison to other Facebook ad spy tools. With the rate it is going, we can expect more improvements soon.
Its best features include the ability to pinpoint affiliate ads, find e-commerce ads based on category, and use multiple filters — including Boolean operations and using keywords for more complicated searches.
For its $59.99 per month, it is still one of the cheapest ad spy tools out there.
While it is not the best competitive intelligence tool in the market, we can see that the company is working on improving its features. It certainly is worth trying.
What is SocialAdSpyder?
SocialAdSpyder is a powerful and versatile tool designed to meet the needs of modern advertisers. It allows for searching, analyzing, and tracking of ads across numerous Meta-family platforms, including Facebook, Instagram, Messenger, and the Meta Audience Network.
It's like a competitive intelligence for social ads that can help you find what's working and hone in on helpful insights you may have otherwise overlooked. Currently, it houses more than 2.3 million ads across more than 150 countries. It has amassed Meta, Facebook, Instagram ads, and more in the past four to five years.
Whether you're just starting or are a seasoned ad pro, this tool is an essential asset for any discerning advertiser wanting to stay up-to-date with the latest trends in social media marketing.
Benefits of Using SocialAdSpyder
Have you ever wondered how those big companies get so many likes on their social media posts? Or how they always seem to know what kind of content is going to be popular? Well, they probably have a team of people who do nothing but look at social media all day. Or — they use a tool like SocialAdSpyder.
In addition to helping you to collate all available ads in Meta platforms, SocialAdSpyder also offers a number of other benefits, such as:
Get an insider view of competitors' campaigns and strategies. By understanding what is working well for others in your industry, you can adapt and improve your own advertising efforts.
Quickly identify market trends and opportunities for growth. This gives you an idea of what to promote or even how to promote your products, helping eliminate creative blocks. You can even uncover new ad formats, creative executions, content ideas, etc.
Analyze competitor advertising activity to identify the most effective messaging and approaches. The spy tool also allows you to see what kind of content is resonating with your target audience, so you can create more of the same.
Make more use of your time. The use of this tool can save you a significant amount of time and money by reducing the need for expensive market research.
In short, if you are not using a spy tool like SocialAdSpyder, you will surely miss out.
SocialAdSpyder Features
Social AdSpyder offers a variety of features to give you insight into the strategies and tactics your competitors are using, allowing you to stay ahead of the curve. Let's discuss them one by one.
Classified Affiliate Ads
Collecting ads and separating branded ads from those published by affiliates can be a hard task. But this is made easier by SocialAdSpyder.
Not only can you scrape the ads quickly and easily, but they're also organized by verticals and categories, too. This means that with one click, you can narrow down the list to exactly what interests you.
This comprehensive affiliate ads scraper classifies ads based on the 15 most commonly-promoted affiliate offer verticals in social media, which are:
BizOp
CBD, Hemp
Casino, Gambling, Betting
Crypto, BTC
Weight Loss, Health
eCommerce
ED, Male Health
Health
Insurance
Loan, Mortgage
Personal Development
Skincare
Solar
Stock Trading
Sweepstakes
At the moment, the tool has collected and classified more than 40 thousand ads in the platform, with more than a hundred new affiliate ads being added every day.
Ad Categories
With its impressive list of 190 categorized ad types, SocialAdSpyder allows you to analyze and compare different kinds of ads from different players in specific industries. This ad spy tool has an expansive array of categories that make it a reliable tool — especially when you need answers fast.
From Accessories and App Pages to Art, Autosupplies, Baby or Kid Goods, Brand ads, Business, Clothing, Furniture, Grocery, Health & Beauty, Home & Garden, and Retail — you have it all. With this wealth of resources right at your fingertips and more advanced search queries designed to pick up on targeted ads at just the right time, the possibilities are endless.
1-Click eCommerce Ads
Seeking high-performing e-commerce ads just got simpler with SocialAdSpyder's 1-Click Ads feature. Now you don't have to painstakingly grease your wheels for hours — a single click is all it takes!
With this innovative tool, you can easily filter eCommerce ads from major players like:
Shopify
Magento
BigCommerce
ClickFunnels
JumpSeller
Magento
PrestaShop
SearchAdsArbitrage
Volusion
WooCommerce
WordPress
Online stores can be found much more easily with this filter.
Multiple Search Options
SocialAdSpyder ad spy tool offers a wide range of search options to users so they can find the ideal ads for their objectives. Users can choose from filters like ad category, affiliate vertical, ad type, and more than 120 languages and over 240 countries.
The technology filter for eCommerce (as we've mentioned previously) and platform-specific options (Facebook, Instagram, Audience Network, and Messenger) let users refine their searches even further.
What's more? Results can be sorted according to the date first seen, last seen, the duration the advertisement has been active, and the like count — in either ascending or descending order. With all these flexible search options available, SocialAdSpyder makes it easy to quickly find the perfect advertisement without wasting any time.
With its advanced search option, you can use boolean operations to easily find ads with specific filter combinations — greatly increasing your efficiency! This tool also allows you to search using full keywords, so no stone is left unturned.
Finally, you can also search by advertiser name, title, and landing page keywords.
Full Ad Details
This social media ads search engine offers users full ad details, so they can understand exactly how these ads are performing. In addition to showing how long ads have been active, SocialAdSpyder also delivers a comprehensive list of info — including page metrics, dates and times of campaigns, the platform where ads were used, and pre-lander page links! All in all, this tool has you covered when it comes to keeping track of your competition's advertising efforts.
SocialAdSpyder Pricing Plans
SocialAdSpyder's ad spy tool offers three different pricing tiers: Professional, Premium, and Enterprise.
If you're a newbie trying out the tool, then their Professional plan is just right for your needs! It provides access to a range of useful features — such as the millions of ads in its database and the ability to explore ads with basic keyword search options. You can use the category filter, as well as language, country, platform, and CTA filters. The plan also comes at an accessible price point of $49.99 per user per month.
But if you're an affiliate marketer or you have an e-commerce business looking for something more advanced, you may want to take advantage of the Premium plan.
Packed with the same features as the Professional plan, this one boasts of also providing access to the e-commerce and affiliate vertical filter, advanced search capabilities, and even delivers Daily Alerts — all for just $59.99 per user per month.
If your needs are far bigger than what the Professional and Premium Plans can offer, you can reach out to the company to get a customized plan (Enterprise Plan). With this, you'll be allowed to have multiple users in your team (with different logins), custom SSO authentication, custom features, and even a dedicated support staff.
At the moment, no free trial is available, so if you want to see how this tool works, keep reading.
How to Use SocialAdSpyder
Now that we know the features of this tool, it's time to test it out. Let's see if this tool can really help us find ideas for nifty products to promote or maybe even how to promote specific affiliate offers.
Create an Account
To get started, you should first create an account.
After confirming your account, you will then be asked to subscribe to a plan. Seeing as we are affiliate marketers here and we want to be able to use the Advanced features, we opted for the Premium Plan.
Once payment had been confirmed, we were quickly able to log in to the dashboard.
Using the Filters
Upon logging in, you'll immediately see the very straightforward dashboard. Ad results showing the latest items added to the database will be shown first.
At the menu, you'll find all sorts of filters available:
Category (topics that the ad falls under)
Affiliate (the affiliate vertical)
Ad type (carousel, image, or video)
Language (of the ad)
country
technology
platform
CTA (call to action buttons)
Sort by (dates ad was first seen, last seen, duration, number of likes, and can all be sorted in ascending or descending manner)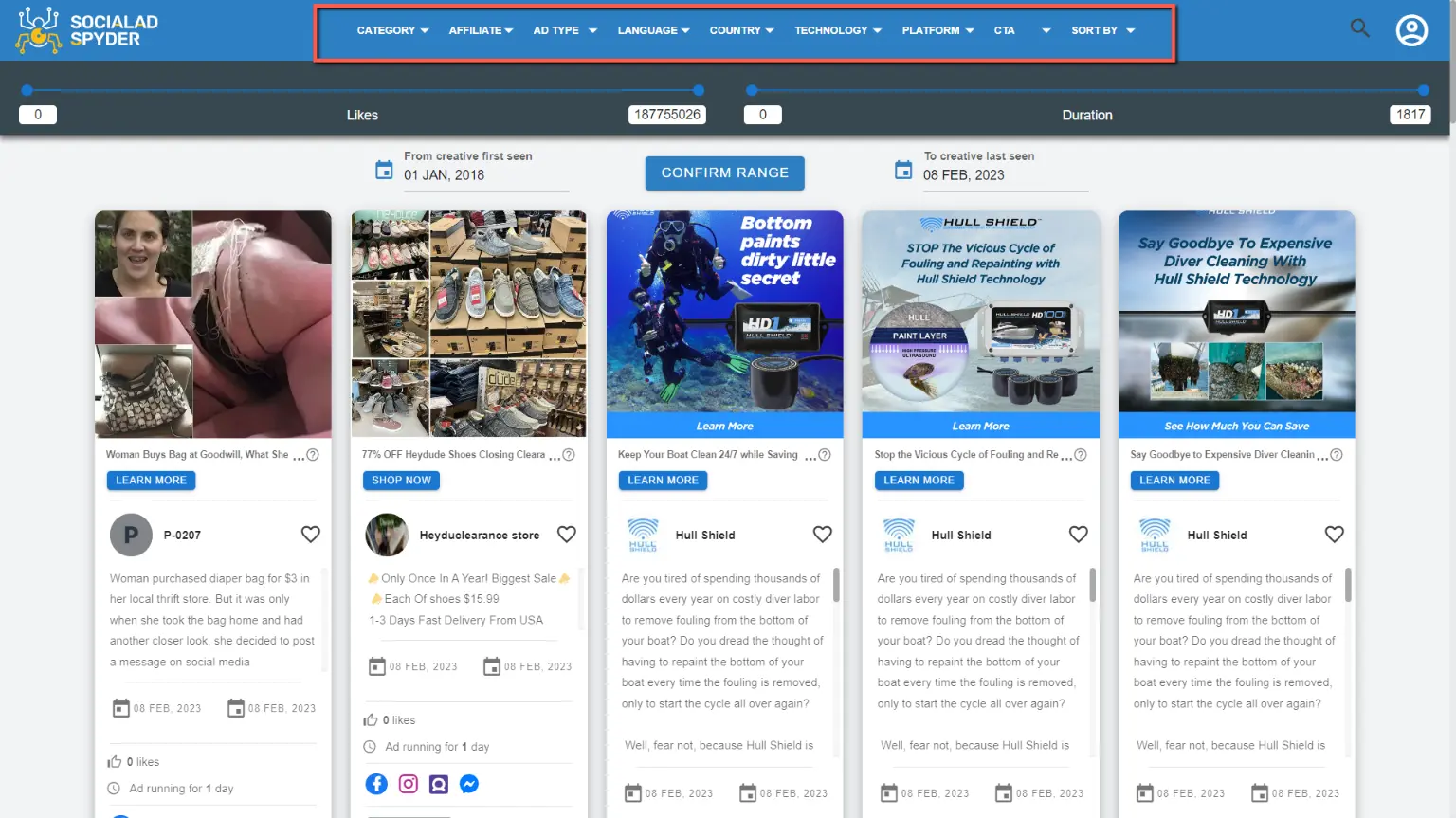 We've found the category and affiliate filters to be the most useful when trying to filter e-commerce ads and affiliate offers that we want to research.
It's also pretty handy to see how many ads there are for specific filters, so you kind of know what to expect from the results.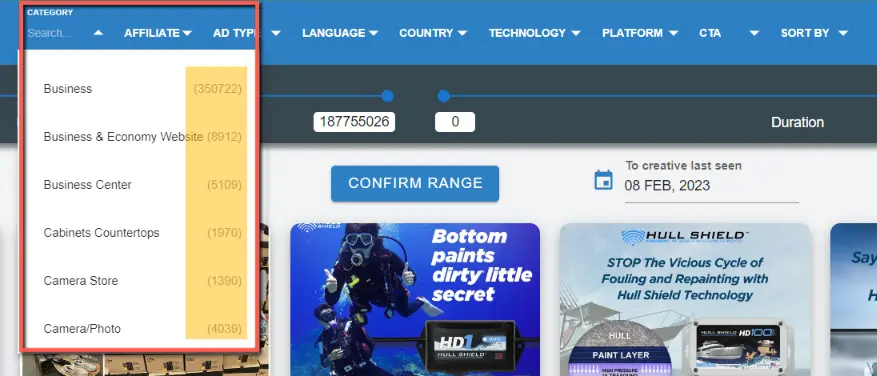 If you want to research ads based on the platform that advertisers use to run their online stores, use the Technology filter.
As we've mentioned in the 1-Click eCommerce feature, this filter narrows down your search based on technology such as Magento, WooCommerce, Shopify, BigCommerce, and more.
To determine the total number of ads the platform currently has, we added up the number per ad type. As of press time, it houses more than 2.3 million ads.
Underneath the menu are two sliders for the number of likes and duration.
Based on our tests and research, the number of likes depicted here refers to the advertiser's business page — not to the ad.
Take, for instance, this ad result for Hull Shield:
It shows the total likes to be 340, and we've found its Facebook Business Page as so:
Beneath the menu is the date range. Right at the onset, you'll find the earliest date to be set at January 1, 2018. Ads within SocialAdSpyder are all from this date onwards. Another proof of this is the maximum duration period shown on the slider.
Anything earlier will not appear here, which is fine, though, since we should be looking at the latest trends and not 5-year-old data.
Now, you can use the date range to set the date when an ad should have first appeared, which is useful for researching the latest trends. If you want to see ads for products that are evergreen, you should set the duration slider at a higher count.
Let's say I want to see an ad that has been running continuously for four years (365 days x 4 years = 1,460). I used the duration slider to adjust the minimum days count as shown below:
Using Basic and Advanced Search
The Basic and Advanced search functions are pretty straightforward as well. Click on the magnifying glass icon on the top right portion to open up the search option.
The basic search function allows you to type in any keyword pertaining to the advertiser name, ad title, or even the content of landing pages. Keep in mind that this uses exact matching, which means if you use two or more words, they should be in the right order for the advertiser page to appear.
As for the Advanced search, this is where you can use the Boolean operations to narrow down to your desired ad.
The only thing that didn't seem to work was the combination of CTA button with any other filter. The same goes for when using the Landing Pages filter. Everything else works.
You can also save your searches in case you intend to run the same search in the future.
Checking Ad Results and Details
Upon using the filters, you'll be shown a list of ads in a grid format.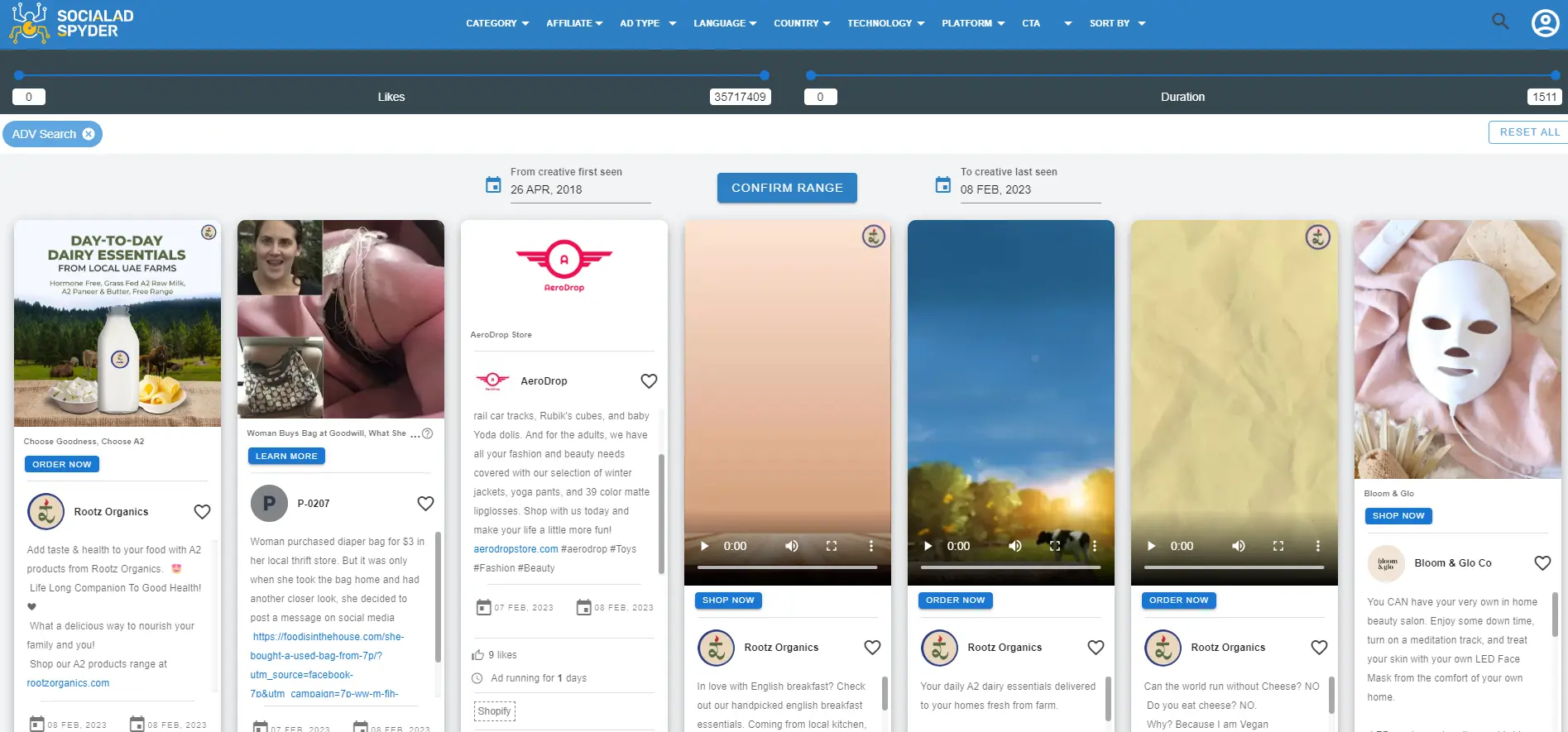 Each ad card contains the following information:
image, video, or carousel (click on this will either open up the image, play the video, or show the next image in a carousel)
the ad title
CTA button (if available)
the advertiser's page
the favorites icon (click on the heart icon if you want to save the ad for future reference)
the complete ad text
dates active
number of page likes
number of days active
technology
platforms or Meta properties where the ad is being shown in
category
affiliate vertical (if applicable)
countries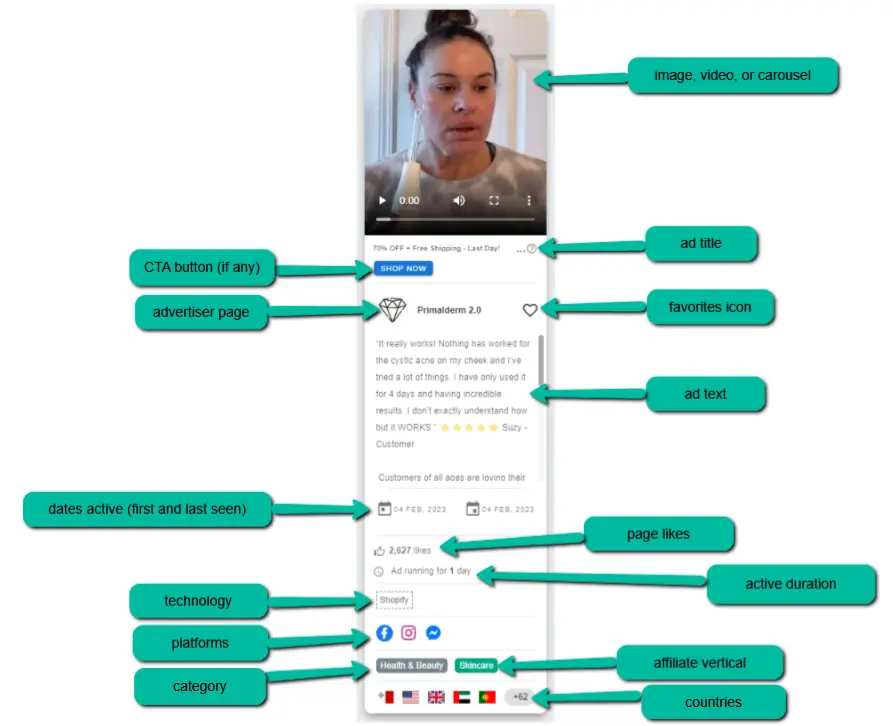 Clicking on any part of the card will open up the ad details page. Everything shown in the ad card can also be found here, but with a few extras:
the page ID
language
the landing page URL
a map of the world highlighting the countries it is being advertised in
a preview of the pre-lander
You'll also see a tab for other creatives from the same advertiser.
When you scroll down on the pop-up page, you will see the map and the landing page preview.
You will notice the option to download on the landing page. However, keep in mind that you will not be able to download landing pages — simply a screenshot of the pre-lander.
View and Group Favorites
SocialAdSpyder allows you to easily organize and access your saved campaigns in a heartbeat using the Favorites option (the heart icon shown on every ad card).
Once you've added a few favorites, click on your profile and select Favorites on the dropdown.
You will then be taken to the Favorites dashboard, where you can organize your chosen ads into folders for better access and management.
You can create new folders to separate ads into categories or however you wish.
Pros and Cons of SocialAdSpyder
When it comes to making the most of your social media advertising efforts, SocialAdSpyder is here to help. But as with any tool, there are benefits and drawbacks. Based on our in-depth SocialAdSpyder evaluation, here's what we've found:
Pros
Very easy to use; a complete beginner will have no problems navigating the platform and finding the ads he needs
Diverse filtering options, including category filter
Boolean search functions
Scrapes the best affiliate ads
A lot of advertiser information is provided (such as business page, technology, platform, creatives from the same advertiser, and so on)
cheaper compared to other paid spy tools
Cons
Can't download the landing page; only an image of it
Does not show ad engagement count (likes, shares, comments, clicks)
Does not provide a direct link to the ad
Some functionalities are not yet fully operating
SocialAdSpyder Verdict
With more and more businesses turning to social media advertising to promote their products, SocialAdSpyder takes the guesswork out of creating the perfect ad. It provides users with in-depth insights into competitors' ads on various social media platforms with the Meta network.
Should you try it out? Definitely! You'll gain a lot of competitive intelligence from it.
By using this tool, entrepreneurs can get a snapshot of what type of creative content is driving results for competitors' campaigns. This way, SocialAdSpyder helps business owners focus their resources on targeted strategies that deliver results and save time.
Plus, you don't need any technical knowledge or specialized skills — SocialAdSpyder is simple and easy to use! Get ready to make data-driven decisions on your next ad campaign with SocialAdSpyder at your fingertips.
Frequently Asked Questions about SocialAdSpyder
1. What is SocialAdSpyder?
SocialAdSpyder is a competitive intelligence tool that provides visibility into the most profitable advertising campaign and strategy of competitors in the social media advertising space. It allows you to uncover new ad formats, creative executions, content ideas, etc., and quickly identify market trends and opportunities for growth.
2. How does SocialAdSpyder work?
SocialAdSpyder offers a series of features designed to provide an inside view into your competitors' campaigns and strategies on various platforms, including Facebook, Instagram, Messenger, and Meta Audience Network.
You can do a full keyword search or phrase to narrow down the ad results quickly or improve targeting by selecting specific geographic regions or other criteria related to your audience segmentation. The SocialAdSpyder dashboard then displays all relevant information about each ad found in the search results, such as the date first and last published, the advertiser business page, ad creative details, and more.
3. What kinds of insights can I get from using SocialAdSpyder?
By analyzing competitor ads with this intelligence tool, you will be able to gain insights into what kind of messaging and approaches are most effective when it comes to social media marketing. You can also uncover new ad formats and creative executions that you may not have considered before.
4. Is SocialAdSpyder difficult to use?
No! This tool has been designed with simplicity in mind, so it's easy to understand even for beginners. All search parameters are clearly laid out on the dashboard, along with detailed ad info that makes it simple to analyze quickly while giving users full control over their research efforts.
5. Does SocialAdSpyder have a free trial?
At the moment, it does not offer a free trial.
Advertisement

Spy Tools
AdvertisementWhy Do You Need A Spy Tool? Have you ever wanted to spy on your competitors' advertising campaigns to see…
Spy Tools
Dropispy is an ad spy tool designed specifically for dropshipping. In this Dropispy review we'll test every feature this new tool offers to check if its worth to buy.
Spy Tools
In this AdFlex review, we'll walk through its features and how you can find your competitors' ads, and its pros and cons.